Why it's good: Rather than relying on one amazing stone, cluster rings use a number of smaller stones to look bigger and add more sparkle to a ring.
Tip 1: If a large diamond solitaire is out of your budget, a cluster ring can mimic that look for a more affordable price.
Tip 2: Traditional cluster rings feature one larger, round center stone surrounded by smaller gems — otherwise known as a halo — but there are variations with stones clustered in a variety of arrangements.
Despite what you may have heard, size really isn't everything, especially when it comes to engagement rings. Most guys just imagine that bigger is better (we've heard this before…), though a lot of this has to do with the fact that the most popular choice of engagement ring is the diamond solitaire, a style that solely relies on one stone for all its wow factor. But there is strength in numbers. Going for several smaller stones instead of one big one can yield a ring that is just as striking (and, ironically, just as large) as a megawatt solitaire. That's the genius of cluster rings: they add smaller stones up to create one big stunner.
This is especially apparent when all the stones are diamonds, though cluster rings can technically feature any type of gemstone. Generally, a cluster ring has a central stone surrounded by one row of smaller stones; they can also have two rows of surrounding stones or no central stone. The cluster ring's defining feature is one focal point formed by massing several stones together.
What's the Difference Between a Cluster and a Halo Setting?
The cluster ring is often confused with its cousin, the halo ring, since both styles feature a central stone surrounded by smaller stones. To be honest, the two terms are used almost interchangeably today. What's the difference? A halo ring usually frames the center stone with a ring of very small diamonds, where all the little stones blend together. A cluster ring uses a frame of larger gems, where each individual stone is distinguishable.
Ring design can make a diamond look awesome or awful — so you want to shop at places that have a large setting selection like Brian Gavin, Whiteflash, and James Allen.
The History of Cluster Set Rings
The optical illusion of a clustered setting is one of the oldest tricks in jewelry history. It was popular during the Renaissance and really took off in the 18th century. Cluster rings from the latter era were often inspired by flowers. Like a daisy, there is a central point surrounded by diamond "petals." (Photo below courtesy of Gray & Davis)
Since those early days, the cluster ring has evolved to encompass a wide variety of settings. Sometimes the center stone is surrounded by stones of roughly the same size or stones of a different cut like baguettes or pears. The center stone could be oval or emerald-cut or marquise — the possibilities are endless. Some cluster rings forgo a center stone entirely. One variation, known as a cobblestone ring, features an array of stones in varying sizes, like the rocks in an old European street. More modern riffs present stones clustered in asymmetrical arrangements. (Photo below courtesy of Single Stone)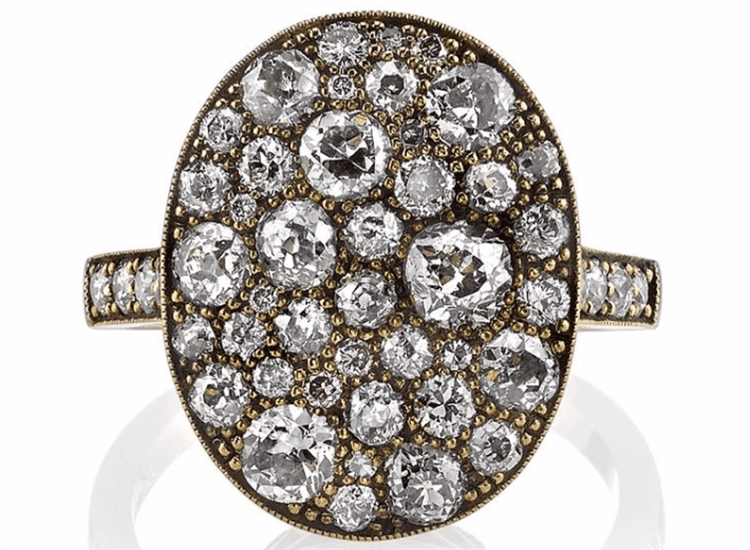 How Much Do Cluster-Set Diamond Rings Cost?
One of the most appealing aspects of cluster rings is their ability to create a big look with small stones. It's an especially good value proposition: smaller stones are (obviously) less expensive and because there are several clustered together, they don't all need to be the best quality. Think of it as the difference between tennis and baseball: tennis is all about one athlete bringing their A-game every time, whereas baseball is about the team's collective strength. Because they don't rely on one superlative solitaire, cluster rings can range in price from just over $1,000 to well above $10,000.
Go to Whiteflash or James Allen to see what kinds of ring designs work best with that shape (and others). Their selection spans from vintage to modern — and across all budgets.
The flipside of having more stones is that there are more chances for one to come loose. But that's just statistics — any setting that incorporates a lot of small stones will be designed to ensure they are held securely in place. Cluster rings offer more than solitaires in a lot of ways: more stones, more sparkle, and more style. Here are 10 of our favorite examples.
This cluster ring nods to the style's old-world heritage, setting the diamonds in blackened white gold for an antique look. $10,500. (Photo courtesy of Jessica McCormack)
Combining pear-shaped and round rose-cut diamonds, this is a prime example of how cluster rings can have a subtle floral motif. It's a more artful, romantic design than your standard solitaire. $3,060. (Photo courtesy of Selim Mouzannar)
3. TACORI
While it could easily be classified as a halo, the larger size of the diamonds encircling the center stone makes this a cluster ring. From $4,850 excluding center stone. (Photo courtesy of Tacori)
4. JEMMA WYNNE
Cluster rings lend themselves to near infinite variations, such as this: a round-brilliant center stone surrounded by a cluster of smaller stones in the shape of a heart. $5,670. (Photo courtesy of Jemma Wynne)
5. POMELLATO
Cluster rings can sometimes make a bolder fashion statement than other traditional engagement ring styles. Here, an asymmetrical cluster is flush with a sculptural rose gold setting. $9,000. (Photo courtesy of Pomellato)
6. ERSTWHILE
This vintage ring from the 1920's epitomizes the Art Deco era's penchant for graphic shapes and clean lines, employing a mix of striking diamond cuts. $9,500. (Photo courtesy of Erstwhile Jewelry)
7. JENNIE KWON
Not all clusters follow the same rules, as evidenced by this ring with diamonds in varying sizes scattered across the band. It's a more modern riff on this timeless style. $1,767. (Photo courtesy of Jennie Kwon Designs)
Here, the center stone and surrounding stones are all essentially equal in size. The result is impactful without the use of any stone being more than 0.5 carats. $11,700. (Photo courtesy of Van Cleef & Arpels)
9. SINGLE STONE
Cobblestone settings, like this, are a unique variety of cluster rings. Featuring a combination of old European, round-brilliant, and cushion-cut diamonds, it's an unexpected alternative to traditional engagement rings. $8,500. (Photo courtesy of Single Stone)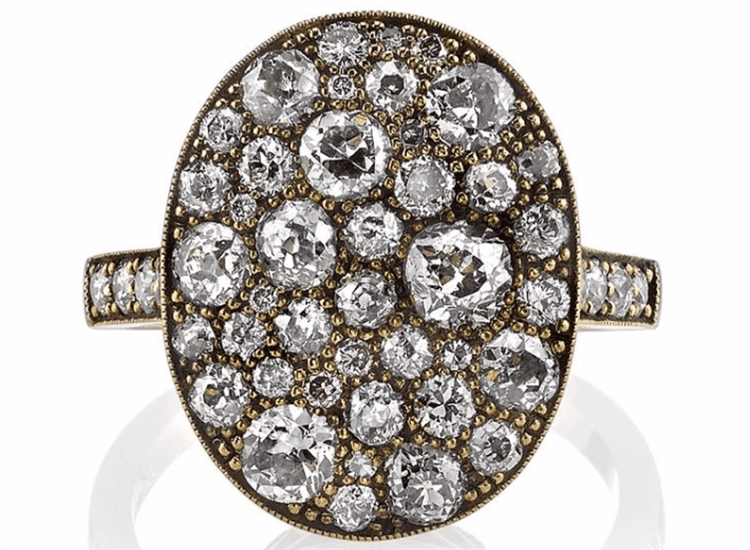 10. ANNA SHEFFIELD
Cluster rings are an ideal way to incorporate colored stones, even colored diamonds like these champagne-hued gems. It's a timeless design with a subtle twist. $5,100. (Photo courtesy of Anna Sheffield)