Why it's good: Solitaires are by far the most popular and traditional way to propose, with a focus on one great diamond rather than other design flourishes.
Tip 1: Solitaires come in many different varieties — if you know your bride-to-be wants a solitaire, try to find out other details (the band, the setting, etc.) that will make it unique to her.
Tip 2: Going with a solitaire setting can help make a smaller stone look more impactful; it's all about the proportions of the band in relation to the diamond.
It can often feel as if navigating the engagement ring market requires a translator. All those acronyms and diamond gradings can make one's head spin, but some terms are deceptively simple. Such is the case with solitaire. If you've spent any amount of time researching engagement rings, you've probably encountered the word repeatedly. Indeed, the majority of engagement rings are some variation of a solitaire.
So What, Exactly, Is a Solitaire?
To put it simply, a solitaire is any design centered around a single diamond (or any gemstone, for that matter). Just like the card game, it's all about a solo player. See? Not so difficult to understand after all.
Solitaires are by far the most traditional and most popular style for engagement rings. If an engagement ring is all about the symbolic gesture of putting a rock on your beloved's hand, solitaires do the job most succinctly. The thing that can make solitaires somewhat confusing is that, because it's such a broad category, there are a huge variety of seemingly unrelated rings that all classify as solitaires. It's a term that really just refers to the number of stones; all the other details that make up a ring — the setting, the band, the stone's cut — are what make each solitaire unique. Solitaires can come with bands in plain metal or with pavé diamonds, with a center stone set with prongs, or in a bezel, and pretty much any gem and cut imaginable.
The most classic iteration is a round-brilliant stone prong-set on a polished platinum or gold band. The ring below comes from Heart on Fire.
Since it's a minimal style, even the most minute changes, like the addition of pavé accents or a colored gemstone, can make a big difference.
What Determines the Price of a Solitaire Ring?
Because solitaires put all the focus on one main stone, it is the diamond that plays the largest part in determining the ring's price. A smaller diamond (under one carat) of lesser clarity and color can yield a solitaire for under $1,000. But a much larger diamond of top-notch quality can make for a solitaire well into the six-digit range, like the engagement rings of Beyoncé and Blake Lively. Even if you aren't in a position to get a ring on Jay-Z's level, take the time to find the best stone within your budget. Since solitaires don't typically have a lot of other design details, there's not much to off-set a sub-par rock. While a lot of brides (and grooms) are focused on size, with relatively simple solitaires it's more important to prioritize the color and clarity. Even if it's smaller, a stone of higher quality doesn't need much else to make an impact.
Given that solitaires aren't necessarily an economical option, choosing one is a question of style more than anything else. If your bride-to-be prefers understatement rather than glitz, a solitaire may be the perfect starting point. The solitaire lends itself to infinite variations, which means you can find one that's tailored to her tastes. The choices run the gamut from classic and subtle, like a simple gold band punctuated with a round-brilliant stone, to bold and irreverent, like a rough-cut diamond set into a chunky band.
The beauty of solitaires is that they offer something to suit every personality and price point. Here are 9 of our favorites, displaying just how diverse this form can be—with prices between just over two grand to $28K.
9 Types of Solitaire Rings for All Budgets
1. FINN
A timeless style rendered par excellence, this ring features a 1.71-ct marquise-cut diamond held in place by eight platinum prongs atop a polished yellow gold band. $28,000.
2. JADE TRAU
This stunner is a prime example of how unconventional solitaires can be — a 2.05ct pear-cut, set slightly askew, seemingly floating between two bands of yellow gold and diamond pavé. $16,520 or $6,000, excluding center stone.
The quintessential solitaire is all about simplicity, like this rose gold band crowned with a round-brilliant diamond set with four prongs. From $2,360.
4. ANITA KO
There's an understated edge to this ring thanks to the main 0.25ct trillion-cut diamond, an unexpected cut for an engagement ring, and the way it is offset from the slim pavé band. $3,150.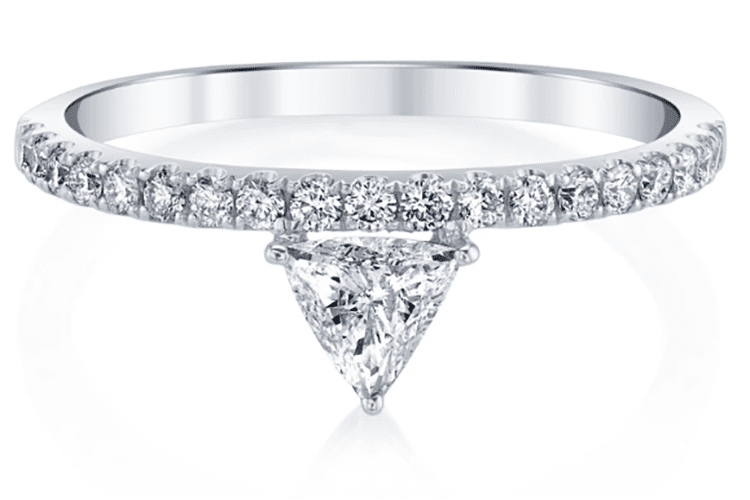 5. GRACE LEE
Another unconventional cut sets this ring apart; the clean, minimal bezel setting lets the unique 0.5ct hexagonal diamond really shine. $4,800.
6. DE BEERS
Graphic and geometric, this ring's intertwining bands of polished platinum and diamond pavé give a modern counterpoint to the classic round-brilliant center stone. From $3,050.
7. PROUNIS
If your bride-to-be enjoys standing out from the crowd, she may be charmed by the eccentric beauty of this impactful ring with its antiquity-inspired 1.89ct diamond set flush in a chunky band of brushed gold. $8,800.
8. DAVID YURMAN
This ring shows how little design flourishes can make a big impact. Rather than a traditional band, two braids of platinum criss-cross the finger for an eye-catching statement. Price upon request.
9. MICHAEL M
Just because solitaires celebrate one center stone doesn't mean they're short on bling, as evidenced by this style with 0.32ct of sizable diamonds studding the band. $2,460, excluding center stone.
Bottom Line: A solitaire is a solid choice, the key is finding a variation that is a fitting reflection of your future wife's style. If you're going down the single stone route, be sure to get a sense of what else she's looking for beyond the rock.