The old theory that a diamond engagement ring should cost approximately two month's salary is just that: old and dusty. Modern designers and manufacturers offer a wide diversity and today's couples are looking for rings that reflect their individual lifestyles. This means you can find beautiful rings on different budgets.
How Much Do People Spend on Diamond Rings?
As Kristen Trustey, a Forevermark diamond expert explains, "There is no right or wrong answer when it comes to how much you should spend on an engagement ring. Each couple is in a unique place in their lives with different priorities, and their budget for a ring will reflect this. Purchasing an engagement ring should be romantic and exciting without placing unnecessary stress on your financial situation or your relationship."
So what's a ballpark figure? Elizabeth Doyle, co-owner of Doyle & Doyle — an antique and vintage shop also known for creating their own contemporary engagement rings — says, "A lot of our couples just starting their lives together have other financial obligations… they could be saving for a house, planning a family, or even paying off student loans… so we encourage our customers to stay within a range that makes sense for them and we find that they usually want to stay at or under $5,000."
National surveys by The Knot and WeddingWire have found the average price for a diamond engagement ring falls somewhere in between $5,000 and $6,000. If you're working with a budget of approximately $5,000, you will be able to find beautiful rings that are in keeping with your bride-to-be's dream ring. We interviewed savvy pros like Trustey and Doyle to develop a guideline of what you need to know for buying a traditional engagement ring in this range. Additionally, since more and more couples are opting for "alternative" diamond engagement rings, we also interviewed independent designers to give you the scoop on what to look for in non-traditional types of rings.
What's the Average Size of a Diamond in a $5,000 Ring?
Trustey and Doyle both report that if your budget is in the $5,000 range, you can purchase a ring with a high quality diamond between .50-carat to under 1 carat. Trustey says, "You can play with some of the diamond characteristics, ring styles, or overall impact of the ring to increase the size of the diamond within your budget." That means you can see how differences in color, clarity and cut affect the size of the diamond you can buy.
In talking to different stores and diamond manufacturers, I've learned that popular sizes can range but are usually around the same as the average sizes. Trustey confirms this: "In the Forevermark Engagement & Commitment Collection, we offer styles with center stones in .30, .50, and .70, carats that come in below or around $5,000."
"The most popular size we sell at around $5,000 is 0.75-carat," says Doyle. "We usually set them in traditional engagement ring styles, but with a special detail to make it unique. The rings tend to have a central round diamond on a thin band with some diamond accents and some subtle design accent either on the basket or on the band to the side of the basket."
Does Buying Smaller Mean You Are Getting a Better Stone?
When you are working with a budget of approximately $5,000 and you are gauging "better" with the 4Cs (cut, clarity, carat, color) then, yes, you will get a better quality diamond if you go smaller. But as Trustey and Doyle both report, couples are different in their preferences and it comes down to personal choice. Trustey's advice is "to focus on a high quality stone. Your diamond represents your unique bond and the most important promise that you will make in your life, so you want a diamond worthy of symbolizing that. Considering a quality diamond also extends to trusting its provenance, so make sure you buy a natural diamond that you know has been sourced responsibly so you can be proud to wear it."
Doyle adds a different spin, proving the point about personalization, "For some people a diamond has to be a certain size to look like their engagement ring. If this is the case for you and your bride-to-be, you will often times be compromising on quality. But if you want the highest quality you can get within your budget, then you will choose a relatively smaller stone, which will make up for what it lacks in size with its overall beauty."
What Criteria Should You Focus On and In What Order?
Once you have determined your budget is around $5,000 and you've decided that you want to find the highest quality diamond in the carat weight that you can afford, the order of importance of the rest of the criteria should become slightly easier — assuming you have discussed your bride-to-be's dream ring with her or have been informed by her best friend or sister. According to Trustey, the order of importance is as follows:
The Shape of the Diamond
"Round diamonds were traditionally the most popular, but now 50% of brides are choosing a fancy shape (anything besides a round) with some of the most popular being cushion, oval, emerald, and princess." Therefore, you will want to hone in on finding this shape in the setting she desires."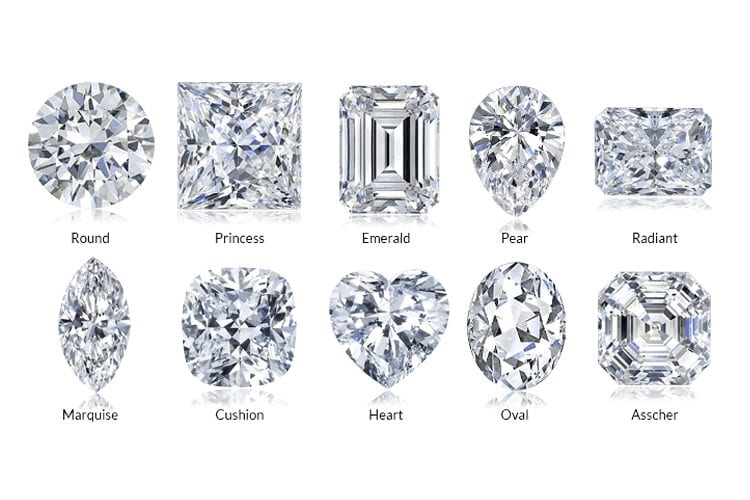 The Cut of the Diamond
"Of all of the 4 Cs, cut is probably the most important factor and not a place I would recommend compromising. Cutting is one of the most crucial stages in determining the way the light reflects and refracts within the diamond, creating brilliance, fire, and scintillation — or in easy-to-understand terms, how much your diamond will sparkle!"
The Color of the Diamond
"Color can definitely be a factor to look at when trying to choose a quality diamond and stay within a price point. "Colorless" diamonds D-F will be the most expensive, while "near colorless" G-I will look very similar and give off that bright white sparkle, J-L color diamonds start to show hints of color when against a white background, but can also be a good choice, particularly if on a budget, and if you are setting in a non-white metal like yellow gold or rose gold, that would contrast to the diamond and make it appear whiter."
The Clarity of the Diamond
"Diamonds equal in carat weight, color, and cut will vary greatly in price depending on their clarity features, so this could be a place to compromise if trying to maximize size for a budget. I would make sure that any inclusions are not visible to the naked eye and do not affect the overall beauty of the diamond. For example, Forevermark diamonds are available from Flawless to Slightly Included, providing any inclusions do not interfere with the beauty of the diamond and our other beauty criteria are met."
What Are the Most Popular Diamond Ring Settings?
Platinum is still the most popular setting in engagement rings and bridal styles in 'traditional' styles.
For solitaires, simple bezel settings and prong sets show off the diamond most effectively. However, for a larger look that is in keeping with your $5,000 budget, you can make the main diamond appear larger by adding a setting with a pavé halo around the center stone.
Pavé or small accent stones on the shank (sides or band of the ring) will add extra sparkle to the overall look of the ring.
Should You Obtain a GIA Report?
You should make sure to get a diamond with proper credentials. Trustey explains, "Forevermark diamonds are graded at the De Beers Institute of Diamonds and go well beyond the 4Cs on a standard grading report to select only the most beautiful diamonds. GIA and AGS are also both reputable grading labs."
Doyle says the diamonds she works with generally come with a GIA report. "Some of our upcycled antique diamonds, especially old European or old mine cut diamonds, can come with EGL reports," she said.
Other Diamond-Buying Tips
"Don't listen to all the 'rules' out there about how much you should spend or what constitutes an engagement ring," says Doyle. "We have couples who come to us for natural champagne diamonds or colored gemstones. Also eternity bands or five stone rings can be great alternatives that provide a lot of sparkle on a budget. There are great rings that offer more magic and character and are more alluring because they don't conform to traditional styles."
Which brings us to our next topic in rings with an $5,000 price range.
Category #2: Alternative Engagement Rings
You have no doubt been reading about them, hearing about them, and seeing them when you do your internet research. After educating yourself on the 4C's, you want to know why any bride would want a grey rose cut opaque diamond that has fewer facets than any other cut. This is simple: Opaque grey rose cuts, natural colored champagne brilliant cuts, and polished rough cuts are imbued with their own distinctive character, traits, and qualities.
10 to 15 years ago when independent and imaginative designers first began finding alternative diamonds from dealers at gem shows, they were intrigued by how each stone was remarkable and different and how, what was once considered flawed is now being used to create individualized rings. No two of these stones are exactly alike. Alternative also includes everything from antique five-stone engagement rings to rings with upcycled diamonds (i.e.: old mine cuts or old European cuts).
What's even more appealing is these stones are not just placed in a setting; there is an alluring design that follows their cut. There are also different ways of setting them, such as upside down like designer Todd Pownell does for his TAP by Todd Pownell collection.
Infusing these diamonds with even more appeal is that you can score a large stone and a truly unique ring within your budget, particularly if your bride-to-be is anything but conventional.
In the designer segment of the market, these styles and cuts of diamonds aren't even considered 'alternative' anymore. They are an evolution of bridal styles. They have become part of the engagement ring vocabulary. Why? Because they strike a response chord with all couples looking to express themselves, their own tastes, and are proponents of recycling and sustainable practices. Most companies, at least those we will cover at The Plunge, can trace their diamonds from mine to market.
Here are some designers who offer unconventional styles of rings at an affordable price.
Thorne started her jewelry collection in 2007 and by 2009 her romantic, charming, and intricately detailed aesthetic launched her as one of the go-to 'alternative bridal' designers. She explains, "alt-bridal was led by bench jewelers who were combining artisan metalwork, non-white diamond centers, and unusual silhouettes. Today, in 2019, it has become an industry standard to offer non-traditional and also bespoke styles in the bridal category."
Karch has been creating a bridal collection since the late '90s, before the term alternative bridal was coined. How did it start? "Clients began requesting engagement rings and wedding bands similar to my regular designs but with unique cuts in diamonds and set into platinum," she explains. In 2020, this market is no longer a niche. It is huge with many designers' voices. I think as time passes and as we head into the new decade, there is more acceptance of a broader definition of what bridal can be."
"We use a variety of diamonds that are considered alternative for bridal," says Wales, "and many can be found in the $5,000 range: cognac, salt & pepper, grey, frosty or cloudy diamonds, as well as other natural colored diamonds. I really love the warmth and rich color of cognac diamonds. They have a softer quality that is much more akin to skin tones, which can make them feel more inviting and sensual. Sometimes white diamonds feel very stark so cognac stones are perfect for the person that wants a softer, more subtle but still sparkling engagement ring."
These designers are creating for women like themselves—with varying moods, emotions, who prefer being different to fitting in, unlike earlier times when engagement rings were a status symbol. Today they are a signifier of women's or the couple's identity.
In this market, and with these types of rings, the 4C's don't really apply but the objective to garner the best diamond within the $5,000 budget does. There are a range of shapes from which to choose. In addition to the shapes found in the traditional market, we are also seeing kite and hexagons in these opaque, frosty, and rose cut diamonds.
The Best Cuts and Colors in the Alternative Ring Space
Champagne colored diamonds are often natural and come with a higher price tag. You can still get a nice size diamond without it being treated, and you could go up as far as a carat with this beautiful rich color that often looks best in yellow or rose gold, which brings out its natural hues.
Opaque diamonds that are rose cut often have an organic or rough-hewn appeal, but the natural inclusions are part of the personality and desirability of the stone.
Black diamonds should fit into this price range nicely and at a larger size. However, you should be aware that black diamonds are always treated or enhanced. They often start out as white or gray diamonds of a low grade. The addition of color gives them a life of their own and allows them to pop against platinum settings with white diamond accents. Black diamond engagement rings were made popular when Mr. Big gave Carrie a 5-carat black diamond engagement ring at the end of the 2010 movie Sex in the City 2, saying "it's because you are different."
If you want to familiarize yourself with some more alternative options, here are some other independent designers that work in non-traditional engagement rings: Sofia Kaman, Rebecca Overmann, Lauren Wolf, Erika Winters, Marian Maurer, Jennifer Dawes, UK based Ruth Tomlinson and Jessica McCormack, Jade Trau, TAP by Todd Pownell, Jennie Kwon, Eva Fehren, and Montreal based Kate Hubley for K8 Jewelry.
Bottom Line
$5,000 generally gets you up to a 0.75-carat diamond, depending on the mix of color, clarity and cut. If you want a bigger stone or a more unusual center stone, consider buying a champagne, black or opaque diamond. Most importantly, consider an alternative engagement ring — they're in style and can really reflect personal style.