You've gathered the intel you need on the type of ring your future fiancée wants. She loves the romance of an antique or vintage engagement ring — a jewel that is one-of-a-kind with a history that speaks to sentiment and symbolism.
Personally, you prefer modern technology, the comfort of surfing the web, and buying online. The advantages are many: You can purchase an antique or vintage engagement ring at your own pace and without the pressure you might feel from even the most well-intentioned salespeople, whether you shop alone or with your partner. Additionally, many of the brick-and-mortar stores that specialize in antique and vintage engagement rings have built compelling online shops so you get the best of both worlds — the personal touch, the selection, and the ability to do your homework and compare what's out there.
Before you start scoping out different websites, read our guide to buying an antique or vintage engagement ring, which explains the relevant time periods, styles, the difference between antique and vintage, and budget issues. One topic we can't avoid is the ever-present question of whether or not sites like Ebay or Ruby Lane are good sources of antique and vintage rings. The answer: It's complicated. While there are many great rings and reputable sellers on these sites, there are also some dealers who aren't as knowledgeable or informed about antiques as they might seem.
Below, we recommend five sites in particular that specialize in antique and vintage jewelry, but yes, you could also consider purchasing from proven places like Blue Nile and First Dibs.
Please note that antique and vintage rings are a "horse of a difference color" when it comes to price comparison with modern engagement rings. Antique and vintage rings will often appreciate with time if rare, in excellent condition, and depending on provenance and time period. Not all of these rings come with GIA reports; do your research and work with the online stores we suggest or ones that come from experts you trust.



Erica Weiner
Why You Should Check It Out: They have a large selection of Victorian, Edwardian, and Art Deco rings that appeal to millennial customers at accessible prices. Although they offer enchanting rings geared to starter budgets, there are also several rings that get up into the higher figures. However, even those are well priced for the condition and authenticity.
Erica Weiner, partner Lindsay Salmon, and their staff are all passionate about the history, lore, and legend of antique rings and provide a wealth of details about each ring on the website. They travel widely to find unique, quirky, and timeless heirlooms for the woman of today. Some examples from their site are below.
The Art Deco sapphire and diamond ring below features a column of sapphires flanked by lines of old European cut diamonds. The mounting features a minimal, low gallery, pointed shoulders, and a slender half round hoop. This is not something you will see anywhere else. (Photo courtesy of Erica Weiner)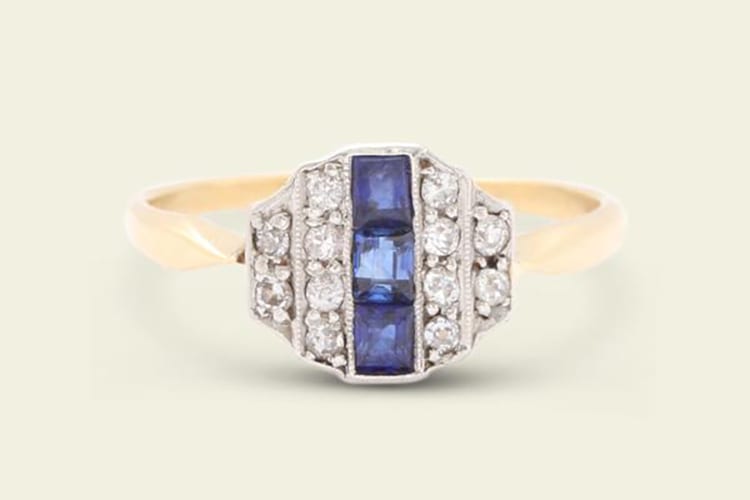 Here's another Art Deco beauty:  The 1.10-carat old European cut diamond is held in a Filigree engagement ring setting. (Photo courtesy of Erica Weiner)
You can see and try on the rings in person by making an appointment at the company's Brooklyn headquarters.
What Else You Should Know
Rings move quickly here because of the almost cult-like following the company built since the early 2000s, so they tend to restock often. If you fall in love with something, don't delay in purchasing it.
There is no single charge for resizing rings; it depends on the ring.
There is also a clause in their policies that reads: "Antique jewelry is sold in as-is condition. That said, we make a point to disclose any minor flaws or potential problems with wearability in each of our product descriptions. We have our antique jewels inspected, cleaned, and repaired (if required) before making them available for purchase. In the unlikely event that your newly purchased antique is damaged, please email. Repairs are assessed on a case-by-case basis, we will review the damage and possible cause with our jeweler, and contact you with an estimate for the repair."


Return Policy: Antique items under $2,500 may be returned or exchanged within seven days of delivery if they're in their original, unworn condition. Antiques $2,500 and over may be exchanged for store credit only within 14 days of delivery. Returns will not be accepted after two weeks under any circumstances. For Internet orders, the return/exchange policy begins the day the package is delivered.

Best for Early Rings & Reimagined Rings

TheOneILoveNYC.com
Why You Should Check It Out: Ever since Mia Moross launched her website when she was still in college, she has gained a steady following of women like herself: entrepreneurial, independent, and confident in their choices. She specializes in all eras of rings from Georgian through mid-century with an emphasis on antique styles with personality and a warm glow.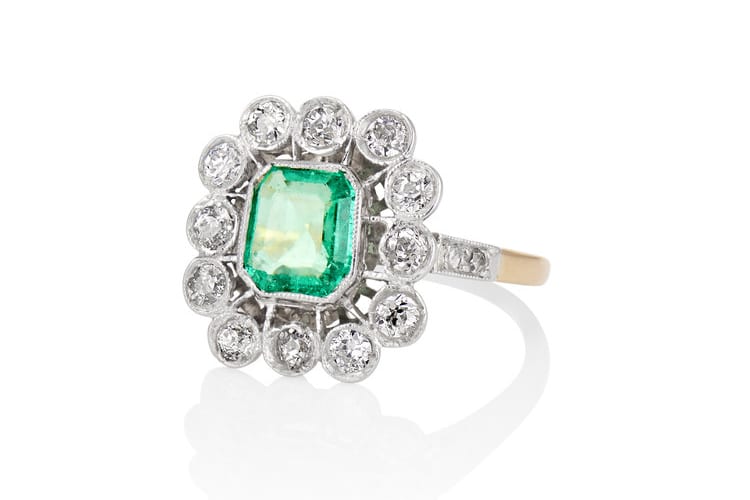 Looking for star power? When Zoe Kravitz accepted Karl Glusman's proposal in 2018, he slipped a Georgian ring on her finger, chosen with a little help from a mutual friend who knew that Kravitz had fallen for the ring on The One I Love NYC's Instagram account. Moross didn't know who the ring was for until she was contacted by Kravitz for other jewelry on the website.
View this post on Instagram
This beauty, along with other Georgian styles — mid-1700s to early 1800s — are created in a way that seems to work best for clients who will care for the rings consistently and whose lifestyles don't call for running around on subways or to soccer games. Kravitz's ring is a half hoop band of rose-cut diamonds. The center stone is the largest, and is set with the characteristics of Georgian rings in silver-topped gold and backed with silver foil to hide flaws in the early hand-cut diamonds. Although it is achingly beautiful, it should not be worn in water, even to wash hands as it can ruin the foil, thus creating a gray cast to the diamonds.
If you prefer a lower maintenance style, Moross also has a curated a swoon-worthy selection of romantic rings that date from the 19th century through to the vintage 1970s. The ring below, for example, is a 1.82 Old European Cut Diamond ring with emeralds on the shoulders. (Photo courtesy of The One I Love NYC)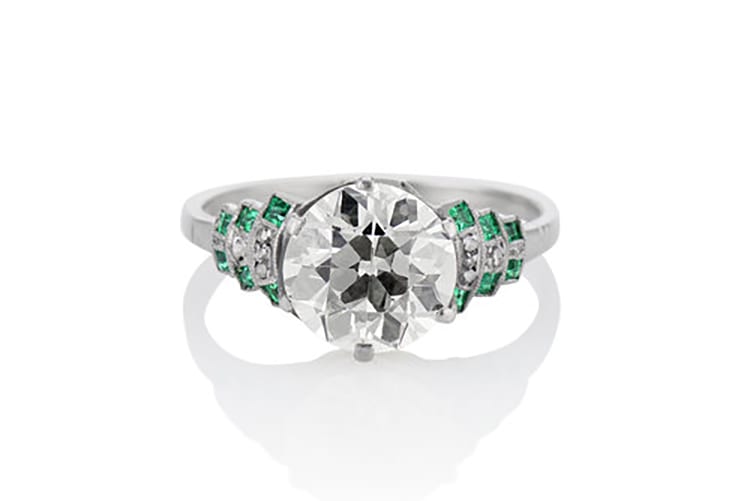 What Else You Should Know: Moross's own heart belongs to early rings. She creates a "Reimagined" collection with styles that feature old foil-backed diamonds in their original settings after they have been separated from the rest of the jewels that originally belonged or have been broken. She breathes new life into these pieces by adding a gold band. If you are unfamiliar with what constitutes a ring in original condition versus reimagined style, Moross will answer all your questions.
Will provide a certificate of authenticity, if one is requested, that describes the ring in its entirety from The One I Love NYC's in-house staff.
A fee of $35 will be charged for resizing antique rings — when it's possible.
No repairs are done directly through The One I Love NYC; the company connects customers with antique repair jewelers.
Return Policy: There is a four-day return policy on items purchased on the website with very few exceptions. Customers have four days from the day they receive their package to ship the item back. Upon receipt of a return, the company will issue a refund minus shipping costs to the original method of payment within 72 hours. If the company determines that items have been damaged or altered, they reserve the right to refuse the return. Items returned between 4 and 14 days after purchase are subject to store credit. All sales are final once the 14-day period has lapsed.
Best for Bridal & Art Deco Rings

EstateDiamondJewelry.com
Why You Should Check It Out: In business for 40-plus years, Michael Khordipour and Afshin Shaddaie have been buying jewelry from estates, auctions, dealers, and wherever they can locate the rarest and most unique antique and vintage rings they can find. They are experts in all time periods of jewelry.
The interface at EstateDiamondJewelry lets you experiment with multiple criteria.
Benjamin Khordipour, Michael's son, has a passion for the business that he channels through his captivating blogs and social media posts. Although the company specializes in Edwardian, Art Deco, and mid-20th century engagement rings, they also have a number of earlier Victorian pieces. Art Deco is their main area of expertise. You can make an appointment to see the rings in person in their New York showroom in the diamond district in NYC or have your fiancée take the fun and revealing quiz on the website.
Other things you should know:
Estate Diamond Jewelry also creates rings "in the style of" or "vintage-inspired." If you are looking for authentic or original antique or vintage rings, make sure to look at each description carefully and ask the staff questions about time period.
 The "inspired rings" are beautifully crafted and can be a fine alternative should you decide on one of those.
Estate Diamond Jewelry offers a lifetime upgrade warranty. Any purchase made on the website is upgradable for the full value of the original purchase. For example, If you bought a ring for $14,000 in 2005, you can return that ring and add another $5,000 for example, and purchase a $19,000 ring.
Return Policy: You have 14 days to examine the ring upon receiving it. If for any reason you choose to return the ring, Estate Diamond Jewelry will provide a full refund. You will still be able to return the ring if Estate Diamond Jewelry has sized it before it has been shipped or picked up by you. Additionally, you have 100 days to exchange the ring if you decide, for any reason, that you would like a different ring. You will be issued a full store credit for the amount that you paid. And that store credit never expires. Yes, you read that right: never!



AshleyZhangJewelry.com
Why You Should Check It Out: Ashley Zhang is a contemporary jewelry designer with an affinity for antique jewelry from the Victorian through Art Deco eras. The antique and vintage rings on her website are impeccably curated, and there is an assortment of styles. In particular, she offers a small crop of rare and beautiful hand-picked Art Deco styles that are competitively priced.
Below is an Ashley Zhang Art Deco engagement ring in 14K yellow gold with a 1.90-carat old European cut diamond, accented by intricate filigree and hand engaving. Circa 1920-1930. (Photo courtesy of Ashley Zhang)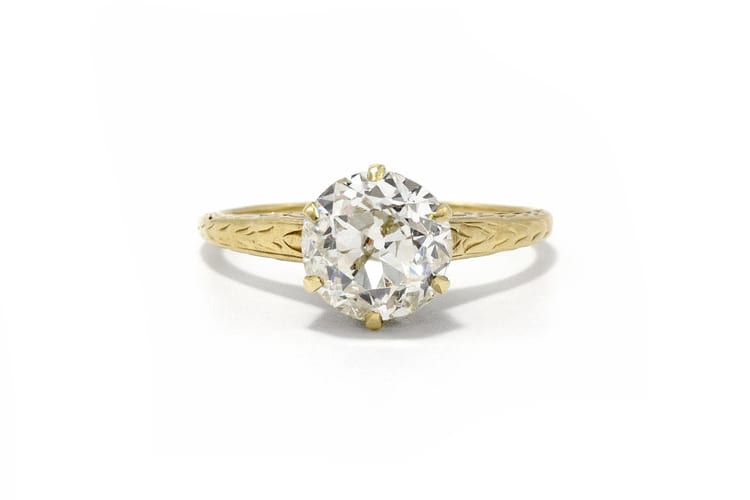 An appointment can be made to view and try on the rings in person at the company's headquarters in NYC's financial district. They are also available for weekend and after-hour consultations and respond quickly to emails and requests on the website. Here are a range of examples.
The Ashley Zhang Art Deco engagement ring below boasts a 1.10-carat old European cut center diamond with an estimated G color, SI2 clarity, set into platinum and accented by single cut diamonds and two ruby baguettes. Circa 1920. (Photo courtesy of Ashley Zhang)

If you don't fall in love with the current selection and have some time before the engagement, Zhang will immediately get to work with her many contacts and dealers to present you with a new range based on all the details that she has gathered from your meeting or phone consultations.
The Ashley Zhang Victorian 18K yellow gold ring below features a 1.40-carat center old European cut diamond with a large halo of diamonds around it. Circa 1870. (Photo courtesy of Ashley Zhang)
What Else You Should Know
Rings tend to sell out quickly due to fair prices and great selection.
Ashley Zhang's modern designs are inspired by her love of antique and vintage jewelry; so be sure to read the descriptions on the site to know what era your ring really comes from.
She could have more information online about how to care for rings like other sites do, but she discusses this in detail during consultations and meetings.
Return Policy: Ashley Zhang accepts returns on vintage and antique items 14 days after delivery if the ring has not been resized before shipping. The company does not offer free return shipping.
Best Brick-and-Mortar-and-Online Store

LangAntiques.com
Why You Should Check It Out: Based in San Francisco and open since 1969, Lang Antique & Estate Jewelry is one of the premier brick-and-mortar antique and vintage jewelry stores in the U.S. The retail shop and online site both offer excellent customer service, a knowledgeable sales team, and details that take the stress and concerns out of shopping online.
Below are Edwardian engagement rings from the Lang Antiques website.
Lang carefully inspects each piece to ensure the best possible condition for another lifetime of wear. When necessary, they restore certain aspects of the jewelry using the appropriate techniques depending on the original method of manufacture, metal, and gems. Lang adheres to strict quality standards of what can be done without compromising the value of the ring that needs the repair. Be wary of websites that don't come recommended from someone you trust; you should be always aware of what you are getting and all of the aspects of your ring.
Lang has what they call a university section on their website, which goes into specific details of the history, renowned designers, hallmarks, and maker's marks, and has a glossary of terms. You will find it extremely useful when shopping for antique and vintage jewelry.
The company also offers the following for free for the first six months after your purchase: custom fit sizing, replacement of side stones if a setting defect is present, and loose stones not requiring prong work including center or side stones. They will also fix a broken shank if broken at sizing seam as well as damage from defects in jewelry not due to normal wear and tear or accident. All shipping back and forth for these issues is complimentary. Lang will also help with repairs after six months or if the repair is not covered by the list above. Be aware that repair and shipping fees will apply after the no-charge time period. Cleaning and check-ups on pieces are always complimentary but shipping charges will apply for items sent to the shop for this service.
What Else You Should Know:
Although Lang works with jewelers who specialize in antique and vintage restoration and repairs, and they do an excellent job, always ask about how the restoration affects the value of the ring.
Lang will do repairs for you after you have owned your ring for some time. You will need to send them the ring so they can give you an estimate on the repair cost. I always suggest sending the ring back for a repair where you bought it.
Although most of Lang's rings are authentic or all original, there are a few cases where I noticed on the website where the description says, "In The Style Of." As with the other websites, it's imperative to read all information and be clear as to what you are looking at.
Return Policy: Lang offers 10 days from the time your package arrives to return your item for a full refund. The company will email you a prepaid FedEx label for you to return your purchase with an explanation on how to package the jewelry securely. All returned jewelry items must be in the same condition as it was sent to you. No jewelry will be accepted for return if it is damaged, altered, or worn. They also offer an exchange for store credit within 30 days after your purchase. All sales are final after 30 days. Use a medium FedEx priority box if available and tape the outer flaps of the box for security purposes. When dropping off the return, you must obtain a receipt from FedEx.
Tip 1: Do the Necessary Homework
1. Do a Background Check: Research each site and look at online reviews of diamond and ring stores. Check out the sites' Instagram followers, too. It can't hurt.
2. Look at All the Photos: Make sure the site provides several photos that show the pieces from the front, back, and sides, on the finger, and from every angle that makes you feel like you are seeing the ring in person. If you don't see what you need, ask for more photos.
3. Get the Details: Read the description of each ring carefully and see if it has all the details you want, including time period, style, size, and weight of diamonds and/or other gemstones.
4. Consider Customer Service: Find out about the type of customer service the site offers: if it's both brick and mortar and online, you will feel as if you are receiving more customer service as you have the store and the website staff available to you. But online-only sites also provide in-depth customer service and in some cases more hours when you can call in and speak to a specialist.
5. Learn the Lingo: For example: "in the style of Art Deco" means that it is a reproduction or a modern version of a style from that period. When it says authentic Art Deco Ring — or gives a date or date range such as circa 1920-1930 — then the description means it is an original ring of that era.
6. Ask Questions: Don't be afraid to ask as many questions as necessary. But this can't include every ring in the shop or the staff will stop taking you seriously. Write possible thoughts down and then try to ask everything in one conversation.
Ideally, you would accompany your fiancée as she tries on different styles in a few brick and mortar stores. This helps to see what looks best. Trying on also gives you both a better feeling for what looks best on her finger. Often the style your woman had her heart set on changes when she begins to road test the rings. Remember this will be one of the most important pieces she will ever wear besides her wedding band. She's allowed to change her mind during the process.
Tip #2: Get These Things from Ring Sellers
Prices and Room for Negotiation: Prices on websites and in retail stores are in keeping with what the market is dictating based on time period, condition, what's trending, how rare the ring is, hallmarks, and provenance. That said, you might be able to negotiate more in person. Online shops don't have the overhead that brick and mortar stores do, so do your comparison shopping and then go with what you feel most comfortable with based on your budget.
Return Policy: If, for some reason, you do need to return a ring, make sure the store has a policy that you have read thoroughly and that you are comfortable with. Read the fine print about restocking fees, refunds vs. exchanges, and the timeframe allowed for returns and store credits. You should know going in that antique and vintage rings are sometimes harder to return due to the nature of their rarity and the number of rings the shop stocks.
Comprehensive Receipt: Make sure you have all the vital information on your receipt — anything that has to do with the ring's time period, the diamonds, gemstones, style, what has been repaired, if any smaller stones were replaced, and the carat weight and approximate color of the diamond rings, which cannot be removed for a GIA certificate.
Independent Appraisal: You can ask for the ring to be sent to an independent appraiser. There will be a charge but it's worth it for a second opinion and for your insurance company. If you don't do it through the website, you can have it done on your own.