Where to Stay In Rome
As far as well-rounded accommodations go, Nerva Boutique Hotel checks all the boxes. Located within walking distance of both the trendy Monti neighborhood and major historical sites, such as the Colosseum, the hotel's stylish decor, quiet alleyway address, and decadent continental breakfast are sure to charm.    
For city center luxury, look no further than the Hotel de Russie. The elegant 17th century property is family run and situated between the Piazza del Popolo and the Spanish Steps. Wine and dine alfresco in the hotel's open-air Secret Garden or people watch from the Stravinskij Bar's terrace. Be sure to treat yourselves to the spa's saltwater hydrotherapy pool after a long day of sightseeing.
Residenza Torre Colonna
A unique choice at a good price, the Residenza Torre Colonna is unlike other accommodations you'll find in Rome. Housed inside a medieval tower, the five-room (one per floor) hotel is outfitted in contemporary art and modern details and includes en-suite baths. Though not amenity-heavy, a rooftop terrace – complete with jacuzzi – is a pleasant touch.  
The Via del Corso Home offers bijou style rooms with the added convenience of pre-paid shuttle services to and from the airport. Located by the Piazza Venezia, and along the popular shopping street of the same name, the hotel offers one of the best honeymoon indulgences for a couple in Rome: breakfast in bed.
Though 40-minutes outside the Eternal City, a stay at La Posta Vecchia is well worth the journey. Set against the Tyrrhenian Sea, the intimate 19 room hotel boasts a garden-to-table menu, stone pool and its own private collection museum of artifacts dating back to the 2nd century BC.
Best Restaurants In Rome
A must for visitors to Rome, Roscioli is centrally located without the tourist trappings. Sample from the mozzarella tasting menu, or opt for an exquisite seafood dish at the romantic ristorante, Cucina. During the daytime, stop by the deli side and try a Roman delicacy, porchetta. Grab some cheeses and spreads while you're at it for a delicious picnic.  
Known for its Roman style crispy, thin crust pizza, Rione 13 is located in the bustling Trastevere neighborhood – which you can access by walking across the Tiber via the Ponte Sisto bridge. The plush digs and ample wine list make for a memorable night out on the town. Make sure to order the pasta standard of Rome: tonnarelli cacio e pepe (pasta with cheese sauce and pepper).
The Jewish Quarter in Rome has some of the best eating in town, combining elements of Italian and Jewish culinary traditions for a dining experience your taste buds will long remember.  Head to Il Giardino Romano, a reasonably priced eatery favored by the late great Anthony Bourdain.  Try the can't miss classics, such as the fried artichokes and stuffed zucchini flowers.
In a city rich with antiquity, Etabli has a refreshingly modern vibe. As a dinner spot, opt for traditional Italian dishes in the chic setting with distressed leather furnishings and wrought iron chandeliers. Or, if you're homesick, plan a weekend brunch visit to the establishment for a traditional English Breakfast (i.e. sausages, scrambled eggs and pancakes).
Gelato is not just a treat, it's a priority. With a zillion options to choose from, Gelateria dei Gracchi stands out for it's fresh, seasonal, and enticing flavor combinations. Though not as Instagrammable as its fellow touristy gelaterias, just do as the locals do, and grab a scoop (or two) to-go as you wander the city streets.
Best Bars In Rome
Salotto 42
When in Rome, you must indulge in the Italian ritual of aperitivo hour (pre-dinner drink). Set in the historic center of the city, Salotto 42's stylish surroundings include design books and elegant, retro decor. It's just the ticket for your first evening drink, with imaginative cocktails and select snacks to accompany the hour.
Enotecas are one of the many delights of Rome.  Essentially a combined wine shop and tasting bar experience, Il Goccetto is a favorite among travelers and locals for its intimate atmosphere and robust varieties.  Though the wines are the star of the show, deli bites are on offer to pair with your selections.
If you want to go where the cool kids hangout, look no further than Officine Beat. Stop in for late night drinks and conversation at this cozy bohemian joint located in the hip San Lorenzo neighborhood near the university. The place not only excels at handcrafted cocktails, but has a decent artisanal beer list to boot.
Ma Che Siete Venuti a Fà
Speaking of brews, if you're interest is piqued by local ales, head to the Trastevere neighborhood. For aficionados, the popularity of Italian craft beer has grown significantly in recent years and Ma Che Siete Venuti a Fà was one of the first on the Roman scene. An extensive selection of beers on tap awaits in this small pub, making it an excellent spot for some respite with your pint.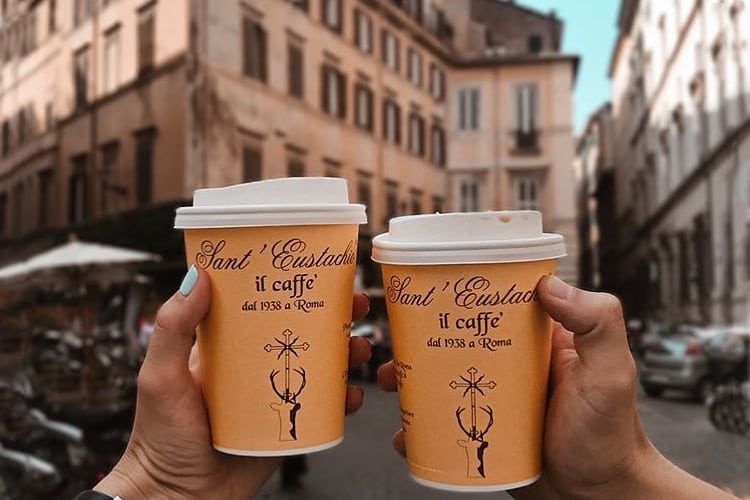 Roasting beans over a wood fire since 1938, the Sant'Eustachio cafe is the quintessential espresso bar of Rome. Located near the Pantheon, this tiny establishment is often packed with patrons standing at the bar. But don't let the crowds intimidate; you'll walk away with arguably one of the best cups of coffee in town (and the crema is not to be missed)!   
Best Things To Do In Rome
Scooteroma is touristy in the best possible way. How better to see the city than by Vespa? The private tours are available in English with several experiences to choose from, such as a Cinema tour (think Fellini locations) and even a Twilight tour with sunset views. Can't decide? Go for the customizable Shuffle tour, which combines highlights from the Street Art, Classic and Foodie tours. What better way to bypass traffic while sightseeing? (Note: recent motorcycle or scooter driving experience required).
Are you really going to go all the way to Rome without seeing the Sistine Chapel? Of course not! Yes, it's going to be crowded, but Vatican City is worth the journey and an essential part of Roman history and culture. Once inside, there are several impressive sights to explore, including St. Peter's Basilica, gardens dating back to the medieval period, the Apostolic Library, Raphael rooms, and, of course that oh so famous ceiling by Michelangelo. Even if it's the dead of summer, respect the dress code, which requires both men and women to cover their shoulders and knees.
Art and Rome go hand-in-hand, and we highly recommend purchasing a Roma Pass  to get the most bang for your buck. In addition to must-see stops like the Borghese Gallery, one of the more distinctive art viewing experiences in the city is at the Centrale Montemartini. You'll find beautiful examples of marble sculpted gods and emperors, but here's the twist: these antique pieces are housed in a former power station surrounded by industrial machines for a unique visual juxtaposition.
The only thing better than eating Italian food is learning how to make it (and then eating it)! A cooking class is not only an enjoyable cultural experience, but also a chance for couples to learn together in an intimate setting. The – rather straightforwardly named – Cooking Classes in Rome offers just that: an opportunity to create a four-course meal (appetizer, pasta, second course and dessert) in a class size of up to 12 people. Best of all, you can eat your hard work afterwards (so pay attention!).
Wandering
Ask anyone who has ever been to Rome about their favorite things to do and you'll inevitably hear that wandering around makes the list. And it's no wonder: romantic architecture, cobblestone roads, hidden gems, lively crowds, quiet picnics, music in the streets – half the fun of Rome is getting lost and seeing what you find. Discover new places and things together, afterall, you are in Mediterranean territory where life moves at a more languid pace. So take the time to look around, enjoy each other's company, and savor the slowness.   
Other Things You Need To Know
Thinking of splitting a bottle of wine at the Trevi fountain at midnight? Think again. Public drinking from glass containers after 10p.m. (and drinking period after midnight) are currently banned and will result in a hefty fine.

If the gelateria you enter offers pistachio in a bright green hue, you're in a tourist trap. Run!

Cash is king and still more widely accepted than credit cards. Avoid rip off kiosks by making exchanges before your trip, or through trusted and established banks in the city.

Scammers and pickpockets are big in Rome due to its high tourist volume. Stick to the basics: keep an eye on your stuff; don't carry large amounts of cash (especially in pockets); be alert in your surroundings; and don't accept gifts or unsolicited assistance from strangers.

Cobblestones may seem romantic – and they are – but if smooth pavement is your norm, your feet are in for a rude awakening. Keep your shoe choices comfy and practical.