You could go to Bora Bora for your honeymoon. Or Paris. Or Iceland. But if you're a certain type of person, there's only one place you want to go after tying the knot: the Happiest Place on Earth(™).
A trip to any Disney theme park is overwhelming, commercial, and filled with fondue-levels of cheese. Having said that, you should absolutely consider a visit to the Mouse House as your honeymoon, or as part of a larger Southern California trip. Do it because you love theme parks. Or cartoons. Or Disney Princesses. (Well, maybe not that last one…)
The Pros & Cons of Disneyland
If you're looking at a trip for Disneyland as a placeholder before a bigger trip, keep in mind this experience won't come cheap. A two-day park hopper pass is $260 per person. Disney-branded hotels sit between $250-$400 a night. And food and snacks (yes, you will want both, multiple times) range from a $6 cookie to a $50-dollar meal.
Having said that, you can have some low-key fun at the Mouse House. A shortcut to having the park (mostly) to yourself—look up local school district vacation schedules. See those days? Avoid them. Ditto for Mondays and Fridays especially during the holidays, since families are more likely to plan three-day weekends. If you're the kind of people who don't want to make a fuss over having just taken the plunge, great—no one is going to ask any questions. Want to shout the news? Stop by the main office on Main Street and let them know. They've got special badges of the occasion. You can even get his-and-hers t-shirts or Bride and Groom mouse ears if you really want to go all in.
Where to Hang Out:
Main Street, U.S.A.: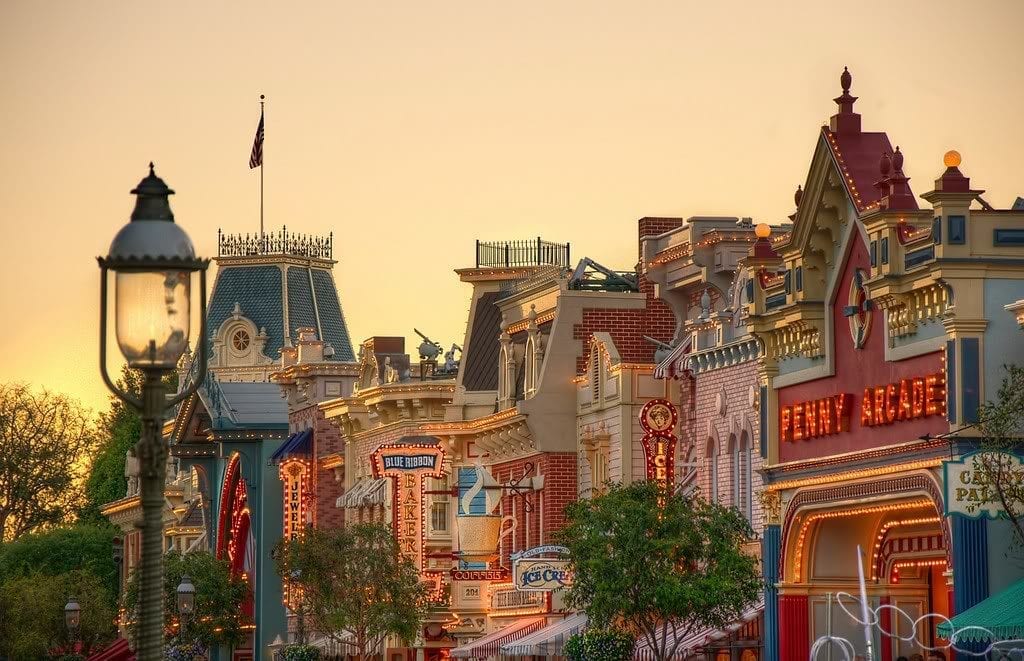 Also known as, the funnel into the rest of the park. Unless you're cuddling on the curb waiting for a parade, or really really, like Disney merch, keep walking.
Adventureland:
Disney's adrenaline land. Hop the Indiana Jones ride, or take a honeymoon safari with a side of terrible dad jokes on the Adventure Cruise. And of course, as any Disney expert knows, this is also where the Enchanted Tiki Room is located—a kitschy celebration of South Pacific culture and obligatory cups of Dole Pineapple sorbet.
Fantasyland:
Exclusively reserved for merry-go-round rides, old-school Disney film enthusiasts (Pro-tip: Alice in Wonderland might even be more druggy than you remember), and anyone who brought the kids along.
Frontierland:
Walt Disney's celebration of runaway transport (Big Thunder Railroad) and runaways (Tom Sawyer's Island). Wanna get wet and wild? First of all, get your head out of the gutter. Then head over to Splash Mountain for a runaway log ride. (Technically located in Critter Country—but if you're not on a sugar high and unable to tell lands apart at this point you're doing this all wrong.)
Toontown:
In theory, this is where Mickey lives. In reality, this is a tiny, dead-end area with only one way in or out blocked by many, many children. Get your photo with the main mouse just about anywhere else in the park.
New Orleans Square:
Home to 999 Haunted Mansion ghosts and scores of Caribbean Pirates who have thankfully sworn of derogation of women in the name of extra pillaging time, and actors living the dream by leading colorful funeral processions.  
Tomorrowland:
A retro-futuristic experience slowly morphing into Star Wars Land. Which means we get Star Tours, Space Mountain, and Jedi-themed popcorn holders, so no complaints here.
A Special Note on California Adventures:
When it opened in 2001, many people felt underwhelmed by California Adventures. The park has undergone several renovations since then, including adding a Cars-themed land, a Guardians of the Galaxy ride, and a tribute to The Little Mermaid. It still feels a little empty—but that's its power. Head here when Disneyland gets to be too much. Grab a drink (something the other park is sorely lacking) at Wine Country Trattoria, or Bayside Brews. Take a breather and take in some truly impressive night views on the Ferris wheel (where you can opt to have a stationary or swinging car). Then hop on Soaring Over California for a tour of the state that's both visually and olfactory pleasing.
Best Hotels:
This is where you can make or break a Disneyland vacation. Go wild during the day, but at night you're going to want a soft place to land. Thankfully Disney has gotten into the luxury game with the opening of the Grand Californian, which boasts a slate of spa treatments (categorized by world map), five on-site restaurants, and special entrance to the park.
For those looking for a more active environment Paradise Pier, another California Adventures-adjacent hotel, offers early morning speed walking sessions through the park, trivia nights, and fireworks viewing platforms.
But (as you might have guessed) anything branded with the Disney name will likely be more expensive than other options. Thankfully Anaheim is loaded with hotels, and bonus: many options will offer complimentary shuttles to the park. Look for special offers. Ayres offers a slate of amenities, like late checkouts, and in-room and 15% off for Disneyland annual pass holders.
Best Attractions and Activities in Disneyland
Obviously, you should go on every ride. Twice if possible. But once you've screamed your way down the Matterhorn, made out on Mark Taiwan's riverboat, and cuddled through It's a Small World, here's a few other activates to consider.
Nightly fireworks:
This is a classic no-brainer. Fireworks kick off at 9:25 and last for about 20 mins. Gather with the crowd right outside of Sleeping Beauty Castle for the most iconic view, or huddle in the shadows near the park entrance for some alone time.
World of Color:
Like fireworks on steroids. Disney poured an estimated $75 million into this California Adventures light, projection, water, and laser extravaganza (which features hat tips to Little Mermaid, Up, Enchanted, and The Lion King among others). So please—show it the social media love it so clearly craves.
Soak in the impressive history with a walking tour. If you're a devotee of Walt and the history of Disneyland, you can join up for a Walk in Walt's Disneyland Footsteps to learn more about the man, mouse, and mystery.
Best Restaurants
For the granddaddy of all Disneyland fine dining experiences be sure to make a reservation at Blue Bayou. (Otherwise, you likely won't get in.) No matter what your opinion is on Cajun and Creole-themed food, it's worth a visit simply because its location, literally inside the Pirates of the Caribbean, can't be beat. (However, note that you can't actually get a bottle of rum, as Disneyland proper is still a non-drinking zone.)
Located inside California Adventures (very close to the entrance) is the former home of the theater where Walt Disney first screened his debut feature film, Snow White. Which means everything, has a subtle, old-school Hollywood vibe. Grab a special cocktail (yes—you can drink here) or an old-school steak or portabella mushroom (s/o to Executive Chef Andrew Sutton for hooking a vegetarian up) and admire the walls covered in black and white photos. Just be sure to peak at the wallpaper. Disneyland may have hidden Mickeys, but Carthay Circle has hidden Snow White background illustrations.
Oh, And Don't Forget Dessert.
Need to feed your Instagram, or just want to put freaking cute things in your mouth? Disneyland understands the power of photogenic sugar delivery systems. Grab a cake pop in practically every character known to man (or if you're a traditionalist, Mikey.) Slurp down a Freakshake, complete with a twisty straw. (Better make that two straws) Throw a loaded churro in your face. Fight playfully over the last bite of rainbow cake. It's pretty easy to find. Start walking in a straight line. Stop when you hit food. Repeat as necessary.