Where to Stay:
Jalan Goa Lempeh, Banjar Dinas Kangin, Uluwatu, Bali 80364, Indonesia
+62 361 8471000
This gorgeous resort is located on a cliff 150 meters above the Indian Ocean.  You'll have the ultimate in both panoramic views and privacy.  The resort's beach is so private, that it's inaccessible to the public from both land and sea (as it's protected by a coral reef).  Il Ristaurante, renowned as the 'Best Hotel Restaurant in the World,' is also right on the property.
Jalan Nusa Dua, Kompleks BTDC Lot NW 2 & 3 Kuta Sel. Bali 80361, Indonesia
+62 361 773300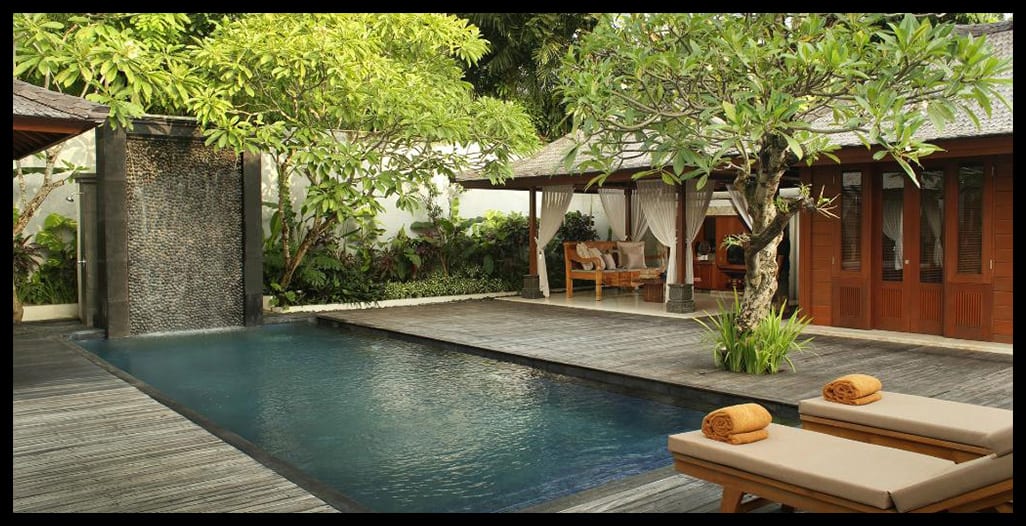 This hotel, made up of 14 unique villas, is Balinese style at its finest.  Traditional and modern décor combine to create a one-of-a-kind atmosphere that keeps you in the lap of luxury while still maintaining an exotic feel.  Watch the sunset from your outdoor cabana or while floating in your private pool.
Jl. Camplung Tanduk, Seminyak Beach, Seminyak, Indonesia
+62 361 730730
If your idea of the perfect honeymoon is paradise by day, party by night, you've found your place.  This hotel, which features two pools (one right on the beach) and over 11 acres of tropical gardens, is within walking distance of Bali's hottest restaurants, bars, and nightclubs, including KU DE TA Bali .  You won't believe that the price tag comes in under $200 per night.
Where to Eat:
This Seminyak restaurant, featuring a romantic outdoor deck, is the epitome of riverside dining in Bali.  Choose appetizers or "Asian Tapas" like the Mini Wagyu Burger (with foie gras butter, truffles, and cheese) and follow with the head chef's take on a traditional Balinese entrée like Be Sampi Base Bali (braised beef with Balinese spice, wok fried baby bokchoy, mushroom, papaya, pamelo, and coconut rice).  Alternatively, opt for the either 4 or 6 course degustation menu to try a host of different dishes.
The idea behind this foodie hotspot is Asian street food turned fine dining.  The menu is influenced by Chinese, Indian, Cambodian, Indonesian, and Thai flavors.  Dishes range from lime and pandan cured salmon to caramelized pork belly to Asian crab bisque with coriander dumplings and coconut milk.  The restaurant itself is fitted with crystal chandeliers, plush velvet seating, and soft dreamy lighting.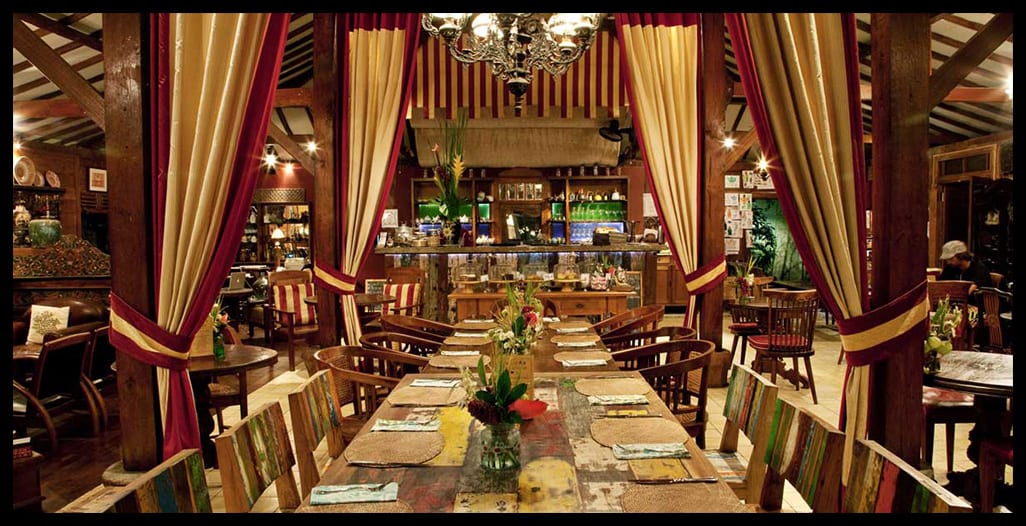 Biku in Petitenget serves up what they've termed "tropical comfort food" in a 150-year-old teak joglo (a Javanese house). In addition to breakfast, lunch, and dinner, the restaurant offers an Asian high tea, featuring samosas and spring rolls in place of finger sandwiches, as well as scones and pastries with an Eastern twist.  The savory homemade pies are a must-try at any meal.  If you're going for lunch or high tea, you can also book a tarot reading.
For breakfast or brunch in a cozy café setting, The Fat Turtle is your place.  Among the creative and classic breakfast food offerings, the red velvet pancakes and corn fritters are the most popular.  If you (and/or your wife) appreciate latte art, you won't be disappointed.  Try a matcha green tea latte if you're man enough.  Or if you're just not a fan of coffee.  That's fine too.
Where to Drink:
You've never been to a bar like this before.  If you don't really want to dive into the party scene, go early for a pre-dinner drink or two.  The stained glass, colorful lights, and all around luxe décor will definitely make it worth your while.  But if you are looking for a party, this place should be on the very top of your list.
This 1700 square meter rooftop bar (one of the largest in the world) features a circular fire pit grill, offering the 'United Flavours of Satay,' as well as an extensive menu of creative expertly crafted cocktails.  Order a few different satay dishes, which range from The Bali Organic Chicken to the Rockefeller (Slipper Lobster, Scallops, Caviar, Lemon Sauce).  Book ahead to sit in an outdoor 'floating' pod and watch the sun set over the ocean while you sip your Rossalita (Ketel One Citron, Cointreau, house brewed Rosella Tea, Peychards Bitters, Caster Sugar, fresh Lime, Orange Zest) or Pak Sirsak Margarita (Hornittos Reposado Tequila, Cointreau, house made Sirsak Sorbet, fresh Lime, sweet Sour Sop foam).
What to Do:
Adopt a baby turtle and release it into the ocean together
These little guys are so cute.  Go to the Kuta Beach Sea Turtle Conservation Centre to participate in their baby turtle release.  Not only will you be doing something uniquely romantic with your new wife, but you'll also be helping to preserve Bali's sea turtle population!
This nature reserve and Hindu temple complex is home to over 600 long-tailed macaques.  At the office across from the main entrance, you can make a donation to offset the carbon you created getting to Bali. Get a tree planted for 150,000Rp (about $11 USD).  In addition to the Monkey Forest, the village of Padangtegal is also known for its talented local artisans.  You can view and purchase their work at the Ubud Traditional Art Market.
Have a movie night on the sand at Karma Beach Bali
Situated on the whitest, cleanest sand in Bali, this exclusive beach club (accessible only by a funicular ride down the cliff side) is a must visit.  During the day, surf, kayak, take a paddleboard yoga class (whatever that is), and maybe even indulge in a side-by-side Balinese couple's massage.  At 8:30 on Monday nights, kick back on a comfy beach bed with some popcorn and a cold beer to enjoy a movie on the beach.  It doesn't get much better than this.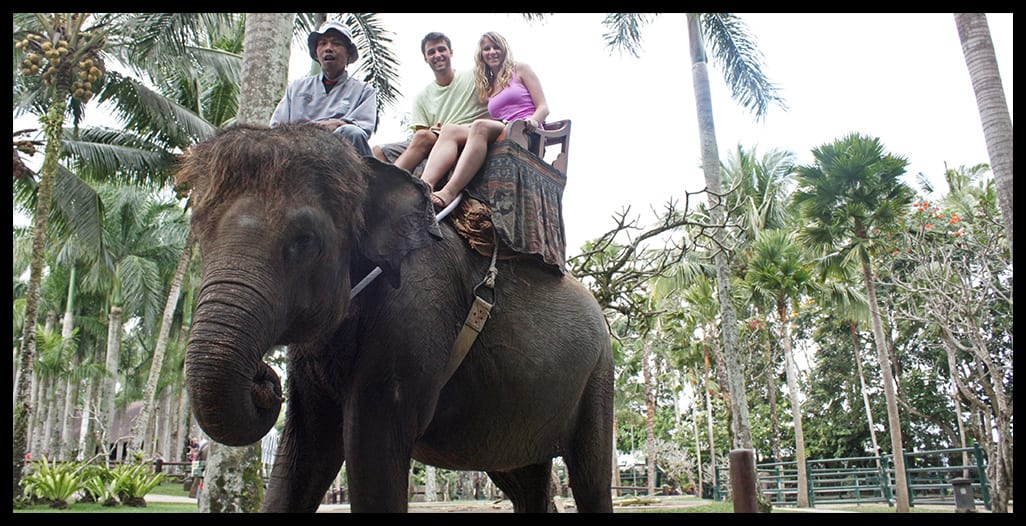 This Elephant sanctuary is a refuge for elephants rescued from abuse by the logging trade in Sumatra. If you're morning people, book a bathe and breakfast package.  Who doesn't want to give a baby elephant a bath?  You'll also want to have an elephant ride. Hold on tight, and don't forget your camera.
Coveted by wildlife photographers, locals, and tourists alike, Menjangan is Bali's prime locale for wall-diving.  Take your pick of the island's 10 dive and snorkel sites depending on your skill level.  You'll see an incredible variety of tropical fish and eels at any of the spots.  You might even see reef sharks or stingrays.  Kapal Budak (which means Anchor Wreck in Bahasa) is suitable for all levels and will give you the best chance of viewing Green Sea Turtles.
Explore breathtaking sea temples and water palaces
Here are our favorites from several regions in Bali.  Just remember to bring appropriate clothing (a sarong for women) and respect that these places are considered to be holy.
Tirta Gangga in Karangasem
This peaceful water palace is one of a kind. After strolling through the beautiful gardens, watch colorful carp as you cross over the water on stepping-stones.
Tanah Lot in Beraban
This temple, built on a large offshore rock, plays a large part in Balinese mythology.  People come here to worship the Bhatara Segara, or Ocean Power Deity.  Visit in the afternoon or evening during low tide in order to actually enter the temple (during high tide, the rock is completely surrounded by water, and is therefore inaccessible).
Pura Luhur Uluwatu in Pecatu
While the building itself may not be as impressive as some of Bali's other major temple sites (don't get us wrong, it's still remarkable), its location at the edge of a cliff 70 meters over the Indian Ocean makes up for that.  Venture beneath the temple to a scenic rock cave with rock formations leading to a nearby beach.
Tirta Empul in Tampaksiring
This beautiful temple, whose name translates to "Holy Spring," is famous for its fresh spring water used in purification rituals.  Go to the Jaba Tangah (or central yard) and to view the purifying pool, and if you so choose, actually join in the ritual bathing (clothes and all).  If you were looking to immerse yourself in Balinese culture, this is absolutely the place to do it.
Other Things You Need to Know:
Steer clear of an alcoholic beverage called "arak."  Contaminated batches have injured several visitors to Bali.
Make sure you wear sunscreen and stay hydrated.
Bargaining on goods is perfectly acceptable and expected in Bali.
Use your right hand when shaking someone's hand or handing something to someone.  Using the left hand is considered impolite.
Written by Ariel Guterman