When you're in the thick of wedding planning, you may find yourself thinking "I never want to have to do this again." But once the wedding is past, you may find yourself feeling wistful for standing in front of a crowd of friends and declaring your love for your spouse. That's why God invented the vow renewal.
Here are the major dos and don'ts—and else everything you need to know about renewing your vows.
Why should I get a wedding renewal?
Because you made it. Whether you've been married one year, five years, or 50 years, it's a cause for celebration and a major feat in today's society. Maybe you want a chance at a wedding re-do because of bad weather or a ceremony mishap, or you decided you want to recommit to each other, or you're dying to show the world that your bond is stronger than ever. Or, perhaps, you just want an excuse to throw a great party. Bottom line: There's no wrong reason to have a wedding renewal.
Who can renew wedding vows?
Anyone who is married. You might receive a lot of raised eyebrows, smirks, and "are you serious?" comments if you decide to renew marriage vows after three months—but if the situation calls for it, by all means, do it. Generally, though, the occasion is perfect for simultaneously celebrating a big-number anniversary like 10, 25, or 50. Think of it as a milestone marker.
Do we need to get a marriage license?
A vow renewal ceremony is strictly symbolic and celebratory. Therefore, you do not need to get a new marriage license or fill out any paperwork. Some venues or officiants might require proof of your union, in which case you need to bring them your original marriage license.
Who should we invite?
Chances are your circle of friends has changed a bit since your wedding. Invite the people who are most important to you and have been supportive throughout your marriage. If you decide on an intimate affair, stick to immediate family and close friends. Vow renewal etiquette is different than wedding etiquette. You're no longer bound to obligatory or pity invites. Your mother-in-law's hairdresser does not need to be invited. You want to be surrounded by the people who know you and your spouse the best and want to celebrate your union as much as you do.
Where should we renew our wedding vows?
The options for where to renew wedding vows are endless. If you're religious, you might opt to hold the ceremony in a place of worship, like the church where you got married. A sentimental duo might pick a special spot, like the beach where you proposed or the park where you met. Or choose a setting that symbolizes you and your spouse's bond. A vow renewal in your backyard could serve as a testament to the life and home you've created together. Likewise, a favorite family vacation destination could be a reminder of the beautiful family you have.
How do you write vow renewal invitations?
Pay close attention to wording when writing your vow renewal invitations. Be specific about who is hosting the event. For instance, a wedding renewal could be hosted by the couple, in which case the invitation could read:
John and Jane Smith request the pleasure of your company at their vow renewal ceremony.
Often times, however, the couple's children or family host the event. If that's the case, say so in the invitation:
The children of John and Jane Smith request the pleasure of your company at the vow renewal ceremony of their parents.
But wording doesn't always have to be so formal or traditional. Take a look at these different options:
We still do. Please join us in celebrating the 10th anniversary of John and Jane.
Let's eat, drink, and be remarried! Please join us as we toast to 25 years.
Cheers to five years! John and Jane invite you to join them at their vow renewal ceremony.
As with a wedding invitation, be sure to include date, time, location, event description, and RSVP information. Consider including other important details. Let your guests know the attire of the event (casual, cocktail, semi-formal, formal) or that gifts are not required (unless, of course, you're hoping to score something).
If you want to save money on invitations, it's okay to send out evites. Paperless Post has tons of great options, and guests can easily RSVP online, so you'll know exactly who is and isn't coming right away. Whether you choose paper or cyberspace, send the invitations out around four weeks before the date so people have time to make arrangements and put the event on their calendars.
Do we need to have pre-parties and showers?
The answer to this is a very hard no. Since you're already married, chances are you already had your bachelor and bachelorette parties and wedding/bridal showers. At that point, you should have received all the gifts and celebratory drinks/shots you needed. It is far too much to ask friends and family to participate in activities like that all over again. You had your chance! If you're having a more formal, wedding-like vow renewal, you can plan a lowkey night with friends and family—sans the gifts, formalities, and strip clubs.
What is the ceremony like?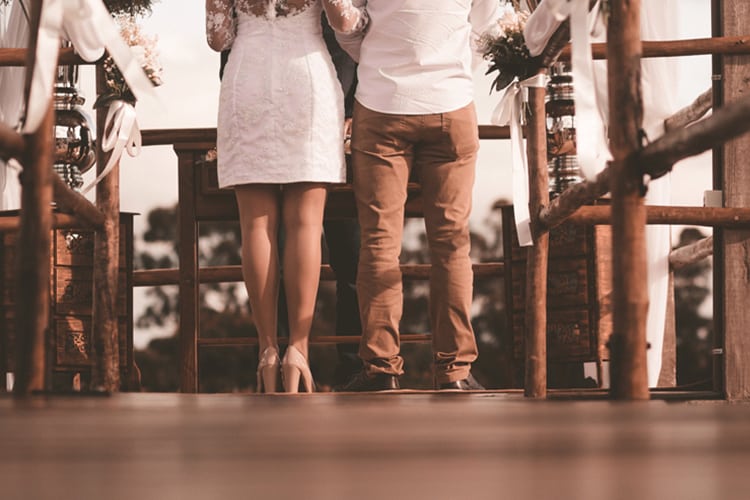 Traditionally, you'll repeat the same wedding vows you and your spouse exchanged when you got married. If you wrote your own vows, you can say them again, add a few new lines, or write completely new vows. Think about your original promise to each other, your marriage, how far you've come, and what you hope for in the future. Most likely, it's been a number of years since you last made vows to one another. Think about what you want to convey to your partner now.
After verbal vows are exchanged, you'll exchange rings. Many couples use the same ring, sometimes with a new engraving inside to commemorate your vow renewal. You can also opt to  buy brand new rings to wear in addition to your original rings. This is the perfect occasion to upgrade outdated engagement rings and wedding bands—especially if you're in a better financial situation than you were when you proposed or got married. Trade in old rings to offset the cost of your new bling. Think of new bands as a gift to yourself and to each other. You both deserve it.
Are we supposed to have a wedding party?
Wedding parties are definitely not necessary for a vow renewal ceremony. Your friends and family did their part at your wedding, and you no longer have to decide which of your college buddies makes the cut this time around. If you want to have people stand with you, choose your children or parents—no one else. As far as walking down the aisle, many couples get escorted by their children or simply walk down together.
What should we wear?
Guys, you have it pretty easy. A suit will usually suffice. You can make your ensemble more special by incorporating a memento from your wedding like the cufflinks you wore that day or an embroidered pocket square with your anniversary date. For a more casual fête, wear a well-fitting button-down shirt and dress pants. You want to look your best and impress your spouse, after all. Get a haircut a week or two before, go for a professional shave or beard trimming, and bathe. You want to make sure your spouse will be around for another 15 years.
Women, do not—I repeat—do not, wear a massive wedding gown. You had one opportunity to do so, and if you missed it, we're sorry. Vow renewals are more grown up and less of a fuss than the first go-around. And while you can (and probably should) wear something formal, or even slightly extravagant, there is no need to go full-out Disney princess. On that note, skip the veil and bouquet as well. Again, this is not the time or place. But you do want to look and feel your best. Get a blowout, get your makeup done if you don't trust yourself, and a mani-pedi. When it comes down to it, you want to impress each other!
Should we have a reception?
Absolutely. What's the point in inviting your family and closest friends to watch you renew your vows if you can't celebrate with them after the fact? Again, it's up to you and your spouse to decide big you want to go. By all means, have an all-out affair with a cocktail hour and sit-down dinner and dancing. Thankfully, this time around, you can forego the wedding formalities and tired traditions like cake cutting, bouquet throwing, speech giving, and the like. But it is certainly a nice gesture to formally thank your guests for coming at some point with a short speech or toast.
While a huge party is completely acceptable—and usually a good time—you can also host something a bit less formal (and more cost effective). Rent out a room at your favorite anniversary dinner spot or throw a backyard barbecue and grill up some burgers and hot dogs yourself. Unlike weddings, there is less expectation and judgment when it comes to vow renewals. Throw a reception that's true to you and most importantly, enjoy yourselves.
—Lauren Epstein
Your wedding renewal isn't the legal or religious hurdle you lept through the first go around, meaning it can now be anything you want it to symbolize. Take it in the most fun and meaningful direction you'd like to celebrate your ongoing love.