A wisely-chosen lapel shape will camouflage your flaws and accentuate your virtues.  Regardless of the style you choose, one thing remains true: when the lapel doesn't match the jacket or the man, it creates a look that is just… off. You need to figure out what shape and size lapel looks best on you.
While there is no magic answer to this equation, there are some useful guidelines. Generally, match a wider lapel with a wider tie on a wider frame, and a slimmer lapel with a slimmer tie on a slimmer frame.
Slimmer Guys (chest about 38 inch and smaller): aim for a lapel under 3 inches, preferably around 2.5 inches.
Average Guys (chest roughly 38 inches to 50 inches):  you're in luck, most lapels are around 3-3.25 inches.
Broader Guys (chest over 50 inches): opt for a lapel of around 3.5 inches, no need to go bigger than that.
Below is a break down of the 3 major types of lapels that you will run into during your wedding prep. Here's what you need to remember:
The Notch Lapel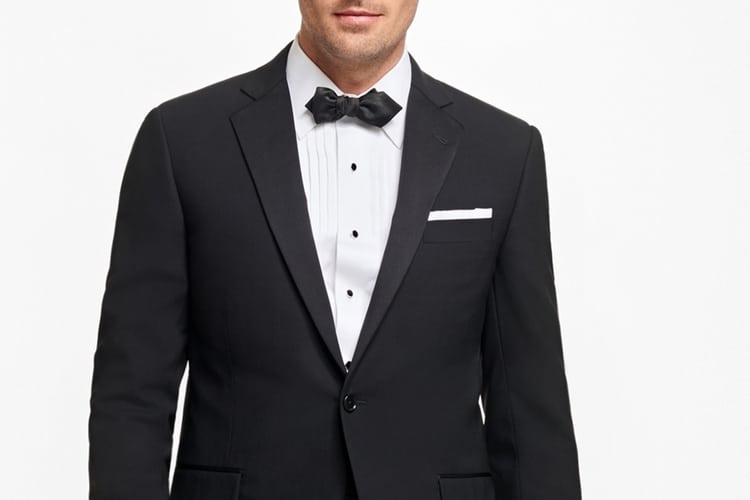 Brooks Brothers Regent Fit BrooksCool Tuxedo, $798
This lapel style is more traditional for suiting and therefore tends to look less formal. Some of you suit-and-tie guys may have known that without even really knowing it: look through your closet and you'll find plenty of jackets with notch lapels. This is the perfect option for a more casual, yet still dressed up, wedding. If you are opting for something as classic as a navy suit all the way to something as thematic as a seersucker number, you will find this is your best option. Pretty much anyone can look good in a jacket with a notch lapel.
SHOP NOW
The Peak Lapel
Brooks Brothers Regent Fit Peak Lapel Tuxedo, $1198
This lapel style is one of the most formal, and particularly traditional when it comes to black-tie. When most guys think tuxedos, they think of a classic jacket with a peak lapel. It's wider and points upwards. Now we are seeing a slimmer style in the peak (in the past, this style could get pretty exaggerated.) Anyone can benefit from a peak. At first glance, it may look aggressive, but the upward shape will draw attention to your shoulders, bringing you a little closer to the classic V shape you want. Peak lapels are also slimming, so guys carrying a few extra pounds guys with rounder features will benefit from sticking with the sharp, vertical angles of this style.
SHOP NOW
The Shawl Collar
Brooks Brother One Button Fitzgereld Tuxedo, $1198
If you are eager to stand out like a boss, then you have found your lapel. Often reserved for smoking jackets (meaning the jacket is made of a richer, heavier fabric and worn with tuxedo trousers and – stick with us – dress slippers), shawl collars now found in every shade, shape, and style. Never think of this as anything but formal, only for weddings, galas, red carpets. You can find some sick shawl collar options out there that, when pulled off properly, leave a long lasting impression. Guys who should stay away are those with rounder features. As you may guess, round on round only brings more attention to all that roundness.
SHOP NOW
Know thy lapels. A lapel may be a small thing, but it can have a big effect on your wedding day look.