You asked the Big Ask: the biggest purchase of your life, followed by the biggest question of your life, followed by the biggest heart palpitation of your life. And now it's over (the proposal, not your life). But the decision making is just starting. Next up: what kind of wedding band are you going to buy?
While you will certainly be judged for the engagement ring you chose, it's not you who has to wear it. But you will be wearing this wedding ring every day for the rest of your wife. You need to know how to get one, and which one to get.
A Brief History of Wedding Bands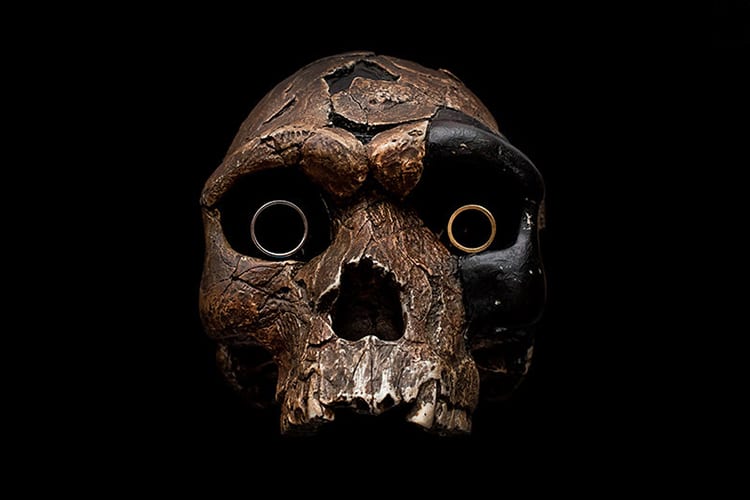 The history of wedding bands dates back thousands of years, from ancient  Egyptians wearing ceramic rings to Romans exchanging woven reeds to solemnize a marriage or partnership. Rings were also fashioned out of precious metals in many religious ceremonies, featuring ornate decorations or engravings of religious verse that would symbolically bind the couple together.
Modern wedding rings became more of a luxury item after the DeBeers company monetized the entire wedding and jewelry industries in the late 1800's. Since that time, traditional gold wedding bands have become synonymous with marriage, inspiring romance novels, films, and hit singles by Beyoncé.
Wedding Band Metals: Platinum, Gold, and Others
As with engagement rings, wedding bands come in a range of different materials.
There are of course the traditional metals like yellow gold, white gold, and even platinum. But men's wedding bands also come in a range of options that are a bit sturdier for those who either work with their hands—or just like a more masculine aesthetic. For these wearers, metals like tungsten or titanium are a good bet. Even bands made of rubber or carbon fiber are great options for outdoorsy types. If you want to add some bling, you can also opt for a ring with a diamond set in it, to match her ring.
Wedding Band Shapes
The shape of your band is important in terms of how comfortable it is to wear.
Most bands have a domed shape, in that both the interior and exterior of the band is slightly rounded. This is also known as a comfort fit, or court band.
But there are other combinations, such as a domed interior and a flat exterior, a flat interior and domed exterior, or flat interior and flat exterior. Each creates a different aesthetic, and each feels different on your finger. If you've never worn jewelry before, you may want to go for the comfort fit interior, which offers a smoother slide and grip for those unused to having a piece of metal on their hand.
The Width Of Your Wedding Band
The width of the band is a big factor in the impression it makes.
Some guys may shy away from narrower rings, which have a more delicate, feminine look. On the other hand, wider rings jut out more, which can take some getting used to. Some guys may find it a little too ostentatious.
Wedding Band Metal Finish
Wedding bands come in a range of different looks and finishes.
The most common are brushed or polished finishes, though there are plenty of others like hammered, satin, and plated that can give a more personal, fashionable feel to the ring. These typically add a bit more onto the price tag, and need to be refurbished every few years or so, but adding a unique finish can also help disguise any nicks or scratches that may appear larger on a flat or polished finish.
Choosing Your Wedding Band Style
A band's style is determined by the decisions you make on things like shape, width, and finish. But there are also architectural touches that can further enhance the style. Options like adding milgrain detailing, cutouts or small diamond insets allow you to personalize your band for something truly original.
The danger with getting too elaborate in your wedding band styling is that design trends change or fade away, and what looks fashionable at your wedding may look dated by your fifth anniversary. Also keep in mind that your wedding band needs to be able to withstand a certain wear and tear, and more elaborate rings will be more difficult to mend due to their specific and artistic qualities.
Real Life Considerations
Always remember: you will be wearing this ring all the time, so the style and design need to be appropriate to your day-to-day life. If you work in an office, most rings will be fine–but that's not the case for everyone.
For instance, a groom who makes his living as a guitarist is going to want a thin band that won't obstruct his natural finger movements. People working in factories or construction may want something more durable or scratch-proof like tungsten. Of course, tungsten's unbreakable quality is not always good—if the ring ever needed to be cut off in an emergency, tungsten will be a problem. For people working in more specific settings, be sure to ask your jeweler or experts like us about what metals may be best suited for you.
Where To Buy Your Wedding Band
Where should you buy your wedding bands? You can start by returning to the same jeweler from which you bought the engagement ring. Some jewelers will offer bundle packages that allow you to save money, and they'll work to get you something that compliments our wife's wedding band and the engagement ring.
There's also the online option. Between the major sites like James Allen or Blue Nile, there are plenty of great opportunities to find a quality band without breaking the bank. You can also search on sites like Etsy or custom sellers for something unique and affordable.
You will (presumably) wear this band for the rest of your life, so make sure the ring fits: both on your finger and in your life.