There's generally less bling associated with grooms than with brides, but that doesn't mean your wedding ring should be an afterthought. You'll be wearing it for the rest of your life; it should be something that reminds you of your wedding, your partner, and the commitment you made to each other. It doesn't have to cost thousands of dollars, either. If you work with your hands, or just aren't used to jewelry, you might need a ring that can stand up to a lot of abuse without having to remove the thing every time you get your hands dirty. Below, we take a close look at which ring metals are most durable. And what is meant by "durable"?
Where once a simple gold band was the norm for men, there are now dozens of metals, and plenty of non-metal options to pick from. You'll want to consider various criteria when looking into rings, and some of them might not be as top-of-mind as preparing for the wedding, getting groomsmen gifts, and the all-important wedding-day hosiery choice. Don't worry, we're cutting through the BS ASAP. 
Ring Strength vs Hardness
Guys seem to want to know what the strongest metal for a wedding band is, but sometimes strength isn't really what you're looking for when considering metals for rings. Strength is the ability of a material to bear a load without deforming. If you're planning on using your ring to extend a climbing anchor, or as part of a MacGyvered suspension fix in your truck, this is key. If you want a ring that won't look shabby in a few years, it's not that important.
You're probably concerned with hardness, which is the resistance to abrasion of a given material. With hardness comes a trade-off in the form of brittleness. Simply put: Harder rings are often derived from powders, which means that if you were to drop them on a tile floor, the chance of breaking is a lot higher. Want your ring to remain scratch-free? Pick a hard metal, but try not to drop it.
Ring Metal Allergies
First things first: If you have a nickel allergy, which many people do, consider a hypoallergenic band before all else. You'll know if you have a nickel allergy because you will have experienced itching or rashes when you wear jewelry containing the metal. Most jewelry allergies are reactions to nickel, so if you've experienced any irritation wearing metal jewelry this is likely the culprit.
Will You Be Re-Sizing the Ring?
There's also the possibility of resizing to think about: you might not believe it now, as you stare out at your future with your new spouse, but one day you will be older and your fingers might be larger. Some rings can be easily resized for a few bucks in a few minutes. Others are forever the size your fingers were the day you took your vows. Luckily many modern jewelers will offer a steep discount on new rings should you outgrow your first band. Know what you're buying before you pay for it.
So what's the toughest ring metal? Our men's wedding band metals comparison below should help you pick the best ring for your needs. Here are the materials in order of strength.
Tungsten Carbide Wedding Bands
The outright hardest metal for a wedding band is tungsten carbide. Tungsten wedding bands won't scratch; in fact, they are more likely to scratch other things. Tungsten is so hard on its own that they're usually alloyed with cobalt to prevent it from shattering and to make forming the ring easier. Many tungsten rings do have some nickel, so this may be a concern for allergy sufferers. Tungsten isn't very reactive, meaning it yields wedding bands that won't tarnish. It's also used in armor piercing shells, so that's badass.
The major downside of Tungsten is that it can't be resized. It's also worth noting that many of the rings listed on websites as tungsten have other inlays or platings, which might be more vulnerable to scratches.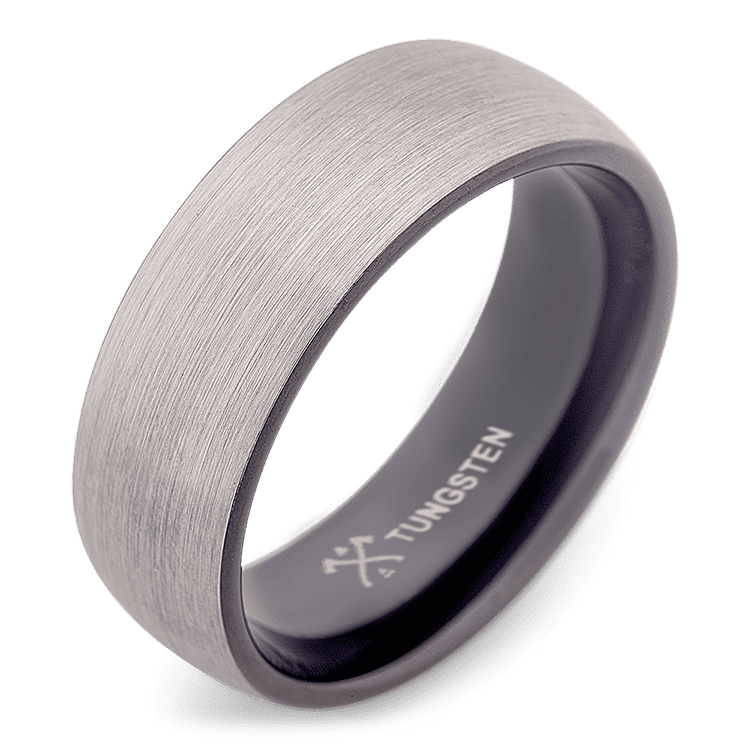 Etsy has some great value tungsten rings, which might be a good idea as you will need to replace the ring if your fingers or knuckles change size. Tungsten men's rings tend to cost $100 to $200 but there are cheaper options.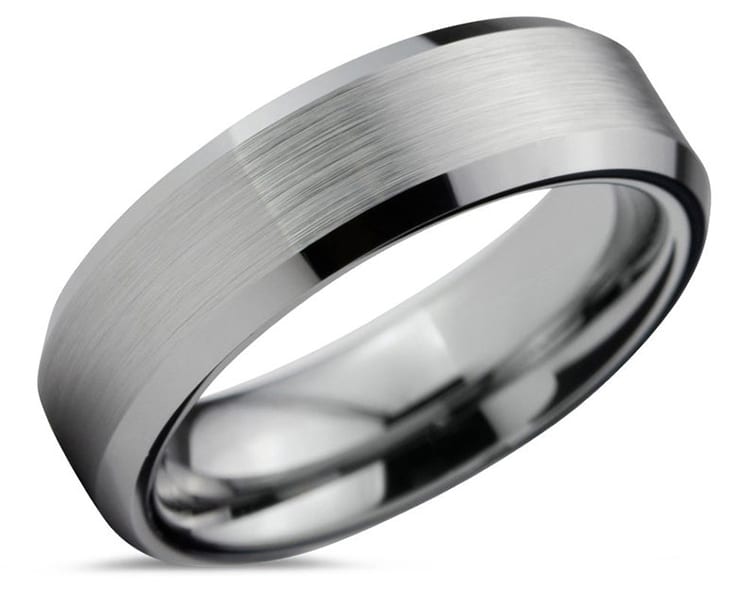 Cobalt Wedding Bands
Cobalt, or cobalt chrome alloy, is the next hardest. But it has a more familiar shiny-silver color than tungsten. It's also a great hypoallergenic choice, so much so that it is often used in the medical industry. This alloy will look the same for years to come, making it a great choice for guys looking for a men's wedding band that won't tarnish. We are, however, starting to get into the ring metals that can't be cut or smashed here, so bear this in mind when picking a wedding band. There are some great value bands in the Larson Jewelers collection at around $75.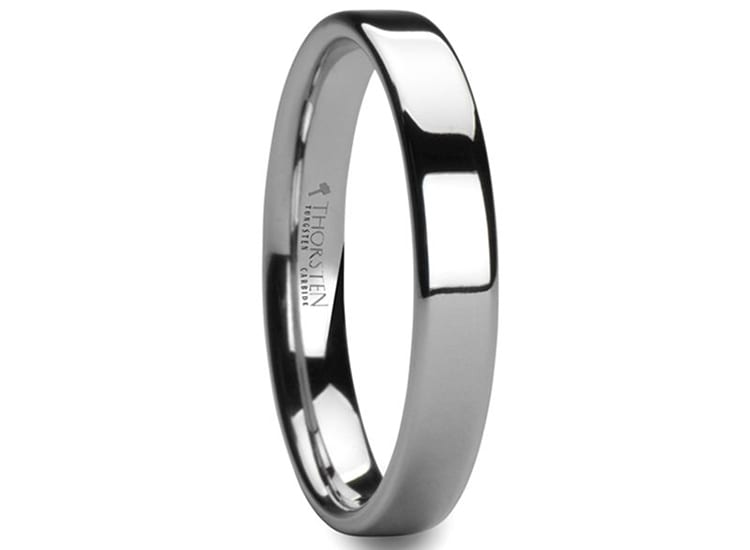 Prices go up to $300 for this chunky and sturdy model from Manly Bands.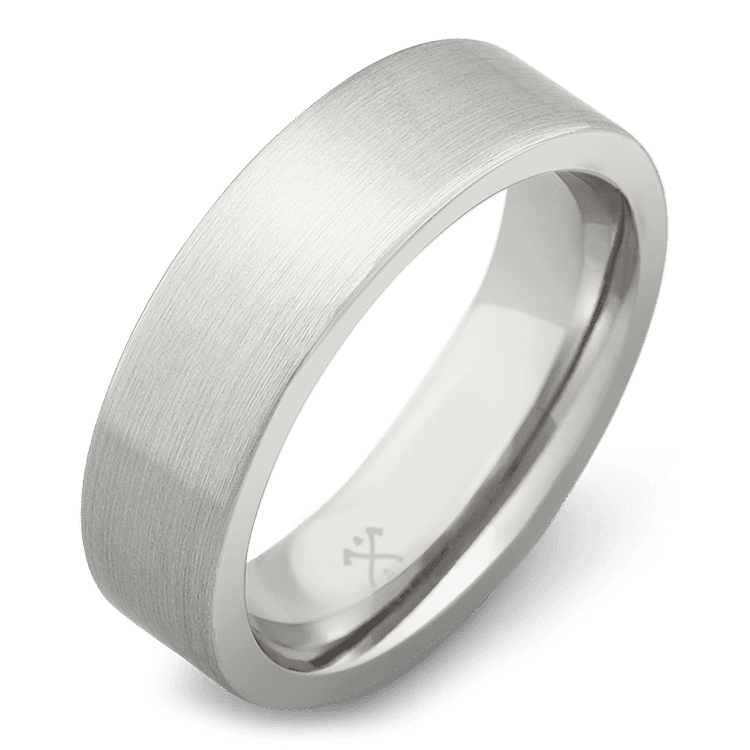 Black Zirconium Wedding Bands
The next hardest material is Black Zirconium. It's an oxidized zirconium that combines low density with high hardness for a ring that won't weigh you down or worry you. Again, these rings are hard to cut off and impossible to resize but they are hypoallergenic. Manly bands offer a great looking and hard wearing 7mm band that is a great choice.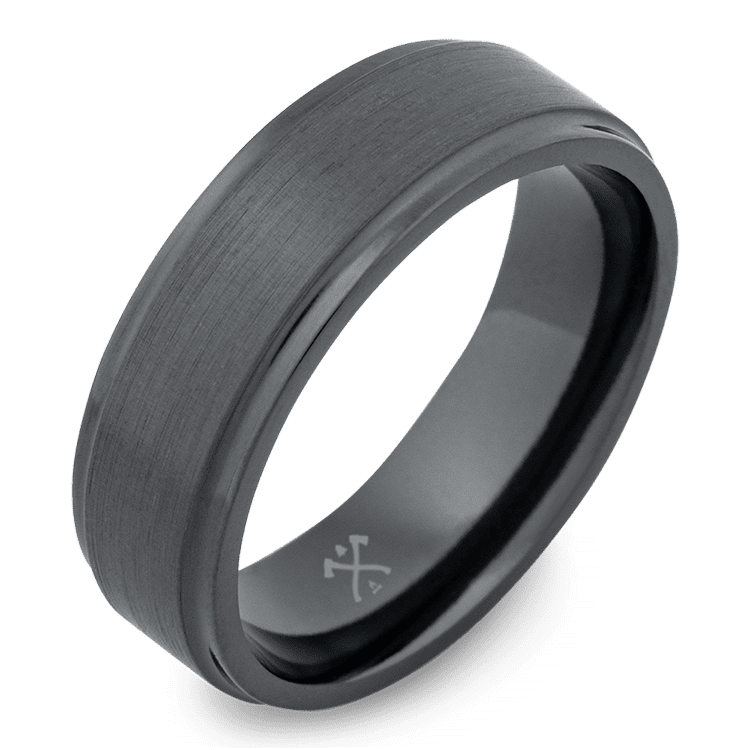 Despite not being a "precious" metal, most of these rings begin at $150 and can cost up to $500 although we did find this economically priced outlier on Etsy.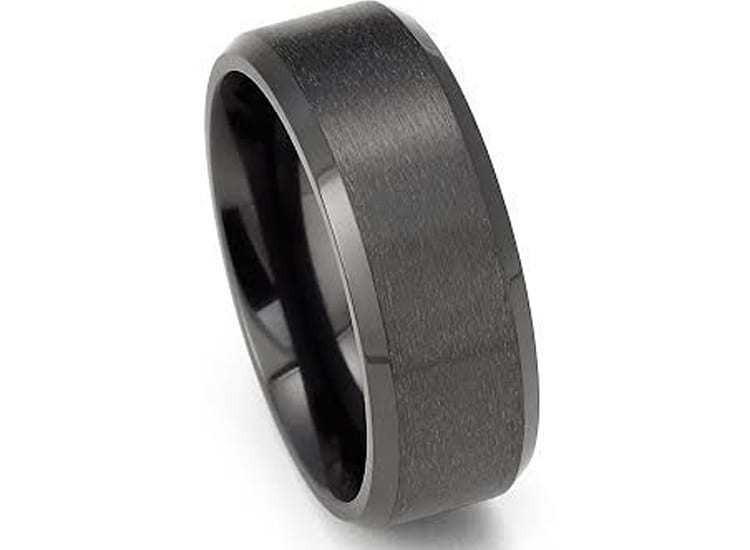 Titanium Wedding Bands
Next comes titanium which is also light, hard, and impossible to resize. Titanium has a shiny silver color, so if that's what you're looking for this is a much more durable alternative to actual silver. Titanium tends to be hypoallergenic. While it is pretty badass to say that your ring is made from the same alloys as fighter jets, titanium is the start of the scratchable materials, so from here on in you're going to take that ring off if you want to work on fighter jets (or your aging sedan). James Allen has a great range of titanium bands in various widths and bevels — this 7mm comfort fit band would be a great choice for most guys. Titanium rings are pretty good value, ranging from $60 to $150.
Platinum Wedding Bands
Below titanium, we get into precious metals. These tend to be dense, a bit softer, and easy to resize and remove. Platinum is the hardest of the precious metals, but it's not cheap or super scratch resistant so if you opt for one of these rings, take care of it. It is very dense, so your ring should have a nice weighty and valuable feel. Platinum bands aren't cheap, this classic 4mm men's band will set you back $440 on Blue Nile and it is possible to pay twice that for larger bands.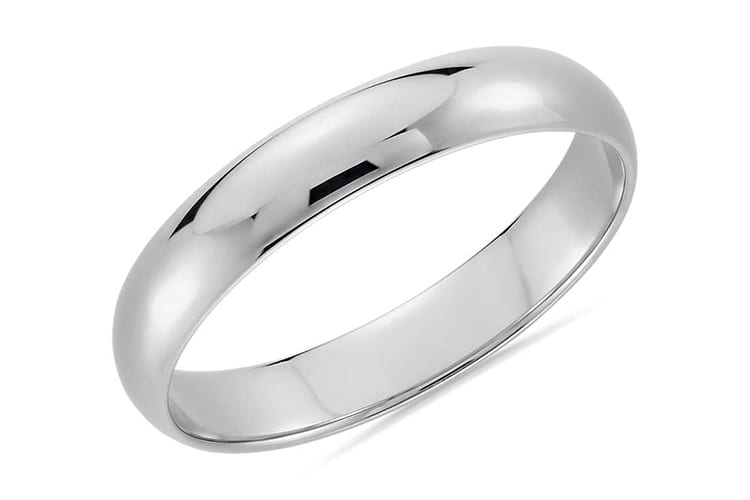 Yellow Gold Wedding Bands
Yellow gold is slightly less dense and less hard than platinum, but still very resistant to corrosion. It certainly has a classic look and is always a popular choice. But you'll want to be careful of scratching a gold ring as they are soft enough to sustain lasting damage in everyday use. Despite being the default option, gold rings can be the hardest to maintain as they both tarnish and scratch. But unlike harder metals, gold is easily resized and can even be melted down into another piece — my wife's engagement ring was made by a friend with gold from her grandmother.
We love this James Allen 6mm flat ring, which looks classic without looking too much like it belongs on Frodo's neck and not your finger. Expect to pay about $400 to $600 for a gold ring.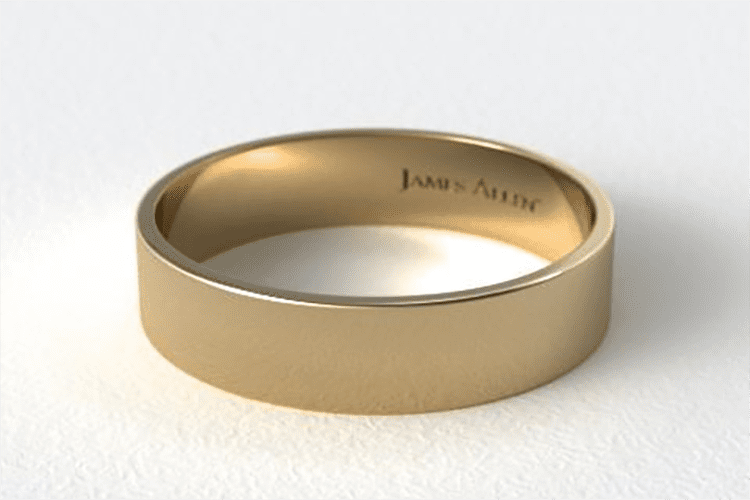 Silver Wedding Bands
Silver is the least dense of the precious metals and least hard of the ring options you are likely to find. I wear a silver bracelet and have to be careful to remove it before climbing or working on my truck. Silver is alloyed with copper to make a hard enough metal for a ring and this means it can tarnish. While the softness of the metal means that silver rings can be resized, they can also bend and scratch under pressure. Silver is less expensive than other precious metals, making it a great choice for bigger rings. This 10mm silver ring by Zales costs less than 100 bucks and makes a pretty serious statement.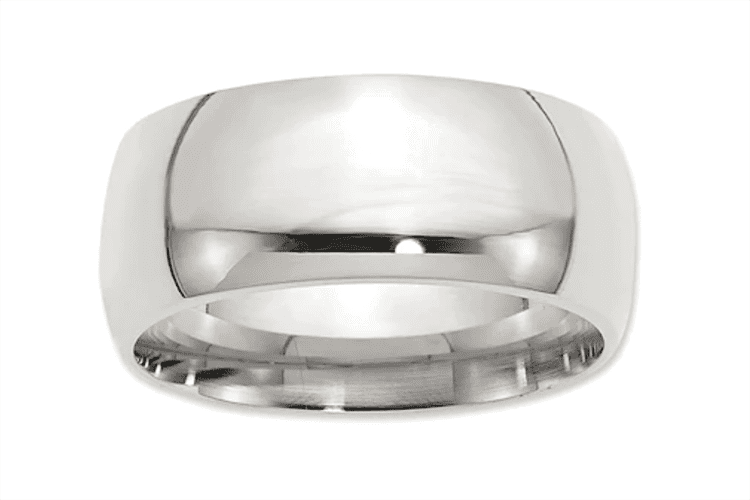 Of course these's more than just metal bands. There are also wood, meteorite, dinosaur bone, and carbon fiber ones to consider.
Final Criteria: Rings & Emergencies
One situation you probably didn't think about is emergency removal. A material like gold is soft and you (or an EMT) can cut it. Tungsten should shatter if you just smash it into the ground. But in between these two poles are materials that aren't brittle enough to shatter and are too hard to cut. If you do buy a ring in this range, some companies offer a free silicone ring with all metal rings so you can wear one or both. I've been using this two-ring strategy to protect my beautiful wood and turquoise ring. By avoiding wearing the fragile ring in high-risk situations, like working on my truck or rock climbing, I keep it looking good for day-to-day use.
Ultimately you have to balance factors. Many guys seem to be torn between tungsten and titanium, and both are great metals. Tungsten is scratch-resistant but might shatter if dropped and could cause an allergic reaction, while titanium might scratch and can be hard to get off in an emergency but should be hypoallergenic and a bit shinier. If you're torn between a few metals, remember that men's bands range in price from $100 to a few thousand bucks, and it's possible to replace your band or even have several bands. If you do opt for a back-up or alternative band, you can add this to your list of ways you are just like Dwayne "The Rock" Johnson.