Should you get matching wedding rings? It's a question that nags some grooms as they plan for the big day — and not just because so many men are terrible at matching anything. We're at a point in time when unconventional is the new norm, and the more individualized the nuptials the better (from rings to destination). American women and men actually seem more interested in personalizing their styles than in cultivating a unified image as a couple through wedding bands. It wasn't always this way…
Wedding Bands in Ancient Egypt & Rome
Once upon a time, wedding bands were key signifiers of a couple's future together. The Egyptians braided reeds and other natural materials into endless circles, which represented the continuity of love and the union of marriage. The early Romans carried on the tradition but with more durable iron rings. It's unclear what the return policies were at the time.
The Age of Gimmel Rings
Fast forward to the 16th and 17th centuries, and sentimentality is all the rage. Gimmel rings (with two or three hoops or links that fit together to form one complete ring) were the wedding band of choice, often designed so the interlocking rings would come apart. Throughout their engagement, the bride and groom-to-be each wore one ring made from the same metal. During the wedding, the groom would transfer his ring to his beloved's finger and interlock it back into its original state just as they were locked in love.
Here's what the gimmel ring pictured above looks like when all three interlocking hoops are connected.
Posy Rings and Personalization
Posy (Poetry) rings were popular from the Renaissance through the Georgian period, which carried into the early 19th century. They were ornate early on, with symbols of love and fidelity engraved on the outside of the ring and a motto or saying on the inside. As time went on, plain high-karat bands replaced the more ornate ones, with romantic messages and verses engraved on the inside. Good penmanship was essential.
Fast forward to WWII and the Korean War when soldiers would demonstrate their commitment to their wives by wearing a matching band. These translated into wedding sets after the wars and continued to be popular throughout the mid-20th century.
Mid-Century Matching and Modern Wedding Rings
Individuality began to matter throughout the end of the 20th century and well into the new millennium; what's relevant today is whatever you choose for your most intimate occasion.
Jennifer Gandia has witnessed changes in what couples ask for in wedding bands firsthand. She and her sister, Christina Gandia Gambale, are co-owners of the New York City-based store Greenwich St. Jewelers, which has been specializing in engagement rings and wedding bands for men and women since their parents first opened the business 43 years ago.
"It's very different now than when my parents first opened the shop," she says. "Today every couple comes into the shop saying 'I want something really different.' We all think of ourselves as unique and special and we want to exude that feeling even when we have decided to share and merge our lives with another person."
"I remember in the early days of my parents' business," she says, "couples that got married in the '50s and '60s would come in to have their wedding bands cleaned and they would be matching bands. Back then, the engagement ring and both wedding bands were all chosen at once so that the women and man could wear the same band, even if it was in a different width—thinner for the bride-to-be so that it wouldn't overpower her diamond engagement ring."
The definition of "matching" seems to have shifted over the years: "Today there are couples who are choosing rings where elements of the styles harmonize with each other," she says. "You can choose tactile interest like a basketweave or herringbone texture or the same finish, such as satin or brushed, for a more individualized way of wearing rings."
Other couples Jennifer has dealt with have their wedding bands engraved with matching sentimental, secret, or playful sayings or quotes, or their initials and the date of their wedding.
Matching via Complementary Textures and Colors
If the guy is brave enough to choose an engagement ring on his own for his bride-to-be, or they choose it as a couple, then the next step is to find a wedding band to coordinate with that ring. During this process, the guy has begun to look at wedding bands and, depending on his own personal taste and style, he might go for an edgy look, while hers is romantic. Or he might choose a simple traditional band while her style is "alternative." The saying opposites attract often holds true. See the two rings below for an example of his and her different styles that complement their different personalities.
Designer Rebecca Overmann, who launched her collection in 2003 and was one of the main proponents of alternative bridal rings for both women and men, explains: "Both women and men want rings with character that are special and distinctive to them." And yet she admits that tradition is making a comeback. In these cases, couples choose their rings together and the woman might select a hexagon or kite-shaped diamond in her engagement ring and then the couple will choose bands that work with that ring featuring the same texture.
"It's what we describe as 'modern matching'—rings that complement each other," she explains. Overmann's brides-to-be will often ask for the band to be adorned with a sprinkle of diamonds and will want the tactile interest to be a little less exaggerated so as not to compete with the engagement ring. The guys will choose a wider band with a heavier version of the texture and in the same color metal as their beloved.
Examples of Matching Rings
Below are rings that match with different widths, plus diamonds that work with the engagement ring. First, we're looking at Rebecca Overmann's reclaimed, old-mine-cut diamond engagement ring in a delicate 18K gold prong setting, adorned with tapering brilliant diamond shoulders (see below).
This coordinates with Rebecca Overmann women's 18K gold feather band, which is finely detailed with a chevron of tiny brilliant cut pavé diamonds (see below)
Rebecca Overmann's men's 18K gold feather texture spans the entirety of the men's feather ring (see below). Note that it's wider and doesn't have the fine detail work with the diamonds.
Coordinating with an engagement ring in the same metal and finish but different width and band styles
Rebecca Overmann's seven-diamond, bezel-set engagement ring in 18K gold with old European and rose cuts (see below).
Rebecca Overmann's stream band is influenced by the natural movement of water in a stream. Three diamonds are set flush in the stream texture as perfectly placed stones in water (see below).
Rebecca Overmann's 18K gold men's wavy edge of hammered texture provides a contrast to the classicality of a smooth matte band (see below). It coordinates with the woman's band above in look and texture.
Marian Maurer, a forerunner in men's and women's contemporary and creative wedding rings, sometimes sees women choosing a diamond eternity band (diamonds set all around the band, see below) as the engagement ring instead of a large center stone ring.
"Women who buy my rings tend to prefer to stack the diamond band with one subtle motif, finish, or texture as a wedding band, then add more for anniversaries or other occasions," she explains. "She can also wear the diamond band as both the engagement and wedding band if she likes a sleeker more pared-down look."
Maurer's male customers will often go for a style that refers to the diamond band in some way. She gives the following examples as pictured below for her couples.
Marian Maurer's 18K gold diamond eternity band and wide men's brushed finished band (see below).
Marian Maurer's 18K gold subtle pattern with diamonds set into the woman's band (below).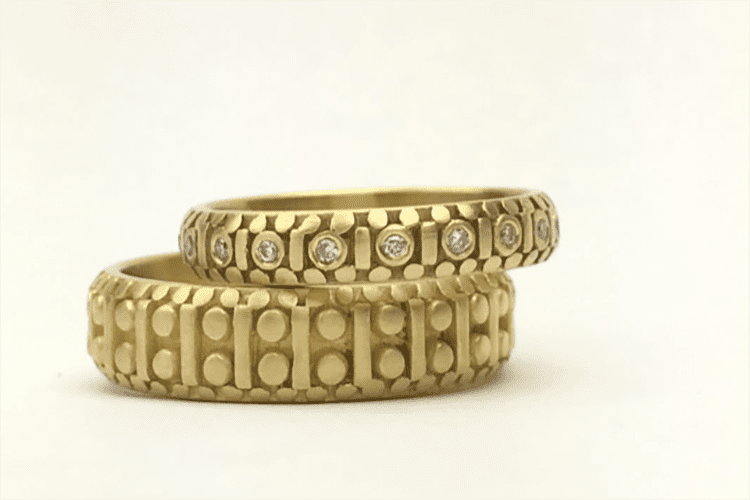 Different Motifs/Textures, Different Widths and/or Ring Silhouettes
Here are more examples of Marian Maurer's different widths and metals of wedding bands (see below).
The different widths can contain the same motif for men; see the unisex bands below.
Gandia, a romantic at heart, advises customers to consider the big picture: "This is a ring you want to wear for the rest of your life," she says. "You fall in love with your partner for all the attributes of who they are and you should feel similarly about your ring. You want to make sure it's the ring you can see yourself wearing for a lifetime."