If you're looking for a modern wedding band, you may have noticed that black is the new black. By that I mean there's a trend away from gold and silver — and toward black. Generally speaking, black bands have a striking look and (as a neutral color) go well with all outfits and skin tones.
But as with precious metal rings, there are a lot of factors to consider when selecting a black wedding band. And unlike gold rings, there is a huge variety of materials to choose from, meaning that you'll need to work out which one works best for your needs. Black bands can be both affordable and unique, but it is important to know what you're looking for when you begin your wedding band search.
Black Wedding Ring Materials
Black bands are immediately noticeable when you are shopping online or at a jewelry store. Sometimes this black base metal is used to offset precious metals like gold or platinum in a two-color ring, but there are plenty of all-black options in most shops. Diamond is the most expensive material, but black rings can be also made of any the following:
gold electroplated with black rhodium
titanium
ceramic materials
stainless steel
tungsten
zirconium
Black Wedding Ring Prices
Black rings can vary hugely in price as well as in other qualities. It's always a good idea to start with a budget in mind when looking for a ring. So let's begin there.
Tungsten makes an affordable ring — this one (below) is just $95. (Photo below courtesy of Brilliance)
Titanium is another affordable option; the ring below from Zales costs $99 despite being twice the width of many gold bands at 8mm. (Photo below courtesy of Zales)
In the middle of the price range pack are ceramic rings, starting at about $100 and going up to about $400. (Photo below courtesy of Jewelry by Johan)
Materials like zirconium and black gold will set you back more; this black zirconium ring costs $400. (Photo below courtesy of Manly Bands)
If you go with a cheaper material but pick an intricate design, this is going to add up, but the guidelines below should help you make sense of what to buy.
Which Black Wedding Rings Are Most Durable?
Black rings tend to be much more durable than gold or platinum rings. Materials like Titanium, Tungsten, and Zirconium are very hard and unlikely to scratch in everyday use. That said, coated rings — like black titanium, which is really silver titanium coated with rhodium, or black gold — can require refinishing as the coating will eventually chip off. Ceramic rings are also very hard and scratch resistant, and are not coated, but they can smash if dropped on a hard surface.
Black gold, just like other gold colors, can be a little more prone to damage, as can steel, which is relatively soft and easy to scratch. If you are looking for a really durable black ring, you could pick something like this band, which is made of diamond, but at $1,699, it's comparatively pricey. (Photo below courtesy of Robbins Brothers.)
It's also worth considering the fact that many of these harder metals can be a liability if they need to be removed in an emergency. Tungsten and ceramic rings can be smashed off as they are brittle — this is also something to bear in mind when caring for them, as they can shatter if dropped on tile floors. Rings made from steel or titanium can't be shattered and require special tools to cut, so if you go for a ring made of these relatively affordable metals, pick up a silicone ring to wear during high-risk activities. This might not be a big issue for some guys, but if you work or play outdoors, or work with your hands, it's something to think about. Some brands will give you a free silicone ring when you buy your wedding band, so ask your jeweler if this is a service they can provide.
Even harder metals can still be finished and shaped in different ways. These include hammered patterns (below, left) that catch the light in different ways, inlaid with another metal (below, center) — a great way to set off a black ring — or a rough cut wirebrush finish (below right). (Photos courtesy of Blue Nile and James Allen.)
There are also classic ring shapes like the bevel (below, left) and with inlaid stones (below, right), or even cuts made to resemble inlaid stones, in a band along the ring — this technique is called "milgrain." (Photos courtesy of Manly Bands)
Of course, more classic shapes, such as domed (below, left) and flat bands (below, right), are also available in just about every material here. Most sites will allow you to search by shape and finish if one of these is appealing to you. (Photos courtesy of Blue Nile.)
Can You Re-Size Black Wedding Rings?
Hard rings are difficult, and often impossible, to resize. So if you outgrow your band over time, you will have to buy an entirely new one. The only black ring that can be resized is black gold. Even then, the gold has to be refinished with black rhodium afterwards making the process more expensive and time consuming than it would be with yellow gold. Luckily, many of these rings are affordable, so if you do need to replace them, it's not as expensive as buying a new gold or platinum ring.
Which Black Rings Trigger Allergic Reactions?
Nearly all black rings are less allergenic than 14 karat gold as they do not contain nickel or copper, which are the most common allergens in jewelry. The exception of course, is black gold, which contains potentially allergenic alloy metals like other 14 karat gold bands. Some people may have issues with the rhodium coating used to make metals appear black, so try these on before you commit to a wedding band — note that this allergy is less common than nickel allergies. Ceramic bands are a great allergy-free option if you want a black ring and are unsure if you will be uncomfortable in a rhodium coated band.
Caring for your black wedding band depends a lot on the band. Coated black bands like black titanium and black gold require recoating every few years. Tungsten and ceramic rings are easy to smash, so don't drop 'em. The safest bet: Ask your jeweler about care and maintenance when you buy your band.
Black Ring Materials Pros & Cons
Black Gold
Pros: Easy to resize and can be cut off in an emergency
Cons: Expensive, has to be refinished, may cause allergies
Black Titanium
Pros: Affordable, scratch resistant, light weight
Cons: Has to be refinished, cannot be resized, hard to cut off in an emergency
Black Ceramic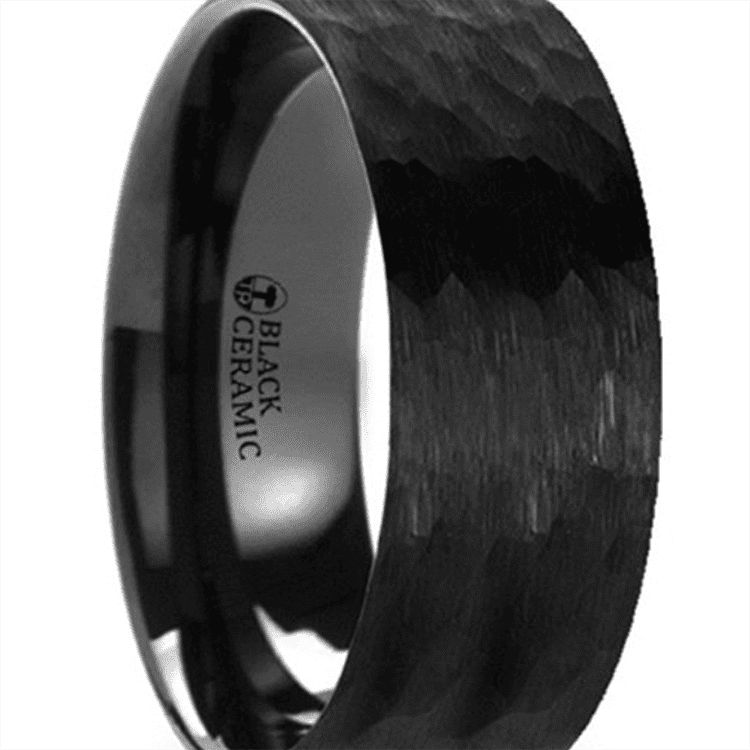 Pros: Unlikely to scratch, light weight
Cons: Cannot be resized, can smash if dropped, limited to simple designs
Black Steel
Pros: Affordable
Cons: Can scratch and is hard to remove in an emergency
Black Tungsten
Pros: Affordable, scratch resistant
Cons: Can shatter, cannot be resized
Black Zirconium
Pros: Hypo allergenic (unlikely to cause irritation), durable, light
Cons: Expensive, cannot be resized