Pros/Cons of Asscher-Cut Diamonds: They have a clean elegant geometry, but don't hide color and clarity problems well.
Tip 1: Avoid 4-prong settings unless you have a really large diamond.
Tip 2: Invest more than you might otherwise in color and clarity.
While the Asscher cut is often seen as a square version of the emerald cut, the shape gives the stepped faceting a look of its own. Both are fancy cuts with straight facets running parallel to the sides of the diamond. But the corners on the Asscher are cropped a bit more, making the shape almost octagonal in some cases. The table (top surface) is smaller proportionally and the faceting more of a spider web. Overall, the Asscher is a bit sparklier than an emerald cut, its bottom point creating a distinctive X at the center.
We offer three examples below: one illustration, one closeup photo, and one one solitaire ring photo.
The Asscher became a signature of elegant Jazz Age jewels, then made a splashy comeback in the 1960s and new-millennium Hollywood. Elizabeth Tailor, Gwyneth Paltrow and Jessica Alba have all worn Asscher cut engagement rings.
The History of the Asscher-Cut Diamond
Joseph Asscher invented the cut in 1902: it was a square with cut corners and 58 stepped facets. Asscher was a second-generation gem cutter from a family business founded in Amsterdam in 1854.
His cut became an instant classic and the first diamond cut to be patented. In 1908, Asscher was commissioned by King Edward II to cleave the original 3,106ct Cullinan diamond, now distributed among the most famous British crown jewels. Among them is the Cullinan IV, a 63.6-carat Asscher-cut diamond made into a brooch and worn by Queen Elizabeth.
The symmetrical geometry of the Asscher became an icon of Art Deco jewels, helping propel the Asscher Diamond Company to world fame in the 1920s and 1930s. To this day, the cut carries an echo of Deco glamor.
Asscher Reborn After World War II
World War II brought tragedy to the Asscher family and its business, then at its peak. Because the Asschers were Jewish, the Nazis seized the inventory and deported the family and hundreds of its employees to concentration camps where most of them died. The patent on the Asscher cut expired during this time and the shape became widely copied. Without the strict faceting parameters followed by its originators, and it fell out of favor.
After the war, a couple of surviving family members reestablished the business and built it back up. Still family owned, the company became the Royal Asscher Diamond Company by decree of the Queen of the Netherlands in 1980. Today, the Asschers are regarded as fancy cut diamond specialists.
Celebrities Who Wear Asscher Cuts
By the 1960s, the classic Asscher cut was gaining traction again. In 1968, Richard Burton gave Elizabeth Taylor her most famous jewel, a 33.19ct Asscher-cut Krupp diamond from Richard Burton. Hollywood has had a soft spot for this cut ever since. A recent survey by Blue Nile found that Los Angeles was the #1 city for the Asscher-cut diamond.
Jessica Alba rocks a 5-carat Asscher-cut diamond with a diamond halo from husband Cash Warren while Gwyneth Paltrow, Ashlee Simpson and Zooey Deschanel have all worn Asscher cuts. Most opt for feminine settings, with thread-thin bands and tiny accent diamonds. (Below left: Jessica Alba's engagement ring, courtesy of @jessicaalba. Below right: Ashlee Simpson's engagement ring, courtesy of @ashleesimpson)
Modern Patented Asscher-Cut Diamonds
A somewhat flashier version of the original cut was introduced in 2001 by Joseph's great-grandsons. The shape of the newer "Royal Asscher" cut remains the same, but more intricate facets were added. While the original Asscher has 58 stepped cuts, the Royal Asscher has 74. Since the Asschers patented this one, you'll only find the more intricate version on stones produced by the Asscher company. Below is a good example.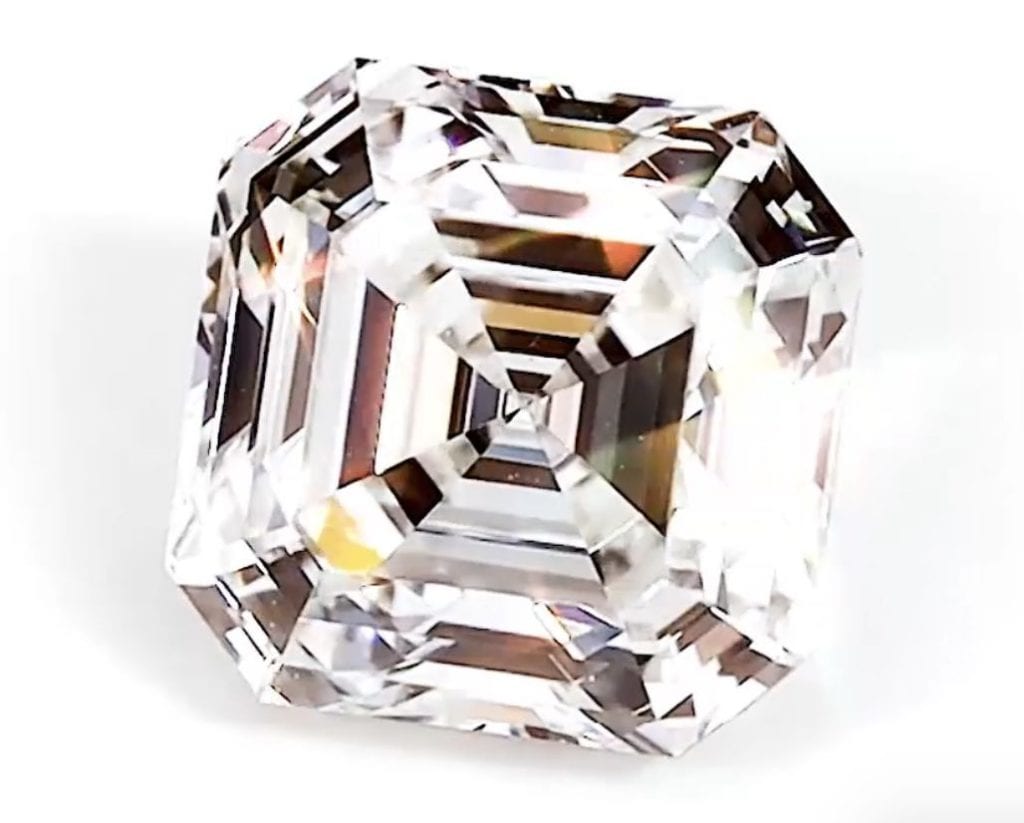 How Much Does a 1-Carat Asscher Cut Ring Cost?
Because the open-window look of this cut hides few flaws, you may need to trade up to a slightly higher color and clarity than you could get away with in a round brilliant — especially if you want a solitaire. A simple Asscher solitaire of .82 carats with D color and VS1 clarity sells for $6,125 at Kwiat. (Photo below courtesy of Kwiat)
You can lower the cost by investing more in the diamond and less in the metal. For example, this 1.24-carat Asscher-cut in a halo setting from Gabriel & Co. costs $4,000. (Photo below courtesy of I Do Now I Don't)
This 1-carat Asscher with accent diamonds and a milgrain setting sells for $4,435. Both are set in 14-kt gold. (Photo courtesy of Blue Nile)
And at a big inline retailer like James Allen, a one-carat Asscher diamond starts at around $2700, assuming you've selected certain color and clarity minimums. See below.
Which Settings Are Best and Worst for an Asscher-Cut Diamond?
This shape can take on a vintage look with a halo setting or a sleek glamour with a more streamlined setting like a simple prong setting.
Unless you can afford a hefty-size stone, the beveled corners will be hidden by the standard four-prong setting. In other words, the Asscher will read as a square.
If you're worried about color and clarity minimum, follow this advice: It's best not to go below H color and VS2 clarity. Even there, look closely to make sure an inclusion is not visible.
Pros & Cons of Asscher Cuts
Pros: Like the emerald cut, the Asscher is a fancy cut, not a brilliant. The eye is drawn through the broad expanse of the table, the glassy top surface of the stone, into a sort of hall of mirrors. Its long, stepped facets appear to multiply as you tilt the ring.
This creates a cleaner, less complicated set of reflections than a brilliant cut diamond. In the right setting and with a quality stone, it can be a lovely, elegant center stone.
Cons: This less complicated faceting puts both color and clarity on vivid display. There are some beautiful fancy-colored diamonds with this cut, but whether you opt for colored or colorless diamonds, you may have to invest a bit extra in color and clarity. If there's cloudiness or inclusion in an Asscher-cut diamond, it's tough to hide.
Bottom Line
The Asscher cut has a symmetrical geometry that recalls both the elegance of Art Deco period and the heyday of Hollywood. This shape can have a vintage look with a halo setting or the modern, architectural simplicity of a prong-set solitaire or bezel setting. It's the perfect cut to show off a quality diamond.