Many men are so worn out from the engagement ring-shopping process — or so busy with all wedding planning — that they set about buying their own wedding band as if it were just another pair of sneakers: It has to fit right and look OK. Why wouldn't you put as much consideration into your own ring as you put into hers?
Just like her engagement ring, a man's wedding band is the one piece of jewelry he will presumably wear everyday for the rest of his life. As such, a wedding band shouldn't just be a symbol of your marriage — it should be a reflection of you and your personal style. A simple band of gold is classic but what if there's something more you?
The options for men's wedding bands have never been more diverse. To help you in your search, here are 50 of our favorites from traditional to alternative and everything in between and at prices from under $200 to more than $4,000. The rings are organized by metal. You may encounter some unfamiliar words and phrases like gimmel, pavé and Mokume gane, so see our guide to men's rings for definitions and more information about the range of styles in men's wedding rings.
Yellow Gold Wedding Bands
This ring subtly ups the ante on a classic gold band, with a chunkier silhouette, rich 22-karat tone, and an understated satin-brushed finish. $3,800 (Photo courtesy of Prounis.)
The graphic notches around the length of this band give it a slight twist while retaining a timeless, masculine appeal. $1,130 (Photo courtesy of Cartier.)
Diamonds aren't just for the ladies, as evidenced by this ring with a flush-set champagne diamond baguette. The muted color and linear facets of this particular diamond keep it from feeling flashy. $1,650 (Photo courtesy of Anna Sheffield.)
Sometimes simple is best and this ring, an elegantly proportioned flat band with a polished finish, is a pitch-perfect classic. $990 (Photo courtesy of Vrai.)
From afar this may just look like another bold band but closer inspection reveals an intricate braid of a particularly warm 22-karat gold, finished with a smooth, satiny glow. $2,500 (Photo courtesy of Reinstein Ross.)
Engraving can be a great way to add a more personal, sentimental touch to a traditional ring. This band can be hand-engraved with your wedding date. $595 (Photo courtesy of Finn.)
Here's another example of personalized engraving, but on a smaller scale. Note that the engraving is flanked by gold bars that, combined with the knife-edge band, create a lot of visual interest. $870 in 18 karat yellow gold (Photo courtesy of Rachel Boston.)
For an even more understated take on engraving, this ring is inspired by a historical style known as a gimmel ring, comprised of two interlocking bands that open to reveal a hidden message. From $1,100 (Photos courtesy of Marla Aaron.)
There's a casual, effortless vibe to this band — wrapping around the finger like a strand of twine — that is underscored by the matte brushed finish. $858 (Photo courtesy of Shihara.)
This ring features three diamonds that are flush with the brushed gold band. This style of setting, known as a gypsy ring, is an ideal way to incorporate gems while maintaining a masculine vibe. $4,600 (Photo courtesy of Me & Ro.)
L.A.-based designer Loren Nicole handmakes every piece herself using ancient goldsmithing techniques. Here, three bands combine to make one bold ring with an earthy, hand-hammered finish. $3,800 (Photo courtesy of Loren Nicole.)
This thick silhouette is known as a cigar band, for its resemblance to the labels encircling classic Cubans. Dating back to the 1950's, it has the time-worn patina of an old family heirloom. $785 (Photo courtesy of Erie Basin.)
It's the little things that make a man's wedding band stand out, like the intricate engraving mimicking the look of wood grain that runs along this ring's exterior. $1,558 (Photo courtesy of Nora Kogan.)
If you want a ring that telegraphs individuality, try thinking outside the conventional band. This ring is composed of interwoven golden vines — an artfully sculpted alternative to the norm. $2,400 (Photo courtesy of Dean Harris.)
Sleek and minimalist, this ring nods to classic wedding bands but with a modern edge. It gives the appearance of two separate bands floating on the finger, and can be combined with a variety of other bands for an even more unique look. $2,430 (Photo courtesy of Shihara.)
The motif of a snake eating its own tail, known as the ouroboros, dates back to antiquity. Historically, it symbolized eternity and new beginnings — fitting sentiments for one's wedding day. $1,500 (Photo courtesy of Anthony Lent.)
A signet ring may be the most classic piece of men's jewelry after a wedding band. Why not combine the two? Monogram it with your initials or, even better, the first letters of your name, your wife's name, and your shared last name. $495 (Photo courtesy of Miansai. )
White Gold Wedding Bands
Graphic facets lend this band an architectural appeal while also catching the light from every angle, making for one eye-catching ring. $2,000 (Photo courtesy of David Yurman.)
If you think you'd like a bit of bling but want to keep it low key, go for a band with diamonds tucked along one side — only you will be able to see them. $1,899 (Photo courtesy of Ben Bridge.)
This one little ring packs a lot of impressive detail: the band is hand-engraved with diagonal lines and the edges are dotted with a fine milgrain pattern. It's quiet but undeniably cool. $2,480 (Photo courtesy of Kataoka.)
A nicely proportioned, domed band can be very stylish without any bells or whistles, as evidenced by this classic ring in polished 14-karat white gold. From $945 (Photo courtesy of Gemvara.)
All gold used in jewelry is an alloy, meaning that its color will change depending on how it's mixed. This ring features a warmer shade of 14-karat white gold and a rugged hammered finish. $2,000 (Photo courtesy of Single Stone.)
Timeless with just the right amount of edge, this ring is set apart by its subtle twists: an elegantly beveled band punctuated with a single row of black diamond pavé. $2,875 (Photo courtesy of Eva Fehren.)
This ring highlights the sparkle-free, organic beauty of natural rough diamonds. A row of rough diamond cubes are set within a handsomely textured band. $5,860 (Photo courtesy of Todd Reed.)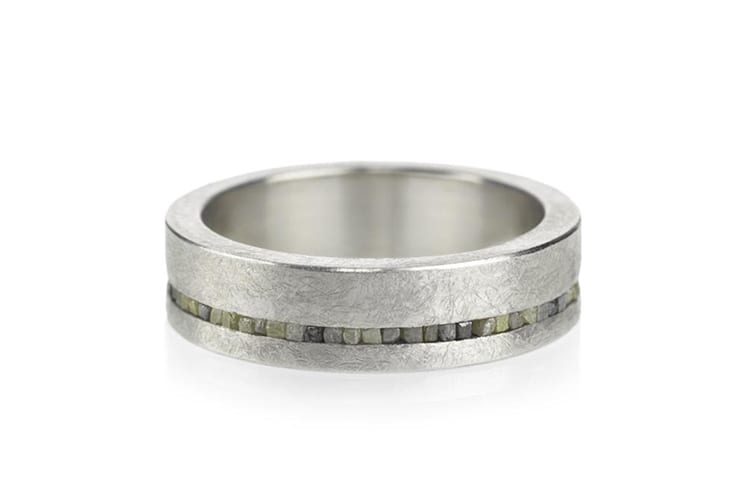 What's a better metaphor for finding the one than two puzzle pieces that perfectly fit each other? This ring offers a subtle reminder of that sentiment, while looking artfully unconventional. $1,790 (Photo courtesy of Georg Jensen.)
There's a reason why white diamond solitaires are the most popular engagement ring: they're undeniably attractive. Here's a decidedly masculine riff on the classic. $2,040 (Photo courtesy of Dana Bronfman.)
If you consider yourself a minimalist, this may be the ring for you. Sleek and modern, it combines a brushed finish with a single groove running its length, giving the illusion of two bands stacked together. $1,660 (Photo courtesy of KATKIM.)
Platinum Wedding Bands
Platinum is a classic choice for men's wedding bands, and this ring is as classic as it gets: a half-rounded band flanked by rows of coin-edge detailing. $1,700 (Photo courtesy of Tiffany.)
There's something especially swaggy about having a diamond on the inside of your band, where only you know it exists. This ring is all understatement on the outside with a surprise on the inside. $1,095 (Photo courtesy of Forevermark.)
Your wedding band serves as a constant reminder of your partner and this ring makes that reminder even more personal with a customized engraving of her fingerprint. It's a one-of-a-kind reminder of your one-of-kind wife. Price upon request (Photo courtesy of Hattie Rickards.)
Strong yet softly spoken, geometric blocks of brushed platinum combine to create this elegant, clean-lined ring. $4,400 (Photo courtesy of Single Stone.)
A lot of men's wedding bands emphasize heftier silhouettes. But a thin, simple band like this one projects a more understated type of masculinity. From $460 (Photo courtesy of Still House.)
Proportions are everything in a wedding band. This one makes a bolder statement by turning up the volume with a thicker body and softly rounded edges, finished with a satin-brushed sheen. $2,000 (Photo courtesy of Tiffany.)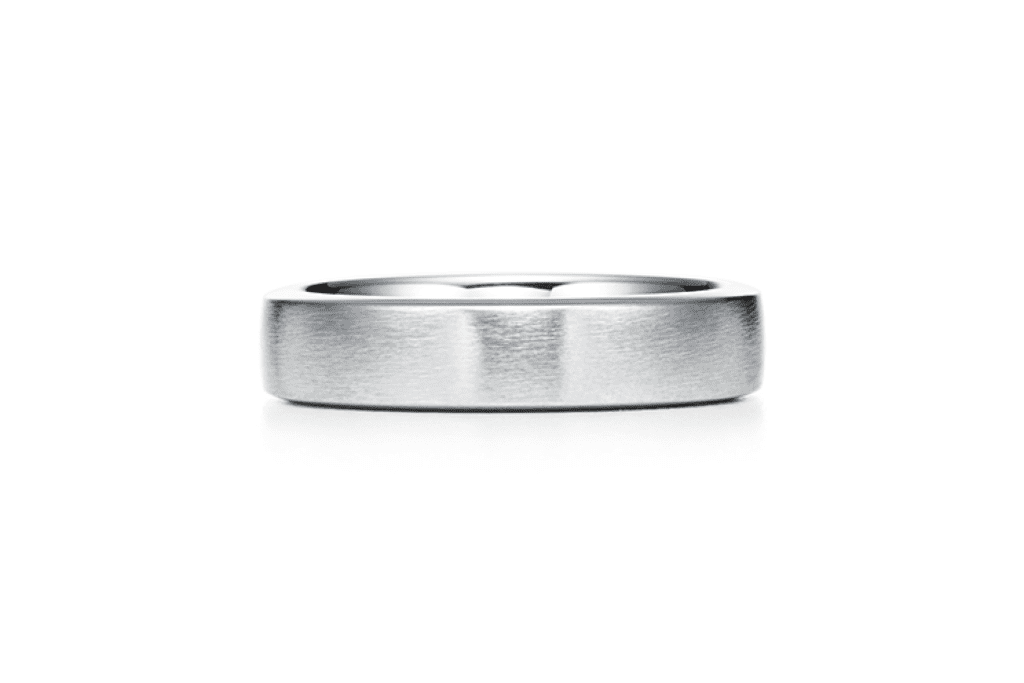 Mixed Metal Wedding Bands
Knife edge bands, defined by an exterior of two planes that come to a point rather than one flat plane, are a perennially popular choice. This ring gives the old standard a twist with a combination of platinum and 18-karat yellow gold. $985 (Photo courtesy of Erie Basin.)
Groupings of three have long symbolized various aspects of marriage (the vows to love, honor, and cherish; your past, present, and future together). This ring nods to that tradition with three bands in three different shades of gold. $1,340 (Photo courtesy of Cartier.)
A striking combination of bands in beige, yellow, and white gold add up to an eye-catching band that is as stylish as it is unconventional. $5,640 (Photo courtesy of Fernando Jorge.)
Mokume gane is a Japanese metalworking technique that was originally used for sword blades. It involves fusing several different metals together to create a marbled, wood-grain pattern like what you see in this ring's red gold, white gold, and silver streaks. $2,555 (Photo courtesy of Chris Ploof.)
A lot of guys don't consider rose gold just because of the name, but that's a mistake. It isn't really pink or very feminine at all, it's just a more subtle, coppery shade of gold — as seen in this sleek tube band, accented with a single white gold loop. $1,000 (Photo courtesy of Spinelli Kilcollin.)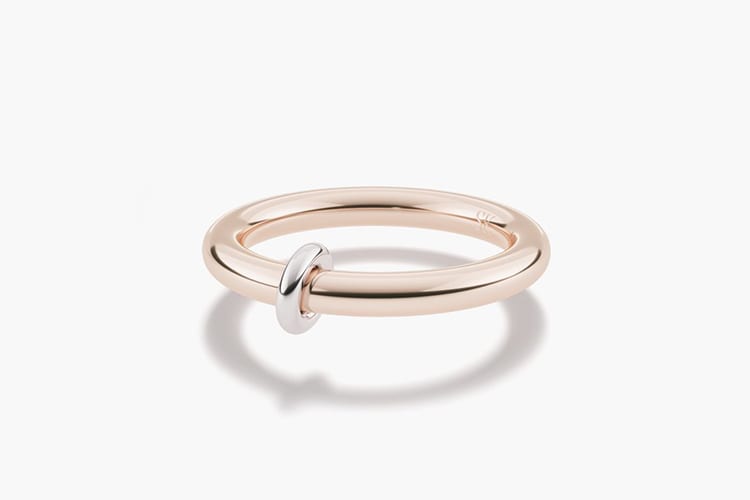 This ring doubles down in every sense: two bands of brushed rose gold sandwiched between two bands of polished white gold. Rose, white, brushed, polished — it offers a little bit of everything. From $570 (Photo courtesy of James Allen.)
Unusual Material and Nontraditional Wedding Bands
Titanium is one of the newest, most cutting-edge materials in jewelry. Coming from the world of industrial design, it is virtually indestructible and remarkably light. Here, a band of brushed black titanium is framed by beveled bands of 18-karat gold. $1,200 (Photo courtesy of David Yurman.)
This ring is made up of brushed white gold shot through with a vein of niello, an ancient metal alloy that appears black rather than metallic. From $1,650 (Photo courtesy of Pat Flynn.)
If you happen to have inherited any silver family heirlooms, you know that after a while they start to tarnish. That process is called oxidation and, when done by a metalsmith via a series of treatments, it yields striking black metal like this rope band. $180 (Photo courtesy of Nancy Newberg.)
Like titanium, carbon fiber is a new, techy material to enter the world of jewelry and watches. It is extremely scratch resistant and holds up against heat, water, and sweat. Joined with 18-karat white gold, it's one hard-wearing wedding band. $1,550 (Photo courtesy of Bleu Royale.)
Stripes are always a stylish addition to one's closet, so why not in one's jewelry? Here, a classic gold band is given an irreverent twist by way of black enamel stripes applied using a traditional Indian handicraft. $1,625 (Photo courtesy of Alice Cicolini.)
Here's another, more minimal take on enamel, which is a combination of pigmented glass and metal that, when fired in a kiln, creates a smooth, durable surface with deep color. In glossy black and 14-karat gold, this band exudes cool. $605 (Photo courtesy of Nora Kogan.)
While most wedding bands are metal-centric, there's no reason not to embrace the natural hues of gemstones. Jade is considered a lucky stone in many cultures and, combined with oxidized sterling silver, it makes for a singular ring. $3,915 (Photo courtesy of Todd Reed.)
Want a wedding band that's truly out of this world? This ring features a band of meteorite — carved from an actual one that fell to earth — complemented by a rose gold setting. $2,300 (Photo courtesy of Chris Ploof.)
Silver isn't a conventional metal for wedding bands, but it shouldn't be dismissed. While it may not be as precious (or expensive) as gold or platinum, this thick cigar band is loaded with style. $335 (Photo courtesy of Me & Ro.)
This modern riff on a classic signet ring features a bold, rectangular silhouette and silver with an earthy brushed finish. $625 (Photo courtesy of Jacquie Aiche.)
There's a wide variety of golds beyond the ubiquitous yellow, white, and rose. This ring is comprised of taupe gold with subtle brown undertones — an unusual, very flattering shade for any skin tone. $860 (Photo courtesy of Ursa Major.)