Men's wedding bands are traditionally gold, but a quick search online reveals many more options like tungsten, palladium, wood. But even if you've decided you want a gold ring, the shopping isn't over yet — you still have to select which of the various purities you want: 14K, 18K, or 24K? You may instinctively sense that the purest, 24K, is not necessarily the best choice for a wedding band. You are correct.
Below, we walk you through the different types of golds and compare prices. And at the end of the article, we offer pros and cons — ideal for guys who just want answers and not the detailed discussion.
The Origin of Karats
Karats seem an odd measure of purity, and they are — it would be much easier to just use percentages — but the Karat system is well over a thousand years old, so good luck changing it now. A karat is a unit of weight, and often used with diamonds, but the word is derived from Arabic qīrāṭ, which means the weight of four grains. When Roman Emperor Constantine began to mint gold coins that weighed 24 karats, their purity was measured in weight fractions, so a coin that was 18/24ths gold had 18 karats of gold. Soon, this became the standard for measuring the fineness, or purity, of all gold.
Why We Don't Wear 24K Gold Rings
Tina Smith, jewelry collector and founder of Tina Smith Jewelry, told us that the easiest way to determine the gold used in a ring is to look for the marking. "The karat is generally engraved inconspicuously on the inner ring of the band," said Smith. So, 24 karat gold is pure gold, but that's not very useful for rings. Pure gold has a very dark orange color, and it isn't the gold you are accustomed to seeing, so it may be aesthetically undesirable to you. The major reason we don't use pure gold in rings is that it tends to be too soft to use in jewelry; soft metal will scratch or deform too easily in everyday use. It's also very expensive. Instead, gold is alloyed with silver, copper, or nickel to make a ring that won't degrade in day-to-day use.
Unlike engagement rings, men's wedding bands don't usually include a mounted stone. This means that lower karat golds, which are generally used for their strength in holding mounted stones, are not as popular. Without an expensive stone to hold, men's rings are generally made of softer, more shiny, 14 or 18 karat gold. 14 karat bands are 14/24ths pure gold and 18 karat bands are 18/24ths pure.
Smith says karats are just one of the things to look at when picking a band: "Whether you select a 14k or 18k gold wedding band depends upon personal preference, budget, and lifestyle. But there are universal factors beyond the karat selection including style, width, durability, cost, and interest in conflict-free, fair trade gold," said Smith.
How Tough Does a Gold Ring Need to Be?
Because gold is soft, the less pure 14 karat rings will be tougher than the 18 karat bands that contain more gold. Gold rings aren't designed to be worn rock climbing or boxing, so if you like the color of a gold band but enjoy activities that involve a lot of abrasion on your hands, consider removing your wedding band and using a silicone alternative for those activities. But if you just want a ring that lasts and don't do things every day that risk its integrity, 14 karat rings are a great choice, as generally, 14 karat gold is accepted as being durable enough for day to day use. Interestingly in Europe, where 18 karat rings are more common, people seem to do just fine with the purer rings. So if you are really taken with the color of 18 karat gold or find it better for allergies, don't be too put off by the supposed durability of the less-pure rings.
How Much Do Gold Rings Cost?
Sure, you could pay less than $100 and get a ring that is technically made with gold. Amazon even offers 10K gold (see both rings below at center and right), in addition to 14K, 18K, and 24K. (Photos courtesy of Amazon)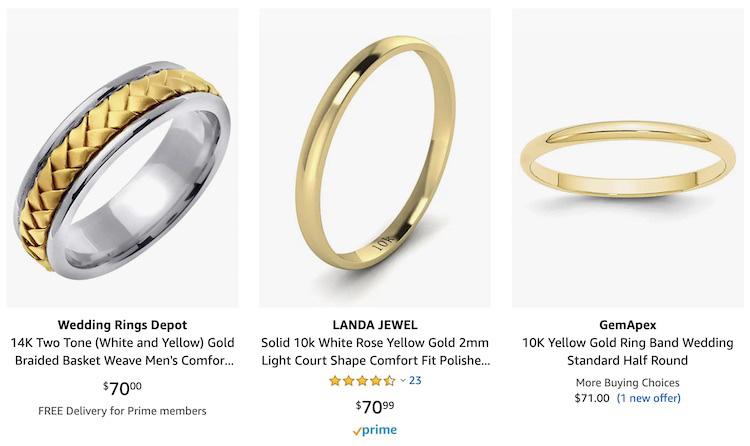 But dedicated ring shops will offer a better shopping experience because they allow you to play with ring-specific criteria and adjust the results of a search… and because there is usually a real person available to help you via chat, email or phone call. One thing to keep in mind: The value of gold changes so what we quote below was true as of the moment we published. And that means, yup, prices are subject to change.
A ring with more alloy metal and less gold is generally less expensive. However, there are weight and design factors to consider as well. This 5mm comfort-fit band from Blue Nile costs $750 in 14 karat white gold and $1,090 for the 18K yellow gold option (see first set of rings, below). However, you could wind up paying more for a 14K band if, for example, it is shaped into a more intricately worked ring, as with this twisted matte and polish design (see second ring below). The price difference between two similar bands can be pretty significant, so starting your ring shopping with a budget in mind is a great idea. (Photos courtesy of Blue Nile)
A 14K white gold low-dome comfort-fit wedding ring will run you $750 (below, left) while the 18K yellow gold version (below, right) goes for $1,090.
A matte and polish twist wedding ring is shown below in 14K yellow gold (left) and 14K white gold (right). Both are priced at $1,190:
Below are some examples of how much 14K yellow gold (below, left) and 18K yellow gold (below, right) rings look alike, while their price points, $540 and $840, respectively, can be quite different. (Photos courtesy of James Allen)
With these two, which also share a similar look but a vast difference in price, the 14K white gold ring (below, left) will run you $790, while the 18K white gold ring (below, right) costs $1,320. (Photos courtesy of James Allen)
Keep in mind that your biggest decision will likely be between white gold and yellow gold, as most times your options will be 14K white gold vs. 14K yellow gold or 18K white gold vs. 18K yellow gold.
At James Allen, the range runs from about $250 to over $1,000 for a "classic" men's gold wedding band. But they also offer men's rings that are carved, "alternative" in some way (usually with a less common metal) or contain a diamond (and are thus more expensive). Examples of the range with each category are below. (Photos courtesy of James Allen)
Classic:

Carved:

Alternative:

Diamond:

Do 14K and 18K Gold Rings Look Different?
Yes, and for many, this might be the deciding factor. Fact is, 18 karat gold has a darker and more orange-colored shine — Smith described it as "a more yellow, radiant quality" — whereas 14 karat gold is more silvery with a light shine.
Differences are most noticeable, of course, in yellow and rose gold, where the rich color is desirable and sought out. White gold rings don't tend to vary in color based on purity. Sometimes rings show a mix of golds, too. (Photo courtesy of Blue Nile)

Note that the differences in shine you see when looking at rings at the jewelers won't be as pronounced once the rings are no longer side by side. If you are unsure which band you want, ask the jeweler if you can try both on (one at a time, please). Although the 14 karat ring looks a little less rich when it is in the case next to its 18 karat sibling, you may find that once it is on your finger it looks better than the more expensive option.
A Note About Ring Metal Allergies
If you suffer from irritation, reddening, or rashes when you wear jewelry, you might well have a nickel allergy. If this is the case, you will be much better served by an 18 karat band as it contains significantly more gold and fewer of the alloying metals. There are still alloy metals in 18 karat gold, but they are in smaller quantities and are less likely to cause issues.
Bottom Line
Overall, both 14 karat and 18 karat gold make great wedding bands. If you are torn between the two, you'll need to decide what your priorities are.
14K Gold Rings
Pros: Cheaper, stronger, a more durable metal; they're easier to find around the world
Cons: May have other metals mixed in that cause allergic symptoms
18K Gold Rings
Pros: Dark rich yellow gold color; closer to pure gold; less likely to cause allergic symptoms
Cons: More expensive, less durable; harder to find around the world