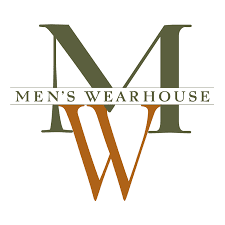 Best Brick & Mortar Shop: The Men's Wearhouse
This longtime tux and suit rental shop began life in 1973, when George Zimmer—the guy who used to purr "You're gonna like the way you look, I guarantee it"—founded the company in Houston. He took The Men's Wearhouse public in the '90s, and was ultimately pushed out in 2013. (He now runs Generation Tux, which also owns Menguin.)
For information on how suit/tux rental sites work, and how we tested, see our comparative guide to online suit and tux stores.
Pros
The brand has two major advantages over its competitors: Its selection, which includes 47 formal looks available online from brands like Calvin Klein and Vera Wang. The second is sheer ubiquity—with more than 700 physical retail locations, a last-minute alteration (or an easy return) is probably a short drive away. The company has modernized since your prom days, too. The website is easy to use, includes a style quiz, and makes sending invites to groomsmen a cinch. This is your best bet for no-frills, you-can't-mess-this-up rental.
Cons
It's not the cheapest option out there, but smart renters will sign up for their email list for discounts. Do a quick Google search for promo codes, too.
Selection
The selection is wide-ranging, from formal-and-traditional to young-and-modern. Includes big names like Calvin Klein, Joseph Abboud, and Vera Wang.
Pricing
Prices are higher than average, but nothing outlandish, and ultimately a solid value. There are 9-piece packages (accessories included) available from $100-$200 and 4-piece packages for $250.
Ease of Use
Super-simple. You can customize your tux or suit, or pick one of their pre-styled looks.
Quality
The quality was standard for tux rental. Polyester is part of the equation.
Fitting Process
A simple online fit evaluator led to one of the best out-of-the-box fits. They smartly ask questions that are more about vibes than measurements—part of the process is asking who you consider a style icon. Of course, a real-life tailor is available at any of their stores.
Accuracy
This was one of the best fits I experienced in my testing of online tux and suit rental companies.
Physical Stores
They have more than 700 stores. Impressive.
Re: Groomsmen Coordination
They make the process of looping in your groomsmen very easy. You select the date of your event, choose a look, and then the site will email your groomsmen, who will take it from there in terms of getting fit, etc. Best of all, they can choose to have it delivered to their home, to a store near them, or to a store near your wedding. Smart.
Customer Service
I didn't ultimately interact with any humans, but I didn't encounter any hiccups either. The brand offers service by chat, by text, via email and over the phone—and again, at the store itself.
Time Required
My tux arrived ten days before my anticipated event. If things were really wrong, they would have sent me a new tux in time for the wedding. They ask you to return your look the day after the event. Do I have to say it again? The retail stores are really helpful for this, and you'll feel more confident handing your tux box to a human being (or leaving it in a dropbox) than you will dropping it at the post office.
Packaging
Nothing stood out about the box, but that's not a bad thing.
Return Policy
You need to return it the first business day after your event using the free shipping label.
Ease of Returns
This could not be easier. Well done.
Bottom Line
You'd hope that a company with this kind of name recognition — and 700+ stores — would know how to rent a tux to a man. Indeed, they do.