Best Home-Try-on Options: Generation Tux
Simply put, I found very little reason to recommend Generation Tux over Menguin, which Generation Tux owns. They offer a fundamentally similar, borderline identical, online experience. But Menguin offers a much fuller range of suits and tuxes, along with top-quality service. (Menguin was also a little less expensive, it seemed to me.) They offer two free home try-ons—most brands offer only one—but that's not a strong reason to choose Generation Tux.
For information on how suit/tux rental sites work, and how we tested, see our comparative guide to online suit and tux stores.
Selection
They have only eight tux styles, and nothing that felt special to me.
Here's what the "details" page shows.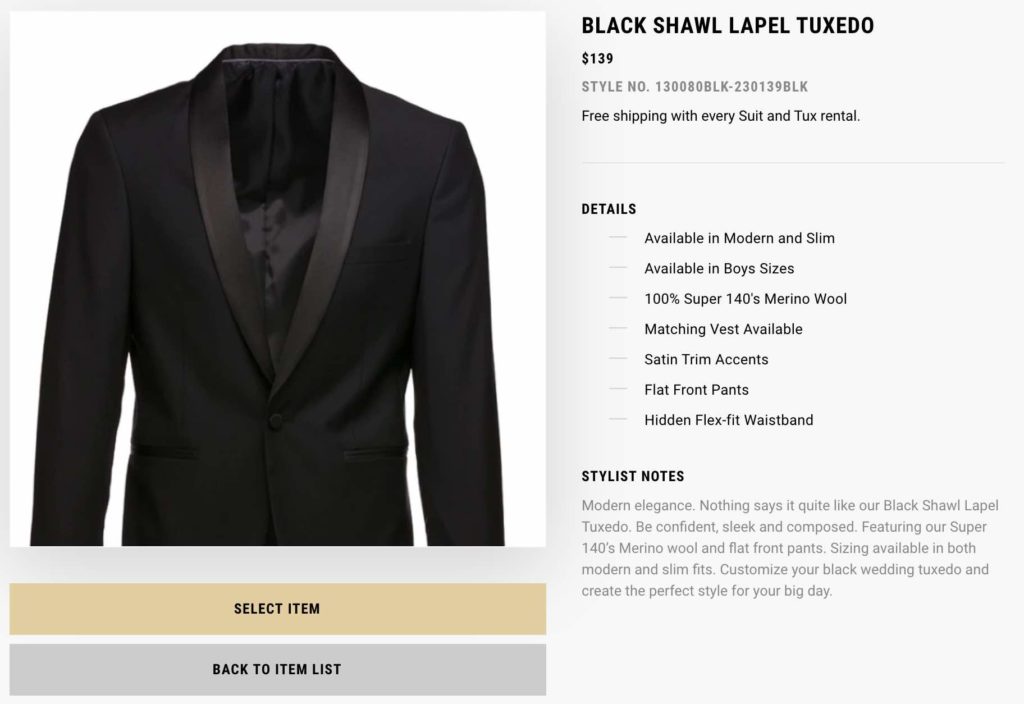 And these are two of the tux examples.
Pricing
Prices range from $69-$139 for suits alone. So if you want the whole ensemble (shirt, vest, tie, etc.) it'll be an additional $80.
Ease of Use
As with Menguin, it's mostly very intuitive and easy to use, with a few touches of charm. ("Don't worry, it comes with pants," it says at one point.) No real complaints.
Quality
Nothing seemed off… at first. The shirt was all cotton, which was a nice touch. But then the bow tie. It felt too big, and worse, it was fraying. The brand would have likely replaced it for free, but still, that shouldn't have made its way to a customer. See photo below.
Fitting Process
The online process was the same one offered by Menguin. You can choose a modern or slim fit, provide your measurements, and answer questions about your size and build.
Accuracy
The pants were too long, and the jacket was a little too big.
Physical Stores
0
Re: Groomsmen
As with Menguin, it's easy to add, invite and manage groomsmen (or, their tux rental, anyway).
Customer Service
Phone. Email. Chat. FAQ. It's all there.
Time Required
My tux arrived roughly two weeks before my event, and I sent it back within a day. No sweat. Standard procedure.
Packaging
The box was very big and included a nice note wishing me well. Unusually, the garment bag was yellow, but I suppose that's an easy way to make sure you grab yours while exiting the plane.
Return Policy
You have three business days to drop your tux in the mail. Simple.
Bottom Line
Overall, very easy to use. Similar to Menguin. Nothing so amazing that it deserves special praise.