Site
Range Variety
Quality
Style
Service
Fit
Price
Overall
Best
The Black Tux
Intuitive and witty, but not idiot-proof
48 options from classic to zany
Top-notch
Classic and adventurous
Detailed FAQ plus chat, text, email or call
Good fit, plus tux arrives weeks early
Tuxes $110-$145, whole ensemble +$60, pricey
4.1
Best Overall
Menguin
Idiot-proof interface
Offers 20 options including suits for extra-tall + slim fit
Some fabrics sometimes felt coarse
Modern and stylish, slim lapels
Superb, they send swatches before you pick a look
Unpredictable even though you provide measurements and answer questions
Tux range $89-$130, whole ensemble +$80, inexpensive
4
Best Prices
Men's Wearhouse
Smart, upscale, inviting site design
Large selection with 47 options
Standard, range includes some polyester
Designers include Calvin Klein, Vera Wang, Joseph Abboud
700+ stores, real-life salespeople/tailors, plus chat, text, email, phone
Perfect right out of the box
Tux range $100-$250, extras included, expensive
3.6
Best Brick and Mortar Store
Stitch and Tie
Among the best, great one-click options
31 total including burgundy and charcoal suits
Average
Includes suits by Michael Kors and Ike Behar
Smart and pro-active; 31 stores on west coast
Needlessly complex but supports half-inches for a precise fit
Tux range $125-$155, whole ensemble +$60, average price
3.1
Best Designer Selection
Generation Tux
Easy to use, even charming
Limited range with 8 options at time of review
Subpar; the bow-tie was frayed
Nothing felt special
Phone, email, chat and FAQs
Only site to offer suit two fittings, but tailoring was still off
Tux range $69-$139, whole ensemble +$80, inexpensive
2.5
Best Home-Try-on Options
Jim's Formalwear
Confusing rental process
Average with 37 options
Inconsistent and socks weren't included
Features designers like Michael Kors and Kenneth Cole
With 500+ partner locations, you can get real-world help
Among the best fits in our tests
Tux range $150-$160, extras included, average price
2.6
Runner Up: Best Designers
If you haven't rented a tux since high school, when your best (and often only) option was a dingy shop at the mall, a lot has changed—for the better. As with everything else, tuxedo rental has been revolutionized by the internet. The quality of fabric and tailoring is higher. The variety is more plentiful. The styling is more… well, stylish. And Uncle Wally's Fine Formalwear at the mall no longer has a monopoly—you can choose from both old faithful players (like Men's Wearhouse, which launched in 1973) to relative up-and-comers like Generation Tux (which launched in 2014 and swallowed up Menguin a few years later). Random factoid: Both of these companies were launched by George Zimmer.
While more choice is a good thing, it can also be overwhelming. That's why we've done the hard work for you.
How Suit and Tux Rentals Work
Back in the day, you needed a car to drive to the mall, often multiple times, while an ancient tailor tested your patience and spirit as he took measurement after measurement. Today, all you need is an internet connection and a credit card, and a general sense of what size clothes fit you best. Each of these rental services offers their services fully online, from start to finish. You might need to measure yourself if you're uncertain of your sizes, but each of them has a guide to help you right on their site—all so you can go from white undershirt to black tie, without getting up from your couch. Note: You'll want to look online no later than a month before the big day, as each service requires some time to tailor and ship out your tux, and to give you a couple weeks to try it on and make sure it fits.
How We Tested Each Site
We rented tuxes from six online rental companies, anonymously, and paid for the rentals to make sure our coverage was not biased by a relationship to anyone at the company or to the possibility that we would get favorable treatment if identified. Once we guaranteed objectivity, we graded the experiences based on:
quality of suits
range of offerings
style and the fit of the tuxes
website ease of use
level of service
Lastly, we awarded a final score based on our overall satisfaction with both the tux and the experience. To find out what we learned, keep reading. Interested in one vendor in particular? Click on our individual, site-specific reviews at the end of each summary.



Overall Best Online Tuxedo Rental Company: The Black Tux
The Black Tux offers the best balance of selection (tuxes and suits both classic and adventurous), service, prices ease to use—with a website that's consistently clean and intuitive.
The Black Tux dispenses advice in the witty voice of a stylish friend, which made even rote tasks like submitting measurements seem fun. (They do this with a detailed-but-not-too-detailed quiz. "Hold on while we size you up," the site told me at one point. "Literally, not metaphorically. You seem great.") The brand also offers a home try-on before you commit, and while I opted not to do that, I was comforted by the fact that I could.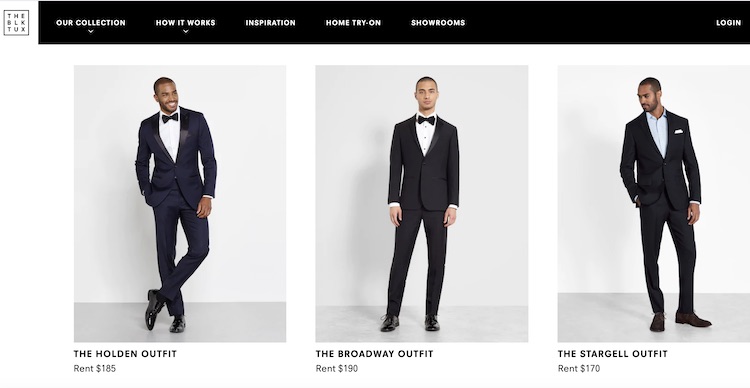 While the tuxes were not the cheapest I tried, they weren't the priciest either, and I felt like I got a good value for what I paid. (Around $200 per online tux rental, when all is said and done.) Everything fit well, and they send your tux to you a couple weeks ahead of your event, so you can get it altered or replaced if it's not right. (The company will also reimburse you for alterations up to $15.) The presentation is impeccable, replete with clever details like, yes, a recipe for a White Russian on the tag of my jacket. 
My biggest complaint is that the site is not idiot-proof—I somehow managed to order a tux without getting a shirt. Some of the bolder styles are not available for group rental, which would disappoint anyone hoping to outfit his whole wedding party in a rose-colored shawl collar number. But that's probably a rare case. So long as price isn't your top concern, you will be pleased with The Black Tux. Just make sure you remember to order a shirt.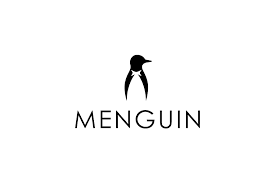 Best Prices for a Tuxedo Rental Company: Menguin
Menguin generally offered the lowest-cost rentals of the bunch (starting at $89) and yet came in a close second on the overall scoresheet, too, making it a serious contender for top dog.
With clothing, we tend to equate quality with price. A handmade loafer from Italy should, and will, cost more than a flip-flop from the mall. But with rental tuxes, it turns out that you can save money without skimping on quality by renting from Menguin. Their tuxes start at $89, so you can look sharp while saving a little scratch for, oh, every single other thing in your wedding. I arranged for a full kit and it still cost me only $164.
The suits and tuxes are modern and stylish (if a pinch too slim in the lapels). There are about 20 options, each named after a city—the Havana and Savannah offerings are lightweight and summery, while the Monte Carlo resembles a certain British secret agent, codename 007. There are 417 tie options, which you can easily narrow down on the site by using the intuitive filters to narrow down by color, pattern and category (e.g., bow vs necktie). The cufflinks range from refined to eccentric (a pair of keyboard links are available for purchase). 
And then there are smart service touches, which include the option to order swatches before committing to a tux. I went with a white, Bond-ian tux. The fit wasn't perfect, but they nailed the little things, like sending an all-cotton shirt. (Most brands use a cotton-polyester blend, which feels a little cheaper but may wrinkle less.) The overall quality didn't seem as strong as The Black Tux, but for the money, Menguin is a strong alternative. (Bonus advice: Many of these sites offer discounts for signing up for the email list, inviting friends/groomsmen, etc. Be sure to Google the brand and "discount code" before placing your order, and you could save a little cash.)
Best Brick & Mortar Shop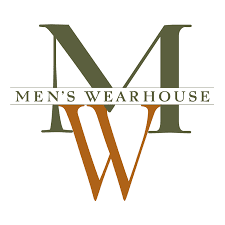 Best Brick & Mortar Tuxedo Rental: Men's Wearhouse
Men's Wearhouse offers the best of both worlds—you can enjoy all the convenience of shopping online and the personal service of visiting any of their 700 stores. No one on this list can match that.
Men's Wearhouse has come a long way since the "You're gonna like the way you look, I guarantee it" days. The company scored near the top for website quality (the user experience was simple and intuitive, the imagery was inviting and useful, and the page design felt both accessible and upscale), overall service, and fit—the tux fit great right out of the box. They also offer a range of styles from designers like Calvin Klein and Joseph Abboud. Indeed, my biggest complaint was that the tux quality was a little lacking, and the styling a little stodgy. But that's not why we're recommending them here.
No other brand pairs on- and off-line service like Men's Wearhouse. The brand has more than 700 retail outlets, which means that getting your tux altered or even replaced is only a short drive away. I drove mine to the store when it was time to return it, which gave me more peace of mind than dropping it in the mail or leaving it at the UPS store, and netted out to roughly the same amount of effort. (If anything, I was less diligent about packing it up.)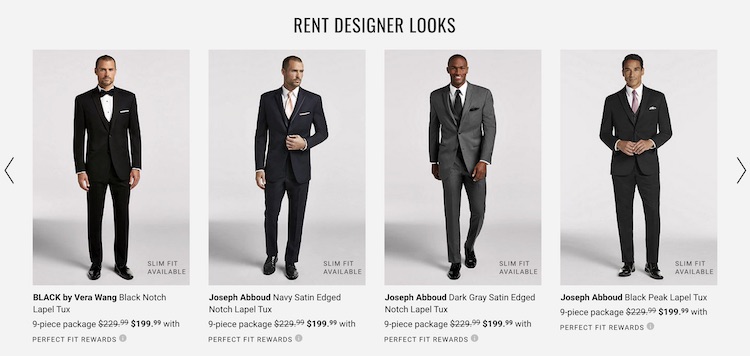 Best Selection

Best Selection: Stitch & Tie
Sure, Stitch & Tie has selections from Michael Kors and Ike Behar, but what stands out even more is the breadth and originality of what those names (and all the other designers) offer in terms of variety.
If you're looking for designer tuxes, which can offer a level of security in this vast world of the unknown, Stitch & Tie has selections from several name brands like Michael Kors and Ike Behar. That said, it's not those names that stand out, but the breadth and originality of what those names (and others) offer: a Michael B. Jordan-worthy burgundy tux from Behar, or a smart charcoal three-piece option from Kors.
Better yet, the site has a simple "Rent This" button on each tux, as opposed to the way most of the other sites typically work, where you put together a look yourself. In other words, you can see something you like and add it to your cart with one click, rather than wading through the online waters to reel in every separate component of your desired look. (Some offer both processes.)
Stitch & Tie also lets you include half-inches when submitting your height, which led to a slightly more precise fit. (They also followed up with an email when I made a mistake entering my measurements. Suffice it to say they were delicate when it appeared as if I was shaped like, well, a circus freak.) 
Stitch & Tie wound up being just about average—the quality was fine, the fit was fine, the price a pinch higher than I would've liked. That said, I rocked an Ike Behar blue velvet tux that made me feel like a rock star, even if everything wasn't perfect.
Runner-Up: Best Designers

Second-Best Designer Selection: Jim's Formal Wear
Like other sites, Jim's sells tuxes and suits by Michael Kors, Ike Behar, and a few other name brands (Kenneth Cole, Lauren Ralph Lauren), but the depth of these offerings is not nearly as strong as what you will find at other sites.
Yes, you'll find a burgundy offering from Kenneth Cole and a fine suit from Lauren Ralph Lauren (that's not a typo—LRL is a lower-tier offering from the iconic designer), but… that's it. That's the whole offering.
So while these names check some boxes, and offer Jim's a bit of pedigree, you'll probably end up going with something more down-the-middle.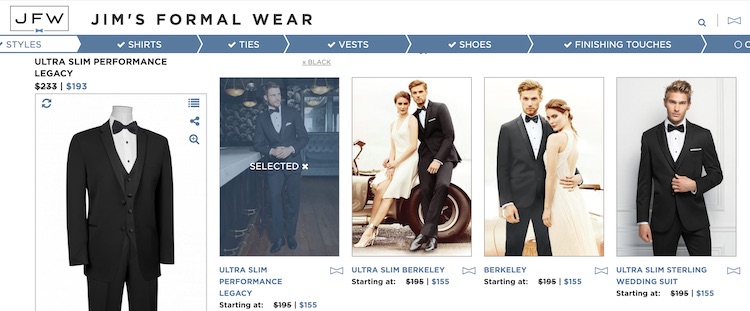 And as you'll see elsewhere, the overall Jim's experience leaves something to be desired. That said, if the name on the label is important to you, you should consider giving Jim's a shot.
Best Home-Try-on Options

Best Home Try-On: Generation Tux
Simply put, Generation Tux lets you try on your suit at two points in the process, which no other brands offer. That could be a deal-maker for some guys.
In this crazy, mixed-up world, a little extra certainty can be like a lighthouse guiding you home safely from shore. In this case, the lighthouse is a metaphor for at-home try-ons. Most brands offer one; Generation Tux offers two. This is an extra opportunity to make sure everything fits right. (An important opportunity, unless you happen to be aces at measuring yourself.)
This also provides an added chance to make sure everything is up to snuff, quality-wise, which unfortunately came into play with my GenTux rental, where the bow tie arrived and was noticeably frayed.
That wouldn't have cut it on the big day, and neither would a tux that doesn't fit exactly the way you want it to.
About Our Comparative Table
The comparative table displays our personal scorecard from our shopping experience, with each service rated on a scale from 1 to 5, with 5 representing excellence, and 1 representing … something less than excellence. This was an easy way for us to keep tabs on who excelled where, and how. Just note that this is based on our one-time experience of a single rental, and it's always possible we caught one of these brands on an off-day. In other words: While these numbers represent our carefully considered experience,  your mileage may vary.
Final Photo: All of the Boxes
We thought some of you would want to compare the boxes too. Clockwise from top left this includes The Black Tux, Stitch & Tie by Friar Tux, Men's Wearhouse, Generation Tux, Menguin, and Jim's Formal Wear.