Quick Look
French Polynesia is made up of 116 islands (of which 67 are inhabited), in five main groups, located about 2,600 miles south of Hawaii.
People will generally call French Polynesia "Tahiti" or "Bora Bora," but technically that's incorrect–as well as being totally confusing. Both Tahiti and Bora Bora are islands within French Polynesia. For hundreds of years, the whole island group was known as "Tahiti," until they were renamed French Polynesia in 1957.  But "French Polynesia" has none of the romantic connotations of "Tahiti," so the old name persists. (We're going to go with the old name, because that's what most people do.)
The main language is French and Tahitian. English is widely spoken in most tourist areas, though you will be surprised at how little it's spoken in markets and villages. Be sure to learn a few basic French phrases and Tahitian greetings.
You'll fly into Papeete, the capital city of French Polynesia, which is on Tahiti, the main island. All visitors fly into Fa'a'a International Airport to get to the other islands.
The flight is long. Direct flights to Papeete from the United States leave from Los Angeles, and are about 8 hours. Air Tahiti Nui now offers fully lie-flat seats in business class.
Overwater bungalows were invented in Tahiti.  They obviously perfected it, too.
Tahiti offers old-school luxury. With only about 200,000 visitors a year, things remain quite intimate. The old-school allure perfectly matches with the understated luxury.
The weather is perfect year round. Tahiti is the same distance from the equator as Hawaii, so the temperature is tropical and moderate, with temperatures averaging 80 degrees year-round. The climate is warmer and humid from November through April, and cooler and dryer May to October.
Bora Bora is about 90 percent honeymooners. The flight to Bora Bora from the island of Tahiti is roughly 45 minutes. Be sure to sit on the  left-hand side of the plane to get a good look at Bora Bora as you land. (Most of the photographs you see of French Polynesia or Tahiti were actually taken on Bora Bora, which known for its crystal-clear lagoons and overwater bungalows.)
Bora Bora is the most expensive island. Because it's geared toward honeymooners, everything is twice as expensive. Overwater villas can go for upward of $2,000 a night.
Resorts generally offer all-inclusive plans, though many couples opt out so they can experience dining at other properties.
Honeymoon Packages in Tahiti & Bora Bora
Several tour operators and resorts offer excellent honeymoon packages  that may include: round-trip flights, inter-island flights and transfers, meals, activities and more.
Many packages will include Bora Bora and one or two other islands. Depending on how much time you have, this is a great way to see more than one island destination.
Almost all resorts will offer a honeymoon package. When exploring online, be sure to check their offers as it can save you hundreds of dollars and also include unique romantic activities that are not offered for other couples.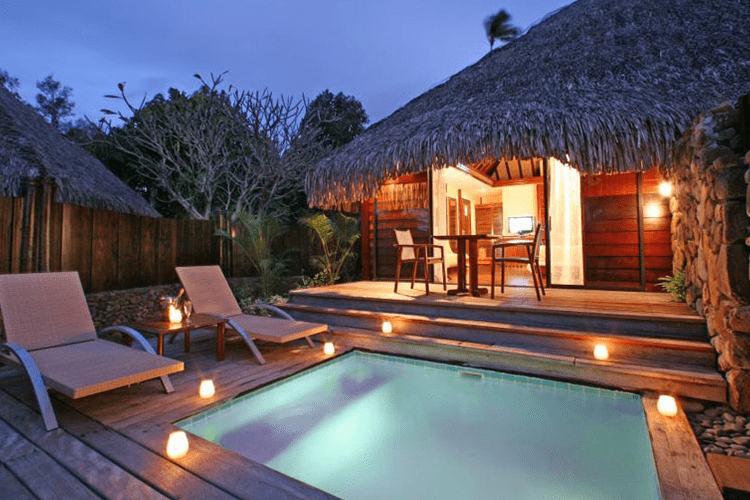 The Cost Of A Tahitian Honeymoon
The cost of a honeymoon in Tahiti varies.
Round-trip flights from Los Angeles average $1,000 but they can go as high as $2,500 in high season. Business-class seats average $4,000-$6,000.
In Bora Bora, expect to pay somewhere between $900 to $1,600 a night for an overwater bungalow at a five-star resort . Mid-range resort s can be as low as $500 a night. Food and alcohol can set you back as much as $200-$400 a night per couple.
Other islands in Tahiti, including Moorea and Tahiti itself, are substantially more affordable . Overnight bungalows can be as low as $400-$600 a night, and the cost of F&B will average $150 to $300 per couple.
While overwater bungalows are the most booked, you might consider beach villas. They're bigger,  more affordable (often half the rate of overwater villas), and often only a few steps from the beach.
Other expenses–like spas that could spoil you for life  (from $125 to $180/massage) or private sunset sail  (average $400 per person) can add up, though there are several activities like kayaking and snorkeling that are free.
Destinations By Island
There are 13 main islands geared toward tourism: Tahiti, Bora Bora, Moorea, Huahine, Raiatea, Taha'a, Rangiroa, Tikehau, Fakarava, Tetiaroa, Mahini, Marquesas and the Australs. The most honeymoon-friendly islands where couples will spend most of their time are:

Tahiti
The main island. Everybody flies into Tahiti, but many honeymooners will leave here after a day or two, either flying to other islands or embarking on a cruise. Because it's home to the capital city Papeete, Tahiti has the biggest population of all the islands. Papeete is a real city with restaurants, dozens of bars, hotels, shopping and nightlife.   Your best bet is to get around by taxi. To see the best honeymoon resorts to book, visit here

Bora Bora
With its overwater bungalows, crystal-clear lagoons and storybook tropical views, Bora Bora is the creme de la creme of the Tahitian islands. Due to its staggering natural beauty, there's a million places for couples to take selfies, It's home to some awesome beach bars , many of which will leave you with some crazy vacation memories ). You'll also eat at all the best restaurants , if you can bring yourself to leave the mind blowing overwater bungalow  you're staying in. Because most resorts are on their own private atoll, you can hire a speedboat or catch a ferry to the other islands. You'll definitely not want to miss out on all the great outdoor activities  the island has to offer.
Marquesa Islands
The most remote island group in the world, the Marquesa Islands are full of intrigue, mystery, secluded beaches and true deserted hideaways. It's where painter Paul Gauguin lived and died, and where Moby Dick author Herman Melville jumped a whaling ship and was captured by cannibals. If you're really adventurous, it's worth a visit .

Rangiroa
Rangiroa is basically white-sand beaches, swaying palms and not much else. It's got some killer luxury beach resorts (some with huge bungalows that start at $350 a night), and there's an actual vineyard here.

Moorea
Moorea is easy to get to, and is considered a less glam version of Bora Bora. It's home to one of the best island resorts  , and everything is a lot cheaper here. You can do most of the same activities found in Bora Bora, such as snorkeling, ray feeding and motu picnics.
Best Attractions And Activities In Tahiti
Not all Tahitian islands are created equal. The main island of Tahiti has a pulse, while Bora Bora is (thankfully) more chilled out. Most honeymooners arrive wanting to do nothing at all. But if there are some things they must do:
Explore off-the-beaten path islands. All the islands are unique and have their own personality. Look into taking day trips–not only for the cultural education, but because they are all amazingly beautiful.
Get a tattoo. That tribal tattoo you have on your bicep? You can thank Tahiti for that. Tattoos originated here, so if you decide to get inked during your honeymoon, you're getting it from the source.
Get knackered in the spa. You might think you couldn't get more relaxed than you already are just lazing in your bungalow. You'd be wrong. The spas in the islands were built with honeymooners in mind, so head to one when you want to get next-level chilled out.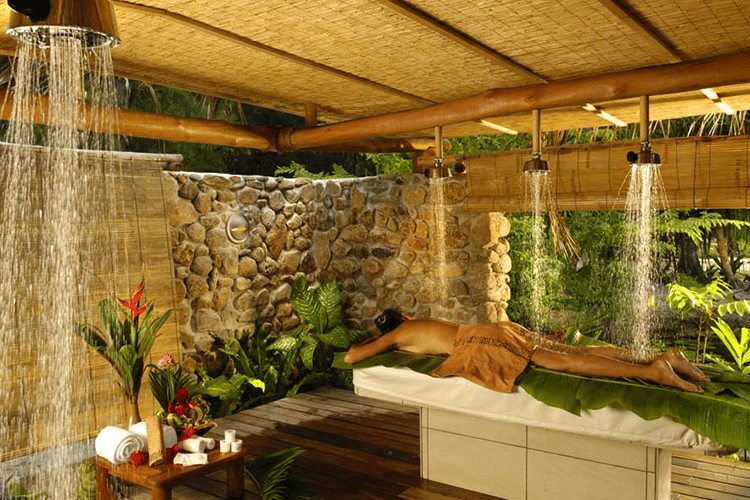 Get romantic at your resort. Some honeymooners never leave the comfort of their resort. The views are insane, the villas are insane and the food is insane. These are the best, most unforgettable honeymoon resorts in the islands. In Bora Bora, you can't go wrong at these amazing villas.
See the natural wonders. Tahiti is chock full of natural landmarks and attractions, and it would be a shame to miss out on these breathtaking places. These are the most iconic natural attractions you won't want to miss .
Restaurants And Nightlife In Tahiti
Just because it's a natural paradise doesn't mean there's no man-made fun to be found in Tahiti.
The dining scene has steadily improved over the last decade. You'll be able to find dishes native to the islands, but also some great international cuisine and, as you would expect, incredibly fresh seafood. Bora Bora features some of the most romantic restaurants  at which you'll ever eat, some awesome beach bars , and a varied nightlife scene .
For the best nightlife in Tahiti as a whole, click here.
Summary
The original home of the overwater bungalow, Tahiti is a fantasy honeymoon destination. Couples can expect beautiful scenery, crystal-clear lagoons, verdant rain forests and plenty of privacy. The climate is perfect year round, and there's a great range of accommodations for every budget.
Bora Bora, the classic honeymoon island, is the magnet for honeymooners, who make up 90 percent of total visitors. While Bora Bora is where you will definitely spend the most time for your honeymoon, several other islands are worth checking out.
Only 200,000 people visit the islands every year. This is nothing compared to the Maldives (almost 1 million) or 8 million to Hawaii. Honeymooners should know that a trip to Bora Bora will be a truly once-in-a-lifetime experience (unless, of course, you love it so much you go back there for your 1st year anniversary.)