Quick Look
Hawaii is a group of tropical, honeymoon-friendly islands located in the Pacific Ocean. It's about 2,300 miles from San Francisco, the closest major city from the mainland. There are eight islands total, six of them (Oahu, Maui, Kauai, Big Island, Lanai and Molokai) that thrive on tourism.
Because Hawaii is a state, it does *not* require a passport for US citizens to enter. This makes it popular for US couples who want to honeymoon somewhere exotic without leaving the country.
Flights to Hawaii are usually on older planes. The reason is that a lot of visitors use frequent-flier miles to get here, so the airlines rarely make profit on these flights. You'll be hard pressed to find a flight with lie-flat business class seats from most US destinations (though they are offered on to or from flights from some East Coast cities like NYC and Atlanta).
There are a lot of former mainlanders living here. Because Americans looking for work in Hawaii don't require work visas, you'll find many former residents of "the lower 48" here.
Roughly 8 million people visit Hawaii every year, which means there are more tourists than actual residents (the residential population is 1.4 million). Some honeymooners may worry that Hawaii is no longer exotic, but the islands are just as enchanting as they've always been.
The weather is perfect year round. The temperature is tropical and sunny year round, with temperatures that average 78°F in winter and 85°F in summer. Expect the most rainfall in winter, though storms never last that long.
Couples may consider splitting their time between two islands to get the most out of their honeymoon. All the islands have their own distinct character, so honeymooners often split their time between two or three islands. But just chilling out on one island is perfectly acceptable.
Resorts cater to a large number of honeymooners. Don't have high expectations for major room upgrades as these requests happen on the hour. Go ahead and book that magical suite.
Honeymoon Packages
Several tour operators offer excellent honeymoon packages that include: round-trip flights, inter-island flights and transfers, accommodations, meals, activities and more.
Many resorts, from boutique to five star, offer packages for couples, whether romance-themed, honeymoon or anniversaries. It's a good idea to browse these: they can often save you hundreds of dollars.
Flagship carrier Hawaii Airlines offers the most honeymoon packages for an airline. These offers generally change seasonally. 

Cost Of A Hawaii Honeymoon
There are dozens of daily flights to Hawaii from various key cities in the continental US. Round-trip flights can go as low as $300 and upward to $1,500, though the average is $600 to $1,000. While most airlines fly directly to Honolulu International Airport on Oahu, there's a surprising amount of direct flights to other islands like Maui and Big Island. If you're using air miles, expect to spend at least 35,000 miles on big US carriers. While 35,000 is rare these days, it's not impossible during off-peak season.
Hawaii is notoriously expensive, and that's not surprising, considering its remote location. It's possible to find budget-friendly options for accommodations, restaurants, bars and activities.
As for dining, the more you trail from the tourist spots, the cheaper it gets: there are hundreds of affordable local restaurants and bars off the beaten path.
Good resorts can offer room rates as low as $400 in low season, and top suites averaging $2,000 a night.
Other expenses can add up quickly (transportation, cocktails, sunset sails, spas) so be sure to budget generously.
Hawaii By The Islands
There are eight islands in Hawaii, the majority of which have a strong tourism infrastructure.

Oahu
Oahu is the main island, with the largest population in Hawaii's capital, Honolulu. It's the most cosmopolitan island, where you'll find students, ex-pats, locals and throngs of tourists. The famed Waikiki Beach is crammed with bars, restaurants and hotels, though the further you get away from the epicenter, the more quiet the beaches become (the North Shore being a prime example). You'll find dozens of luxury hotels in Oahu, and these are the most romantic options . Oahu has more non-honeymoon tourists than the other islands, but the lively scene (both day and night versions) creates atmosphere.

Maui
Maui has a reputation for being high-end and pristine. Celebrity sightings are common (many of them own homes here). There are sublime beaches, upscale resorts, oceanfront restaurants, cascading waterfalls and breathtaking rainforests. Maui's scenery is so stunning it's become a popular spot for destination weddings. There's a wide range of luxury hotel suites , and these are the ones that honeymooners tend to book.

Big Island
Big Island (or the island of Hawaii as it is officially–and confusingly–called) is so big, you can theoretically fit all the other islands on it. At 4,000 square miles, it boasts two airports and six microclimates. The main draws here are the beaches (from sugary white-sand hideaways to volcanic black sand strands), the beautiful bays, the active volcanoes, the largest telescope in the world and the luxury resorts (Four Seasons Hualalai, considered one of the best resorts in the world, is located here). Other hotels you should consider are in our list of best Big Island resorts .

Kauai
The island of Kauai is not only the fourth largest island, it's the fourth most visited. The infrastructure here is small compared to Oahu, Big Island and Maui, which means there's plenty of pristine nature to admire. Kauai is all about the lush vegetation and rain forests (in fact its common nickname is "The Garden Island") but there are a handful of beautiful beaches and luxury resorts.

Lanai
Lanai is basically owned by billionaire Larry Ellison, who pumps a lot of money into the island, which is great for the 3,000 locals who live here.  There's only two resorts, both of which are Four Seasons properties that recently received extensive renovations. It's a true hideaway if you want to escape the crowds, and there's one beautiful beach where you may not see a single soul. There's there's little to do outside the properties, so Lanai is best for newlyweds who want to stay put.

Molokai
The most underdeveloped island, Molokai is rarely visited by honeymooners. Activities are limited. There is a hotel, a handful of restaurants and a tiny beach, none of which are worth the trek for a full honeymoon. Most people visit Molokai to check it off their list if they want to say they've been to all the Hawaii islands.
Niihau and Kahoolawe are the other two islands, but they are privately owned and not open to tourists.
Best Attractions And Activities In Hawaii
The state of Hawaii is basically designed for tourism. You can spend all day beach hopping, exploring rainforests, eating your way through one fantastic meal after another, drinking craft cocktails in hip bars and driving through awesome beach towns.
Hawaii's coast is lined with unbelievably beautiful beaches. There's so many options it's hard to visit them all, but here's a starter kit for some of the best ones .
The best honeymoon activities and attractions in Hawaii are concentrated in the three main islands of Oahu, Maui and Big Island.
Oahu
You've likely seen Hawaii in your favorite movies and TV shows; the state is popular for filming tropical scenes. The majority of the most memorable scenes  were filmed on Oahu, and you can visit a lot of these film locations for some stunning views.
Maui
Whether you rent a car and drive up the coast, or just chill out and watch the sunset on a number of breathtaking beaches, Maui is chock full of amazing natural attractions and activities. Honeymooners can keep their vacation schedules filled with romantic activities .
Big Island
Big Island is home to unique, outdoor adventures  you can't find on the other islands, and you'll spend plenty of time in nature.

Top Restaurants & Nightlife In Hawaii
Oahu
Oahu brims with awesome bars  where you can go for a simple nightcap or to fully commit yourself to a night of partying down. The dining scene in Oahu is the most modern, thriving, progressive and exciting in the islands. Check out the best restaurants here (best restaurants in Oahu), which range from decades-old haunts to modern institutions.
Maui
Thanks to a growing ex-pat scene and affluent visitors alike, Maui features a diverse range of amazing bars. Check out the best ones here . Maui has a high concentration of exceptional, romantic places at which to dine,  many of which are considered among the best in the state .
Big Island
Big Island may be sprawling, but it doesn't stop honeymooners from checking out the amazing bars  and incredible restaurants  staggered throughout the island. Most establishments come with beautiful settings and atmosphere.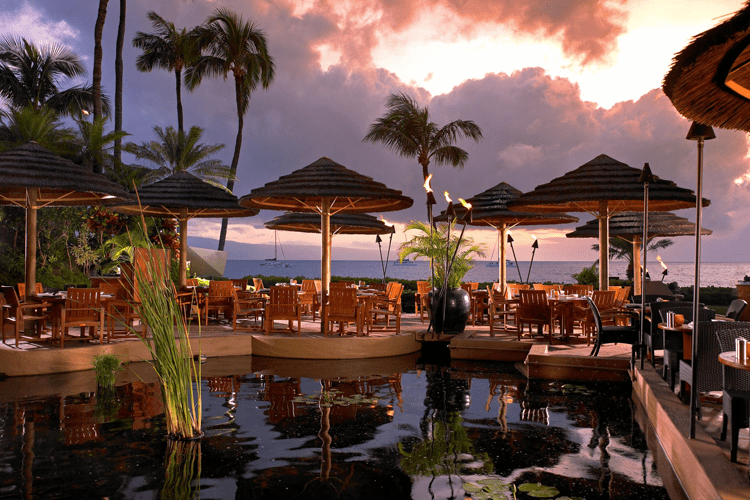 Summary
With its near-perfect weather, enchanting landscapes, amazing beaches, excellent dining scene and luxurious resorts, Hawaii continues to get plenty of love from the honeymooners who fly out here in droves.
The top islands are Oahu, Big Island, Maui and Kauai, and they all feature amazing resorts, exceptional dining and romantic activities that create unforgettable honeymoons. Get excited for the land of Aloha, the most exotic honeymoon destination in the United States.