Quick Look
Aruba is a world-class Caribbean island. Unlike some other Caribbean islands, Aruba has all the modern modern comforts: shopping, nightlife, and great restaurants.
Aruba is located in the Lesser Antilles, one of the "ABC" islands in the Caribbean. The other islands are Bonaire and Curacao.
Aruba is a bite-sized: only 69 square miles.
Tourism is the main industry. On average, a million people visit every year–nearly ten times the modest residential population of 103,000.
There are 17 amazing beaches. Despite Aruba's tiny size, there are 17 beaches to choose from, so feel free to work on your tan in as many different spots as you like.
There is no "bad" time to visit Aruba. Close to South America, Aruba is outside the hurricane belt, so there are rarely storms. The weather is a consistent 80-83 degrees. January to March is the most expensive time to visit: it's when most Americans and Canadians come to escape the cold weather back home.
US Customs is in Aruba. This is rare, and extremely convenient. US-bound passengers go through customs in Aruba, which spares them having to wait on line when they arrive in the US.
There's a huge ex-pat community. Due to many universities (including med schools) and plenty of job opportunities for young people, there's a huge ex-pat community here, including a lot of Americans.
Honeymoon Packages In Aruba
Aruba requires a little work to plan your stay.  You won't find too many great honeymoon packages here. The best are offered by the most romantic resorts  on the island. The official tourism board of Aruba has a great run down of all the best honeymoon packages the island has to offer. 
Cost Of A Honeymoon In Aruba
A honeymoon in Aruba is relatively affordable compared to more exclusive island destinations like Maldives, Tahiti and St. Barths.
Direct, round-trip flights can be surprisingly affordable. In the fal, you can get chp tickets for flights from several larger cities, such as New York ($353), Atlanta ($477) and Miami ($281). The sooner you book, the more likely you will nab these fares (the price goes up as you get nearer to departure time.)
Rooms at luxury resorts start low, in the $200 range, them move upward of $1,100 a night for the top suites .
Expect moderate prices for most restaurants, activities, drinks and spas. At the more high-end restaurants, meals can average $175-250 a couple.
Best Attractions And Activities In Aruba
We hope you love the ocean. Most resorts are right along the sugary white sand beaches of the Caribbean Sea, so you'll likely go barefoot most of the time. It's all about laid-back adventures here–a classic itinerary for honeymooners might look a little like this:
Chill the hell out. 17 pristine beaches. Crystal-clear sea. Crazy-hot Caribbean sun. Leave your crazy city lifestyle behind.
Take a class in… True to its arts and culture vibe, Aruba offers plenty of classes and workshops for couples. From cooking to salsa dancing, here's a list of some of the most popular options .
Nightcap, baby. Whether you want to enjoy a laid-back after-dinner cocktail or you want to rage with locals, Aruba has you covered. The strong ex-pat community and heavy tourism allows for a diverse range of watering holes.
Immerse yourself in nature with island activities. Despite the island's small size, there's a wealth of activities, from off-roading to windsurfing. Check out the most popular island activities  honeymooners engage in here.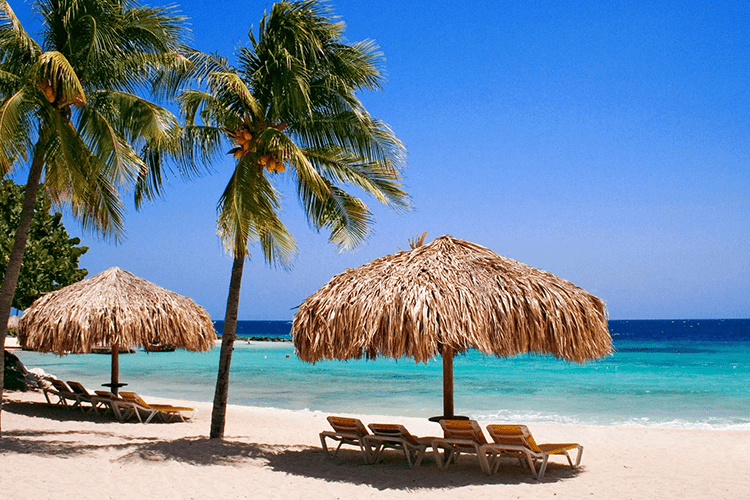 Top Restaurants In Aruba
Aruba dining may surprise you. Not only can you indulge in typical Caribbean fare, the diversity of the island's ethnicities means authentic African, Indian and European food is yours to enjoy.
The best restaurants are the most romantic, and they take destination dining to a whole new level. Whether you want to sink your toes in the sand or take in the night sky in a rustic, seaside patio, check out these romantic restaurants , which are always full of honeymooning couples.
Summary
Aruba is only 20 miles long and 6 miles wide, but it offers a lot to love, and you'll appreciate the intimacy. The island's Dutch heritage makes it unique for the Caribbean. Aruba is known as "The Happy Island," and we're not one to argue.
A city center, 17 beaches and great nightlife ensure you'll never get bored, and, despite its tiny size, Aruba never feels crowded. There are several direct flights from the US, and when it comes time to head back home, you can go through US Customs before you get on the plane (saving you from dealing crazy long lines when you get home).
There's no bad time to visit Aruba. It's out of the hurricane built, and the weather is consistent throughout the year. It's also so close to Venezuela: you can literally see the country if you squint.