Cocktail hour, meet happy hour. Sure, you and your bride are great and all, but as soon as the ceremony is over, the open bar becomes the main attraction. So why not give the people what they want and extend the theme to your menu? Whether your big day vibe is more dive bar or rooftop lounge, kick your reception off right with these bar bite-inspired hors-d'oeuvres that channel everyone's favorite alcohol absorbing snacks with a touch of wedding day class. Get the party started (and help your guests soak up some up some of those signature cocktails before dinner) with these Plunge-Approved, bar food-inspired hors-d'oeuvres.
By Kayla Kibbe
Jalapeño Cheddar Soft Pretzel Bites
Whether it's a big soft pretzel on game day or a bucket of crunchy twists at your local watering hole in the wall, beer and pretzels go together like, well, beer and pretzels. Class up the traditional combo with these bite size jalapeño cheddar stuffed soft pretzels. Whether your guests are swilling champagne or knocking back brews, this upgrade will pair nicely.
Bite-Size Buffalo Wings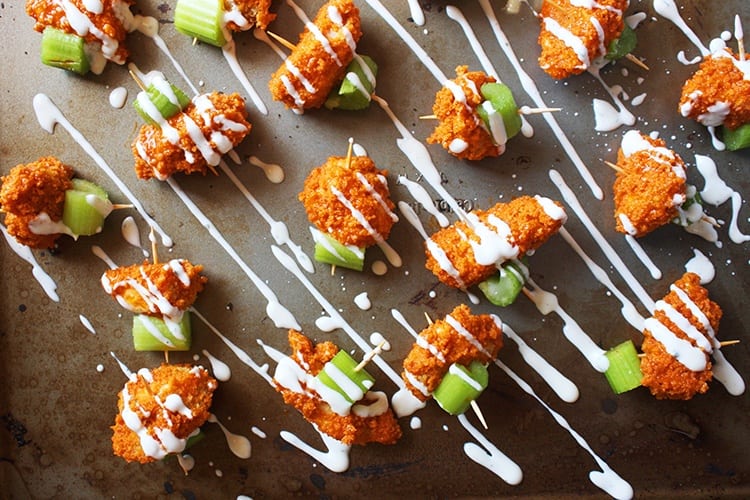 It is a truth universally acknowledged that guys love wings (girls too). There have been entire restaurant chains built around this concept. Go with a boneless, relatively mess-free version for the big day and you and your guests can dine on buffalo wings with style (re: without any finger licking…or tiny orange shorts, sorry).
Cheeseburger Sliders
These tiny, bite-size micro-sliders prove once and for all that bigger isn't always better. While you'll probably never convince your fiancé to let you add bacon cheeseburgers to the entree menu, these baby sliders are totally cocktail-hour approved. Remember, if you can put a toothpick in it, it's 25% classier.  
Fried Pickles
Fried pickles are actually a delicacy that belong at every wedding and anyone who tries to tell you otherwise is an uncultured pleb. You know what we're talking about, they're great and you can sort of, maybe say you're eating your veggies (prolly not though).
Pimento Cheese Jalapeño Poppers
It's been said that pimento cheese is the caviar of the South. Dubious honor? Maybe. But we think it seems like a good enough excuse to serve these cheesy jalapeno poppers at your wedding, so why fight it?
Onion Ring Steak Cups
We actually can't think of any reason why you shouldn't just have elaborate onion ring towers as centerpieces on every table. But if you're looking for something a little more subtle, these onion ring steak cups might be a good compromise. And now instead of just onion rings, you have onion rings filled with steak. Win win.
Fried Mac and Cheese Balls
Every once in a while, some wonderful genius decides to make a delicious food even more delicious by frying it, and every time it is a miracle. Eventually, some other genius decides to put a toothpick in it and makes it okay to serve fried mac and cheese balls at your wedding. That's teamwork at its finest.