A generation ago, late night television hosts were a lot of things: public wits, keen observers of politics, masterful comedians and interviewers.
One thing they were not? Great husbands. David Letterman slept with female members of his staff, Jay Leno seemed more interested in his cars, and the king of them all, Johnny Carson, was famous for the number of his ex-wives. Not great examples for the marriage-minded.
But the current crop of late night personalities is a completely different kettle of fish.  The new generation of (still mostly) men at the helm of late night—Stephen Colbert, Seth Meyers, Conan O'Brien, and the Jimmys Fallon and Kimmel—seem to have stable marriages, and somehow remain happily married even while chatting with young, scantily clad actresses night after night. Let's take a look at the married men (and one woman) of late night.
Meet Cute (For instance, at the Opera)
Let's begin with Stephen Colbert. He makes a living poking fun at the alleged marital infidelities of a certain thrice-married former TV-star-turned-politician (see: "Stormy Watch"), so how does he stack up?  Quite well, it seems. Colbert has been married to Evelyn "Evie" McGee-Colbert since 1993. And—cue the "awwwww"—Colbert describes the first moment he met Evie as being love at first sight. (Bonus for high culture nerds: he met her at a Philip Glass and Allen Ginsberg opera.)  Their marriage seems to be solid: after 25 years, she says she still finds his silliness sexy. At the time of writing, Colbert has been accused of making zero hush payments to adult film stars.
Make Her Laugh
"At a young age, my brother and I understood that if you can make girls laugh, you can punch well above your weight class," says Seth Meyers, who went from hosting Weekend Update on Saturday Night Live to his own late night show on NBC. Standout segments include "A Closer Look," in which he takes deep dives into politics. Meyers is now married to human rights lawyer Alexi Ashe, who is also worth a closer look. Brilliant, beautiful, and, as part of the Brooklyn District Attorney's office, committed to fighting sex trafficking, she is clearly every bit her husband's equal. Meyers has also said it was love at first sight for him–we're noticing a trend, here.
Take note of the funny man's humble appreciative attitude: Meyers claims that Ashe is both smarter and sillier than him and that she makes him laugh. (Presumably, he also gets the occasional chuckle out of her.)
Fall In Love On Camera
Frankly, we're getting a little tired of late night TV hosts claiming that they fell in love at first sight. But bear with us, because Conan O'Brien has also said that he "instantly" fell for his wife when he saw her while taping an episode of Late Night with Conan O'Brien in 2000. (In fact, he claims that somewhere in an NBC vault there is footage of the exact moment he first laid eyes on her and that if you freeze a frame, you can see him falling in love.)
O'Brien describes his wife Liza Powel as "incredibly beautiful, very intelligent, and funny, and a really good person." The self-described Slim Jim of romance has been happily married to Powel since in 2002 and they have two children together. O'Brien apparently enjoyed standing at the altar so much he became an officiant of the Universal Life Church, and once conducted a same-sex wedding on live TV.
Meet Through Work Friends
Jimmy Fallon, host of The Tonight Show, met his wife Nancy Juvonen in Boston on the set of Fever Pitch, where she was a producer. Juvonen is 7 years his senior, so maybe it's not true that TV stars are always on the hunt for a younger woman. Juvonen, who is of Finnish descent, is partners with Drew Barrymore in the movie production company Flower Films. There have been rumors swirling around the couple for many years that they were going through relationship problems and perhaps even considering divorce, rumors both have steadfastly denied. So we totally won't read too much into the fact that Juvonen's movie credits include Fifty First Dates, He's Just Not That Into You, and How To Be Single.
Appreciate Their Exes
You know the old saying, the couple that works together every day on a tight deadline and in the glare of public scrutiny, stays together. Actually, that's not a saying because love doesn't usually last under such circumstances. But Molly McNearney, who started out as an assistant on Jimmy Kimmel's show more than 13 years ago, rose through the ranks to become co-head writer—and his wife.
The pair have two children together, and a seemingly a rock-solid level of trust: Kimmel was previously in a long-term relationship with comedian Silver Silverman, and both Kimmel and McNearney remain on good terms with his ex.  As McNearney once said, "Your boyfriend or husband's previous relationships have made him who he is, so I am extremely thankful to Sarah because I think she did a lot of good for Jimmy."  Remember fellas, the same goes for your wife's exes. Don't be threatened. Be friendly and confident. You might just get the head writer gig, too.
Marry Up
John Oliver is one of the sharpest minds on television, and on Last Night This Week, his Sunday night series for HBO, he crunches complex stories down to a few brilliant moments of comic gold. Oliver not only exposes wrongdoing, but he often also uses his show to do something about it—whether it's starting a petition to block a corporate merger, buying up debt to forgive it, or producing a children's book to spoof (and outsell) a real one.
So he's a good guy—but in his own estimation, not nearly as good as his wife.
Kate Norley enlisted in the army after September 11th, becoming a U.S. Army combat medic in Fallujah and Ramadi and working as a mental health specialist in the field, counseling soldiers returning to conflict. Did we mention she's a Republican? In fact, the very liberal-minded Oliver met her at the 2008 Republican Convention in St. Paul, Minnesota.  
There are two possible lessons we can learn from John Oliver's marriage. One is that when you truly love a woman, you can respect her point of view even when it diverges widely from yours, and you can build a marriage that is stronger because of the diversity of your views.
The other possible take home is, when you look like John Oliver and you land a woman this beautiful, you don't ask questions. You just shut up and whisper "thank you" to God all day, every day.  
Find Someone You Can Work With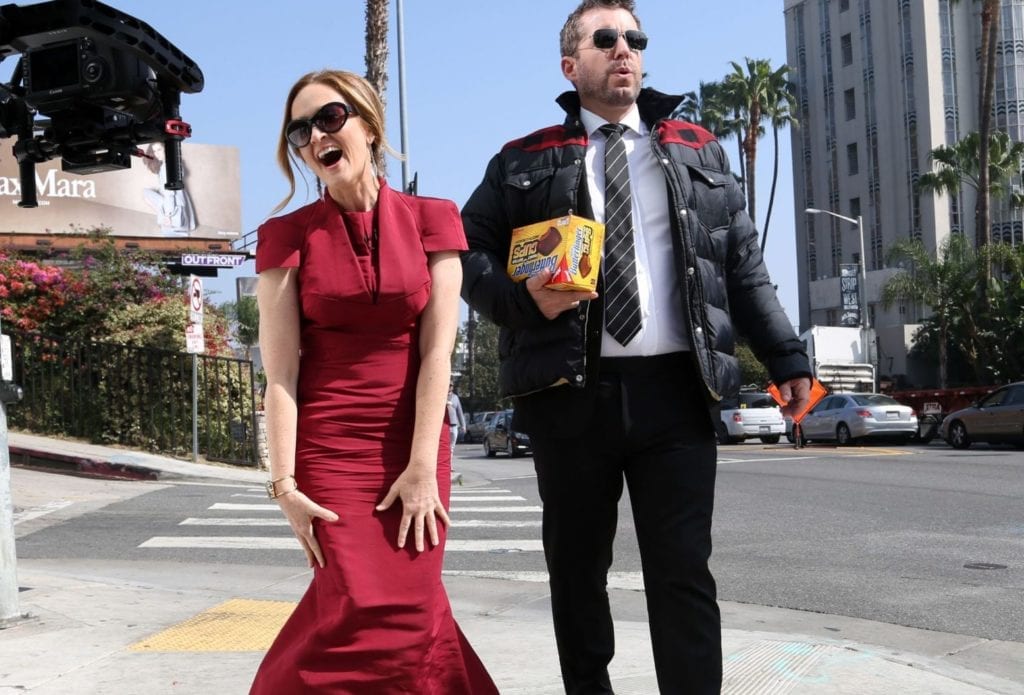 Of all the inspiring things you can learn about love and marriage from late night TV hosts, perhaps the greatest lesson is exemplified by Jason Jones and Samantha Bee. They are proof you can be funny and smart and stay happily married while working side by side in the Late Night world.
The duo—who are both Canadian (which probably explains a lot)—met doing children's theater in the 90s. (Jones has said that they both hated it and so did the children.)
Jones and Bee were both correspondents on The Daily Show with Jon Stewart, and once they left, they produced and co-wrote the TBS show, The Detour. Now Jones is an executive producer for Full Frontal with Samantha Bee. She's an outspoken feminist, known for her sharp wit, political commentary, and he's obviously confident enough to be the one working behind the scenes, supporting his wife as she shines in the spotlight.
Yes, showbiz is a cesspool of immortality and vice, but if you want some good examples of how to conduct your marriage, look no further than late night TV.