In my life, I've been involved in two threesomes. They happened about six years apart. While I'd like to pretend I had done something to earn each triumvirate – that getting to sleep with two women was a byproduct of some great personal accomplishment – that's not really the case. On both occasions, it was more or less dumb luck.
The first time was in college and while I was certainly participating in the experience, the threesome was decidedly not about me. I had been seeing a girl for a few months when she asked if one of her friends could join us in the bedroom. When the night came around I was nervous to participate, it took a little while to get going, but the sex ended up being a lot of fun. What I later discovered was that the threesome was just a safe space for my girlfriend to explore her blossoming lesbianism. We broke up soon after and since that time she's exclusively dated women. As a younger man that used to make me self-conscious but now? I think it's kind of great. I got to have a threesome and she got to figure out her sexuality. That's a win all around.

The second occasion was just good timing. I ran into an old friend and her bestie at a bar. I'm not really sure how we all ended up in bed – to the best of my recollection it had something to do with tequila shots and a birthday party – but I do know that when it was all over I felt very grateful for the experience.
How Common Are Threesomes?
According to a 2017 survey published at PLOS ONE, one in seven Americans have had a threesome (about 10% of women and 18% of men).  For people involved in relationships, the topic is tricky. It's obviously dependant on how you and your partner interact, whether either (or both) parties get jealous, and the relative status of your bond. But the assumption that because you're dating somebody a threesome is automatically off the table just isn't true.

"Recently my girlfriend and I have been talking about a threesome," said Kyle. Kyle is a friend who works in the tech industry. He and his girlfriend, a professional seamstress, have been together for almost two years. "The whole thing is kind of new for both of us. It's not something we've done before, but a few weeks ago during foreplay she brought it up and the idea turned us both on. I don't know if we'll actually go through with it, but talking about it has been really great. When we're out at a bar sometimes we even check people out…together."
Find The Right Person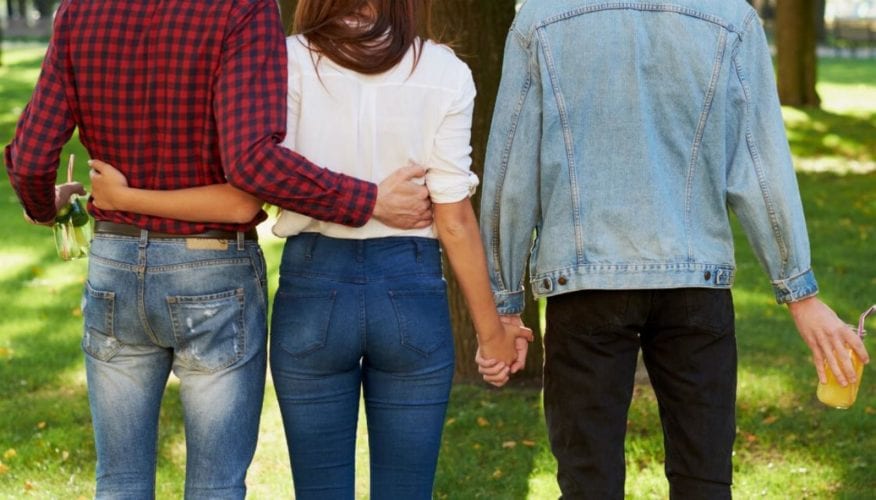 If you're in the position to ask about it, and you and your partner make the decision that you want to move forward there are several different ways you can find a third. But for Erin Pim, host of The Bedpost Podcast and general expert on sex and sexuality, it's all about finding the right person.

"I think people can get caught up on an end game. That they go out with the inattention of having a threesome and treat that as a goal rather than considering that there is going to be another actual human being involved.  You see tons of couples doing that online, unicorn hunting. It ends up making people feel like a sex object and it rarely works out how people want it to. Instead, I would suggest that it's something people just keep on the table. Be open to it happening rather than trying to force it."
Make Them Laugh
Instead of treating threesomes like some kind of prize, Pim suggests broaching the subject with a third party in the same way you would with your partner.

"Find someone you already have a good report with. Maybe that's a friend you know you can talk sex with. Flirt! Bring up the subject casually without being direct – talk about a threesome you saw on TV or in a movie, chat about porn – and gage their reaction. If you've tested the waters and it seems okay, then you can start to push things further. Like anything, the whole thing comes down to communication. It's okay for it to be awkward. It's okay for it to be funny. Sex is funny. Use humor before, during, and after."

Manage Your Expectations
The Bedpost host also suggests being upfront with what you'd like to happen afterward.  

"Just don't be an asshole. Sometimes a person might want to try this as a fun one-off. They might want to do it every couple of months. They might try it and decide it's not for them. Or they might want to casually date the two of you. When you keep the lines of communication open and keep it all light, it's best for everybody."
Go Pro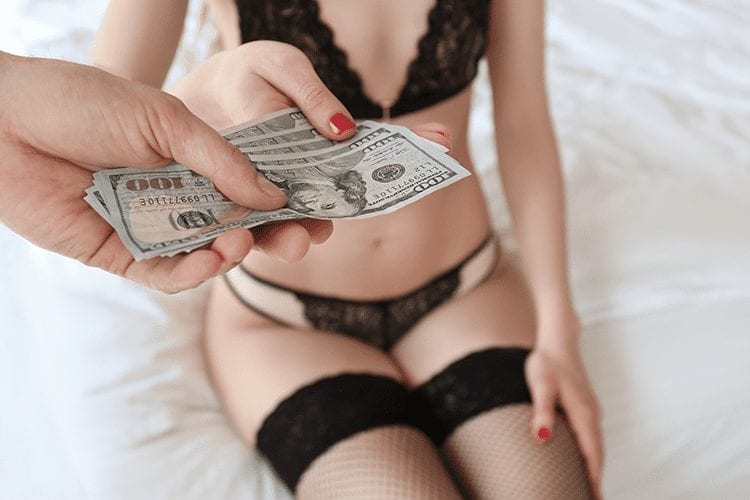 For those who are looking to avoid the potential awkwardness of asking a friend or acquaintance or the potential disaster zone of bringing it up to a relative stranger, there is always the ability to hire a professional. While some people might think a sex worker is outside of their comfort zone, it does take away a lot of the bigger what ifs.  It can also be great for someone else to be in control.
"Working with couples is some of the most fun I have while on the job," says Montreal based escort Marlaine. Marlaine charges more for threesomes than she does for individual clients. "Getting a booking for a threesome is pretty rare, it's only happened a handful of times, but when it does I like to feel out the room. Sometimes the couple likes to take charge but most of the time I try and control things. That takes some of the pressure off the experience and allows them to have a bit more fun, which should always be the point. Afterward, they're out the door and nobody's feelings get hurt. Mine don't, anyway!" 
Use It As A Gateway Kink
Whether the concept of a threesome is something you and your partner want to go through with, or whether the idea of a third stays a fun hypothetical, broaching the subject can be a kick start to your sex life. Even if the answer is no, threesomes are a pretty accessible and extremely common fantasy and can serve as a gateway to larger conversations about your other kinks or desires. And assuming that the person you're with now is the person you're going to be with for the long haul, those are definitely conversations you want to be having. Having trouble getting started? Tequila might help.