Let's face it: Weddings are the perfect excuse to fill your house with gadgets and gizmos galore. Whether you're moving in to your first home together or your simply looking to spruce up the place, create a wedding registry that focuses on your needs (okay, wants). For you? That means pricey electronics, appliances, and gadgets that'll simplify — and probably strengthen — married life. While most wedding registry options include big-ticket items like vacuums, juicers, and security systems, these picks are the best of the best, especially if money (yours and your wedding guests) is your main concern.  Here, the best registries for consumer electronics, along with what you should consider before making the first step.
Best Buy (through MyRegistry)
When you picture your soon-to-be married life, you picture stainless steel kitchen appliances and your partner, let's just say, envisions a living room decked out with a screen TV, speakers, and every other gadget you can think of. As one of the only wedding registries that focuses solely on small and large electronics, Best Buy offers a hands-on experience for couples to seriously upgrade their home with the best in tech.
Pros: To make the shopping experience even easier, couples can head to MyRegistry.com to add an assortment of products from Best Buy and other top retailers straight to their list. No products — no matter how pricey – are off limits, but guests are given the option to "contribute" to big-ticket items rather than splashing out on their own. Once an item is purchased on your registry, you have the option to have it shipped straight to your door or picked up at the nearest store location — it's your call.
Cons: While it's considered a wonderland for the gadget-obsessed, Best Buy doesn't sell everything (the Le Creuset Dutch oven you've been eyeing, for example). With MyRegistry.com, you have the option to sync wedding registries with other stores in one spot, but it also requires some extra work on your end since you have to go one-by-one to nail your wishlists.
Amazon Registry
If you're like, well, everyone else, then Amazon is your go-to shop for just about anything, including electronics and appliances. No matter if you have your eye on a brand-new air fryer, or he's planning on giving your home concert-worthy surround sound, Amazon has just what you're looking for at some (key word: some) of the best prices around.
Pros: Just in case you get a little carried away with adding items to your registry (it's easy to do so), Amazon gives you the option for couples to buy any remaining gifts on their list with a 20 percent discount. And if you decide that you don't like the color or more likely, have enough cabinet space to store new gadgets, you can return or exchange gifts within 180 days.
Cons: Imagine having every product imaginable at your fingertips and trying to figure out which one you love most — that's basically what shopping on Amazon is like. While it's great to have a wide-range of options, it can often be overwhelming — not to mention, time-consuming — to sort through all the different options.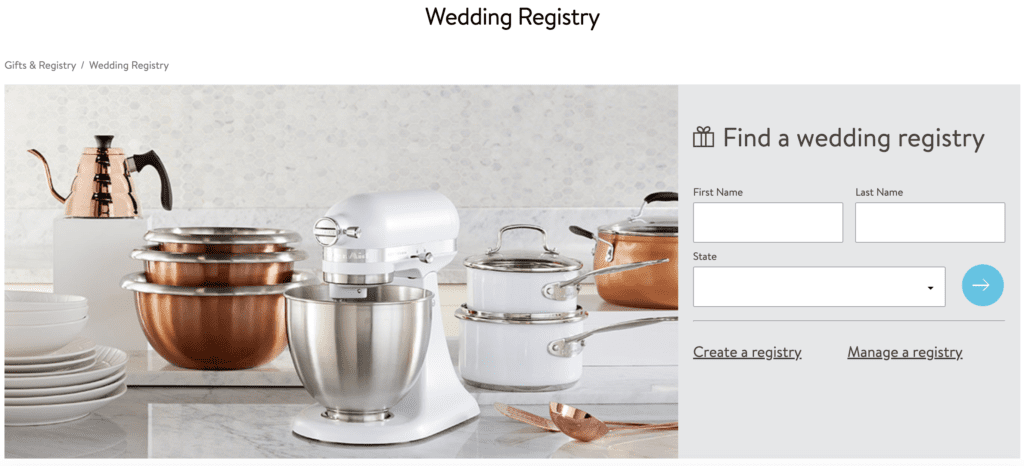 Walmart Registry
For the more budget-minded folks, Walmart offers everyday low prices on vacuums, blenders, and whatever else you're dreaming up. And while you're at it, give your home a design refresh by adding linens and décor to your registry, too.
Pros: If you're a more traditional kind of couple, then you'd be glad to know that Walmart provides couples with printed registry cards to add to wedding invitations. That way you can have your wedding registry match the formality of the occasion. Once the wedding passes, you also have two full years to purchase any items on your wedding registry … or ya know, your half-there Uncle Steve can buy you the Instant Pot as a belated wedding present.
Cons: While Walmart carries tons of consumer electronics and homegoods, it doesn't sell everything. It'll be next-to-impossible to find Williams-Sonoma stoneware at your local Walmart store, which means it may not be a one-stop shop registry. Unlike other wedding registries, including Best Buy, you can't sync the Walmart wedding registry with other retailers, so you'll have to create multiple registries on multiple sites depending on what you're looking for.
Target Registry
You love Target. She loves Target. Your wedding guests definitely love Target. The superstore's wedding registry, which partners with Honeyfund and most major retailers, makes it easy for couples to get what they need for married life without causing any pre-wedding stress for their family and friends.
Pros: Unlike Walmart, Target has a universal registry tool. Think about it this way: If you want a new TV from Target, a personalized cutting board from Etsy, and money toward your honeymoon via Honeyfund, you can do it all through Target. In fact, you can even have guests donate money to you and your future spouse to enjoy during your honeymoon and beyond. If gifts aren't purchased in time for the big day, you can buy them with a 15 percent discount — with the money you were gifted, perhaps?
Cons: If you need help figuring out what's worth the splurge and what's not, then steer clear of Target. There aren't any in-store consultations or wedding registry experts to help you create the perfect yet realistic list of gifts, so it's up to you to call the shots.