There are three basic groom looks in the wide world of wedding-day wardrobes: a suit, a tuxedo, or "separates" in the form of a blazer with trousers. Remember that the style you like best could change depending on the theme of your wedding. After all, James Bond chic might not look so cool at a rustic farm wedding.
The Plunge's style editors have searched near and far for the best looks from real weddings to help you pick out the best option for you. So the big question now is: What will you be wearing on your wedding day?
Wedding Suit Options & Ideas
A suit is a classic choice for any groom. There are limitless options. And if you want to avoid the hassle/cost of buying or renting a new tux, chances are, you already have a few suits and know how to wear 'em. Examples below show two-piece and three-piece suits. And one guy in a hat.
Think: Black is the typical go-to but all colors (and patterns) are welcome, especially when it comes to ties, pocket squares, and boutonnières.
Bonus points: You won't have to shell out anything if you have a well-fitting suit already hanging in your closet. Do get it dry cleaned for the big day.
Photographed by Lindsay Hackney
Photographed by Rebecca Carpenter Photography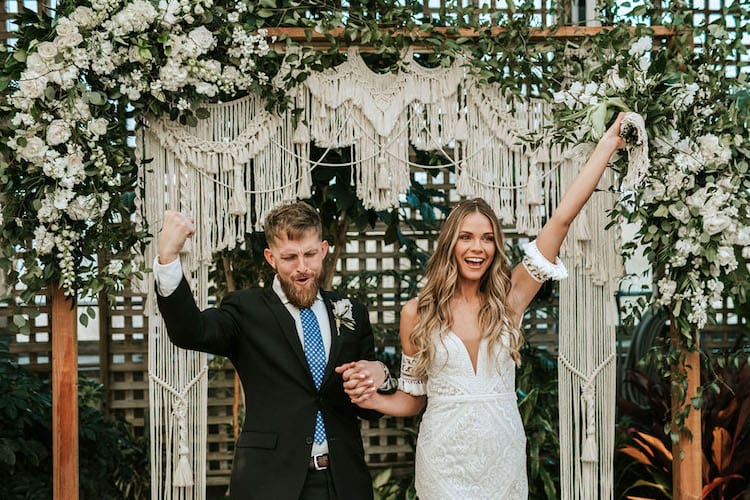 Photographed by M2 Photography
Photographed by Art & Story Studio
Photographed by Jeremy Chou
Photographed by Hana Gonzalez Photography
Photographed by OUE Skyspace LA
Photographed by Jamie Hardin Photography
Tuxedo Options & Ideas
Tuxedos can transform even the grungiest slackers into classy, refined gents. They are a great choice for grooms who want their wedding day to be a more black-tie affair. The options below show the kinds of lapels as well: peak, shawl and notch. See our ultimate suit and tux guide for more info on the jargon and specifics.
Think: Midnight blue, oxblood, and of course, black — even white if the bride gives her approval first.
Bonus points: If you talk to your bride about coordinating your outfit with hers (you'll be in a lot of photos, after all), she will love you even more.
Photographed by Fox + Sloane Photography
Photographed by Jillian Rose Photography
Photographed by Peterson Design & Photography
Photographed by Chaz Cruz Photographers
Photographed by Nicola Dixon Photography Co
Photographed by Chelsea Denise Photography
Photographed by Cyd Weeks Photography
Blazer/Separates Options & Ideas
Non-matching blazers and trouser (a look referred to as "separates") are the perfect way for grooms to add some originality to the wedding day look while still maintaining a sense of class and sophistication. Often this is the least formal option.
Think: Colorful, patterned, or tuxedo jackets paired with black or white pants.
Bonus points: Mix-and-match outfits offer a ton of combinations to play around with. Jeans and khaki trousers are considered quite casual. Your call.
Photographed by Adrian Wood
Photographed by Foolishly Rushing In
Photographed by Dewitt for Love
Photographed by Loric Gonzalez
Photographed by shanell photography
Photographed by Sarah Glick Photography
For more information on men's wedding styles and rental sites, visit our Suit & Tux Rental Reviews.