If you've managed to choose your wedding-day theme already, congrats. If not, you might want to take a look at this useful guide for ideas. So what's next? Choosing the best suit or tux style. Since dress codes vary from wedding to wedding, it's not always easy to pin down what to wear — it could be black tie, casual, or something in between.
Whether you have a vague idea of the style you want or have absolutely no idea where to begin, we're here to help. We've scoured the internet and put together some of the best looks we could find — photos of real couples from around the globe — that should get your inner fashion stylist flowing. So the big question now is: what style are you looking to nail?
The Classic Style
A classic style is flattering on anyone, using time-proven elements that don't take risks and won't steal the thunder from your bride's spotlight.
Think: A suit or tux in muted colors like black, gray, or dark blue.
Bonus points: Picking a tie and pocket-square color to match your bride's outfit.
Photographed by Posh Moments Photography
Photographed by Nicole Leever Photography
Photographed by Aimlee Photography
Photographed by OUE Skyspace LA
Photographed by Nicola Dixon Photography Co
Photographed by Sarah Goss Photography
The Modern Gentleman Style
A modern gentleman style works for those who want keep a classic feel but also crave some sparks of originality.
Think: A three-piece suit or tux in vibrant or unique colors. And/or flashes of unique style in the lapel or tie. But not entirely risk-taking; this guy wears socks and doesn't go with a turtleneck or cardigan sweater.
Bonus points: If your tie is so busy it can double as the bouquet.
Photographed by Cottonwood Road Photography
Photographed by Fox + Sloane Photography
Photographed by Mary Costa Photography
Photographed by D.Lillian Photography
Photographed by Sarah Glick Photography
Photographed by shanell photography
The Style Icon
The style icon is best for the guys who throw caution to the wind (and who are marrying brides that won't mind sharing all the attention).
Think: Bold colors, floral prints, separates, and a patterned shirt or even a turtleneck.
Bonus points: You can get away without wearing socks in any season!
Photographed by Dewitt for Love
Photographed by Julie Shuford Photography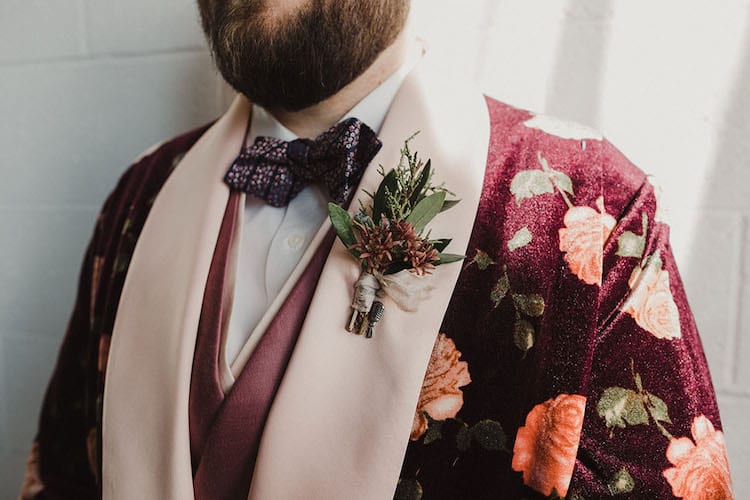 Photographed by Alixann Loosle Photography
Photographed by Erin Trimble
Photographed by Art & Story Studio
For more information on men's wedding styles and rental sites, visit our Suit & Tux Rental Reviews.