Once upon a time, personal-finance management meant balancing your checkbook and maybe using Quicken for taxes. These days, as everyone knows, there's an app for every step along the way, from budgeting to investing to bill paying—many of which centralize all your money-related information (assuming you are OK with sharing this info, and yes that means passwords too). To get even more niche, some apps will fine tune your credit score and even follow financial news a la minute.  
Here are some of the most popular, as well as a few lesser-known apps, that experts—including financial planners and stockbrokers—love and recommend to their own clients. Some are free, and the ones that charge end up costing less than $7 a month; so there's really no excuse to download them and start reaping the benefits.
Note: All information is accurate as of the date of publication. You may want to read about updates or changes in the fine print before you download (or pay for) any personal-finance apps.
Best All-Purpose Personal Finance App: 
Intuit Mint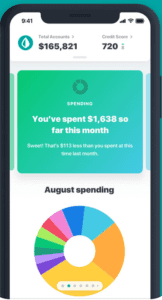 Platforms: Web, Android, iPhone, iPad, Apple Watch
Pricing: Free
Money professionals and regular people alike love Mint for its ability to give you a quick and comprehensive big picture of your financial life. If you keep your money at one bank, have a credit card at another, and a home loan at yet another, using third-party software like Mint is almost essential. Want to take a peek at recent purchases but can't bear the thought of logging in to 10 different websites to remember which credit card you used? With Mint you can view all recent transactions as long as you have connected the app to your accounts.
Lauren J. Bauer, a CFP in Greensboro, NC, is a fan of Mint's spending analysis; you can break it down by different time frames and categories, which can help you spot weaknesses (and strengths—you know you have them!) in your habits. You can also see how your net worth rises and falls, though it depends on the info you connect to the app.
Platforms: Web, Android, iPhone, iPad, Apple Watch
Pricing: Free for a month; thereafter, users can buy an annual subscription ($83.99)
YNAB is one of the most popular budgeting apps out there—for good reason. On average, new users save $600 in the first two months, and more than $6,000 in the first year. Brian D. Gawthrop, a CFP in Kirkland, WA, says YNAB is like the old "cash in an envelope" budgeting system, where if you're short in one category (e.g., rent), you can borrow from another category (e.g., eating out) that you may not have tapped out that month. The result is a fluid mindset that'll still keep you on track, without making you feel locked in to a rigid structure.
Best Investing App for New Investors: Acorns
Platforms: Web, Android, iPhone, iPad, Apple Watch
Pricing: $1, $2 or $3/month, depending on your plan
Super simple Acorns operates on the premise that something small (like, say, an acorn) can grow into something big (hello, towering oak tree). It prompts you to invest your spare change from your daily purchases—so if you buy lunch for $13.50, it rounds up to $14 and invests the $.50. The money is diversified over Acorn's 7,000 stocks and bonds—so you don't have to pick, though you have control over how risky or safe your investments are. Plus, you can set up recurring deposits of larger amounts of money.
Best App for Tracking Your Investments: 
Personal Capital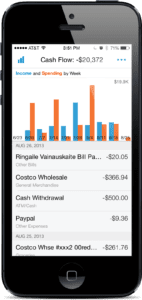 Platforms: Web, iPhone, iPad, Apple Watch, Android
Pricing: App is free; there's a monthly percentage-based fee for wealth management that starts at 0.89% for the first $1 million you invest
Personal Capital is a streamlined app that centralizes all your investment accounts and generates summaries of your investment portfolio (as well as your spending and net worth). The app's advisors—we're talking about both human and non-human "advisors" here—will also manage your investments, which is where the fees come in. The experts we talked to pointed out that while Personal Capital's fees are cheaper than traditional advisors, they're higher than those of the most popular robo-advisors (online financial managers that often use algorithms).
Best Bill Paying & Tracking App: 
Prism by BillGO
Platforms: iPhone, iPad, Apple Watch, Android
Pricing: Free
Yes, you can probably set up auto payments for your bills through your bank—but there are some compelling reasons to use a bill-paying app like Prism instead; Carrie Jones, a CFP in Jacksonville, FL, uses it herself and recommends it to clients (as well as her young adult sons). First, Prism tracks your bills, so you can see (via a list or calendar) what's due when. Second, it's usually quicker than paying bills via your bank, as everything is paid the same day. And there are some helpful tools, too, such as one where Prism alerts you if a bill is higher than usual.
Platforms: iPhone, iPad, Android
Pricing: Free
Once you've been investing for a while and find yourself checking stocks the way you check sports scores, you can't go wrong with Yahoo's free stock app. Blain Reinkensmeyer, head of research at StockBrokers.com [https://www.stockbrokers.com/], uses it to manage his "watch list," stream Yahoo Finance TV, and read news that's personalized for him, based on his portfolio. It's clean, easy-to-use and one of the most popular trader apps available.
Best Credit Score Monitoring App: Credit Karma
Platforms: iPhone, iPad, Android
Pricing: Free
If you're going to be applying for a mortgage soon, your credit score is one thing you'll need to keep a close eye on. And while general apps such as Mint will monitor your score, specific ones like Credit Karma break things down to a granular level, which may be just the thing for anyone who needs to boost his or her score as quickly as possible. It uses the VantageScore 3.0 credit scoring model and lets you track your score from TransUnion and Equifax. Plus, it shows you everything that affects your score, from your open credit utilization rate (how much of your credit are you currently using?) to the average age of your open credit lines. Jay Abolofia, an advisor and financial planning scientist in Waltham, MA, also likes Credit Karma because it offers free tax filing, which is a great resource if you have a typical tax return. And, at the very least, Abolofia says, "you can use it to compare to what you're doing with TurboTax or your personal accountant."