Why it's good: The Tiffany-style setting, marked by six prongs securing a central diamond solitaire, is one of the most popular engagement ring styles for good reason — it's timeless and makes any diamond look its best.
Tip 1: Since Tiffany-set rings typically only have one main diamond, they can be a smart choice for budget-conscious buyers.
Tip 2: The Tiffany setting's six defining prongs are a reliably secure way to mount a diamond, so you don't need to worry about the stone falling out.
Even if you have no clue what a Tiffany setting is, you've undoubtedly seen one. It is to engagement rings what Levi's 501's are to denim: the quintessential classic. Defined by six prongs suspending a diamond solitaire above a sleek band, the Tiffany setting is as timeless as engagement rings get.
When Was the First Tiffany Ring Introduced?
It's an iconic style for good reason: since Charles Lewis Tiffany debuted the design in 1886, the Tiffany setting remains the most popular engagement ring of all time. Just look at the diamond ring emoji on your iPhone — behold, the Tiffany setting.
Ring design can make a diamond look awesome or awful — so you want to shop at places that have a large setting selection like Brian Gavin, Whiteflash, and James Allen.
The design is so prevalent today that it can be hard to grasp how pioneering it once was. Prior to Tiffany's stroke of engineering genius, most engagement rings had diamonds either set into or very close to the band, usually with metal covering the stone's underside. What the Tiffany setting revolutionized was the idea of propping the diamond up so that light could hit it from every angle. More light means more brilliance, so this style of setting allowed diamonds to sparkle unlike ever before. It's a subtle visual trick that really highlights a diamond's best qualities, putting the stone up on a pedestal to flaunt all its assets.
Tiffany & Co., of course, are the originators and leading purveyors of the Tiffany setting. But just as Ralph Lauren isn't the only brand to produce polo shirts, six-pronged engagement rings are a staple of countless other jewelers' collections. The most traditional iteration is a minimal, polished platinum band with a round diamond. However, there are numerous riffs on that form: in yellow or rose gold, with an oval or marquise-cut center stone, or with a diamond pavé band. The setting is most compatible with stones that have rounded edges; those with hard corners or asymmetrical shapes, like emerald- or pear-cuts, are better off with fewer prongs.
How Much Does a Tiffany-Style Ring Cost?
Because Tiffany-style rings are relatively simple, they can be one of the most affordable engagement ring options. On the flip side, such simplicity means the quality of the rock is especially key. With little to no other visual bells or whistles, the diamond is a proverbial solo act, so it needs to carry the show. That doesn't mean it needs to be huge — the Tiffany setting's sparkle-amplifying properties and minimal metal can help smaller stones look more impressive — but it should have good color and clarity. When choosing a stone for the Tiffany setting the bottom line is that overall quality is more important than the size. Given that this style is all about the center stone, the main price variant is the diamond. Options range from just over $1,000 to over $10,000 depending on the size and quality of the stone.
Six-prong settings are a consistent favorite of celebrities. Model Kate Upton received an 8-carat round-brilliant in a Tiffany-style setting, made by designer Anita Ko, from Detroit Tiger Justin Verlander (the photo below was posted on her Instagram account and also displays the hugeness of a Houston Astros' World Series ring).
Ashton Kutcher proposed to Mila Kunis with a round-brilliant solitaire estimated to be around 5 carats, set with six platinum prongs. Nick Jonas famously shut down Tiffany & Co.'s London boutique to shop for his engagement ring for Priyanka Chopra, settling on the brand's signature setting with a cushion-cut center stone accented with tapered baguettes on either side.
Go to Whiteflash or James Allen to see what kinds of ring designs work best with that shape (and others). Their selection spans from vintage to modern — and across all budgets.
Going strong for over 130 years, Tiffany-style rings are the antithesis of trendy. They're perennially in style. As long as your bride-to-be isn't hoping for something with an alternative edge, a six-pronged ring solitaire is a pretty foolproof choice. It's an ideal ring for a girl who values tradition, understatement, and heritage. It's also a practical choice — the streamlined design is endlessly wearable and easily stacks with bands of numerous different styles.
10 Types of Tiffany-Style Rings for All Budgets
The most classic iteration of this style: a round-brilliant diamond set in platinum. From $1,700.
This band's brushed finish and milgrain detail (those textured stripes along either edge) lend it a subtle vintage appeal. Price upon request.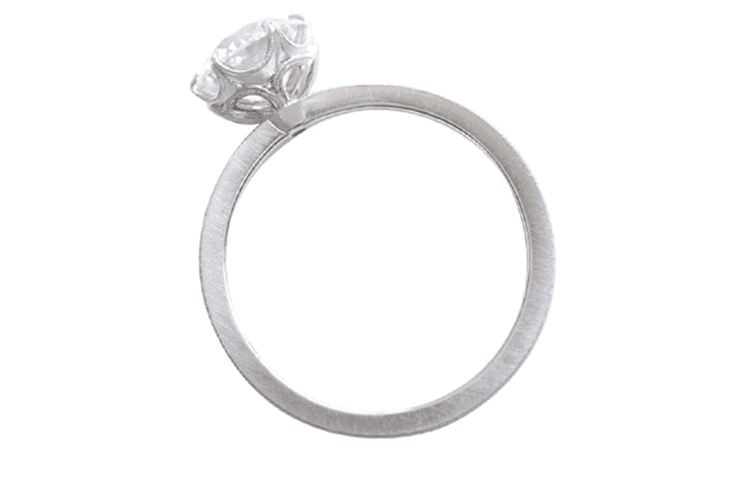 3. TACORI
A little extra sparkle never hurts, as evidenced by this luxe diamond pavé band. $4,960, excluding center stone.
The Tiffany-style setting is an ideal choice for showcasing a spectacular stone, like this 3.60-carat stunner. $55,300.
5. EVA FEHREN
Six-pronged settings may be traditional, but they can be done with a twist. Eva Fehren gives the style some edge with a hexagonal-cut diamond. Price upon request.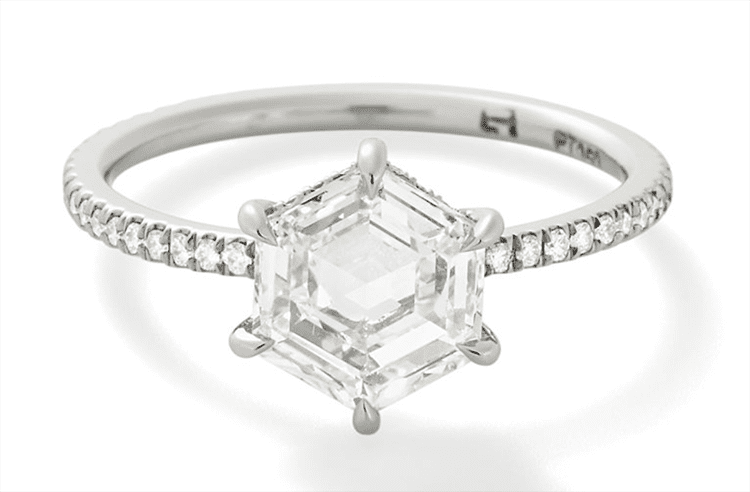 6. ASHLEY ZHANG
This ring offers the best of both worlds: a polished yellow gold band interlocked with diamond-studded platinum band. From $10,390.
7. JAMES ALLEN
The sleek knife-edge detail on this yellow gold band creates some extra shine without any additional diamonds. $560, excluding center stone.
8. BEN BRIDGE
This ring is all about the hidden details: a subtle split-shank adds dimension to the band and a dusting of diamonds tucked on the bridge beneath the center stone. $1,399, excluding center stone.
9. VRAI
A North-South set marquis-cut diamond makes for an elegant, unexpected riff on the standard Tiffany setting. From $1,371.
10. LAURIE FLEMING
Dainty and delicate, this tapered gold band has a trio of accent diamonds flanking the rose-cut center stone. $3,196.
If the prospect of choosing a ring has you spiraling with anxiety, it's understandable. The breadth of choices is staggering. Where to begin? The Tiffany setting is a very good place to start. When in doubt, remember some tried-and-true math: six prongs plus one diamond equals success.