When people talk about honeymoons, they are specifically and nigh-unequivocally talking about a semi-exotic (read: palm tree-lined, sugar sand beaches on crystal-clear bathwater-warm bays) or achingly romantic foreign location (Paris, etc.). There's an automatic assumption that a passport will be required. But what if…you decided to do your honeymoon domestically, without all the hassle of foreign travel? Where would you go? What would you do?
Domestic travel can be just as exotic, exciting, and rewarding as foreign travel. In fact, according to the Wedding Report, about 45% of honeymoons were spent in the U.S. Besides, if you've only ever been to four different states in your life, maybe it's time to discover America the Beautiful before rushing to cross an ocean or two. Can you really even say you're well-traveled if you've never even explored your own country?
Since islands are such a hit for honeymoons, we have picked some of our favorite American islands for you to check out, no passport or foreign language aptitude required.
Vieques, Puerto Rico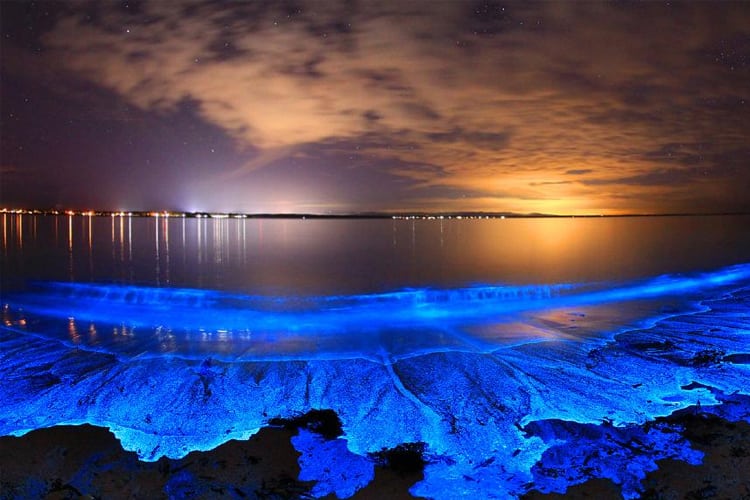 Ahhhh, all of the dazzling natural beauty and perfect weather of the Caribbean with none of the waiting in line at customs. Vieques has been popping up on the radar of under-the-radar travel guides as one of the few remaining corners of the Caribbean not yet totally overrun with tourists. A 21-mile-long and four-mile-wide island off the eastern coast of mainland Puerto Rico, the best way to get to Vieques is via a 30-minute flight on an eight-seat prop plane out of San Juan. Visitors who make this relatively easy trek will be rewarded with pristine beaches and unspoiled Caribbean charm. Be sure to take a couple of kayaks out to Mosquito Bay at night, the brightest bioluminescent bay in the world. And after the hurricanes, they can certainly use the tourist dollars.  
Sanibel and Captiva Island, Florida
Joined by the Sanibel Causeway, Sanibel and Captiva Islands are among the most unique barrier islands in the world. These lush tropical islands on Florida's Gulf Coast with their white sandy beaches filled with colorful shells (which the islands are famous for) are considered among the best in Florida—and Florida has a lot of beaches. While there are many fine beaches to pass away the days on, Blind Pass Beach is the most secluded and therefore the most romantic.
Catalina Island, California
One of California's Channel Islands, Santa Catalina is a popular resort town-island that lies about 22 miles southwest of Los Angeles. Charter a boat from the mainland–or sail your own, Captain–and enjoy all of the luxury amenities of SoCal resort life in Two Harbors. Or enjoy what constitutes "city life" on Catalina in the only incorporated city, Avalon, where you can kick back on Catalina's answer to Miami Beach, Descanso Beach. Wildlife is abundant here and there are several great dive sites and dive shops. And yes, the locals have seen Step Brothers, so save any and all "It's the fucking Catalina Wine Mixer!" references. Save it.
Orcas Island, Washington
The largest and arguably most beautiful of the San Juan Islands, Orcas is located off the northern coast of Washington State and is accessible by an hour and 20-minute ferry ride from the mainland. Orcas is the best that the Pacific Northwest has to offer–charming waterfront villages filled with artisans and small cottage businesses, rugged mountainous and forested landscapes, and wildlife that includes bald eagles and the mammal for which the island was named, Orca whales. Spend your days hiking through Moran State Park and soak in the sweeping ocean vistas from the top of Mount Constitution, or just soak in the soaking tubs at Doe Bay Resort. Orcas also boasts an impressive food scene, with James Beard semifinalist Chef Jay Blackinton of Hogstone's Wood Oven named on Food and Wine's "Best New Chefs" list for 2017.  
Hilton Head Island, South Carolina
As one of the largest islands on the East Coast, Hilton Head is a popular resort area with all the expected amenities of a sleepy Southern beach getaway–tennis, polo, volleyball, and a variety of water sports are just some of the athletic activities available. The island is also known as a championship golfing destination with some 30 golf courses to choose from. There is also a 12-mile stretch of white sand beach surrounded by lush greenery, and a number of first-class resorts and hotels to enjoy it all from. So, it's a bit WASP-y but hey, if that's what you're looking for then by all means look no further. For nature lovers, the Sea Pines Forest Preserve is a protected wildlife habitat with boardwalks through wetlands and a secluded forest called the "Vanishing Swamp." You're also likely to peep some loggerhead turtles and dolphins.  
South Padre Island, Texas
You wouldn't want to go here during Spring Break season, when the island turns into America's answer to Ibiza without any European sensibilities. But when it's not party central for college co-eds making life decisions they will regret well into their thirties, it's a sun-soaked paradise in the Gulf just off the coastal tip of Texas (in what might as well be Mexico). Enjoy the powder-soft beaches and get in some kayaking, stand-up paddleboarding, fishing, snorkeling and diving, kiteboarding, surfing, horseback riding, and trail hiking. Also spend a day at Schlitterbahn Beach Waterpark, because even grownups can enjoy waterslides.  
Mackinac Island, Michigan
If your goal is to visit a place where time has stood still, head to Mackinac Island, located in the Straits of Mackinac between Michigan's Upper and Lower Peninsulas. Cars aren't allowed on the island–the primary modes of transportation are bikes and horse-drawn carriages. The island boasts a world-renowned collection of late Victorian era architecture, including the Grand Hotel, considered by some to be among the top resorts on the planet with a record-holding 660-foot front porch (the largest in the world). The island is filled with historic sites, like the 18th century Fort Mackinac, as well as 70 miles of trails for hiking and biking. Also, homemade fudge is a serious business here, and if you're serious about fudge there are 15 shops located within barely a mile of each other. Your wedding fast is over, time to gorge.
Martha's Vineyard, Massachusetts
Martha's Vineyard is basically the honeymoon-iest American island destination of all. Located off the coast of Cape Cod, Massachusetts, this quintessential, idyllic New England seaside destination, is full of exquisitely charming harbor towns and historic lighthouses, brightly-colored gingerbread cottages, and abundant farmers markets. Spend some time exploring the historic districts including Oak Bluffs and Edgartown, as well as their 19 unspoiled beaches. Unless preppyness is your thing (and if it is, that's cool, Bradford) resist the temptation to buy a MV bumper sticker for your car or anything featuring Vineyard Vines whale.
Mount Desert Island, Maine
Where Martha's Vineyard is a picturesque postcard, Mount Desert Island is the rough and rugged mountainous terrain of a Dodge Ram commercial. Waves from the Atlantic crash against jagged granite coastlines–"beachy" this is not. The island's interior boasts over 30,000 acres of woodlands, lakes, and mountains within Acadia National Park, with a pink granite summit on Cadillac Mountain (pink Cadillac!! Get it?). Then there's Somes Sound, the only fjord on the East Coast (though it is actually a fjard). Go whitewater rafting, moose spotting, or hiking through the 120 miles of trails. Also this is a cool climate year-round–best to think of it as the Alaska of the continental U.S.
Sea Island, Georgia
Part of Georgia's Golden Isles, Sea Island is 75 miles south of Savannah–which you should also build a few days into your itinerary to explore. This lavish locale offers several championship golf courses, lavish spas, and all the other indulgences of a Forbes Five-Star/AAA Five Diamond resort destination. There's also tennis, yachting, sailing, kayaking, horseback riding, and a "shooting school," but, like, for purposes of learning how to quail hunt. Certainly not for hunting "the most dangerous game."