You've already asked your best friends to stand up at the altar with you while you get married. How are you supposed to thank them?
There's something to be said about staying on budget when it comes to groomsmen gifts, but it's good to splurge on the items that matter. You could get your friends a gift they'll use in their everyday life, or you could help them look their best at your wedding.
Cufflinks are a great addition to any man's wardrobe, bringing a normal outfit up a couple notches. They come in all different styles and color combinations, so you'll be able to pair them with just about any suit. And even better, cufflinks don't have the weird "gift for dad" vibe that your friends might feel if they receive a tie.
Get your groomsmen something wild and unique or go for a classic look. Either way, your friends will love it. We've gathered some of our favorite cufflinks for groomsmen gifts below.
For the versatile guy who dresses up a lot
Simple and elegant, so the focus stays on you, the real star. 
$75 at Cufflinks Inc.
For the classic man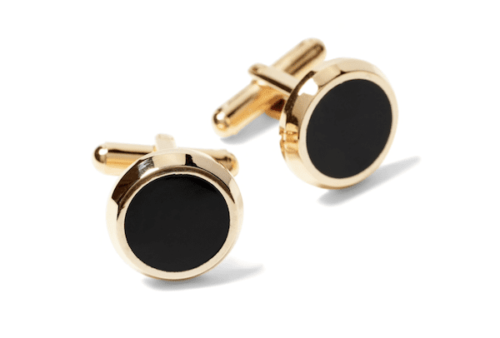 Black and gold are the ideal combo for formal affairs, and you can't go wrong with the classic circle design. 
$39.50 at Banana Republic
For the sculpture enthusiast who can get lost in design
A festive twist (get it?) on the most traditional cufflink design out there.
$20 at The Tie Bar
For the romantic who can appreciate some symbolism
The perfect amount of shine. 
$50 at Knot & Bull Trading Co.
For the nautical groomsman who's read 'Moby Dick'
Unexpected in shape and material, these USA-made links are sure to start conversations. 
$145 at Miansai
For the DIY guy who's not often in a suit
A toolbox play gives these cuff closers a hefty dose of masculine appeal. 
$595 at Ralph Lauren
For any guy who appreciates a bit of personalization
Cufflinks are such a small detail, but adding a personal touch to them can really elevate them. It goes without saying that those who notice will be impressed.
$159 at Mark & Graham
For the guy who's just a little bit spooky
This patinated gemstone will add some serious luxury to your outfit. Expect to get compliments. Lots of 'em. 
$245 at Brooks Brothers
For the simple, stylish guy who doesn't want to make waves
Just the right amount of bling can show that you're classy but now ostentatious.
$180 at Mulberry
For the techie who's always got the latest gadget
These cufflinks come in a distinctive, sensual design and are made from sterling silver — ballers only need apply. 
$425 at David Yurman
For the fun-loving groomsman who'll light up the dancefloor
British designer Paul Smith adds a healthy dose of his signature wit and whimsy to the classic cufflink design. 
$125 at Paul Smith
For the guy who keeps a zen garden at his desk
The British purveyor of fine accessories takes a hypnotic, soothing approach to designing these East-meets-West cufflinks.
$195 at Tateossian London
For the guy who stands out, even in monochrome
Yes, these are two-for-one, and they're also able to adjust to whatever mood you're in (and remember, most people say you should match your links with your tie!)
$325 at Turnbull & Asser
For the guy who's not afraid to stunt
Indulge in a little logo-mania, if you're into that sort of thing. 
$350 at Tiffany & Co.
For the sly trickster who likes a little whimsy in his accessories
Jeff Bezos called and he wants his cufflinks back. 
$4,000 at Cartier
With additional item curation by Max Berlinger