Weddings have been around for millennia, so it's no surprise they've generated a lot of oddball facts over the years. You're not the first person to get married (that's a couple from Mesopotamia in 2350 B.C.), and even though it may feel like it, you're not spending the most, either (no surprise, that was a certain royal wedding). Before you tie the knot, you might want to put your own connubial journey into perspective. You can take pride in knowing that you're participating in a grand personal experiment that has entranced everyone from kings and queens to man-hungry knee pinchers of Egypt. 
If you've been looking for  bridal shower "Jeopardy" questions about wedding superstitions, marriage traditions, marriage customs or wedding tradition origins, you're in luck!
Wedding Tradition Origins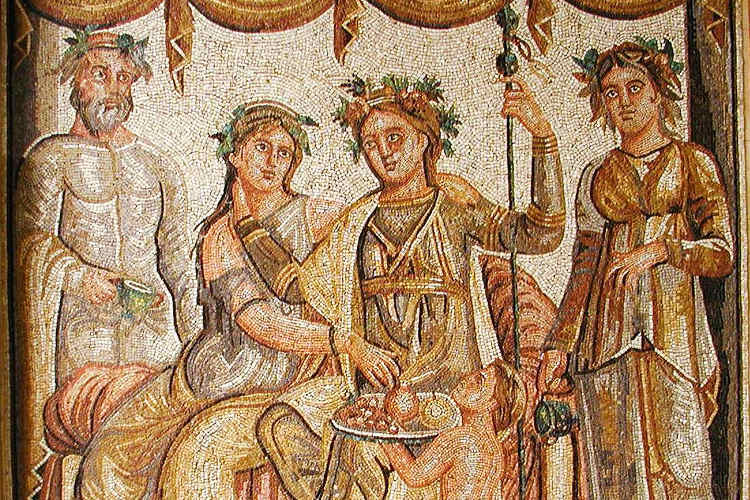 The best man was originally the best warrior of a village among the medieval Goths, who'd help the would-be groom kidnap his bride-to-be.
In ancient Rome, a wedding required a number of witnesses, normally around 10. That became the basis of the modern wedding party.
The tune most of us know as "Here Comes the Bride" comes courtesy of the opera "Lohengrin," by Richard Wagner. Women sing it to the bride as she proceeds to the bridal chamber — after the wedding. It became popular to play it as the bride approaches the wedding altar after it was used as the processional music for the 1858 wedding of the future Emperor Frederick III of Prussia to Princess Victoria, the first child of Queen Victoria of England.
The first record of a wedding and formal, legal marriage was from Mesopotamia around 2350 B.C.
Same-sex marriages were recognized in ancient Rome until 342 A.D. In fact, Emperor Nero twice married males — freed slaves named Pythagoras and Sporus — and commanded officials to treat them as any other legal spouse.
The Catholic Church didn't  formally recognize marriage as a sacrament until the Council of Trent in 1563.
The 1549 edition of the Book of Common Prayer asked the bride and groom to remain faithful to one another "till death us depart." By 1662, that had become "till death us do part."
In England, divorces required an act of parliament until the mid-19th century.
The first diamond engagement ring is believed to be the one Archduke Maximillian of Austria had made in 1477 for his future wife, Mary of Burgundy.
Wedding Superstitions
The forerunners of the modern wedding cake were barley or wheat cakes, which symbolized good fortune and fertility. Guests threw these small loafs at the bride to bestow luck upon her. 
The ancestor of the modern-day tradition of the bride and groom smashing cakes in each other's faces involved those barley or wheat cakes too. The bridegroom would take a bite of the barley or wheat cake and then break the remainder over his new wife's head to ensure lots of children.
Weddings in ancient Rome couldn't be held in February or May because they were considered unlucky months. Today, the most popular month for a wedding is October. The least popular? January.
Roman brides wore veils to fool evil spirits who might want to work their malevolent magic on the festivities.
Royal Weddings
At their 1981 royal wedding, Prince Charles and Princess Diana had no fewer than 27 wedding cakes.
At the 2011 royal wedding of Diana's son Prince William to Kate Middleton, the future Duchess of Cambridge's dress, by Sarah Burton for Alexander McQueen, cost $434,000.
Queen Victoria of England is responsible for the popular tradition of wearing a white wedding gown. She wore one when she tied the knot with Prince Albert — along with an 18-foot train, a diamond necklace and earrings that were a gift from the sultan of Turkey, and a sapphire brooch from her fiancé.
The most expensive wedding in history was that of Prince Charles and Lady Di. It cost $48 million when it took place in 1981, or about $110 million when adjusted for inflation. Decades later, their son William's wedding to Kate Middleton cost a relatively modest $34 million.
Princess Diana omitted the phrase "to obey" in her wedding vows to Prince Charles, and her sons' brides, Kate Middleton and Meghan Markle, also left out the obedience vows in their own weddings.
Weddings by the Numbers
Utah has the youngest brides and grooms, on average — 26.2 years old for men and 24.2 for women. Massachussets, meanwhile, has the oldest average bridegroom, at 30.9 years old (29.7 for women). 
The average wedding has 136 guests, according to The Knot's 2017 Real Weddings Study. That's down from 153 guests in 2007.
The average wedding cost's $33,391, according to The Knot's study. New Yorkers shell out the most for weddings, averaging $76,944, while your typical New Mexico wedding runs less than a quarter of that, on average, around  $17,584.
The most expensive wedding dress currently known is the $30 million Nightingale of Kuala Lumpur by Malaysian designer Faisol Abdullah. It's a red gown of satin, chiffon and taffeta with 751 Swarovski crystals sewn into it, but the show stopper is the tear-shaped 70-carat Mouawad diamond.
Las Vegas is the most popular city for destination weddings — Clark County issues 80,000 marriage licenses a year.
The average diamond engagement ring cost $7,829 in 2018, according to the Brides' American Wedding Study. A 2019 online poll, however, found that the median amount was much less, around $1,900.