The typical wedding reception activities tend to revolve around the dance floor, but sometimes that's not the perfect meeting spot for all of your eclectic guests looking for some fun wedding games. Especially during the moments between the cocktail hour and reception, or before dinner is served, you'll want to offer memorable entertainment whether indoor or outdoor wedding games.. To get the party started off the dance floor and to inspire connections between all of your beloved invitees, you might want to explore the idea of featuring wedding day games for guests.
With signature wedding day cocktails, mouthwatering cuisine, and, of course, a killer playlist, couples strive to make their wedding reception one to remember for themselves and their guests. Depending on how big your guest list is, you will have a range of friends and family members in attendance, and you'll want them all to enjoy themselves. This list might include your best friend from the office and your party boy college roommate sitting at the same table. You'll have your traditional grandfather and your fiancé's whimsical 20-year-old cousin present, and will need entertainment for all.
For larger weddings, offering games to play at a wedding can be the perfect solution to ensuring your big day is entertaining for all in attendance. Games can encourage conversation and laughter and create stories that will stay with you for years to come. Plus, if you integrate games the right way, they can become an extension of your wedding décor, adding to the style and overall atmosphere. You'll want to keep in mind the dress code and season when coming up with wedding reception games, but we've put together our top favorite wedding reception games below from outdoor lawn games to indoor wedding games.
Outdoor Lawn Games
For an outdoor wedding reception, get your friends and family mingling with each other by featuring these interactive outdoor wedding games. Celebrate your nuptials under the beaming sun with a few different yard games that will allow you (and your guests) to make memories with a side of a little fresh air.
1. Connect Four
Who doesn't love oversized games? Take any typical game and make it huge. It will automatically be more fun for your guests. Connect Four is a nostalgic game that will appeal to guests of all ages, from kids to grandparents. For a stylish touch, paint the playing pieces colors from the wedding palette. We'll guarantee the game gathers a crowd and since it's a relatively quick paced game, no one will be occupied by the the board for too long.
2. Corn Hole
This is one of the most perfect wedding games for bride and groom to play as it allows them to interact with their guests and makes for a great photo opportunity. Corn Hole is already a staple when it comes to outdoor fun so to integrate it into a wedding reception feels like a no-brainer. To add a more sophisticated aesthetic to the boards–and to complement your wedding's ambiance–customize them with your wedding date.
3. Ladder Toss
This is another simple lawn game that will be bound to add some excitement to your wedding reception. It won't take up too much room at you reception, but it will get guests out of their chairs and intermingling with each other. Ladder Toss can be played with two or more people, allowing for more interaction between guests. Even if your great-aunt doesn't know how to play, I'm sure your buddy from your softball league will happily show her the ropes!
4. Giant Checkers
If your wedding includes children, giant checkers is a must-have game. But to be fair, adults will have a blast with this super-sized game too. Set up this traditional game board outside on the grass using spray paint or on pavement using spray paint, or create a board with large pieces painted the colors of the wedding theme. Either way, checkers is an all-time favorite that pretty much everyone knows how to play.
5. Personalized Ring Toss
This game is a subtle and cheeky play on "exchanging rings" on your wedding day. A Ring Toss is also another one of our favorite wedding games for bride and groom to partake in. Decorate your own ring set with local wine bottles or painted bottles (another way to include your wedding colors!) and create customized rings to throw. Adding a personal touch to the game will allow guests to keep the bride and groom at the forefront of their mind even when competing to win!
Indoor Table Games
For winter weddings or indoor receptions, you can get a little more creative with table games to inspire your guests to intermingle. Depending on how you have your tables organized, you might have a few tables of "random" guests sitting together. Get them on their feet, laughing or simply chatting in your honor with these indoor wedding reception games.
1. Tic Tac Toe
Tic Tac Toe is a great game to place on all the tables at your wedding reception. Each round of this fun wedding game goes very quickly so guests can pass it around the table for all to take part in. It's perfect for guests of all ages, especially the guests at the kid's table! We love the idea of using rustic-styled boards but you can also use the chalkboard version to avoid losing any pieces.
2. Fact Cards
This is one of our favorite ways to get wedding tables to mingle and learn a little more about each other. Place fact cards on the tables for each guest to fill out with two true interesting facts and one fake fact about themselves. These facts can be scandalous, hilarious or basic; it's up to the guest. The rest of the table will then guess which fact is the fake. This fun wedding reception game will be sure to get everyone laughing.
3. Retro Board Games
For the quirky couple, your wedding reception should be light-hearted and easy breezy, just like you! Travel back in time and select a few retro, nostalgic table games to place on each table. These tabletop games will always appeal to kids but the time-warp aspect will leave your older guests feeling like a playful kid again. We suggest looking for Rock 'Em Sock 'Em Robots, a mini Air Hockey table, Operation and Kerplunk.
4. Arts and Crafts
Games are all fun and games until someone isn't interested. Provide entertainment for your guests in an even more creative way but offering arts and crafts to partake in. Get the creative juices flowing within your wedding party as they create adorable cootie catchers, also known as paper fortunes. Allow guests to design their own origami fortune tellers or place premade templates on each table. Not technically a wedding reception game, but definitely entertaining for all!
5. Word Search
Tap into the more intellectual side of your guests before they overindulge in your signature wedding reception cocktail. A word search can be themed around the wedding day, including words that relate to the happy relationship. Words to be found can include the location where the bride and groom met (city, state, bar, etc.), where each is from, nicknames for each person or favorite activities they do together.
Group Games
Get your wedding guests on the same team to play these fun group wedding reception games. Having two-person games is great at times but sometimes you want to be able to include more people in an activity, and these will be your go-to reception games.  
1. Flip Cup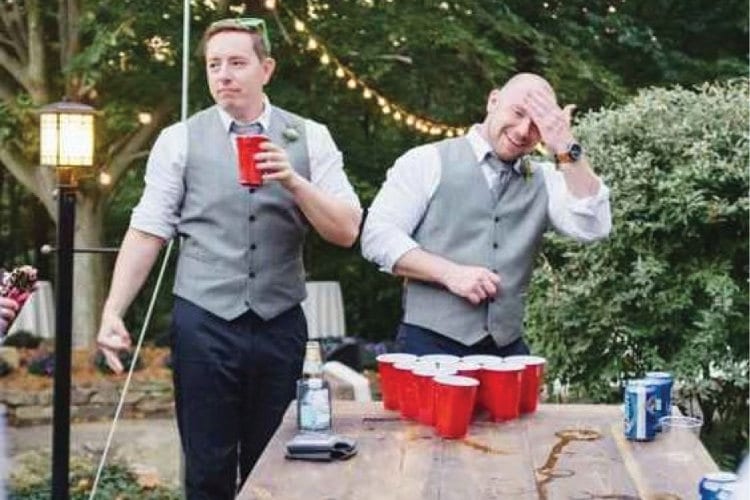 Okay, this one might be a fun wedding game to introduce later in the evening and might include many college friends and fewer grandparents. Unless your grandparents are really cool, then I want them on my team. Flip Cup can be played with as many people as you want and have space for on the table. Gather as many red cups as you can find, fill them with each guest's drink of choice and let the cup flipping begin. Remember, you can always fill the cups with water or sod to accommodate more guests!
2. Jenga
Jenga is a game that fills me with anxiety in the best way possible. The thought of pulling out a Jenga piece and knocking the tower over sometimes haunts my dreams. BUT, it's still super entertaining and as the game focuses on balance, it's a fitting wedding reception game. Once again, I recommend going for an oversized Jenga set but the standard version is perfect for tabletop play. A playful way to add a personalized touch to the games is by including fun facts about the bride and groom on each block. You can invite as many people to play Jenga at a time, it just adds to the excitement!
3. Photo Booth
Photo booths are getting more and more creative everyday. Wedding receptions can feature a standard photo booth, which will allow up to five or six guests to pile in for a group shot. Or, you can set up a table with a few polaroid cameras for a DIY photo booth that allow the photos to expand beyond a booth. Add as many props and accessories as you want that complement your wedding's vibe. Go for silly hats, scarves and sunglasses or chic flowers and rustic frames. Turn on the cameras and let your guests play!
4. Centerpiece Games
Feel free to get as creative as you want with this. Especially if you have a wedding reception that will be filled with more than a few children, these fun ideas will keep the little ones occupied for hours. Place bowls of Lego pieces on each table and let your guest's imaginations wander. Or, fill up a few vases with crayons for a coloring station. Before dinner is served or ahead of the speeches, your guests will thank you for a creative outlet.
5. Table Mad Libs
Each table will have to work together to fill out these Mad Libs that can end up going many different ways. For a wedding game for the bride and groom, place Mad Libs on each table for the groups to customize together, offering wedding advice, romance advice or "married" date ideas. The whole table will be able to join in on the fun and the happy couple will have a few hilarious mementos to take home at the end of the wedding reception.
Find the right games for your wedding reception. Keep in mind the style and atmosphere of the day and include games that will cater to a range of your guests. Don't be afraid to get creative!