It's no secret why there are so many wedding movies. Weddings are by their nature highly filmable events. There is an elaborate stage set, everyone is dressed up, and the soundtrack has been planned well in advance. There's even a built-in pair of romantic leads (bride and groom), already assigned sidekicks (Best Man and Maid of Honor) and a cast of various supporting players (the rest of the wedding party).
You could argue that wedding movies did more to create people's image of the marriage rite than anything else—at least until the advent of camcorders, cell phones and YouTube. If you weren't invited to a wedding yourself, the movie theater or TV was your only opportunity to actually see a ceremony take place. The inspiration provided by on-screen weddings also carries a little bit of pressure: we want our weddings to be as spectacular as a Hollywood production, though few of us have a Hollywood budget.
But which films should you watch for inspiration? That's a tough one. It's a crowded field.  You've got your old classics, your remakes, your rom-coms and best-friend-getting-married-coms.  There's royal wedding movies, tearjerkers, fairy tales, lowbrow laugh-fests. Thanks to the Swedes, a drama or two.
The conflict in wedding movie plots runs the gamut from mundane to tragic: The bride gets cold feet, the groom needs to grow up.  The best man loves the bride, the matchmaker has a friend. The bride's Dad has ALS, the groom's mom is secretly dying of cancer. The wedding is taking place on a sinking cruise liner, an earthquake is about to ruin the reception.
Who's got the time, to say nothing of the inclination, to figure out which wedding movies to see?
That last is a rhetorical question, because obviously we have the time and inclination.
Here's a list of films that show things going right or wrong, hilariously wacky or profoundly sad. Each can be taken as its own unique take on the charm and romance, and the mystery and agony of weddings.  
Classic Wedding Movies
The Philadelphia Story (1940)
Dir. George Cukor. With Cary Grant, Katharine Hepburn, Jimmy Stewart, Ruth Hussey
Perhaps the greatest screwball comedy ever (though Bringing Up Baby, also with Grant and Hepburn, comes close), The Philadelphia Story has it all: upper-crust white people cavorting in tuxedos and gowns, whip-smart dialogue and charm, and of course true love finding its way in the end.
Four Weddings and a Funeral (1994)
Dir. Mike Newell. With Hugh Grant, Andie Macdowell, Kristin Scott Thomas, and pretty much every British actor you've ever seen.
More upper-crust people in tuxedos, though in this case everyone is bumbling around in a charmingly befuddled British sort of way. With four weddings across the course of the film, you get your money's worth in terms of inspiration for your big day. There are several examples of speeches, both cringe-worthy and sublime, and plenty of early 90s fashion to chuckle over. Hugh Grant looks like he's 10 years old, which makes it easy to forget that he's playing a pretty awful person.
Father of the Bride (1950)

Dir. Vincente Minelli. With Spencer Tracy, Elizabeth Taylor, Joan Bennett
True, it's 70 years old, so the details are a little out of date—for instance, the titular father (Spencer Tracy) is outraged that a wedding cake can cost as much as $400—but everything else here rings as true today as it did back then. Spencer plays a father completely bewildered by the process of planning a wedding, and sad at seeing his daughter (a young Elizabeth Taylor) leaving the nest. This film was such a success they remade it with Steve Martin 40 years later (back when 40 years was considered the appropriate amount of time to wait between reboots.)
My Big Fat Greek Wedding (2002)

Dir. Joel Zwick, Mia Vardalos, John Corbett, Lainie Kazan
The template for the modern wedding movie, this surprise hit has it all: the crazy family, the hunky outsider, the shy girl who only blooms once she meets said outsider, and the weird traditions of an "exotic" subculture.  
Wedding Planner Movies
The Wedding Planner (2001)
Dir. Adam Shankman. Jennifer Lopez, Matthew McConaughey.
This romantic comedy stars Jennifer Lopez as San Francisco's top wedding planner who falls (quite literally) for a doctor played by Matthew McConaughey. Who then ends up being the guy whose wedding Mary was just hired to plan.  Although it's a bit predictable, it's worth watching simply for the enjoyable lead performances by young J. Lo and McConaughey. The charisma of these two, paired with the lighthearted goofiness of the movie, makes it an easy watch that'll offer a few laughs.
Father of the Bride (1991)


Dir. Charles Shyer. Steve Martin, Kimberley Williams, Diane Keaton.
Why are we listing this under wedding planner movies when we already listed the 1950 version somewhere else? Mainly because of Franck Eggelhoffer, Martin Short's outrageously accented Beverly Hills planner, who pronounces "cake" as "kek" and "January" as "Jun-war." You probably couldn't get away with a character like Franck anymore—a little bit too broad and campy for today's sensibilities—but he still encapsulates that feeling that a lot of guys get when encountering the wedding industry: they have no idea what these people are saying.
Bridesmaids (2011)

Dir. Paul Feig.  Kristen Wiig, Maya Rudolph, Melissa McCarthy.
The wedding at the end of this one features a fountain, dry ice, lasers, and Wilson Phillips, so you might be forgiven for thinking it's a story of awesomely effective wedding planning. In fact, it's the story of a trainwreck—the bride's best friend—who blows every aspect of her maid of honor duties and only barely gets her life together in time to make the ceremony. So, you know, there's a lot of laughs in this one.
Walking and Talking (1996)

Dir. Nicole Holofcener.  Catherine Keener, Anne Heche, Liev Schreiber
Another one where an upcoming wedding takes a toll on female friendship, this mid-90s indie classic features Keener as a woman who can't find a boyfriend (extremely implausible), Heche as an engaged therapist who is more neurotic than her patients (extremely plausible) and Liev Schreiber as a porn-addict with commitment issues (maybe plausible–at least pre-Ray Donovan). Ultimately a sweet look at the pressures that imminent marriage can exert on a friendship.
Monsoon Wedding
(2001)
Dir. Mira Nair. Nahseeruddin Shah, Vasundhara Das.
Set in India, this family melodrama/comedy fits lots of tiny details into a pretty wide canvas, while still hitting all the main touch-points: forbidden love, family secrets, romantic betrayal, the tension between tradition and modernity, and slap-stick misunderstandings. Great to check out if you're heading to your first Indian wedding (though at nearly 20 years old, some of the particulars might be out of date.)
Royal Wedding Movies
Royal Wedding
(1951)
Dir. Stanley Donen.  Fred Astaire, Jane Powell, Peter Lawford.
A classic MGM musical comedy, set in 1947 London in the days leading up to the marriage of Queen Elizabeth and Prince Phillip (though she was just a princess and he was just a duke at the time). Astaire and Powell play a brother-sister showbiz duo who arrive in London and find love and success. The film is primarily remembered for two of Astaire's best-known routines: a dance with a hatrack, and a sequence in which he tip-taps up a wall and across the ceiling (a trick shot technique later used for a fight scene in Inception).
Princess Bride
(1987)
Dir. Rob Reiner. With Robin Wright, Cary Elwes, Mandy Patinkin, Christopher Guest.
It's inconceivable that Andre the Giant ever made a better wedding movie. Set in medieval times, this may not offer much in terms of modern day wedding planning, but it definitely shows how true loves wins in the end.
The Young Victoria
(2009)
If you like period pieces, you should probably watch this movie. If you are captivated by royal relationships and like period pieces, what are you doing? This is your movie. Go watch it.  
The Princess Diaries 2: Royal Engagement (2004)
Dir. Garry Marshall. Anne Hathaway, Julie Andrews, Chris Pine.
Beneath the modern fairytale-like exterior, this chick-flick delivers the deeper (and hopefully relatable) message that you shouldn't marry just for money, status or social convention. Hathaway delivers the awkward charm, Andrews is understatedly elegant, and Chris Pine is basically just Chris Pine—which is all the largely-female audience this film is aimed at requires.
The Duchess
(2008)
Dir. Saul Dibb. Ralph Fiennes, Keira Knightley, Hayley Atwell
A visually lush historical drama about Georgiana Spencer—the politically active 18th-century British socialite—and her arranged marriage to William Cavendish, the Duke of Devonshire. Keira Knightley gets to play an independent woman kicking against the limits imposed by the society of her time, and Ralph Fiennes gets to be a caddish Englishman in a wig, in love with his wife only to the extent that she can produce a male heir. Ripping stuff, to be sure.
Movies About Getting Married
Seven Brides for Seven Brothers (1954)


Dir. Stanley Donen.  Howard Keel, Jane Powell
This rollicking, dance-heavy musical would be tweeted out of existence if someone tried to write it today. Based on the Roman legend of the Rape of the Sabine Women, it involves kidnapping, forced marriage, and angry fathers with shotguns. Still, like we said there's a lot of old-fashioned Hollywood singing and dancing. Also, points for the most marriages in one film. Grade: B+
Seven Chances (1925)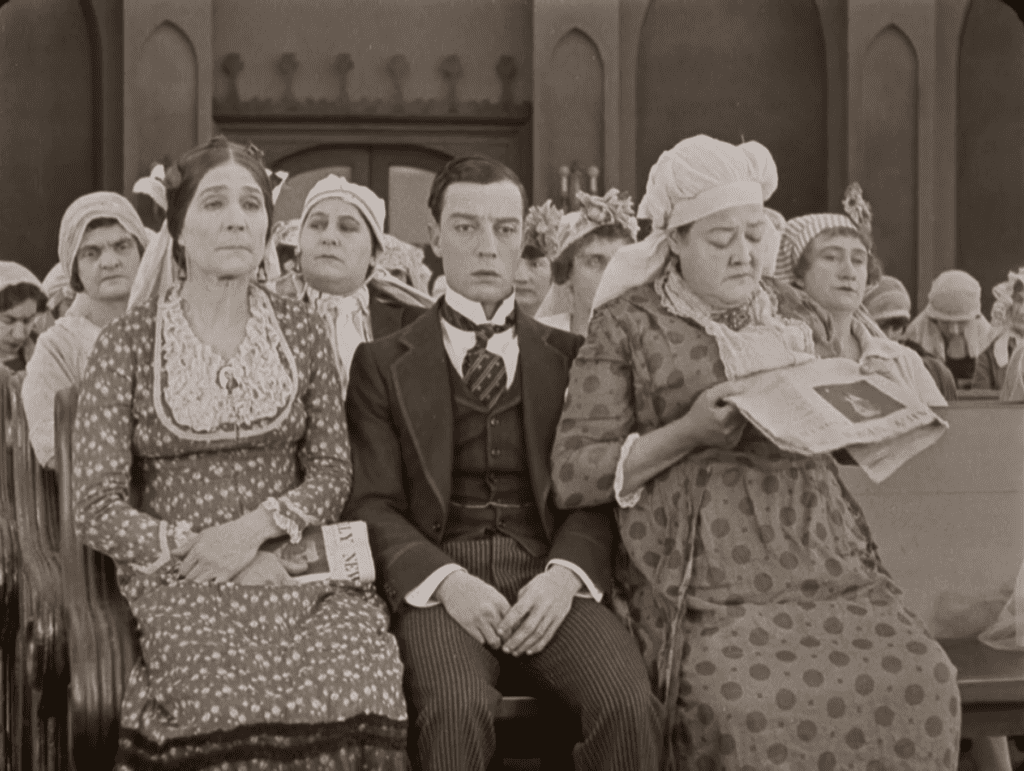 Dir. Buster Keaton.
Lovesick lawyer Jimmie Shannon finds out that he is set to inherit $7 million dollars by 7 P.M….but only if he can get married by then. What ensues is an entertaining chase for a bride that provides an essential dose of vintage, visual comedy, performed by one of cinema's great comedic geniuses, Buster Keaton.
The Wedding Banquet
(1993)
Dir. Ang Lee.  Winston Chao, Mitchell Lichtenstein, May Chin
This early Ang Lee joint marries several plot concerns, any of which today could sustain of a movie of their own. There's the immigrant son, trying to live up to the expectations of his parents in the home country; the undocumented girl, marrying for a chance at citizenship; the gay couple, pretending to be straight to for one set of parents. In this case, it's all the same three characters. The wedding banquet in question takes up a good chunk of the movie, and the rest is shot in a pre-gentrified Williamsburg apartment that will make any hipsters out there drool with envy.
Crazy Rich Asians (2018)
Dir. Jon M. Chu. Constance Wu, Michelle Yeoh, Awkwafina
As soon as it was released, this story of love amongst the elite of Singapore took a place in the wedding movie canon. Crazy Rich Asians has pretty much everything: a fish-out-of-water-story, a kooky best friend/sidekick, a disapproving family, and an ultra-deluxe, impossibly expensive wedding. One thing to keep in mind: this is one of the most chick flick-y movies on this list, so approach with caution.
The Graduate
(1967)
Dir. Mike Nichols. Dustin Hoffman, Anne Bancroft, Katherine Ross.
Directionless graduate Ben (Hoffman) is seduced by the ur-cougar Mrs. Robinson (Bancroft), then inconveniently falls in love with her daughter Elaine (Ross). All sorts of miseries follow, artfully soundtracked by Simon and Garfunkel in their prime. A terrible lesson in how to live your life, but a great one in how to disrupt a wedding.