Some things are better left unsaid, but expressions of love should be spread far and wide. Yet it can be hard to express your truest, most heartfelt feelings without coming off as cheesy, or worse – insincere. Fortunately, people have been waxing poetic about love since the invention of the written word (and probably before, too), so there is no shortage of powerful quotes to showcase your feelings.
No matter the stage of your relationship – those first few "honeymoon" months or the deep groove of a long-term partner – it's important to reflect on your love and passion for each other. Whether you're looking for inspiration for your vows, a Valentine's Day quote to tell your partner how much you care, or an inspirational saying for when your relationship is on the rocks, we've got you covered.
Cute couple quotes
I'd rather die tomorrow than live a hundred years without knowing you.
Pocahontas
I love you because the entire universe conspired to help me find you.
Paulo Coelho
I find the best way to love someone is not to change them, but instead, help them reveal the greatest version of themselves.
Dr. Steve Maraboli
Being deeply loved by someone gives you the strength, while loving someone deeply gives you courage.
Lao Tzu
Every heart sings a song, incomplete, until another heart whispers back. Those who wish to sing always find a song. At the touch of a lover, everyone becomes a poet.
Plato
Lots of people want to ride with you in the limo, but what you want is someone who will take the bus with you when the limo breaks down.
Oprah Winfrey
I would rather spend one lifetime with you, than face all the ages of this world alone.
J.R.R. Tolkien
The meeting of two personalities is like the contact of two chemical substances: if there is any reaction, both are transformed.
Carl Jung
The best thing to hold onto in life is each other.
Audrey Hepburn
When in a relationship, a real man doesn't make his woman jealous of others, he makes others jealous of his woman.
Steve Marabol
Love is not finding someone to live with. It's finding someone you can't live without.
Rafael Ortiz
Ideally, couples need three lives; one for him, one for her, and one for them together.
Jacqueline Bisset
If I had a flower for every time I thought of you … I could walk through my garden forever.
Alfred Tennyson
I knew when I met you an adventure was going to happen.
A.A. Milne, Winnie The Poo
Never love anyone who treats you like you're ordinary.
Oscar Wilde
We've got this gift of love, but love is like a previous plant, you can't just accept it and leave it in the cupboard or just think it's going to get on by itself. You've got to keep watering it. You've got to really look after it and nurture it.
John Lennon
There are all kinds of love in the world, but never the same love twice.
Scott Fitzgerald
You don't love someone for their looks, or their clothes or for their fancy car, but because they sing a song only you can hear.
Oscar Wilde
No road is long with good company.
Turkish Proverb
You're my favorite place to go to when my mind searches for peace.
Unknown
There are lots of people who can call you by your name but there is only one person who can make it sound so special.
Kim Jarabelo
Remember, we all stumble, every one of us. That's why it's a comfort to go hand in hand.
Emily Kimbrough
Because of you, I laugh a little harder, cry a little less, and smile a lot more.
Unknown
I love you not only for what you are, but for what I am when I am with you. I love you not only for what you have made of yourself, but for what you are making of me.
Roy Croft
Love does not consist of gazing at each other, but in looking outward together in the same direction.
Antoine de Saint-Exupery
A man with dreams needs a woman with vision.
Unknown
Sometimes the heart sees what is invisible to the eye.
Jackson Brown, Jr.
You don't measure love in time. You measure love in transformation. Sometimes the longest connections yield very little growth, while the briefest of encounters change everything. The heart doesn't wear a watch – it's timeless.
Jeff Brown
Long distance relationship quotes
Absence makes the heart grow fonder, as the old adage goes– but maintaining a connection over distance isn't quite so simple when you and your partner can't be together often or in the way you'd like. The next time you're talking, texting or video messaging with your long distance love, try sharing these quotes  on far-flung relationships.
How lucky I am to have something that makes saying goodbye so hard.
A.A. Milne, Winnie The Pooh
There are no goodbyes for us. Wherever you are, you will always be in my heart.
Mahatma Gandhi
If love cannot stand the test of time, then it has failed the test of love.
Bernard Byer
Distance is not for the fearful, it is for the bold. It's for those who are willing to spend a lot of time alone in exchange for a little time with the one they love. It's for those knowing a good thing when they see it, even if they don't see it nearly enough.
Meghan Daum
If you truly want to be respected by people you love, you must prove to them that you can survive without them.
Michael Bassey Johnson
Absence is to love what wind is to fire; it extinguishes the small, it enkindles the great.
Roger de Rabutin
Distance is a bad excuse for not having a good relationship with somebody. It's the determination to keep it going or let it fall by the wayside; that's the real reason that the relationships continue.
James McAvoy
I believe that two people are connected at the heart, and it doesn't matter what you do, or who you are or where you live; there are no boundaries or barriers if two people are destined to be together.
Julia Roberts
And ever has it been known that love knows not its own depth until the hour of separation.
Khalil Gibran
The simple lack of her is more to me than others' presence.
Edward Thomas
If distance were measured in terms of the heart we'd never be more than a minute apart.
Unknown
Time is the longest distance between two places.
Tennessee Williams
Your absence has not taught me how to be alone, it merely has shown that when together we cast a single shadow on the wall.
Doug Fetherling
But let there be spaces in your togetherness and let the winds of the heavens dance between you. Love one another but make not a bond of love: let it rather be a moving sea between the shores of your souls.
Khalil Gibran
It isn't possible to love and part. You will wish that it was. You can transmute love, ignore it, muddle it, but you can never pull it out of you. I know by experience that the poets are right: love is eternal.
E.M. Forster, A Room With A View
New relationship quotes
The early days of a new relationship can be magical. Getting to know each other's histories, preferences, stories and secrets helps build the foundation for a strong relationship, while the unknown adds mystery and sex appeal. Here are some quotes that will make you, or the new person in your life, swoon.
The best part about getting to know you is anticipating that each day brings new surprises that are all about you
Robin Raven
You have to walk carefully in the beginning of love; the running across fields into your lover's arms can only come later when you're sure they won't laugh if you trip.
Jonathan Carroll
The beginning of love is to let those we love be perfectly themselves, and not to twist them to fit our own image. Otherwise we love only the reflection of ourselves we find in them.
Thomas Merton
It does not need that a poem should be long. Every word was once a poem. Every new relationship is a new word.
Ralph Waldo Emerson
I love you without knowing how, or when, or from where. I love you simply, without problems or pride: I love you in this way because I do not know any other way of loving but this, in which there is no I or you, so intimate that your hand upon my chest is my hand, so intimate that when I fall asleep your eyes close.
Pablo Neruda, 100 Love Sonnets
So, I love you because the entire universe conspired to help me find you.
Paulo Coehlo, The Alchemist
Falling in love is like leaping from a cliff. Your brain screams that it's not a good idea and that hurt and pain will inevitably come to you. But your heart believes you can soar, glide and fly.
Marie Coulson
One word frees us of all the weight and pain of life: That word is love.
Sophocles
Anyone who falls in love is searching for the missing pieces of themselves. So anyone who's in love gets sad when they think of their lover. It's like stepping back inside a room you have fond memories of, one you haven't seen in a long time.
Haruki Murakami
When you can't look on the bright side, I will sit with you in the dark.
Unknown
Funny relationship quotes
Relationships should be full of spirit and humor, and they often don't unfold as romantically as movies might tell us. Below are some lighthearted quotes to remind you to add some laughter to your life together.
A bagel shop isn't the most romantic spot to tell a girl you like her. But that night romance wasn't the priority. Our time there wasn't intended to be mushy. I didn't propose marriage or say I was madly in love with her, and she didn't swoon. What I did tell her was that through our friendship I'd grown to respect her.
Joshua Harris, Boy Meets Girl: Say Hello to Courtship
I think a relationship is like a shark. It has to constantly move forward or it dies.
Woody Allen
A man is already halfway in love with any woman who listens to him.
Brendan Francis
We are all a little weird and life's a little weird, and when we find someone whose weirdness is compatible with ours, we join up with them and fall in mutual weirdness and call it love.
Dr. Seuss
Men are from earth, women are from earth. Deal with it.
George Carlin
If she doesn't scare the hell out of you a little, she's not the one.
Unknown
Any man who can drive safely while kissing a pretty girl is simply not giving the kiss the attention it deserves.
Albert Einstein
All you need is love. But a little chocolate now and then doesn't hurt.
Charles M. Schulz
I love being married. It's so great to find that one special person you want to annoy for the rest of your life.
Rita Rudner
The difference between sex and love is that sex relieves tension and love causes it.
Woody Allen
What do you want? You want the moon? Just say the word and I'll throw a lasso around it and pull it down.
It's a Wonderful Life
Pleasure of love lasts but a moment. Pain of love lasts a lifetime.
Bette Davis
Women are meant to be loved, not to be understood.
Oscar Wilde
Love is a fire. But whether it is going to warm your hearth or burn down your house, you can never tell.
Joan Crawford
Love is a lot like a backache, it doesn't show up on X-rays, but you know it's there.
George Burns
Most couples have not had hundreds of arguments; they've had the same argument hundreds of times.
Gay Hendricks
Trust quotes for relationships
It can be difficult to regain broken trust when a relationship is on the rocks, particularly when someone has stepped outside of the confines of a relationship (whatever they may be). We've gathered some prominent intellectual's thoughts on the importance of trust in a relationship.
Trust enables you to put your deepest feelings and fears in the palm of your partner's hand, knowing they will be handled with care.
Carl S. Avery
I'm not upset that you lied to me, I'm upset that from now on I can't believe you.
Friedrich Nietzsche
We're never so vulnerable than when we trust someone – but paradoxically, if we cannot trust, neither can we find love or joy.
Walter Anderson
I believe forgiveness is the best form of love in any relationship. It takes a strong person to say they're sorry and an even stronger person to forgive.
Yolanda Hadid
To love at all is to be vulnerable. Love anything and your heart will be wrung and possibly broken. If you want to make sure of keeping it intact you must give it to no one, not even an animal. Wrap it carefully round with hobbies and little luxuries; avoid all entanglements. Lock it up safe in the casket or coffin of your selfishness. But in that casket, safe, dark, motionless, airless, it will change. It will not be broken; it will become unbreakable, impenetrable, irredeemable. To love is to be vulnerable.
C.S. Lewis, The Four Loves
We must develop and maintain the capacity to forgive. He who is devoid of the power to forgive is devoid of the power to love. There is some good in the worst of us and some evil in the best of us.
Martin Luther King, Jr.
We have to recognize that there cannot be relationships unless there is commitment, unless there is loyalty, unless there is love, patience, persistence.
Cornel West
Relationship problems quotes
Quotes don't just serve as reminders of love and emotion; sometimes they offer functional advice. From how to sustain a relationship to thoughts on finding the one, lovers throughout the ages have made memorable mentions worth reading.  
It's not a lack of love, but a lack of friendship that makes unhappy marriages.
Friederich Nietzche
Assumptions are the termites of relationships.
Henry Winkler
Truth is everybody is going to hurt you; you just gotta find the ones worth suffering for.
Bob Marley
Every couple needs to argue now and then. Just to prove that the relationship is strong enough to survive. Long-term relationships, the ones that matter, are all about weathering the peaks and the valleys.
Nicholas Sparks
Never chase love, affection, or attention. If it isn't given freely by another person, it isn't worth having.
Unknown
In the end there doesn't have to be anyone who understands you. There just has to be someone who wants to.
Robert Breault
A successful relationship requires falling in love multiple times, but always with the same person.
Anonymous
Best relationship: talk like best friends, play like children, argue like husband and wife, protect each other like brother and sister.
Anonymous
You should be kissed and often, and by someone who knows how.
Gone with the Wind
50% of a great relationship is how you treat someone. The other 50% is having the ability and confidence to communicate the treatment you want in return.
Matthew Hussey
We mistakenly assume that if our partners love us they will react and behave in certain ways – the ways we react and behave when we love someone.
John Gray
Never above you. Never below you. Always beside you.
Walter Winchell
The relationship between husband and wife should be one of closest friends.
R. Ambedkar
I love you, and because I love you, I would sooner have you hate me for telling you the truth than adore me for telling you lies.
Pietro Aretino
Truth is, I'll never know all there is to know about you just as you will never know all there is to know about me. Humans are by nature too complicated to be understood fully. So, we can choose either to approach our fellow human beings with suspicion or to approach them with an open mind, a dash of optimism and a great deal of candor.
Tom Hanks
A soulmate's purpose is to shake you up, tear apart your ego a little bit, show you your obstacles and addictions, break your heart open so new light can get in, make you so desperate and out of control that you have to transform your life, then introduce you to your spiritual master.
Elizabeth Gilbert, Eat, Pray, Love
Romance is the glamour which turns the dust of everyday life into a golden haze.
Elinor Glyn
Love has nothing to do with what you are expecting to get—only with what you are expecting to give—which is everything.
Katharine Hepburn, Me: Stories Of My Life
The compatibility of a couple and the quality of a relationship lies in the way they handle their arguments and differences.
Nishan Panwar
If you have respect and consideration for one another, you'll make it.
Mary Durso
Making love last quotes
Any older couple who have seen the decades pass together can tell you that a relationship requires work. As the world changes and partners evolve as people, so must the relationship. Here are a handful of inspirational sayings on creating a successful relationship.
Do what you did in the beginning of a relationship and there won't be an end.
Anonymous
Love and magic have a great deal in common. They enrich the soul, delight the heart. And they both take practice.
Nora Roberts
A great relationship doesn't happen because of the love you had in the beginning, but how well you continue building love until the end.
Anonymous
The great secret of a successful marriage is to treat all disasters as incidents and none of the incidents as disasters.
Sir Harold George Nicolson
Most relationships fail not because of the absence of love. Love is always present. It's just that one loves too much and the other loves too little.
Anonymous
A relationship is like a house. When a light bulb burns out you do not go and buy a new house, you fix the light bulb.
Anonymous
Relationships fail because people take their own insecurities and try and twist them into their partner's flaws.
Baylor Barbee
Some of the biggest challenges in relationships come from the fact that most people enter a relationship in order to get something. They're trying to find someone who's going to make them feel good. In reality, the only way a relationship will last is if you see your relationship as a place that you go to give, and not a place that you go to take.
Anthony Robbins
When a person tells you that you hurt them, you don't get to decide that you didn't.
Louis C.K
You don't develop courage by being happy in your relationships every day. You develop it by surviving difficult times and challenging adversity.
Epicurus
Intense love does not measure, it just gives.
Mother Teresa
Love is a two-way street constantly under construction.
Carroll Bryant
The first duty of love is to listen.
Paul Tillich
To know when to go away and when to come closer is the key to any lasting relationship.
Doménico Cieri Estrada
Quotes about finding The One
There are many fish in the sea, of course, but constantly casting a line can get tiresome. Finding that catch – ok, this is the last fish metaphor, we'll scale it back – requires a deep understanding of self and others that can take years to learn. We've gathered the following sage advice.
You deserve to be with someone who looks at you every single day like they've won the lottery and have the whole world in front of them.
Anonymous
Far too many people are looking for the right person, instead of trying to be the right person.
Gloria Steinem
The person you're meant to be with will never have to be chased, begged or given an ultimatum.
Mandy Hale
Find someone who knows that you're not perfect but treats you as if you are.
Anonymous
If you haven't found it yet, keep looking. Don't settle. As with all matters of the heart, you'll know when you find it.
Steve Jobs
A true relationship is someone who accepts your past. Supports your present, loves you and encourages your future.
Anonymous
The wrong relationships teach you how to recognize the right one when it arrives.
Anonymous
Take a lover who looks at you like maybe you are magic.
Frida Kahlo
My great hope is to laugh as much as I cry; to get my work done and try to love somebody and the courage to accept the love in return.
Maya Angelou
You have to go wholeheartedly into anything in order to achieve anything worth having.
Frank Lloyd Wright
Love sought is good, but given unsought, is better.
William Shakespeare
Discover why you're important. Then refuse to settle for anyone who doesn't completely agree.
Amelie Fisher
If you want a love message to be heard, it has got to be sent out. To keep a lamp burning, we have to keep putting oil in it.
Mother Teresa
The real lover is the man who can thrill you by kissing your forehead or smiling into your eyes or just staring into space.
Marilyn Monroe
Inspirational relationship quotes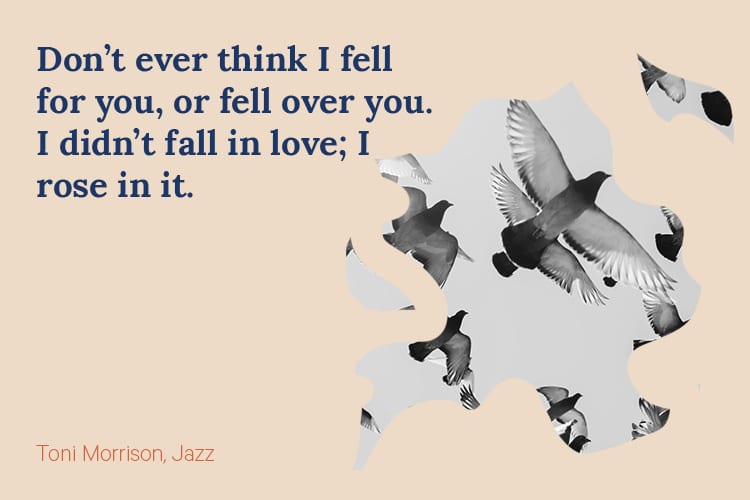 From keeping the fire burning to echoing the love you share every day, writers, philosophers and even television characters can provide a well of inspirational sayings to share with your loved one.
You know you're in love when you can't fall asleep because reality is finally better than your dreams.
Dr. Seuss
Marion and I have not climbed Mount Everest or written a great American novel. But we've had the joy of raising two wonderful kids, and watching them and their friends grow up into loving adults. And now, we're gonna have the pleasure of watching them pass that love onto their children. And I guess no man or woman could ask for anything more.
Happy Days
True love is inexhaustible. The more you give, the more you have.
Antoine De Saint-Exupery
Love is the condition in which the happiness of another person is essential to your own.
Robert A. Heinlein, Stranger in a Strange Land
Being deeply loved by someone gives you strength, while loving someone deeply gives you courage.
Lao-Tzu
Love recognizes no barriers. It jumps hurdles, leaps fences, penetrates walls to arrive at its destination full of hope.
Maya Angelou
We come to love not by finding a perfect person, but by learning to see an imperfect person perfectly.
Sam Keen, To Love and Be Loved
I love her and that's the beginning and end of everything.
Scott Fitzgerald, The Great Gatsby
The best and most beautiful things in this world cannot be seen or even heard—they must be felt with the heart.
Helen Keller
I'm scared of everything. I'm scared of what I saw, I'm scared of what I did, of who I am, and most of all I'm scared of walking out of this room and never feeling the rest of my whole life the way I feel when I'm with you.
Dirty Dancing
If she's amazing, she won't be easy. If she's easy, she won't be amazing. If she's worth it, you won't give up. If you give up, you're not worthy.
Bob Marley
Deep within us — no matter who we are — there lives a feeling of wanting to be lovable, of wanting to be the kind of person that others like to be with. And the greatest thing we can do is to let people know that they are loved and capable of loving.
Fred Rogers
Don't ever think I fell for you, or fell over you. I didn't fall in love; I rose in it.
Toni Morrison, Jazz
I'm selfish, impatient and a little insecure. I make mistakes, I am out of control and at times hard to handle. But if you can't handle me at my worst, then you sure as hell don't deserve me at my best.
Marilyn Monroe
The heart wants what it wants. There's no logic to these things. You meet someone and you fall in love and that's that.
Woody Allen
Come what sorrow can
It cannot countervail the exchange of joy
That one short minute gives me in her sight.
Shakespeare – Romeo & Juliet
Love is not breathlessness, it is not excitement, it is not the promulgation of promises of eternal passion, it is not the desire to mate every second minute of the day, it is not lying awake at night imagining that he is kissing every cranny of your body. No, don't blush, I am telling you some truths. That is just being "in love," which any fool can do. Love itself is what is left over when being in love has burned away, and this is both an art and a fortunate accident.
Louis de Bernières, Captain Corelli's Mandolin
Each moment of a happy lover's hour is worth an age of dull and common life.
Aphra Behn
Real relationship quotes
Some lovers are for the ages, and these famous flames aren't relegates to the pages of Shakespeare. Below are quotes from power couples on what attracted them to their partners and what keeps them happily together after many years.
We support each other in everything that we do and I love seeing her succeed at the things she loves to do and she loves seeing me succeed at things that I love to do. That's the way you should be with your partner.
John Legend about wife Chrissy Teigen
Just knowing someone's always going to be honest and tell the truth, [who] can understand exactly what I'm going through—and I can understand exactly what he's going through.
Beyoncé about Jay-Z in an interview with Vogue
Every once in a while, I can catch a glimpse of her when she doesn't see me looking and I have this moment when I'm like, "If you never make a good decision, if you only make bad decisions for the rest of your life, you made one really good decision." It's nice to marry your friend, it's nice to marry your best friend. It suits me.
Justin Timberlake about wife Jessica Biel
One of the things that attracted me to Barack was his emotional honesty. Right off the bat he said what he felt. There are no games with him—he is who he appears to be. I feel fortunate as a woman to have a husband who loves me and shows me in every way. So yes, I do know that. And now he'll know I know.
Former first lady Michelle Obama
People get together for reasons other than sex and, although it's important in the beginning for most couples, it's not what makes marriages last. But I think the power of partnership in marriage is under-recognized in our society. That's what makes marriages work, not sex.
Helen Mirren in Women & Home magazine
Christian relationship quotes
For religious couples, sharing a bond in faith can be the bedrock of a relationship. Whether that means sharing common beliefs, attending religious services or simply praying together, faith and religion can play a powerful role in a relationship. Below are some quotes on love and marriage for those of Christian faith.
Falling in love in a Christian way is to say, 'I am excited about your future and I want to be part of getting you there. I'm signing up for the journey with you. Would you sign up for the journey to my true self with me? It's going to be hard but I want to get there.
Tim Keller
Okay, here's how to do relationships – be kind to one another, tenderhearted, forgiving one another, just as God, in Christ, also has forgiven you.
Chip Ingram
Countless mistakes in marriage, parenting, ministry, and other relationships are failures to balance grace and truth. Sometimes we neglect both. Often we choose one over the other.
Randy Alcorn
There is no fear in love, but perfect love drives out fear, because fear involves punishment. The one who fears has not been perfected in love.
1 John 4:18
There are some men and some women in whose company we are always at our best. While with them we cannot think mean thoughts or speak ungenerous words. Their mere presence is elevation, purification, sanctity. All the best stops in our nature are drawn out by their intercourse, and we find a music in our souls that was never there before.
Henry Drummond
God is more interested in your future and your relationships than you are.
Billy Graham
Fix your eyes on Jesus and the plans he has for your life. Look ahead, and run after him with all your heart. Then look around. Whoever has kept up with you, marry that person.
Debra Fileta, True Love Dates: Your Indispensable Guide to Finding the Love of your Life
Be completely humble and gentle; be patient, bearing with one another in love. Make every effort to keep the unity of the Spirit through the bond of peace.
Ephesians 4:2-3
There is no more lovely, friendly and charming relationship, communion or company than a good marriage.
Martin Luther
Spirituality is not a formula; it is not a test. It is a relationship. Spirituality is not about competency; it is about intimacy. Spirituality is not about perfection; it is about connection. The way of the spiritual life begins where we are now in the mess of our lives.
Mike Yaconelli
Don't just pretend to love others. Really love them. Hate what is wrong. Hold tightly to what is good. Love each other with genuine affection, and take delight in honoring each other.
Romans 12:9-15
No matter what you need it for, there's always a quote here to describe your tone.