We all love nachos, guacamole, and tacos. Hell, we've even devoted an entire day of the week to the latter. We can't get enough. Unfortunately, these foods aren't exactly a walk-in-the-parque when it comes to mess-free eating. Tacos tend to fall apart and guacamole always manages to leave a memory on the cleanest of shirts. So, you may not think that Mexican-style hors-d'oeuvres are a reasonable choice for your wedding, but we're here to tell you not to lose hope. We've found some tidy and tasty ways to enjoy Mexican food without ruining your guests clothes that are all Plunge-Approved.
By Greer Pollock
Mini Taco Bites

There's only one down side when it comes to tacos, and that is the fact that all of the scrumptious fillings fall out as soon as you take a bite. Luckily, you can fix this problem by turning it into a tiny hors-d'oeuvre.
Mexican Street Corn Cups
Corn without the cob (or the kernels wedged between your teeth)? Now we're talking. By putting the hot corn and condiments of your choice into a breaded cup, your problems are condensed into one big 'ol bite.
Shrimp Ceviche Cucumber Sushi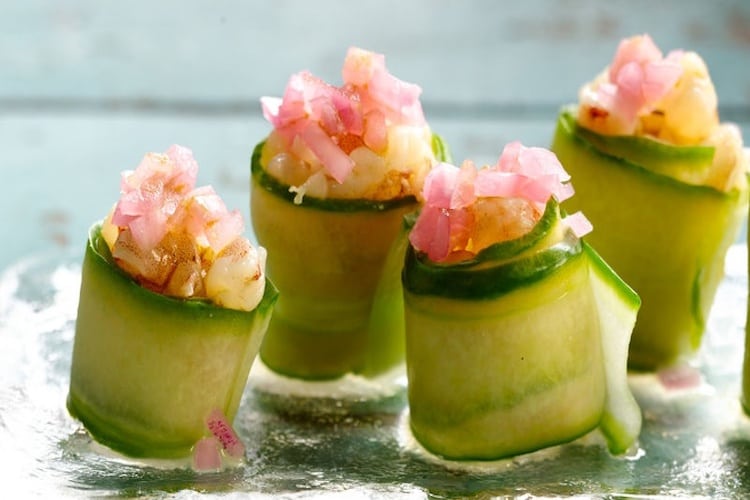 What's this? A healthy (or at least healthier) option than tacos you say? We'll believe it when we eat it. Shrimp Ceviche wrapped in a cucumber (Cev-ushi?) is the light, cool, and, dare we say, refreshing app option for summer weddings.
Sweet Taco Pepper Poppers
Combine tacos and jalapeno poppers and you get taco poppers. Choose chicken, beef, or shrimp and create your favorite teeny, tiny taco inside a sweet pepper for an hors-d'oeuvre that'll be a go-to for your gluten free guests as well as those who just like food in popper form.
Mexican Pigs in a Blanket
A tale as old as time, but this one features a south-of-the-border twist: pigs in a blanket with refried beans, taco sauce, and diced green chiles. It's a story that's so good you're going to want to immediately option its film rights.
Waffle Fry Nacho Bites
The waffle fry is a marvel of culinary engineering. In this case, it's really just a fried, potatoey net for transporting guacamole and black beans. These bites are bound to keep your guests happy. And, if not, that's nacho problem (sorry) because they're delicious.