Ever since wedding bands became part of the marriage ceremony — this dates back 6,000 years to ancient Egypt, by the way — the ring, a continuous circle, has come to represent endless love and a bond that can't be broken. Eternity bands are a later form of the wedding band, encircling the finger with an uninterrupted row of diamonds or other precious stones, which also have their own meaning relating to romance and enduring commitment.
The first styles with precious stones began showing up in the 1700s when it became the fashion for women to wear 'keeper' or 'guard' rings on either side of her wedding band to accent and protect it. These were often created with continuously set rose or old mine cut diamonds in silver-topped gold.
Here are some questions everyone seems to have about eternity bands and how they relate to wedding rings.
How Do Eternity Bands Differ From An Engagement Ring?
There are no hard and fast rules in today's age of individuality and personalization. Eternity bands can be worn as engagement rings. However, what has traditionally been known as an engagement ring has a larger central stone and, possibly, small diamonds on the shank of the ring to accent the main stone.
Celebrity trivia: Joe DiMaggio proposed to Marilyn Monroe with a platinum baguette-cut diamond eternity band. When the couple married two years later in a small ceremony at San Francisco City Hall in 1954, Monroe wore the simple sparkler as both her engagement ring and wedding band.
Should The Eternity Band Match The Engagement Ring?
When purchased as a wedding band, eternity bands traditionally should match the engagement ring in metal and style. Often, if the woman is in on choosing her rings, she will look for a matching set so they fit together properly and do not detract from one another. If she is not in on the first purchase, the store or website that helped you can step in and design a diamond band that will suit the original engagement ring.
Do You Wear Eternity Bands as Wedding Bands on The Left Finger?
Traditionally, yes, eternity rings are worn on the left finger underneath the engagement ring but you can also keep them on the left hand and move the engagement ring to the right finger. Generally, women keep their wedding bands on the left hand. This started because the Romans believed in vena amoris, that the vein from the ring finger on the left hand runs straight to the heart.
Are There Other Occasions When You Are Supposed to Purchase am Eternity Band?
Most commonly, eternity bands are gifts for anniversaries and the birth of a child, but they may also be presented at birthdays and holidays such as Christmas and Valentine's Day for those who are married.
How Do Women Wear Multiple Eternity Bands?
Here is where your wife and jeweler will love you and you will need to watch your budget. And this is when you begin to question if your "lifelong commitment" is to buying rings. The real deal is that women love rings. It's the one piece of jewelry they can admire on themselves besides bracelets. And rings are so much more romantic. If you do some research, you'll see hashtags on Instagram that mention #stacking, #stackrings and #stacksarethenewblack, with the last one suggesting that wearing as many rings as you can get on one finger is akin to owning multiple black dresses (for women obviously).
Below are the author's rings of different shapes and settings (prong- and bezel-set) in eternity bands—some antique and some modern including baguettes, marquise, round, and heart shaped.
Here is where your loved one can get creative. She can place her engagement ring on her right hand and begin to add other eternity bands in different widths, metal colors, cuts of stones, and settings and create a look that's all her own. If she loves rubies, sapphires, or emeralds, this is your chance to give her what she wants. They are available mixed with diamonds or set on their own. For example, you can have the diamond wedding band between two ruby bands or between two emerald and diamond bands. There are limitless possibilities — I'm sure you wanted to hear this.
The most recognized style icon (for most women I know) is Audrey Hepburn, who was in a relationship with actor and director Mel Ferrer. The couple's personal tastes were on the more classically refined side. While vacationing in Switzerland, Ferrer presented her with an engagement ring — an eternity band of baguette-cut diamonds from the House of Gübelin of Zurich. Hepburn received two wedding bands that she could wear with the diamond eternity band: one was in white gold and the other in rose gold.
In photos, we never see Hepburn wearing more than one of the different bands at a time. Instead, we see her wearing one of the three different bands. It was reported that she sometimes wore them together and other times separately. In either case, the eternity and the gold bands were beautifully made and in keeping with Hepburn's classical chic style.
So, what are the options when it comes to Eternity Bands?
Types of Settings for Eternity Bands
There are numerous settings for eternity bands and it all depends on the look you're going for. The first case is to try and match the setting to the engagement ring. If your betrothed doesn't require a perfect match or wants to try out different styles, here's a handy guide.
Channel Set
It means what it sounds like; the diamonds and/or gemstones are set between two strips of metal that form a channel. Grooves on each wall of the strip of metal hold the stones securely in place. It's a style that's equally suitable for smaller and larger diamonds, as well as the style in which the combination of round diamonds and square or princess cut gemstones are set.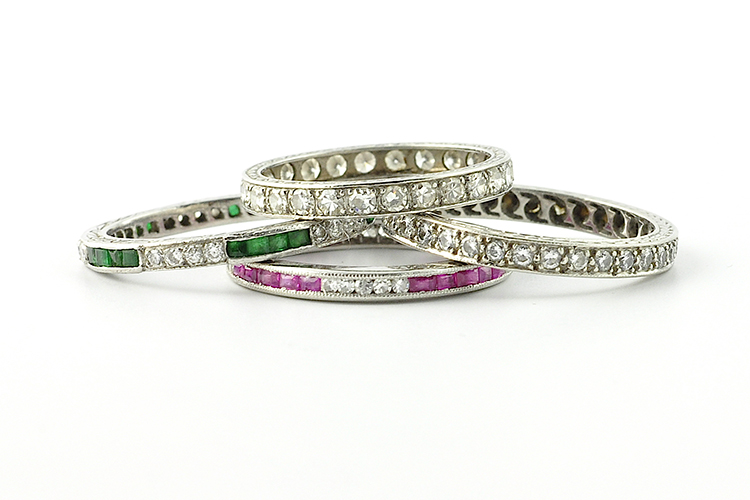 Prong Set
This setting allows the most light to shine through, resulting in more brilliance as the only metal used in the setting is that which holds the stone. Prongs for eternity bands are generally rounded, although they could be squared off or v-shaped depending on the cut of the diamond. Often jewelers will use four prongs to hold the diamonds/gemstones securely in place (large diamonds could use 4-8 prongs). There is also a version called "shared prongs," which allows for even less metal as two diamonds at a time will share the same prongs. This particular style is best for larger diamonds in eternity bands.
Pavé Set
When you see this setting, it appears that there is no metal between the diamonds — at least when you look at it with the naked eye — however, there are very tiny beads holding the diamonds in place. The word pavé comes from the fact that this type of ring looks like it is 'paved' with diamonds. This setting is best for smaller diamond or gemstone eternity bands.
Bezel Set
This setting encases the diamond or gemstone by surrounding it with metal, making it the safest type of setting. This generally looks best with larger stones or those with millegrain (tiny cuts that look like beads) on the bezel. It's also a good choice for eternity bands that have a pattern of different diamonds or gemstones — for example, baguette-round-baguette all the way around or marquise-princess-marquise all the way around.
Types of Diamond and Gemstone Cuts For Eternity Bands
The #1 most popular cut in an eternity band is the round cut, but any cut is suitable; some offer more character depending on the engagement ring. There are princess, marquise, and baguette-cut eternity bands, and as I mentioned above, a mix of two or more cuts.
Round Stone Eternity Ring
Marquis Stone Eternity Ring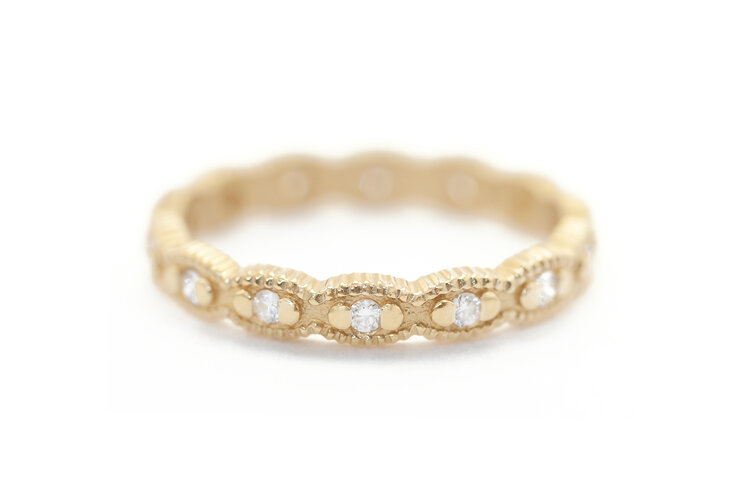 Types of Metals For Eternity Bands
This will depend on if you're matching the band to your engagement ring. If so, choose the metal that your engagement ring is set in. But anything goes as long as the metal is durable. Platinum is the strongest metal; you can also go with 18K or 14K yellow, rose, or white gold for your eternity band.
Should the Ring Come with a GIA Certificate?
If you choose a band with really large diamonds, let's say a .40 or .50 carat diamond for each of the diamonds in the ring, you might be able to get a GIA certification on them. But for many eternity bands, it's not worth the effort and money to try and get the certificate. They are too small to certify every diamond and it will add a substantial additional cost to the ring… and often the GIA does not provide certs on smaller diamonds. If you go to a trustworthy and reputable site or shop that sells diamond jewelry and you get documentation on what the ring is, you should feel confident in what you are choosing. Knowledgeable companies can often estimate whether the diamonds in the ring are F/G/H or under and should be able to give you their solid opinions. They should also be able to gauge the TCW (total carat weight) of the ring.
You should also look at the ring and see if it sparkles and if the diamonds look white and have no blemishes with the naked eye. They will often take on a less white color when set into yellow or rose gold because they are picking up the reflection of the setting. This should all be explained to you by the experts when you shop for a ring.
How Much Do Eternity Rings Cost?
As with all diamonds and precious gemstones, price ranges vary based on the TCW, the type of metal the ring is set into (for example 18K gold is more expensive than 14K gold), and the quality and cut of the diamonds. The workmanship will affect the price as well; for instance, a prong-set ring will take less work than one that is all bezel or pavé set. An eternity band in which all the stones match up in color as perfectly as possible will also affect the price. However, there are eternity bands for every price point, therefore you should be able to find one in your budget and in the style your loved one desires. Below are James Allen eternity rings organized into two rows: least expensive first followed by most expensive (as of when we republished this article). Not the range is generally $950 to $21,710.
Some of our favorite online and online or brick and mortar shops: