Why it's good: Gypsy or flush-mount rings have stones set into the band for a more subtle, casual alternative to traditional prong-set rings.
Tip 1: While the most classic style of gypsy ring features yellow gold and three stones, there are many possible variations on the theme to consider and create.
Tip 2: Because the stone is flush with the band, gypsy style rings are one of the most secure settings for an engagement ring.
Why Is It Called a Gypsy Setting?
Let's get one thing out of the way: the term "gypsy ring" is a total misnomer. There's no connection to The Hunchback of Notre Dame or the Roma ethnic group. How and why this style of ring got that name is a bit of a mystery. What's not a mystery is why the gypsy ring is becoming increasingly popular today.
What Exactly Is a Gypsy Ring?
Gypsy rings are defined by stones that are set into, rather than atop, the band — this technique is known as a flush-mount setting, an alternate, more logical but decidedly less sexy name for the gypsy ring. By having the stones flush with the metal band, the resulting ring has a more laid-back, casual look than your average engagement ring. It's a subtle, unconventional style that perfectly suits a lot of women's fashion today.
Ring design can make a diamond look awesome or awful — so you want to shop at places that have a large setting selection like Brian Gavin, Whiteflash, and James Allen.
Most engagement rings employ prong settings, using tiny metal arms that prop the diamond up and hold it in place, allowing more light to pass through the gem. What sets gypsy rings apart is the absence of prongs. Instead of propping the diamond up, gypsy rings set the diamond down into the band, so rather than having the rock jumping out at you, it's more coyly sitting back. It's most closely related to a bezel setting, which has an additional strip of metal framing the center rock. Free from prongs or bezels, gypsy rings offer a uniquely clean, minimal look. It is the Marie Kondo of ring settings — stripped of all unnecessary bits and pieces.
What Is the History of the Gypsy Ring?
While the gypsy ring has a lot of very modern appeal, it's actually quite an old design. The style originated during the Victorian era and was first popularized by men. It's easy to see how flush-set rings, with their chunky silhouette and lack of flash, appealed to our forefathers. Much as your soon-to-be fiancé may steal pieces from your closet, Victorian ladies quickly started a fad for men's gypsy rings. Historically, a gypsy ring featured a rounded, tapered yellow gold band dotted with three equally-sized round-cut gemstones in a row. But it's a template designers are constantly riffing on: in white or rose gold, with one stone or several, emerald-cut or pear-shaped.
Are Gypsy Rings Secure?
Gypsy rings are a great choice if your bride-to-be isn't into the idea of a big, glitzy rock. Not only is it a more understated style, it's also more practical for the active lives many women lead. Because the stone is flush with the band, there's no risk of it getting banged or scratching or snagging. And because it is surrounded with metal on all sides with only the crown, or top of the stone, exposed, it is significantly less likely to become loose and fall out. All of this adds up to make gypsy rings one of the safest, most secure choices for a ring that will presumably be worn all day, every day.
How Much Do Gypsy Rings Cost?
In terms of price, gypsy rings are generally comparable to other kinds of traditional engagement rings. The main price differential is the size and quality of the stone, which can vary. As always, opting for a diamond with a higher carat weight, color or clarity grading will drive the price up. Options can range from under $1,000 for a stone that's less than one carat to over $20,000 for larger rock. It's really a question of style more than anything, as a gypsy setting can work with a wide variety of stones including more affordable diamond alternatives like sapphires or even semi-precious stones
The ring below (left) from 1st Dibs is selling for $13,500, while the ring at right (also 1st Dibs) goes for just $326.
Many of the gypsy ring's pros can also be seen as cons. Because the stone is tucked into the band, gypsy rings don't do a lot to help make a small stone seem bigger than it actually is. And since the diamond isn't exposed to light from as many angles, it may not be as brilliant as it could possibly be. But for some women, toning down the bling factor is a big plus.
10 Gypsy Set Diamond Rings for All Budgets
Go to Whiteflash or James Allen to see what kinds of ring designs work best with that shape (and others). Their selection spans from vintage to modern — and across all budgets.
Casual yet refined, gypsy rings are some of the easiest to wear engagement rings. It's a timeless style that nods at tradition while looking totally fresh — perfect for a gal who likes to do things her own way, but not something to gamble on if you have no idea what kind of ring to get your partner. Here are some of our favorites ranging from $825 to $23,900.
1. BRENT NEALE
New York-based designer Brent Neale specializes in custom gypsy rings — she can reset stones from a family heirloom or source new ones for you. There are dozens on display here. Price upon request. (Photo courtesy of Brent Neale)
2. THE ONE I LOVE
This antique ring proves just how timeless gypsy style rings are. The rose-cut diamond center stone sits atop a peaked band in 14k gold. $1,250 (Photo courtesy of The One I Love)
3. FINN
There's no need to limit yourself to diamonds — gypsy rings make a great canvas for most any type of gemstone. Here, a cabochon emerald (domed top) is flanked by two round-brilliants. $895 (Photo courtesy of FINN)
4. LIZZIE MANDLER
A more contemporary take on the gyspy ring, this ring's knife-edge band accentuates the lines of its marquise-cut center stone. The result is sleek and sculptural yet endlessly wearable. $5,020 (Photo courtesy of Lizzie Mandler)
5. JEWELS BY GRACE
You may not guess by looking at it, but this ring is over 100 years old. Its old-mine-cut diamonds have as much character as they do sparkle. $2,695 (Photo courtesy of Jewels by Grace)
6. SINGLE STONE
There are no set rules for the arrangement of stones on a gypsy ring. Here, an asymmetrical smattering of rose-cut diamonds on a brushed band creates a striking alternative to standard solitaires. $4,200 (Photo courtesy of Single Stone)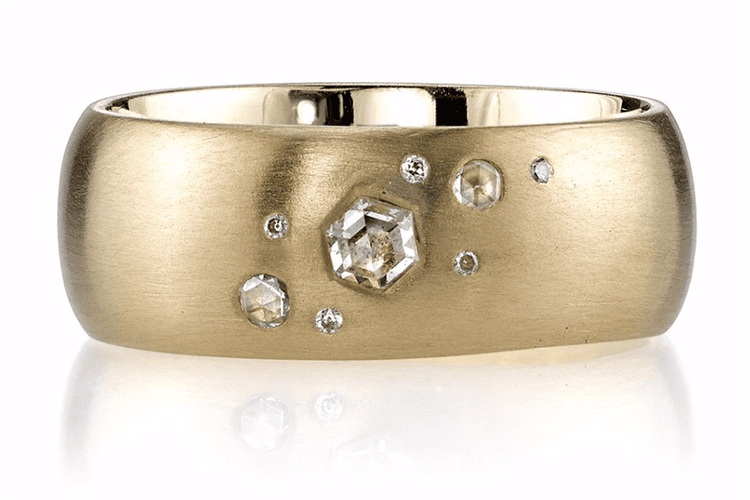 7. ASHLEY ZHANG
Flush-mounting a three-stone ring can give it an entirely different attitude. This 2.5-carat Asscher-cut center stone is impressive yet doesn't come across as flashy. $23,900 (Photo courtesy of Ashley Zhang)
8. N+A
Bands can make great alternative engagement rings. Punctuated with gypsy-set rose-cut diamonds, this ring offers an alternative without sacrificing the sparkle of traditional diamonds. $3,950 (Photo courtesy of N+A)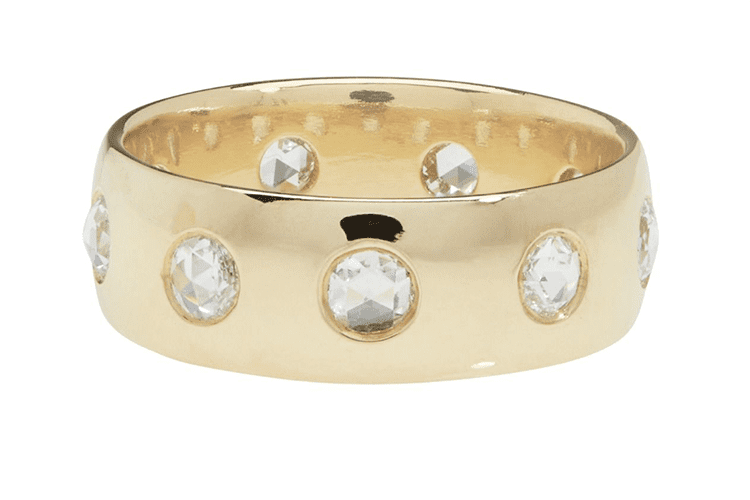 9. THE MOONSTONED
A hybrid of a gypsy ring and a signet ring, with a vintage shield-cut diamond atop a contemporary brushed gold setting, this is one unique jewel on all counts. $1,650 (Photo courtesy of The Moonstoned)
10. BLUE NILE
Simple and understated, this polished white gold band and single round brilliant diamond is an engagement ring distilled to its purest form. $990 (Photo courtesy of Blue Nile)
Bottom Line
So much about weddings can seem outdated and excessive. If your bride-to-be likes to keep things real, a gypsy ring is an ideal way to give her a dazzling rock that isn't over-the-top.