Your wife is dropping subtle hints about a beautiful emerald cut diamond ring she saw on Instagram. You read the caption on the site: "It's elegant, it's stunning, it's three carats." You've noticed she is wearing her 1.6-carat round brilliant engagement ring less and less. You've been married for twenty-two years. What's going on?
Let's assume you got married young. You ask her what this is all about and her answer gives you mixed feelings. It's a relief when you find out she wants to upgrade her ring, not you, to a different model. And yet a nagging feeling of confusion sets in when you ask yourself where has her sentiment gone? She was head over heels for that ring. It was a sign of your eternal love. And, wait a minute! She chose that ring with her not so subtle accomplice sister urging you to purchase it.
This is a familiar scenario for couples at any age, but it's not the only time you'll hear about someone seeking to upgrade an engagement ring. Below are some explanations as to why she might want to upgrade or change her once-beloved ring and how it can be done. But note: This is a story about transforming the style or setting of your ring, recutting a family diamond or upgrading to a different cut of diamond. It's not about the financial aspects of trading your diamond in for a different one or the policies that vary between different online and brick and mortar retailers.
Scenario One: She Changed.
Her style, and the style of engagement rings, have changed since you got engaged.
Originally, your wife had a clear picture in her mind of her ring, her wedding, and what she wanted her life to be. If you married young, status and peer pressure could have been an influence. Whatever the case, she's a woman and women grow out of their younger selves and become more aware of what suits their personalities and their individual taste and style. They also notice jewelry on other women, on celebrities, in magazines, and at this point in her life, a change in her ring will bring joy and excitement when she looks down at her hand. This should make you happy, too. It's like renewing your vows.
For an extreme case of this, just look at Victoria Beckham, who has 14 engagement rings. That makes 13 upgrades from the ring that her soccer star then-boyfriend David Beckham used to propose — back in 1998. It was a marquise-shaped diamond set into a pave-set band. Since then, with the exception of 2002 when she opted for a simple diamond-encrusted eternity band, her choices have continued to reveal much larger stones, natural fancy colored diamonds including two yellow and one pink, and even huge sapphires and ruby rings. Be glad that your wife has only wanted one upgrade (so far).
Here's an example of an upgrade when someone wanted to change their style from classic to modern and add another diamond.
BEFORE
AFTER
Scenario Two: New Style Desired
She's still thrilled with her diamond or center gemstone, but now she wants a different setting.
This is an easy problem to solve. If she thinks the ring sits too high on her finger and looks dated, the two of you can look at settings that are lower profile and sit closer on her finger. There are many to be found. Another situation might be that she chose a vintage-inspired style early on and her lifestyle now calls for no frills, no fuss, and she would prefer a look that's more streamlined and pared-down than the pierced engraved setting she chose the first time.
If the ring was in yellow gold, for example, she could want to change it to platinum or vice versa. There are numerous scenarios. Although this is one of the simplest changes — you can go to different brick-and-mortar stores or directly to designers who create customized settings for existing stones — you are taken aback because she wants to change something that represents the first real gift of love you gave to her. Don't be too alarmed. The fact that she still loves her diamond reflects more about the times and the multitude of styles in the bridal market than her feelings for you or your marriage.
Here's an example of when someone wanted to upgrade their ring to a different setting.
BEFORE
AFTER
Even celebrities — who can pay a king's ransom for rings — do the upgrade thing: Below, we share a story about Edward VIII, The Duke of Windsor and the Duchess of Windsor. And then, how First Lady Jackie Kennedy altered the engagement ring she got from President John F. Kennedy.
Royal Upgrade: Duke & Duchess of Windsor
After King Edward VIII abdicated his throne for Wallis Simpson, he proposed to the Duchess of Windsor in 1936 with an engagement ring designed by Cartier that featured a fine Colombian emerald weighing 19.77 carats. Emeralds represent hope and prosperity for the future. The inscription in the simple platinum shank of the engagement ring read: 'We Are Ours Now, 27.X.36'. Always aware of current and changing fashions, The Duchess of Windsor took the ring back to Cartier decades later to have it modernized in a yellow gold setting with diamonds. She did, however, hold onto the original setting with the significant inscription.
BEFORE
(from author's book)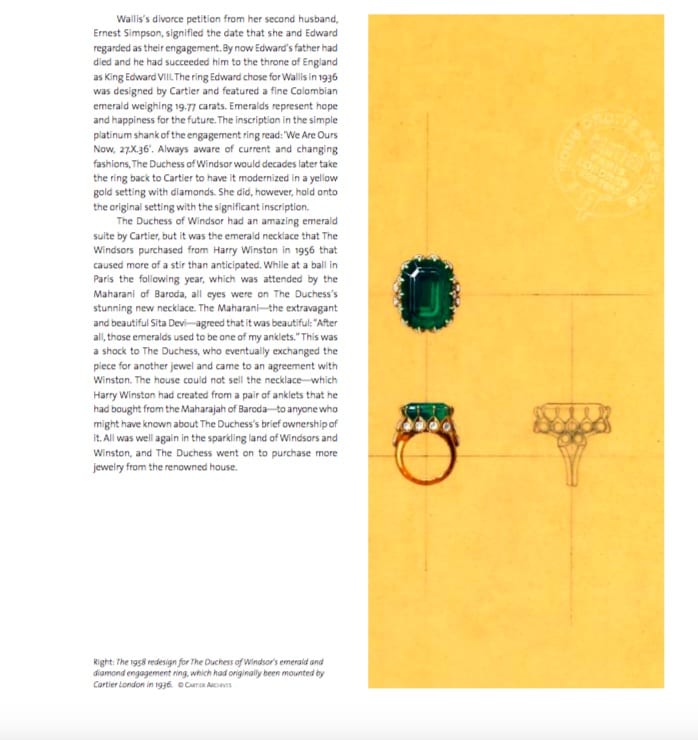 AFTER
JFK and Jackie's Engagement Ring Story
Two years after they met, John F. Kennedy proposed to Jacqueline Bouvier in 1953 with a Van Cleef & Arpels engagement ring. It was a 2.79-carat cut emerald mounted next to a 2.84-carat diamond, accented with tapered baguettes. In 1962, Jackie Kennedy had the ring reset with additional diamonds to reflect more current times.
Scenario Three: The Heirloom Makeover
You proposed with a family heirloom diamond that was perfect at the time, but she wants something a little less grandmotherly and more, well, her.
To keep the family diamond or diamonds as heirlooms to be passed down to the next generation and the next, often they are re-shaped, if they are large enough, or cut down to reveal more sparkle. There can also be the creation of an entirely new one-of-kind setting which will contemporize the stone. If all that fails, you can purchase an entirely new ring and re-mount the family diamond/diamonds in a solitaire necklace, earrings or whatever works for you, your wife, and the rest of your family.
Here's an example of an upgrade where there were originally three family gemstones but the designer selected two for the new ring.
A recent example of redesigning a ring is illustrated by another royal story: When Prince Harry proposed to Meghan Markle, he chose a center stone that was symbolic for the couple — a diamond from Botswana, reflecting the couple's love of Africa, and two diamonds flanking each side, which belonged to his mother, Princess Diana. After baby Archie was born, Prince Harry purchased a slender diamond eternity band with each of the parent's and child's birthstones on the underside.
For a long time, none of the press could determine who designed the eternity band, nor did they notice that Meghan's engagement ring had changed. When they finally did, speculation and stories were spread. The real story was uncovered by royal reporter Omid Scobie who got the scoop for his story in Harper's Bazaar that the present band/one-year anniversary gift was designed by celebrity jeweler Lorraine Schwartz and while Harry was there, Schwartz revamped Meghan's original ring by re-shaping the stones and creating a more delicate and feminine diamond shank, which worked beautifully with the new eternity band.
The takeaway from this story is that there are many ways to redesign and upgrade a ring that has been in your family without losing the original stone or stones.
Scenario Four: Seeking New Diamond Cut
She prefers a different diamond cut to her original stone.
Maybe your significant other once was drawn to a marquise shape and now doesn't like the way it sits vertically on her finger. Or she was romanced by a brilliant-cut and now finds it too sparkly. She prefers something more tapered and sleek. Every now and then, the original setting can be tweaked to accommodate a different shaped stone. There is also the possibility of creating a new shank or, in the case of the marquise, setting it horizontally across the finger which looks much more current and also makes stacking wedding and anniversary bands much easier.
Here's an example using the client's diamond as the center stone.
To change out the brilliant cut, you might want to create a different type of ring altogether with two pear shapes, one diamond, and one in another symbolic gemstone. For example, trying out a diamond for eternal love and sapphire for fidelity and loyalty in a "moi et toi" style ring, which allows the stones to sit slightly apart on the finger but always to be together.
Scenario Five: More Bling Please
You could only afford a certain style when you first proposed. As you have grown together as a couple, she has grown out of the smaller diamond style and wants to upgrade to a bigger and bolder stone.
Often times you can still do this, as with changing your center stone when you've decided on a different cut while keeping the original shank and setting. If the larger stone you choose isn't too different in shape or you are going larger with, say, a new version of a cushion-cut diamond and your original diamond was round, you can have the shank adjusted to fit the larger and new cut of the stone. If your wife prefers a 3-carat emerald-cut and her first diamond ring was a small under-a-carat oval shape, you will need to go with a new ring altogether. This is okay. You can set the original diamond in a pendant or different style of ring.
A related Hollywood engagement ring story: In the mid-1950s when Grace Kelly found her prince, Rainier III, she became Her Serene Highness Princess Grace of Monaco. Prince Rainier originally proposed with a ruby and diamond eternity band — the colors of Monaco — but when he noticed that the American tradition lent itself towards bigger, flashier rings, he took no time in upgrading and commissioned a Cartier 10.47-carat emerald-cut diamond. Kelly also wore the ring in the film High Society (the musical version of The Philadelphia Story) in which she plays an heiress getting engaged. The emerald-cut diamond ring suited Kelly's role in the film, her legendary Hollywood status, and her stature as a real, new princess.
Here are some brick-and-mortar retail stores and designers we recommend for these alterations.
Recommended Brick & Mortar Stores
Designers Who Do Custom Work
Manufacturers Who Do Custom Work