Sapphire Pros & Cons
Pros:
Stone is durable
Comes in many vivid colors
More options for more skin types
Can be less expensive than diamonds
Cons:
May not sparkle as much as a diamond
Resale value can be weak for less expensive (less rare) stones
In a bridal market where "alternative" has become the new norm —anything goes when it comes to diamond cuts and colors, as well as non-traditional gemstones — blue sapphire engagement rings have become "the other" classic. This is actually nothing new. According to Benjamin Khordipour of Estate Diamond Jewelry, "Blue sapphire engagement rings have been the leading non-diamond engagement ring for over 130 years."
Sapphires: Not Just for Celebs & Royals
In the 14th and 15th centuries, sapphires were favored over other gems among royal families when gifting betrothal rings. Since then, many such rings have been passed down through generations of nobility. This makes sense: Sapphires symbolize romantic love, truth, fidelity, and loyalty. Today, we get ideas from celebs all the time, whether it's on Instagram or in custom galleries like the one that James Allen offers or in the star couple posts that we have here at The Plunge.
Don't be a sucker: Buy rings from trusted online sources James Allen, Whiteflash, and Blue Nile. You're guaranteed to find better and more in-depth information thanks to their videos and listing details.
Some of the most famous engagement rings of Hollywood's silver screen sirens have worn sapphire: Joan Crawford, Carol Lombard, Jean Harlow, Myrna Loy, and Mary Pickford all wore humongous sapphire engagement rings. They had cabochon-cut (rounded or convex top with no faceting) or star sapphires (literally a star pattern in them), which were popular during the day.
Mary Pickford was one of the first starlets (she acted from 1900 to 1955) and when she married Douglas Fairbanks, he purchased the most exceptional star sapphires for her, including The Star of Bombay, which Pickford bequeathed upon her death to the Smithsonian, where it resides today.
In the latter part of the 20th century, an especially influential celebrity couple made blue sapphires popular again: Prince Charles proposed to Lady Diana Spencer in 1981. Jewelers around the world wasted no time in turning out similar styles of rings almost immediately after 19-year-old Diana wore a vivid blue stone in an antique-style setting with a halo of diamonds from a selection shown by Garrard of Mayfair, crown jeweler at the time.
A global trend was reborn for women who wanted an engagement ring fit for a modern-day princess. Diana continued to wear it even after her divorce from Prince Charles. In 1997, after Diana's tragic death, her sons were allowed to select mementos from her jewelry collection. Twelve-year-old Harry picked out the sapphire ring, and William chose his mother's yellow gold Cartier watch. When William announced his intention to wed Kate Middleton, the brothers swapped mementos.
And when Kate Middleton lifted her hand to show the ring to the cameras, a media blitz was ignited around the world; jewelry store phones began to ring off the hook and designers started creating the next wave of sapphire rings.
Below are some of the major questions to ask when buying a sapphire. We reached out to James Schultz (co-founder of James Allen) and Benjamin Khordipour (of Estate Diamond Jewelry) for answers in some cases.
Why Buy a Sapphire Engagement Ring?
Sapphires have many advantages: In some ways, they are less complicated than diamonds to purchase since you don't need to factor in clarity and cut as much (color becomes key).
And some women just love the pop of blue more than the look of a diamond. "Even if they prefer traditional styling, they want something a little different yet still timeless and a ring they will be happy to look down and see on their finger all of the time," says Michelle Adorjan, SVP of Marketing at Tacori.
Big sites like James Allen have lots of sapphires. Last we checked, the rings ranged in price from $480 for a 0.68-carat blue sapphire oval cut solitaire engagement ring in 14K white gold to $9,990 for a 3.26-carat blue sapphire pear shaped halo engagement ring in 14K rose gold. The pull-down menus in the screenshot below give you an idea of how to sort the options for your needs: by budget, setting style, color, metal, or carat size.
What's the Most Popular Sapphire Size?
"That really depends on the customer's overall style and budget," says James Schultz, co-founder of JamesAllen.com. "Ultimately, the most important factor is color, and sometimes customers are willing to sacrifice a little in carat weight to obtain a nicer color sapphire. However we see anywhere from .75-carats to two-carat center stones."
Go from zero to hero in five minutes: At James Allen or Blue Nile, you can adjust price ranges and other characteristics to see how many carats your budget buys. Their search tool is great. Their highly competitive pricing is too.
The Cannes Ring by Estate Diamond Jewelry features a cushion-cut 0.95-carat sapphire bordered by two antique cushion-cut diamonds in fine milgrain, with additional diamond accents along the sides. A great value at $6,000. (Photo by Estate Diamond Jewelry)
Different colors, settings, and surrounding stones affect the pricing, as shown below in this comparison of three rings from James Allen, all of which have a 3.26-carat pear sapphire at the center. Prices range from $7,890 to $9,990. (Photo courtesy of James Allen)
Tip: At Blue Nile, sapphire prices in general range from $390 for this petite round-cut sapphire ring, pictured below on the left, to $50,000 for this sapphire-and-diamonds-all-over-the-place ring, pictured below on the right. Blue Nile doesn't say what the carat size is; they show size by millimeter instead. The $50,000 one on the right is 8.87 x 7.22mm. (Photos courtesy of Blue Nile)
Where Do Sapphires Come From?
Most notably fine blue sapphires come from Sri Lanka, which was formerly Ceylon, hence the name "Ceylon sapphires." Madagascar and Myanmar, formerly Burma, are two more countries that have long been associated with royal blue sapphires. Today, Myanmar produces smaller quantities than Sri Lanka or Madagascar, but its prices are often at least double the price (it's a rarity thing).
Then there are Kashmir sapphires, which have an almost mythic reputation for perfection. They are a royal blue color with a velvety texture due to fine silk inclusions. Experts and collectors literally refer to it as blue velvet. They are so rare that when they are seen, it's generally at auction at Christie's or Sotheby's — The Wall Street Journal reported that a ring with 8.91 carats was sold for $154,000 per carat, setting a new world record in 2011 for price per carat for a Kashmir sapphire.
Which Are the Best Sapphires?
"The most valuable blue sapphires tend to be medium to medium-dark blue with nice transparency," says Schultz. "Heat treatment is very common, but you want to make sure there are no other treatments done to the stone (like dying or fracture filling). Like diamonds, sapphires can also be certified through a laboratory, which adds a level of certainty and confidence to a purchase."
Note that the GIA doesn't grade or provide quality analysis for sapphire or other colored stones. That said, GIA Gemological Identification Reports do assess the characteristics of a stone — weight, measurements, shape, cutting style and color — to determine if it is natural or laboratory-grown, to indicate detectable treatments and, at the client's request, they will issue an opinion on geographic origin, when possible.
Here's an example of a 2.49-carat oval natural blue sapphire for $2,360. (Photo courtesy of James Allen)
What Are Sapphire's Colors Options?
"Sapphires come in every color except red, because at that point, it's considered a ruby — they are both from the corundum family of gems," says Schultz. Scientifically, they are the same mineral, just differing in color. The GIA explains the range of colors in depth, we list the main ones below:
Lavender
Violet
Cornflower blue (just a lighter blue color)
Padparadscha (these range from reddish pink to pink-orange and tend to command extremely high prices)
Brilliant Earth offers a graphic that illustrates the range nicely.
If you want to see colored gems that are for sale right now, go to JamesAllen.com and click on the dedicated links for loose gemstones, including blue sapphire, pink sapphire, yellow sapphire, green sapphire and green emerald. Here are some examples of midrange blue sapphires, below. (Photo courtesy of James Allen)
Are "Heat-Treated" Sapphires Worth Less?
Yes, according to the GIA: "Heating is an accepted treatment for sapphire. But for fine-quality sapphire, confirmation from an independent laboratory like GIA that there is no evidence of heat adds to a sapphire's rarity and value."
And yes, according to Khordipour: "To find a fine quality and attractive blue sapphire that has not undergone heat treatment is quite rare, and you will certainly see that reflected in the price."

Blue Nile sells a heat-treated sapphires and explains why: "This centuries old technique uses controlled, high temperature heat to maximize the purity and intensity of a gemstone. Heat treatment is a permanent enhancement, as lasting as the gemstone itself."
Below, left: A non-heat treated and Art Deco engagement ring with Kashmir sapphire made by Gubelin, circa 1925 (photo courtesy of Estate Diamond Jewelry). Below, right: A heat-treated oval sapphire and diamond ring in a platinum setting (photo courtesy of Blue Nile).
What's the Best Sapphire for a Small Budget?
"Pick the color that you are most attracted to and consider an elongated shape like oval," says Schultz. "This will maximize your appearance in size."
Also note that sapphires tend to be much less expensive than diamonds. A 1.08-carat sapphire at James Allen costs $370 whereas a 1.07-carat diamond H color costs $4,310 and a 1.07 J color diamond costs $3,050.
The platinum-set Queensland Ring pictured below, on the other hand, costs $12,000 because it features a beautiful 3.05-carat sapphire in the center that's accented by two triangular-cut diamonds along the sides, totaling roughly one carat. (Photo courtesy of Estate Diamond Jewelry)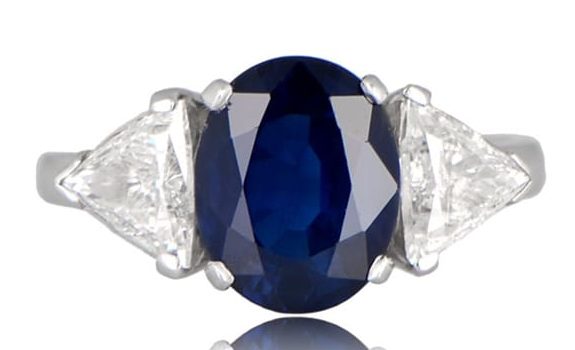 What's the Best Ring metal for Sapphires?
"Platinum is always our choice of metals for engagement rings," says Adorjan. "It's the most durable and luxurious of metals."
What Are the Most Popular Settings?
"Halo tends to be a very popular setting style for sapphires thanks to the trend started by Princess Diana," says Khordipour. "Solitaire and pavé are also very popular and you can easily add vintage touches to any setting style."
Go to Whiteflash or James Allen to see what kinds of ring designs work best with that shape (and others). Their selection spans from vintage to modern — and across all budgets.
"What's more," adds Adorjan, "they can be the star of the ring, set in the middle with diamond accents in a halo or they can be the side stones in a three stone ring. It just depends what look the couple is going for and what the bride-to-be is most comfortable wearing."
Below, left: An 18K white gold oval halo sapphire and diamond engagement ring, for $2,560. (Photo courtesy of James Allen). Below, right: A 4.82-carat cushion-cut sapphire, heat treated, for $18,000.00. (Photo courtesy of Nicole Rose Jewelry)
Are Upcycled or Vintage Rings Worth More?
Antique/vintage jewelry has its own appeal and niche in the marketplace. While heat treatment has been around for a long time (likely since 1915), you would have to have a gemologist or possibly a laboratory evaluate the stone to confirm if the sapphire has undergone any additional treatments.
You probably will get more bang for your buck with an antique or vintage ring if only because the rings often had more details, engravings, or piercings, for example, and even the simpler ones had intricate shanks. There is a market for old-world craftsmanship. But if you are shopping for an antique/vintage sapphire ring, be sure to go to a reputable dealer and inspect for surface abrasions or small chips on the stone from previous wear.
Best Places to Shop for Sapphires and Rings
See also our Complete Guide to Antique and Vintage Rings.