Fancy colored diamonds — which are also known as natural colored diamonds — have been around for centuries in royal families and among serious collectors. Think of the 45-carat blue Hope diamond, which resides in the Smithsonian today. It may not be an engagement ring but it says a lot about the scarcity of rare diamonds.
'The Indian Blue,' another famous blue diamond (pictured below), is estimated to be worth $6 million to $8 million. It's an exceptional fancy deep grayish blue diamond and diamond ring with a cushion-cut fancy deep grayish blue diamond weighing 7.55 carats (natural color, SI2 clarity).
Which Diamond Colors Are Available?
In recent years, more of the famous pinks, violets, and blues started hitting the auction blocks, shedding new light on natural colored diamonds, which served to spark more and more interest in the rainbow of hues that could be set into engagement rings. The rarest of the natural colored diamonds are red, purple, blue, pink, and green (note: there are no greens on the market that are even remotely affordable). But many hues comprise the vast color wheel of these diamonds.
You can see the range of diamond colors available (above) at the James Allen website. And below in red, blue and purplish-pink diamonds from auction houses Sotheby's and Christie's.

Red Diamond Framed by Pink Diamonds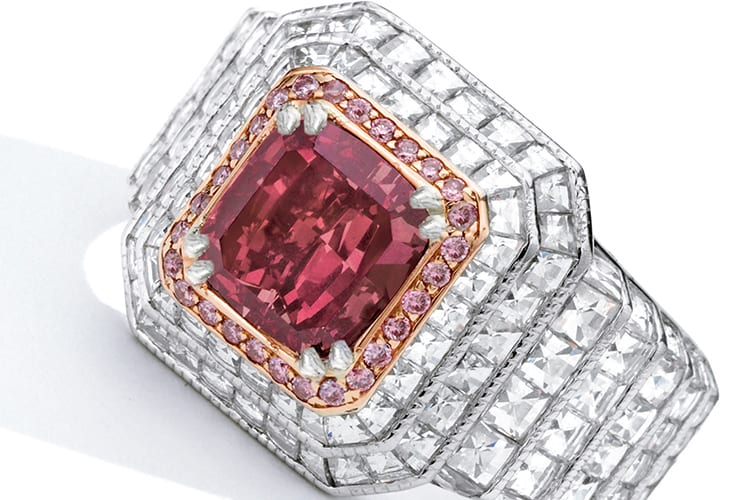 Blue Diamond
Purplish Pink Diamond
Go from zero to hero in five minutes: At James Allen or Blue Nile, you can adjust price ranges and other characteristics to see how many carats your budget buys. Their search tool is great. Their highly competitive pricing is too.
If you're thinking about buying a fancy colored diamond ring for your bride-to-be, there are guidelines you can follow that will make the experience more enjoyable and less stressful, whether you search together or just heed advice from knowledgeable jewelers.
What Caused the Sudden Surge in Colored Stones?
So what generated the popularity of these rare colored stones as an alternative to white diamond rings? In a name, J.Lo. While guys were generally watching her moves on videos and admiring her slinky backless dresses, the brides-to-be were lusting after Jennifer Lopez's engagement ring. It was 2002 when Ben Affleck proposed with a 6.10-carat fancy intense pink radiant cut from Harry Winston. And it sparked a trend in fancy colored diamonds that was unparalleled. 
Ultimately, the ring hit iconic status and opened the door for other fancy colored engagement rings — though not nearly as rare as the pink stone she got. As Greg Kwiat, CEO of Kwiat Diamonds and Fred Leighton explains, "The ring that Jennifer Lopez received definitely raised the awareness of colored diamonds among women who were getting engaged, as well as those buying and selling diamond engagement rings," Kwiat says. But the trend actually began 10 years earlier.
"In the mid-nineties," he continues, "GIA came up with a grading system for them. Around the same time, women were seeking more one-of-a-kind engagement rings that spoke to their lifestyle and individuality. Customization took over the 'popular' styles of the times and the opportunity to land a beautiful natural colored diamond in a hue 'real couples' could afford was becoming more and more accessible, while collectors were buying up the rarest of the rare."
To figure out what might work for you and what you need to know before shopping, we enlisted the help of Kwiat and David Warren, Christie's Senior International Jewelry Director.
What Are the Most Popular Colors for Engagement Rings?
"Yellow diamonds in different hues continue to hold their own as the color that sells the most in the U.S.," says Kwiat. Other designers contacted for this story agree. They send out a message of individuality, are rare, and yet are more affordable for most couples in sizes that range from ½ carat to 3-carats (for example, the price for one carat, good quality, intense yellow, is currently in the range of $6,500 to $10,000 and that's just for the diamond, without the setting).
The deeper the color, the more rare, the lighter shades are imbued with their own personality and natural beauty. They may be referred to as "canary yellow."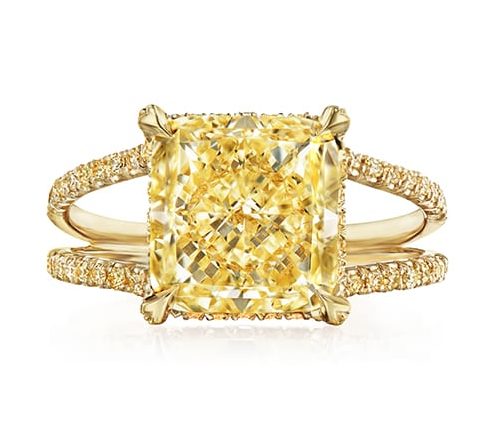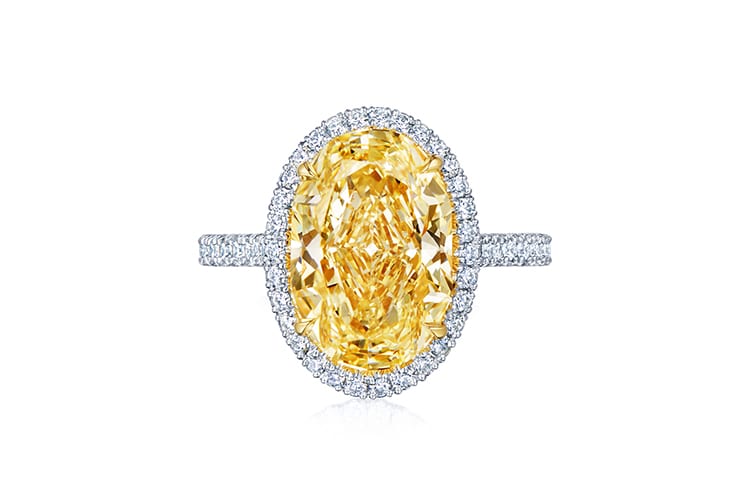 Varying shades of brown have not only become more acceptable over the past five to seven years but they range in color (in industry, not GIA terms) from champagne to cognac. Kwiat explains: "The brownish pinks or orange-yellows are also quite prevalent for engagement rings as they offer an appealing, accessibly priced and attractive alternative to the scarce and high-value stones."
Bottom line: Color grade affects price. You can see it with your own eyes at James Allen, where you can literally spin the diamond around 360 degrees.
"You can also find light shades of blues and pinks," he adds, "which are under a carat that might work within your budget and your loved one's personal style and tastes."
Grading Natural Colored Diamonds: Hue, Tone and Saturation
The value of natural color diamonds is affected by several factors, including rarity of color, hue, tone, and saturation — and subsequent beauty of the diamond. GIA has developed a grading system that is based on these criteria:
The hue is the characteristic color of the diamond, while the tone can be either at the lighter or darker end of the spectrum, and saturation refers to the depth of color. According to David Warren, "The terminology for virtually all hues of colored diamonds are classified as Faint, Very Light, Fancy Light, Fancy Intense, Fancy Vivid, Fancy Dark and Fancy Deep."
More Terminology and Understanding The Colors
There is often more than one tone that is used to describe a colored diamond. "For example," says Warren, "you may sometimes see a diamond described as 'Vivid Orange Yellow' — or even 'Vivid Yellow Orange.' But what's the difference? The key here is to look at the last word, which will be the principal color. You can also have an 'Orangey Yellow.' Here, yellow remains the dominant color."
Natural vs. Treated Diamonds
"Buyers should ensure that the diamond's color is natural," says Warren. "It's important to verify that the irradiation that gave, say, a green diamond its color occurred in the ground, and not in a laboratory — one of the hardest tests for the GIA to determine. Blue diamonds can also be created through artificial irradiation, but mostly look obviously wrong."
"For most guys purchasing an engagement ring, you want to concern yourself with the best color, cut, and carat weight you can find at the price you can afford," Kwiat adds.