You want to purchase the most beautiful — and meaningful — ring you can find when you get engaged. And when you do go out looking for that ring, it's wisest to set a budget based on what you can afford at the time. So if $4,000 is your high and you read that over $5,000 is the national average, that does not mean you can't locate the "one" that is right for you. It's a little like finding the girl; it might have been more challenging to meet her, but you did, and she might not be perfect (is anyone?) but you can't imagine spending the rest of your life with anyone else.
Lucky for you, couples are increasingly choosing the ring together. It might take some surprise out of the occasion but it will also ensure that you are choosing a ring that makes her happy. You basically have three choices: There are traditional diamond rings, colored gemstone rings (which have gained in popularity and are the favorites of celebrities), and modern alternatives at all price points, for women who desire rings that are truly unique. Let's start with traditional rings.
What's the Most Popular Diamond Size and Shape in The $4,000 Range?
Approximately 0.40–0.75 carat — a little under a half carat or up to three quarters of a carat — would be the size of a good quality diamond. Remember you need to include the setting in this price as well as the stone. The most popular shape is round due to the fact that it works with many settings from modern to antique inspired styles.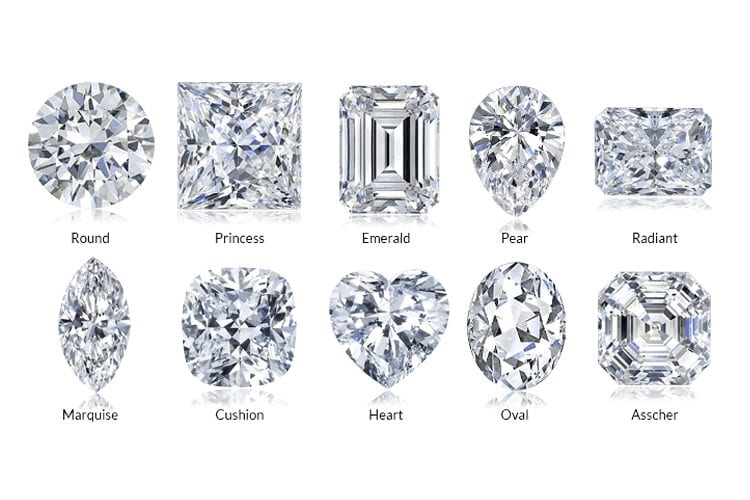 Should I Shop Online or at a Jewelry Store?
The pros of shopping online: you will most likely get a better deal since a site does not have the overhead of a brick and mortar store. And websites like James Allen and Blue Nile can offer hundreds of thousands of rings because they don't need to store every possibility in a warehouse; they work with many partners. 
The pros of shopping at a local shop: your bride-to-be can go in and try on the ring as many times as she wants before you purchase it. Face-to-face customer service is also a plus and if you're customizing the ring, you can see every step in person from picking the stone and the ring metal to choosing the setting style.
In all cases, do your research and seek out reputable sites and stores recommended by friends, family, ratings on Yelp, and sites like this that provide objective information.
What Should I Know About the 4Cs?
The 4Cs include carat weight, cut, color and clarity. Within this budget, the most important of the Cs to consider is the cut — this goes for the under $5,000 range as well. Without getting too technical, the cutting of a diamond determines the way the light reflects and refracts and how much your diamond will sparkle.  
Bigger isn't always better. Look for super sparkle at sites like Whiteflash, Brian Gavin, and James Allen. They are known as go-to sellers of ideal cut diamonds.
Color is the next aspect you should look at when choosing a diamond engagement ring. Since colorless diamonds D-F (see chart below) are the most expensive, you should feel comfortable going with a G-I in the sizes we have been discussing. These will be nearly colorless and will appear bright white to the naked eye. If you choose to go a little larger on the diamond while shopping around, try a J-L diamond, which begins to show hints of color. This won't be a problem if you are choosing a setting that isn't platinum or white gold.
These J-L diamonds can look beautiful in yellow or rose gold settings. (Below left: G.St Ceremony Hudson 0.70ct Diamond Engagement Ring. Below right: Jennie Kwon Oval Diamond Deco Engagement Ring. Photos courtesy of Greenwich St. Jewelers)
Clarity is the feature you might want to compromise a bit on when it comes to the importance of the 4Cs. If no inclusions (flaws) are visible to the naked eye and don't affect the beauty of the diamond, I would suggest you think about this as the aspect you can work around.
Which Metals Are Most Popular?
Platinum is the number one metal due it's durability. But 18K and 14K white and yellow gold are also popular depending on the style of the ring. Palladium, which was becoming a contender, like platinum, is still being used, but the price is prohibitive as costs of this metal have increased exorbitantly. (Photo courtesy of Blue Nile)
What Are Some of the Best Selling Engagement Ring Styles?
Most common are classic solitaires in four- and six-prong settings for round diamonds, but also with a sprinkle of diamond pavé on the shank if you want to add a little sparkle. For emerald and cushion cuts, which are also popular shapes in a little under or over a half carat, prong settings and bezel settings are both high on the list of what women desire. Antique-inspired styles are also quite charming and appealing to women who want a little more detail and style when it comes to a smaller diamond in an engagement ring. These details usually include, millegrain, engraved scroll and leafy designs, filigree, and piercing work. Blue Nile offers a build your own ring experience, which starts at $3,650.
Ring design can make a diamond look awesome or awful — so you want to shop at places that have a large setting selection like Brian Gavin, Whiteflash, and James Allen.
One thing to note when shopping online is that you should always read the description thoroughly. Many of the settings show a center diamond but are quoted at the end as "priced without the center stone." Therefore, you are only seeing the price of the setting without the diamond.
Should I Consider Antique/Vintage Rings?
Authentic antique and vintage styles are a great idea for an engagement ring in this budget. Why? Because you get more bang for your buck when you choose a beautiful 19th or early 20th century cluster ring, pierced and engraved Edwardian, or streamlined Art Deco style. The diamonds in these rings are traditionally old mine cut or old European cut and with these stones you can definitely go for a ring in the J-I color spectrum. The character, personality, and life is in the hand cutting of these stones and the beautifully designed settings that embrace them. Additionally, if you find a good deal on a ring in excellent condition, it will usually appreciate with time and if you ever want to trade up for a different style, you will most likely be able to do that more easily with a ring that increases in value. Additionally, old mine and old European diamonds tend to look bigger due to the flatter top and larger culet.
Great Antique/Vintage Diamond Rings for Under $4,000
This Art Deco platinum and old European cut diamond ring with .48-carat center stone is a great choice in a GIA certified center stone, F color and VVS2 clarity. It's clean lined yet is perfectly complemented by its prong setting, baguette shoulders, and clean, architectural gallery. $3,800. (Photo courtesy of Gray & Davis)
This Art Deco beauty in 18K white gold is centered by an .80-carat. Old European Cut, G-H, SI2 diamond. It has piercing work and millegrain — just a touch of detail to create a circa-1930 ring indicative of its time period yet totally modern today. $3,800. (Photo courtesy of The One I Love NYC)
How can you go wrong for a classic woman with this Tiffany & Co. vintage engagement ring centering an approximately 0.58 round brilliant cut diamond, (FG color, SI1 clarity), fashioned in platinum. $3,895 (Photo courtesy of Doyle & Doyle)
The center of this antique ring is a brilliant cut pear shaped diamond approximately 0.65-carat and HI color, SI3 clarity, fashioned in platinum. $3,200 (Photo courtesy of Doyle & Doyle)
Alternative Engagement Rings for Around $4,000
For the purpose of this article, alternative engagement rings are defined as any rings that have been trending over the last 10 years, are geared to women who want rings that break with convention, and reflect modern lifestyles. These rings are usually one-of-kinds or limited editions, at least when it comes to the exact stone, and range from ultra-feminine to edgy with a rocker vibe to streamlined, sculptural, and spare. They include styles that feature opaque diamonds in natural colors of ice, grey, green/grey, champagne and deep cognac, as well as polished rough diamonds in similar hues.
Go from zero to hero in five minutes: At James Allen or Blue Nile, you can adjust price ranges and other characteristics to see how many carats your budget buys. Their search tool is great. Their highly competitive pricing is too.
The newest form of alternative engagement ring actually is the oldest, dating back centuries; colored gemstone engagement rings most often set in yellow or rose gold (within this budget at least).
Many celebrities have flashed cool colored gemstones recently, including Jessica Simpson (ruby), Halle Berry (emerald), Kate Middleton (Princess Diana's sapphire), Katy Perry (ruby) and Gwyneth Paltrow (sapphire), among others.
Below are some colored engagement rings that offer superb value.
The TAP ring by Todd Pownell is unique and intriguing; three inverted round diamonds, their points facing outward, shimmer from their blackened 18K gold bezels, centered on a hammered, 18K yellow gold squared band. Approximately .80 – .90 total carat weight. $1,804. (Photo courtesy of Twist)
This Jennie Kwon emerald Echo ring is set in a textured bezel of 14K yellow gold and flanked by four bezel-set, princess-cut diamonds to create a vintage inspired look. $1,092. (Photo courtesy of Twist)
Jennie Kwon's rings are designed with simple details and textural interest that are thoughtfully placed to set off the round brilliant cut center diamond. It's set in a hand crafted, scalloped bezel of 14K gold and flanked on either side by small pear shaped diamonds and three tiny round diamonds set in the band. $3,815. (Photo courtesy of Twist)
Anna Sheffield abandons the idea of a traditional engagement ring in favor of a classically elegant design with a pale peach morganite, which is held in a 14K rose-gold prong setting on a polished 14K rose-gold band. Tiny white diamonds are set on either side of the center stone. The look is captivating and feminine, with beautifully colored center stones that will become a conversation piece, and is perfect for the romantic yet non-conformist bride. $3,000. (Photo courtesy of Twist)
Cathy Waterman's oval, natural, 1.60-carat, colored, rustic diamond ring is earthy and comes with a stone set in blackened 22K gold diamond petals on the sides of the band, diamond pavé details, and a hammered gold band. Note: It's slightly over budget. $4,690. (Photo courtesy of Twist)
Anaconda's natural, colored, .92- carat, champagne solitaire reveals an oval diamond center and is set in a hand-made bezel of warm-toned 19K white gold. $3,510. (Photo courtesy of Twist)
The elegance of Cathy Waterman's rings shines through in this .21-carat brilliant cut diamond solitaire, framed by a sparkling band of pavé set diamonds on a hammered platinum band. It's just a hair over $4,000. $4,080. (Photo courtesy of Twist)
Megan Thorne's colored gemstone engagement ring gives a nod to antiquity and is centered around an ethically sourced vibrant green emerald in 18K yellow and white gold. It is modernized with white diamond baguettes and a two-tone setting that adds dimension and character. $3,850. (Photo courtesy of Audry Rose)