The Internet has bestowed many blessings upon us — free music and movies, instant access to information, and easy communication. But perhaps the most unsung is the ability to buy things in your underwear.
In those long-ago days before the Internet, when we all lived like animals, you actually had to get dressed to buy stuff. But now you can buy just about any item you want, any time you want, anywhere you want, in any undergarment you want. And that includes the big, scary, important, and expensive purchase you are about to make: a diamond engagement ring.
Is it really advisable to buy diamond engagement rings online?
Yep! And a lot of people are doing it. Around 10% of diamond engagement ring purchases now occur online. That's not a ton compared with clothes — nearly 60% of which are purchased online. But it's possible that the number will continue to rise as more traditional brick-and-mortar jewelers shutter — some 852 closed their doors in 2018.
And we're not just talking cheap stuff. Amazon, the same place where you buy your video games and dog food, has engagement rings for sale for over $75,000, though shipping is free.
Blue Nile can sell you a diamond for just under $1 million. The guy looking for that is sitting in some fine silk boxers.
Of course, buying a diamond engagement ring online is not for everyone. If 10% of engagement rings are bought online, that means 90% are still bought in traditional jewelry stores. Many guys still worry about getting scammed if they buy online. That's a legitimate fear, but if you follow the precautions we lay out, it won't happen.
Go from zero to hero in five minutes: At James Allen or Blue Nile, you can adjust price ranges and other characteristics to see how many carats your budget buys. Their search tool is great. Their highly competitive pricing is too.
Like anything, buying a diamond engagement ring has its good points and bad points. But first, here's the big question that everyone wants to know.
Is it cheaper to buy a diamond online?
The short answer is: Yes, you cheapskate.
The long answer is more complicated. According to basic laws of economics, online stores should be cheaper. They have, in theory, very little overhead. They have no rent, no physical location to maintain. A lot of them don't actually hold inventory; the diamonds are owned and shipped by their suppliers. Of course, marketing costs have gone up a lot in the last few years, and many sellers have opened physical locations, so it's possible that advantage is vanishing.
Up until recently, having no physical location also offered another big advantage: No sales tax. However, in 2018, the U.S. Supreme Court ruled that "remote sellers" (including e-tailers) can be made to charge the same sales tax as physical sellers. It was a big blow for online retailers, and in particular sellers of diamond engagement rings. When you're buying a $3,000 ring, saving a few hundred bucks can mean a lot.
Online Ring-Buying Tip #1: Pay the Damn Sales Tax
Now, if you really don't want to pay sales tax, there are still a few e-tailers that don't charge it. You can try them, but we don't recommend that for two reasons. The first reason they may not charge sales tax is that they are so small they don't meet the in-state thresholds. The second is that they are just ignoring the law and guessing the government won't go after them. Both bear risks. If a site is willing to cheat the government, they may just cheat you, too.
We should also note that retail jewelers have gotten a lot more competitive price-wise over the years.
Before diamond engagement rings were sold online, jewelry stores had bigger markups and store owners drove fancier cars. Now, a lot of brick-and-mortar jewelers offer pricing that, while it may not exactly match what you see online, it's in the same ballpark. And many times, if owners have a choice between letting a customer walk or matching what a customer can pay online, they'll match the online price.
So, while the answer is still yes, it is still cheaper to buy online — and the answer may likely always be yes — it never hurts to shop around. And if you really prefer to shop at a traditional jewelry store but want to buy online because it's cheaper, tell the jeweler that. You just might be able to make a deal.
What are other advantages of buying a diamond engagement ring online?
Everyone's lives are crazy busy. Learning about diamonds can be time consuming and not everyone has hours to carve out in the middle of the day listening to some jeweler dude give his spiel. When you shop online, you can do it on your own time. And you can stop and start and save your place.
In addition, as we mentioned, many jewelers are closing (in part because their margins have shrunk.) It's not like there's still three in every mall, not that malls are places you want to hang out in anyway. So, even if you want to buy offline, there are less places to do it.
Finally, online, you can easily comparison shop. That's a lot harder to do with physical stores (though we do offer this handy diamond-buying checklist, below). And, of course, it's even harder to do if you're not wearing pants.
How do I learn about diamonds if I buy online?
Diamond buying is complicated. Learning about diamonds means learning a whole new lingo. You'll have to fill your mind with a lot of information. Like what's a carat? And what's a VVS? Most guys aren't born knowing this stuff, and afterward, they're happy to forget it.
You can receive a diamond education when you buy online, if you need one. And chances are, you need one.
Bottom line: You get more sparkle for less dough at James Allen, Blue Nile, and White Flash.
Online Store Advantage #1: One-Click Purchases
This is why buying a diamond online is different from buying just about any other product. Most products can be purchased with a click of a button. A lot of big e-tailers don't even make their customer-service numbers available.
Online Store Advantage #2: You Can Call and Speak to a Human
It's different with diamond sites. They often display their number prominently. They make it easy to call. They want you to call. They know that their customers are looking for guidance. And about half their customers do call customer service, an unusually high number for a dot-com.
That's one reason why Amazon — which dominates every industry under the sun — has never been a huge player in diamonds, which ordinarily would be the kind of category they'd be thrilled to get their greedy little mitts on. Amazon's whole thing is one-click. They don't want to pay someone to walk you through the buying process.
Online Store Advantage #3: Excellent Free Education at the GIA
If you want to educate yourself, it's easy to find great resources. Not only do all the big sites have pages and pages of diamond buying advice and info, but the Gemological Institute of America, or GIA — generally considered the biggest (non-partisan) experts in the industry (we'll get to that in a second) — has a lot of great information on the "Four C's." We should note that the GIA actually invented the Four C's, so you can trust what it's telling you.
But if you're not in the mood to do a lot of reading, just call up these sites' customer service people, and some cool, friendly dude or dudette — who usually has a silly title like "Diamond Consultant" — will tell you everything you want to know. And you can take up as much of their time as you want, and ask them as many questions they want. They deal with people like you all the time.
What are the advantages of buying a diamond engagement ring at a traditional jewelry store?
There are quite a few, which is why most people still do it.
Physical Store Advantage #1: You Can Touch the Product
The first is that many people want to actually see, touch, and feel the diamond they're buying. After all, it's a several thousand-dollar purchase (hoping that's not a surprise to anyone). Every diamond is different; natural diamonds are produced by nature, not by machines, and letters and numbers can only tell you so much. In the end, it all comes down to how nice the diamond looks, and only your eyes can truly judge that.
Physical Store Advantage #2: Comparing Real Diamonds in Live 3-D
On top of that, if you're still confused about the Four C's, it helps to have someone walk you through the process with actual diamonds, so he or she can show you why, say, H color differs from E, or whether an ideal cut really makes the stone sparkle more than a very good cut.
Online buying is best suited for what's known as "standard round brilliant solitaires" in a standard setting. If you want to go off the beaten track, and use a different kind of diamond shape, or perhaps a more interesting setting — such as one that contains smaller diamonds or maybe even colored stones — it really helps to see the options.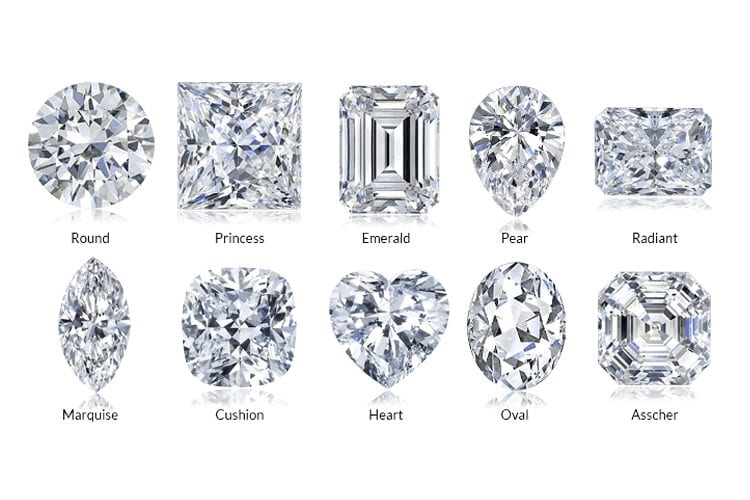 Sure, some sites have technologies to make it appear that you have the ring before you, like 3-D revolving imagery. Some of that is pretty amazing, but none of those cool tech gimmicks are as good as seeing the diamond with your own eyes. (All the above reasons are why the big e-tailers are increasingly opening up their own physical locations.)
Physical Store Advantage #3: Easy Repairs
Another advantage to brick-and-mortar shops is that if you need your ring to be serviced or repaired, you can always bring it back to the jeweler to do that. Many jewelers will service or repair engagement rings bought online, too, but it'll cost you and the jeweler may even give you a little side-eye.
Physical Store Advantage #4: You Don't Have to Trust a Package Delivery Service
Here's something people don't think about: Having to order — and possibly even return — an expensive item through the mail is not for everyone. A lot of people are cool with it, some get freaked out by it. Chances are there's nothing to worry about, but it's not for everyone.
Physical Store Advantage #5: Supporting Local Shops
Finally, many people think it's important to support local community businesses since those businesses often support the local community. You know those hundreds of jewelers going out of business? Some have been around for a century or more. You want to prevent your local downtown from being all Gaps and Starbucks? Keep the small shops alive.
How do I avoid getting scammed online?
Scam-prevention tip 1: Pay no attention to inflated appraisals
Sometimes a jeweler will sell you a diamond, but tell you its appraised value is way more. That is a more common tactic offline, but it happens online, too.
No matter where it happens, it's bogus. In the end, the value of anything is what you pay for it. Plenty of sites and stores discount, but any store saying it's selling you something worth more than you're paying is misleading you.
Scam-prevention tip 2: Check out the site's policies regarding returns
She could say no. Or you could get a better deal. Or the diamond may not be what you expected.
Money-back guarantees and easy returns are pretty standard for most sites. Just make sure that, before you order, you understand their policy and how long a window you have to return your diamond. And that is also true when you are buying from a physical retailer.
This is an expensive purchase — chances are it is the most expensive purchase you have made up until now. You want to get it right, and make sure you have an escape hatch.
Scam-prevention tip 3: Get a GIA Certificate
Most diamonds are sold with a certificate, otherwise known as a grading report, or cert. There are many labs out there, and some are fine, and others less so. (That's a huge topic.) The Gemological Institute of America, or GIA, is the biggest and most respected diamond grading lab in the industry. Most of the big sites have diamonds with GIA reports.
One exception: Tiffany & Co. just started selling diamond engagement rings online. Most of their diamonds don't have grading reports, because, well, they don't have to. It's Tiffany, dammit. But with any other store, you should get a report.
What are the best online diamond engagement ring stores?
It's best to buy from a well-established site that is going to be around in five years. The big online stores are Blue Nile (currently owned by Bain Capital), James Allen (owned by Signet, which also owns Kay Jewelers, Jared, and Zales), and Brilliant Earth. Other sites that have good reputations or have been around a while include Whiteflash, Brian Gavin Diamonds, and Ritani. In addition, all the big chains including Kay Jewelers, Jared, Zales, and Tiffany & Co. have online sites with plenty of inventory for sale. And if you live close to one of their stores, you can buy online but also enjoy the benefits of buying at a physical store — you can return it or pick it up without having to trust a shipping company, and they'll repair and service it, too.
How do the various online diamond engagement ring stores compare?
This Seattle site is probably the best-known diamond and jewelry e-tailer. Founded by Marc Vadon, a former Bain consultant who didn't like how he was treated in a traditional jewelry store, it's been around since the late-1990s. And it's pretty damn good at selling diamond engagement rings.
It's generally considered competitive on pricing. The most popular kind of diamond to buy is generally considered a 1 ct. G VS1 round, very good cut. As we're writing this, you can buy one at Blue Nile for $5,411.
Blue Nile is also good for price comparisons. So, if the 1 ct. G VS1 isn't working for you, the site gives you the chance to buy a diamond that is "smaller but has more sparkle," or "cheaper but bigger." You can actually play with many criteria: shape, cut, clarity, color — of course — but also available delivery date if you're in a rush.
The site also has a "price match guarantee," where it offers to match any advertised price for a comparable diamond.
James Allen, whose roots date back to a site named DirtCheapDiamonds, is generally considered the second-largest jewelry e-tailer. In 2017, it was purchased by Signet Jewelers, which owns Kay, Jared, and Zales.
What makes James Allen different is that it really tries to show you the diamond, through proprietary 3-D tech imagery. It's always better to look at a diamond with your eyes, but James Allen tries to get it as close as you can get.
As we're writing this, you can buy a 1 ct. G VS1 round, very good cut at James Allen for $4,930.
Like Blue Nile, James Allen also offers to match any advertised price.
As the name suggests, this is a site that talks up its socially conscious bona fides. It lets you know where all its center stones come from, whether from Canada, Russia, or "Botswana sort" — which they define as: "sourced from mines that follow internationally recognized labor and environmental standards. The majority of Botswana Sort diamonds were mined in Botswana. The rest were mined in Namibia, South Africa, Lesotho, or Canada."
James Allen and Blue Nile also sell Canadian-origin diamonds.
Even if you don't go through Brilliant Earth, the odds are overwhelming that any diamond you buy will be non-conflict (which means not financing rebel movements against recognized governments), especially if it's from the big guys. Most companies have posted their sourcing policies online; Tiffany, which also labels its diamonds by source, has particularly detailed information.
That said, if you care about being socially conscious — or perhaps, want your bride-to-be to think that you care about being socially conscious — Brilliant Earth is a solid choice.
Of course, the certainty it offers doesn't come cheap. It's currently selling a 1 ct. G VS1 round with a very good cut for $6,080. And it doesn't appear to have a price match policy.
Two notes on these three companies:
Like many dot-coms, the management and pricing policies of these sites sometimes changes. James Allen didn't always have the reputation as the cheapest site, but it was on the sample we just checked. A lot depends on who they buy from and what they have available. So, again, it's best to comparison shop.
All these companies are opening up brick-and-mortar showrooms, particularly near major cities. As much as they try to convince you that it's no sweat buying a ring online, they are well aware that most consumers still prefer to buy diamond engagement rings offline and want to see, touch, and feel what they are buying. So, if you are interested in buying from one of those companies but think it might help to get an in-person education, stop by Blue Nile's webrooms, James Allen's stores, or Brilliant Earth's showrooms.
Final ring-shopping advice
Shop around for a Diamond Ring
Whether you decide to buy from an e-tailer or traditional retailer, our basic recommendation is to shop around. That's one of the prime benefits of the Internet!
Look at reviews and ask friends for recommendations
If something seems too good to be true, it probably is. In the end, you get what you pay for. Use your gut and be smart.
Understand the ring you're buying
If you want someone to explain diamonds to you, call or talk with someone. Both physical stores and online retailers pay people to do this. Don't worry that you are wasting their time. These people know that diamond buying is complicated. Their job is to make it less so. It's why they are working a customer service job at a diamond company and not breaking their back at an Amazon warehouse.
Bottom Line
Remember the words of wisdom a jeweler once told me: If your lady is happy with the ring, then you should be happy. In the end, you're buying it for her, and her opinion is the main one that matters. If you can get through the whole process without going broke, even better.