You thought proposing was a big decision? Buying the right ring — now that's pressure. And we're not even talking about making your partner happy. It's about the money, which always boils down to two things: how big should the diamond be and how much should you spend? Ok, there's actually a third thing: does she want to avoid diamonds altogether, for whatever the reason, in which case you should be considering antique and vintage rings featuring other precious gems like emeralds, sapphires, rubies and lesser-knowns stones.
Size Does Matter
Let's assume you know nothing, ok? For starters, diamonds are weighed in carats. There is no rule for average size, it's a matter of personal preference and budget. "Carat weight is used to describe a single diamond, so if you see a listing with "1CT," you know it's likely a single-stone ring with a 1 carat diamond," says Debbie Azar, co-founder of Gemological Science International.
Important tip to remember when shopping: CTTW, or CTW, stands for total carat weight — CT for carat, TW for total weight — meaning the total weight of all the diamonds on the ring, in carats. You'll see that a lot.
The average size of a ring depends on where you're shopping. "The largest market for diamond engagement rings is the US with Asia being the second largest," says Arielle Klein of The Gem Therapist, a bespoke private jewelry concierge business. "In the US, the average size is generally the carat size, and average is between 1 and 1.5cts on the center stone."
Don't be a sucker: Buy rings from trusted online sources James Allen, Whiteflash, and Blue Nile. You're guaranteed to find better and more in-depth information thanks to their videos and listing details.
The price of a diamond will, of course, increase with its carat weight. For example, a 0.50 carat round, H color, VS2 diamond like this one from Blue Nile, pictured below, sells for $1,243.
A 1.00 carat diamond with the same specifications (cut, clarity, color), pictured below, costs $5,453, despite only being twice the carat weight. So, what gives?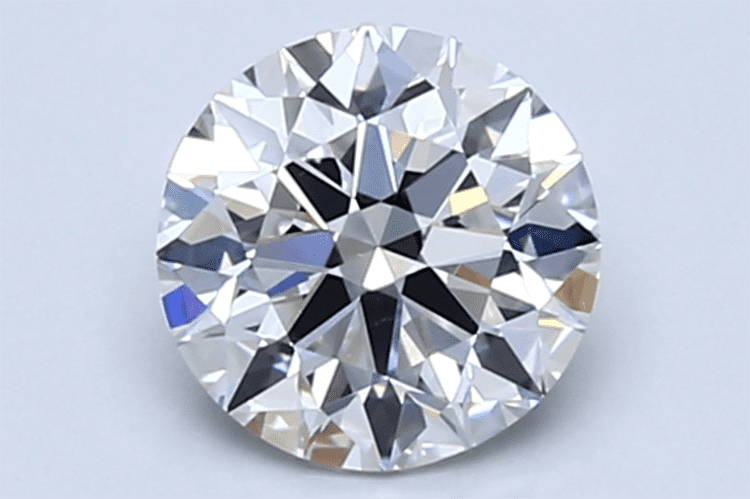 As for the variance in cost between size and weight, this is a supply and demand issue as well as a rarity issue. "For every one million parts rock mined, there is 1 part diamond found. The likelihood of it being over a carat is extremely rare which leads to the pricing disparity you see between a 1⁄2 ct and a 1 ct and up," said Klein.
Additionally, there are what they call in the industry, magic sizes: 1 ct, 1.5 ct, 2 ct, 2.5 ct, etc. "These are the most sought after sizes and much rarer, which means they are able to command a premium. It's why many jewelers will tell you if you are looking to save a few dollars, consider a .98 or a 1.98 instead of the 1ct or 2ct stone," said Klein. A well-cut stone won't show much of a difference in terms of size but it will in terms of dollars.
Ritani offers this handy visual, comparing your precious purchase to a dime (note that even two carats is considered big):
How to Make the Ring Look Bigger
Don't have a ton of money? Not a problem: there are all kinds of optical illusions to make the ring look larger.
1. Choose the right diamond shape
"Elongated cuts like oval, marquise, and pear tend to look larger on the finger, as they take up more finger space than a round, princess, cushion, or asscher," says Klein.
For instance, here's a non-elongated, "cushion" cut style:
For comparison, here's an elongated, pear pavé style that looks bigger:
2. Surround the stone with smaller stones
"The halo setting allows the diamond to take up more finger space and produces more sparkle, for more attention grabbing and a larger overall look," Klein adds.
For example, here's how settings and diamonds can make the center diamond look bigger. Here's a 2ct round brilliant diamond in a halo setting:
And here's a 2ct solitaire: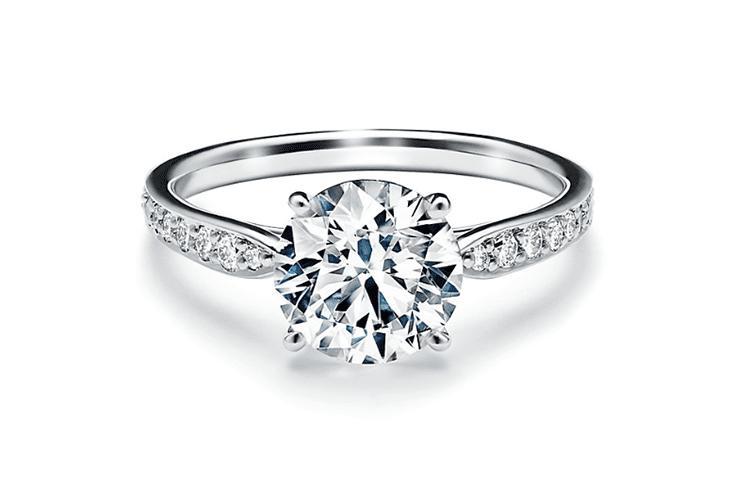 3. Buy a slim band
"Picking a thin band for your diamond of choice is the simplest way to make any diamond pop no matter the size," says Azar.
How the Size of Rings Evolved Over Time
While the tradition of engagement rings has remained basically the same for centuries (diamonds are the exception, being a 20th century marketing coup), the designs of the rings have changed a great deal to reflect evolving times, trends, and tastes. "With each new decade, a new trend has emerged, and timeless designs have seen a resurgence in popularity," said Azar. Some of the earlier styles refer back to the Victorian, Edwardian and Art Deco periods. Like all other trends, many popular ring styles are influenced by those worn by royalty, celebrities, and icons of those times.
As trends in ring style emerged, so did trends in fancy cut diamonds. "In the 80's, the engagement and wedding of the decade was that of Prince Charles and Princess Diana, and her oval sapphire engagement ring set off a major sapphire trend — a trend that's coming back in full force now that Princess Diana's ring was given to Duchess Catherine by Prince William," says Azar. Although styles may rise and fall in popularity year by year, engagement rings with a prominent, sparkling diamond remain timeless.
And with changing trends and styles, sizing changed as well. "When we look back at rings from the 1920s to the 1950s, we see lots of smaller diamonds, well below a carat, which was standard," says Klein. This isn't to say that people didn't get 1 carat diamonds and larger, but it definitely was not as common. "When De Beers came out with their 'A Diamond is Forever' campaign in 1948, that's when diamonds began to gain their cachet and status symbol as engagement rings," says Klein.
Over time, it was implied that larger and costlier stones signified greater loves. It was all about "Well if diamonds are forever, how much do you really love me?" And it worked.
So, Really, How Much Should You Spend On A Ring?
There are so many common myths and misconceptions about buying engagement rings that it's hard to know how much to spend when you're shopping for your significant other. "While there's no one-size-fits-all answer for ring etiquette, doing your homework and research goes a long way. Make sure your diamond or ring comes with a GSI [short for Gemological Science International] grading report so you can make an informed decision and have peace of mind," says Azar.
Go to Whiteflash or James Allen to see what kinds of ring designs work best with that shape (and others). Their selection spans from vintage to modern — and across all budgets.
According to the most recent De Beers study, the average spend is between $3,300 and $4,440. But, we should note, that may only be the average among people who bother to respond to studies. Other researchers claim that the average price is higher: $5,900 or more depending on the region/area.
The "Diamond is Forever" campaign also created the spend guidelines, which was two months' salary. "Some people still hold to that today, but the millennial market has really shaken things up in that regard," said Klein.
Millennials are making their own rules in many areas of life, and that includes how to buy a ring. "Millennials on average make less money than their parents' generation and so there has been a demand for alternative, more affordable engagement rings, like grey diamonds, salt and pepper diamonds, and moissanite, as well as colored gems," said Klein.
Helzberg Diamonds recently conducted a survey of 1,000 millennials and found some interesting stats surrounding engagement rings:
80% rank the engagement ring in the top three most important wedding-day expenditures
86% of respondents would consider buying a lab-grown diamond, with affordability being the top reason why
69% of millennials agree that the engagement ring is the only gift a bride needs from her spouse on her wedding day
Nearly half of respondents agree that partners should pitch in for the cost of the engagement ring.
Today it really comes down to your own personal budget and preferences. "Often most people have to choose what's more important to them: the color and clarity of the diamond or the size," said Klein.
In the end, no matter which direction you go with on that ring, you are going to propose marriage to someone with whom you hope to spend the rest of your life. Kind of makes the ring purchase part seem rather simple, right?