Who says you need a tuxedo at your wedding? If you're looking for a good return on investment, might we recommend you go blue. Get a sharp, well-tailored blue suit, and require the same from your groomsmen.
Men's wear is a lot more relaxed than it used to be, even in business settings. But every man looking to make a good impression should own a nice navy blue suit. The thing is, there are a lot of them out there. The rules—soft shoulder, slim (but not skinny) lapel, slim pant legs with a slight break at the shoe—never really change, so the market for the best blue suit is severely saturated.
Don't get distracted by all the noise. Here are the best blue suits for you and your groomsmen. Some are more of an investment for those guys who need to upgrade, others come in at a lower cost while holding onto a great value.
The Birds Eye View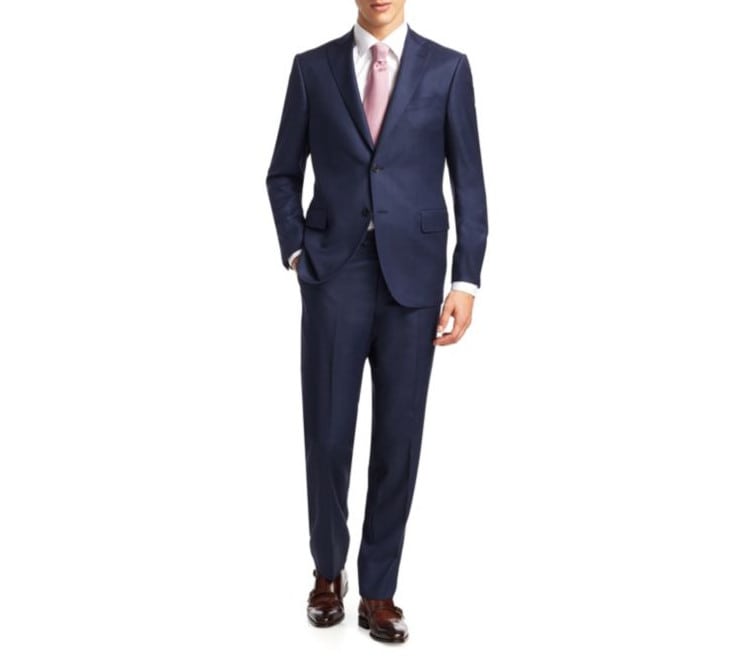 Saks Fifth Avenue Collection Birdseye Suit, $998
You want a new navy suit for the wedding. But since you already have one, you want it to be different. But not too different, since you'll want to wear it again. Confused? Let us introduce you to Birdseye fabric. The name comes from all the tiny little dots throughout the weave of the fabric. Birdseye is not a polka dot–most people may not even notice unless they get closer to you. This fabric adds unique depth and texture and at the same time, keeps it right in line with the office on Monday morning.
SHOP NOW
The Mix and Match
Banana Republic Slim Solid Wool Suit, $568 (Jacket, $398 Trouser, $170)
Sometimes, a jacket fits great but the pants are the wrong waist size. Happens all the time, and when it does, suit separates are a must. These from Banana Republic won't break the bank but will look good no matter your size and will be easily found just about anywhere there is a mall.
SHOP NOW
The Crowd Pleaser
Boss Johnstons/Lenon Classic Fit Wool Suit, $795
This is the suit for the man who is ready to invest in his first real suit (as opposed to the one he grabbed to wear to interviews after college.) No bells, no whistles, just style. The cut is classic enough to please the older fellas in the crowd, but slim enough to make you feel like you're not one of them. With a universally flattering double vent in the back and a non-obtrusive lining, this will be one you can depend.
SHOP NOW
The Multi-Tasker
Hugo Tonal Solid Regular Three-Piece Suit, $745
For the price of some other two-piece suits, here's an opportunity to get a three-piece to call your own. What's the point? A waistcoat (that's just a fancy name for a vest) look great on the big day, but may be a little much for other occasions. But this suit looks great even when you leave the waistcoat home. Plus, double-breasted is having a renaissance at the moment, and this double-breasted vest allows you to be on trend without fully committing to the style.
SHOP NOW
The Investment Piece
Tom Ford O'Connor Base Plain Weave Sharkskin Two-Piece Suit, $3,950
You're thinking this is a big investment just because it's Tom Ford, right? Well, yes and no. The great thing about this suit is the fabric: sharkskin. No, it's not actually made from the skin of a shark. It's wool, woven tighter than other wools to remain more resilient and to keep it's shape longer. Investing in a sharkskin suit over run-of-the-mill wool is not a bad idea. And your wedding day may be the one time you'll actually be able to justify dropping this much cash.
SHOP NOW
The Do It Yourself Suit
MTailor Navy Suit, $499
You have this vision of getting all your groomsmen together and going out, grabbing drinks, and getting your suits custom made. Here's the problem, everyone lives all over the place and there is small chance of everyone being in the same place before the wedding. That's when MTailor shines. You take a photo of yourself with the MTailor app, and design your own suit. About a month later, it arrives and you're surprised by good the fit is–especially considering how little effort you actually had to put into it.
SHOP NOW
The Travel Companion
Bonobos Jetsetter Stretch Wool Suit, $550
The name says it all. This suit is the perfect pick for the jetsetter in all of us. Able to stretch a bit for comfort and resist wrinkles while in your suitcase, this would be the perfect item should you decided to elope at the last minute, but still want to look good.
SHOP NOW
The Summer Wedding Suit
Brooks Brothers Madison Fit Stretch Cotton Suit, $598
Who says all navy suits need to be wool. Not us, that's for sure. Wool's not great for summer weddings anyway. This cotton suit looks as great with a tie and shined loafer as it does with a t-shirt and stylish sneaker. Push up the sleeves and roll up the legs and you have yourself a destination ready outfit.
SHOP NOW