Washington, DC might not be the first place that comes to mind when you're looking for a rowdy weekend with the guys, especially if the last time you were geographically "Inside the Beltway" was that junior high class trip. But don't count it out just because of the political power dynamics or its gaggles of history seeking tweens. The District is much more than Capitol Hill, with an enviable dining scene, a top shelf cocktail culture, an explosion of distilleries and breweries, and a when-it's-time-to-party-we-will-party-hard attitude.
You might want to avoid the depths of winter and the height of cherry blossom season (mid-March through mid-April), but during the rest of the year, the nation's capital is an ideal getaway for a final fling before the ring. Here's how to spend your last 72 hours in the D of C.  
—Lani Furbank
10 a.m. Arrive in the Capital City
After touching down at Reagan National Airport or Dulles International Airport (whichever has better flight deals for your trip) grab an Uber or Lyft into the city to check in to your sleek suite at the Kimpton Donovan Hotel. This modern spot is centrally located and is equipped with a killer rooftop pool and bar.
12 p.m. Eat Lunch and Smoke Cigars at Bourbon Steak
Start your trip on a sophisticated note at Michael Mina's meat-centric Bourbon Steak. Eating here for lunch instead of dinner will save you a few bucks, but you'll still get to indulge in juicy burgers and succulent steaks. Be sure to ask the staff for recommendations on bourbon and cigar pairings to elevate your meal. The cigar selection is carefully curated with the help of W. Curtis Draper Tobacconist.
4 p.m. Explore the Shaw
As one of DC's hottest neighborhoods, Shaw is ripe with bars, restaurants, shops, and all-day hangs, making it a great place to get an authentic feel for the city. Grab a pick-me-up at Compass Coffee's Roastery; throw back a few pints al fresco at Dacha Beer Garden; satisfy your sweet tooth at Buttercream Bakeshop; experience traditional Chinese medicine at work in cocktails at Tiger Fork; bask in the urban backyard with adult juice boxes at Calico; or sip vino underground at The Dabney Cellar.
7 p.m. Pizza Party at All-Purpose
While you're in the Shaw neighborhood, stop by All-Purpose for some Italian- American eats. This pizza joint has a bit of little Jersey, a little bit of Italy, and whole lot of delicious. Order a few pies to share, plus garlic knots, eggplant parm, and salumi. All the carbs are perfect for lining your stomach before the night of boozing ahead.
9 p.m. Drink Craft Cocktails
You can't drink in DC without hitting up The Columbia Room, which was named the "Best American Cocktail Bar" at the Spirited Awards last year. To get the full experience, make reservations for four courses of cocktails and bites in the stately Tasting Room. There's also a rooftop punch garden and a distinguished spirits library where you can order a la carte.
11 p.m. Bar Crawl in Adams Morgan
After a decidedly classy cocktail tasting, let things devolve a bit in Adams Morgan (aka AdMo). This is where you can relive your frat days at dive bars like Madam's Organ, Brass Monkey, and Bedrock Billiards. Depending on how the night goes, you might even get someone to belt out some karaoke. For a more refined take on the neighborhood, visit Jack Rose Dining Saloon to sample a few whiskeys from the collection of more than 2,600 bottles. If you wind up with a case of the late night drunchies, tackle a burger at Lucky Buns.
Day 2
12 p.m. Brunch at Old Ebbitt Grill
You might need to take a minute to rally, but it's just a short trip over to Old Ebbitt Grill forsome brunch with a side if history. Brioche French toast, eggs bennie, and chicken and waffles are a well-known revival for the common hangover. The ornate decor screams history, which makes sense since the restaurant is the reincarnation of Washington's oldest saloon, founded in 1856 and visited by Presidents Grant, Johnson, and Roosevelt.
2 p.m. Segway to the Monuments
Once you're operating at full capacity, pop over to The Mall for a decidedly touristy but undeniably awesome tour of some of DC's most iconic sites. Bike and Roll offers a trip that takes you from the Capitol to the World War II Memorial, including the south side of the White House, a few off-the-Mall detours, and a ride down Pennsylvania Avenue. Be sure to book your tour time in advance.
5 p.m. Rooftop Drinks at POV Lounge
After the tour on the ground, head up to the W Hotel's rooftop, POV Lounge, for a drink and a bird's eye view of the sites you just whizzed by. Don't linger too long, because the cocktails will set you back $17 a pop. It might be steep, but it's worth it for some of the best vistas in the city. Now might also be a good time (while you're relatively sober-ish) to give your significant other a phone call. We kid you not, totally worth it!
7 p.m. Play Games at Player Club Arcade
The tagline at Players Club says it all: "Adulting is hard. Come be a kid again." This gamer's paradise is a throwback to the '70s and '80s with pool tables, skee-ball, foosball, pinball, and old-school arcade games. Pair that with craft beer, cocktails, and Shake Shack, and you've got the perfect arena to finally decide who is the undisputed champion at Mortal Kombat. Groom gets first dibs on Sub Zero!
9 p.m. Beer and Bar Bites at Churchkey
Right across the street at Churchkey, you can fuel up with snacks like tot poutine, hot wings, and flatbread while making your way through one of the most extensive beer selections you'll ever encounter. There are 5 casks, 50 drafts, and 500 bottles to choose from, including tons of rare releases that aren't available to the plebes. The team takes beer incredibly seriously, with an exhaustive collection of glassware, obsessive climate control, and unmatched levels of geekery.
11 p.m. Clubbing at Saint Yves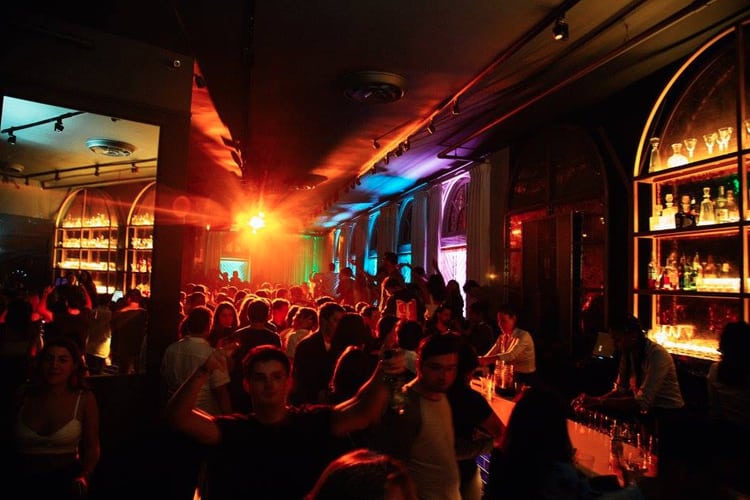 As the night matures, make your way over to Saint Yves (not to be confused with Yves Saint Laurent, ask your lady). This place is far from the average seedy nightclub—it's an ultra-chic, impeccably-designed lounge where you can see and be seen (so make sure you look nice, might we some recommendations?). Think leather seating, sultry lighting, swaths of gold, and mesmerizing geometric patterns throughout.  
12 a.m. Strip Clubbing
Less than a block away, you'll find plenty of debauchery at two of the city's finest gentlemen's establishments. The Mpire Club (love that spelling!) and Camelot Showbar (not quit the Medieval Times experience the name might lead one to believe) are situated right next to each other for prime club hopping. You could spring for VIP bottle service to top off the night but remember, that's how they get you. You might just be better off rolling in without mentioning anything about this so-called bachelor party.
Day 3
11 a.m. Hangover Brunch at Ari's Diner
Rally, damn it, rally and hop in a rideshare to explore one of DC's up-and-coming districts, Ivy City. You'll want to start with some life-giving carbs in the form of pancakes, waffles, or French toast at Ari's Diner. The retro hang also serves up sizable breakfast platters and crave-worthy milkshakes.
1 p.m. Throw Axes at Kraken
You're going to be sober (hungover is totally OK), because you'll need a fair amount of hand-eye coordination to chuck axes at Kraken. Reserve a group event so the guys can learn how to throw in a private arena with a coach. Then you'll face off in a round robin tournament of champions. No experience necessary. And yes it does help to shout, "Release the Kraken" every single time you toss an axe.
3 p.m. Distillery Hopping
Then, it's time to get down to business. Ivy City is crawling with distilleries and breweries, so pick one and begin your tour. Don't miss New Columbia Distillers for quirky gin; One Eight Distilling for the first bourbon made from grain to glass in the District since Prohibition; Republic Restoratives (the largest crowd-funded distillery in the world) for a killer vodka; and Atlas Brew Works for a pumpernickel stout. Many of these facilities offer tours, tastings, and private events so you can go behind the scenes and dive into the worlds of distilling and brewing.
7 p.m. Eat a Halfsmoke at Ben's Chili Bowl
Zip back across town for a quick dinner at Ben's Chili Bowl. This DC institution opened in 1958, survived the '68 riots, and has become a veritable U Street icon. They serve up DC's specialty, the half smoke, which comes topped with mustard and onions and drenched in chili. Just try not to stain yourself, you're kind of an adult now.  
8 p.m. Live Music at 9:30 Club
One of the city's most respected music venues, The 9:30 Club is a prime spot to see a variety of incredible talent as they breeze through town. Depending on the night, you might catch an indie artist just before they hit it big, or witness a music legend performing live. Be sure to check the schedule in advance to find a show that the whole gang will dig.
12 a.m. U Street Shenanigans
With your ears still ringing, head off down U Street to close out your epic weekend with one last wild night. Find craft cocktails at the intimate Service Bar; a seductive vibe at Amsterdam Lounge; more live music and a sweet roof deck at Marvin; and DJs plus a year-round rooftop at Hawthorne. You'll find yourselves more than reluctant to leave this buzzy corridor when it comes time to catch a ride to the airport.
Zero Hour
Speaking of that ride to the airport, DC traffic is a national nightmare. Better hope you're flying out of Reagan, because Dulles is a longer trip from the hotel. We hope you made your country and your bachelor party crew proud during your time in our nation's capital. And if you need any further help getting this gang together, give a look right here. We're always good looking out.