If you're a Louisvillian, you not only likely mispronounce the city's name (it's actually Loo-EE-ville, not Lou-uh-vuhl, whatever), but when someone asks where you got your education, you blurt out your high school's name. However, you also know there's plenty of fun to be had in this river city, from a wide range of dining options, to parks, arts, sports, bars and overall cool culture. We're more than just The Derby, mint juleps, and baseball bats (but we are also very much that). From a growing Whiskey Row area downtown to the restaurant-filled NuLu district, you'd need weeks to take it all on. But you've got 72 hours and no more, so buckle up, drink plenty of fluids, and make sure to get a good night's sleep, because your final days as a single dude are about to kick off.
—Kevin Gibson
Day 1
10 a.m. Arrive in the River City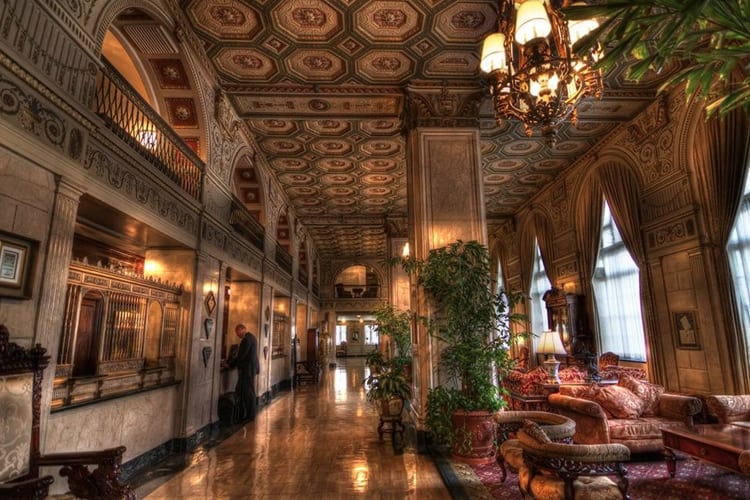 You've arrived in Louisville, and you're off by way of UberX (don't skimp, it's a bachelor party) downtown to one of the city's best-known, historic hotels: the Brown Hotel, where the legendary Kentucky dish the Hot Brown (an open-faced turkey and bacon sandwich covered in Mornay sauce) was created here in 1926. The luxury suites are, well, sweet, but you want the Club Lounge level, an exclusive key-access-only floor with rooms served by a common lounge. There you can gather the group for heading out on the town and have a drink and a snack in a classic upscale Southern atmosphere while you wait for that one slow guy in to finish blow-drying his hair.
12 p.m. Lunch at Brazeiros Meat Feast
All that showering and travel has probably worked up quite the appetite in your crew and the hanger pains might be starting to take their toll. Set out down Fourth Street heading north a few blocks until you arrive at the Fourth Street Live! District—seek ye Brazeiros Churrascaria Brazilian Steakhouse for a feast of skewered meats like picanha, filet mignon, alcatra, and more. We're talking some of the best cuts in Louisville, wrapped in bacon. Eat up—you're going to need your strength.
2 p.m. Climb NuLu
You're not far from NuLu (that's short for New Louisville), where you'll work off your meat-fest at Climb NuLu, an indoor climbing gym. That's right, it's low-risk rock climbing for all skill levels, complete with padded floors in case you lose your grip. If this is bringing back any fears of failing year after year of Presidential Fitness Tests in gym class, don't worry. This is much easier than the rope climb. Just make sure that you pack the right gear for this part of the bachelor party.
4 p.m. Beers at Akasha Brewing Co.
You work up a sweat and a thirst when you're climbing fake rocks, right? Luckily, there's a craft brewery right across the street with a spacious, cozy tap room. That's Akasha Brewing Co., where you can get a refreshing Fehr's XL lager, a re-imagining of a classic Louisville beer that dates to the 1880s. Don't be afraid to order up a second round (it's low alcohol) as you lounge on the comfy leather sofas before heading back to the hotel to get ready for the evening ahead.
6 p.m. Dinner at Doc Crow's
After you've cooled down, meet in the hotel's Club Lounge and prepare to head out to dinner on Louisville's historic Whiskey Row. Let Doc Crow's Southern Smokehouse & Raw Bar fill your gullets with oysters served raw, fried, and Rockefeller, followed by brisket tacos, St. Louis-style ribs, or maybe the Smokehouse Sampler. And speaking of Whiskey Row, check out the bourbon menu at Doc Crow's, which is one of plenty downtown featuring Kentucky's favorite beverage. A shot of Willett Pot Still Reserve makes for a fine dessert.
8 p.m. The Louisville Bourbon Crawl
Once that first bourbon wets your lips, you'll obviously want more. Well, friends, you're in the right place—you've got no fewer than six worthy stops within walking distance of your dinner. Just head west on Main and follow your palate to some of the top stops on Louisville's Urban Bourbon Trail to get a true taste of what Louisville has to offer.
Look for the hidden side entrance for Sidebar at Whiskey Row (thus, the name) and step into a sleek bar set in a historic 1877 building. The lawyer-themed food menu is fun, but you're here for Kentucky's favorite liquid (and probably stuffed from all the shellfish and barbecue). The list isn't as long here as at Doc Crow's, but you won't be left hanging. Try a Kentucky Maid with Buffalo Trace bourbon, or perhaps inquire with the bar manager about one of Sidebar's barrel-aged cocktails.
Why wouldn't you target a place that touts itself as "Louisville's Finest Bourbon Bar"? Down One Bourbon Bar boasts a cool modern-meets-retro experience that includes a British phone booth and literally a wall of bourbon. Treat yourself to an Old Fashioned made with an exclusive Old Weller Antique 107 single barrel. Or get a few flights for sampling from the massive bourbon program and pass them around—from Abraham Bowman to Very Old Barton, this place has it all.
Traipse a couple more blocks and find the historic Galt House Hotel. On the second floor, you'll find the Jockey Silks Bourbon Bar, dripping with comfort and class in the style of a European pub – make that a European pub that is focused on Kentucky bourbon. The Bourbon Sidecar would be a fine choice here, made with choice of bourbon, triple sec, lemon juice and a twist.
The highly acclaimed Proof on Main is more than just bourbon, it's also an art gallery in line with the rest of the upscale hotel. Sip a shot of the exclusive Van Winkle bourbon 9bottled just for the hotel) while you peruse the gallery.
You can sober up a bit with a six-block walk back to Fourth Street, where Old Seelbach Bar, a chic repose and one of the city's most historic and famous bars, awaits. From yet another fine selection of Kentucky's best, to Kentucky limestone water dispensed from old-fashioned seltzer bottles, it doesn't get much better than this. Oh, and you might want to down a bowl of Kentucky burgoo or at least split some chicken wings from the bar menu before you call it a night.
Day 2
12 p.m. Brunch at LouVino
What? It's morning already? Should have warned you that Kentucky bourbon is not for the timid. But that's what brunch is for, and it's time to fill your belly. And for goodness sake, hydrate before you head out to the restaurant. LouVino Restaurant & Wine Bar in the Highlands is your noon destination, where you'll kick back, recount the previous night's exploits (assuming you can remember them), and enjoy $2 mimosas in a slick atmosphere. Oh, and enjoy one of the best brunches in town—try the pancake dogs.
2 p.m. Underground Cycling
Now that you've refueled, you've got a date with Louisville Mega Cavern, one of the largest caverns in the U.S., for some underground dirt biking and ziplining. Told you it was a big cavern. With more than 32,000 square feet encompassing 45 trails and tracks, not to mention a choice of six zipline tours, you can get figuratively lost in adventure for an entire afternoon. But stay on the trails or you might get literally lost. Also, at some point (before you're stinking drunk again) you're going to want to give the future Mrs. a call, trust us on this one.
5 p.m. Drinks on the Roof at 8UP
You've made your way back to the Brown to refresh, and now you're ready to be unleashed downtown. Take a walk down Fourth to 8UP Elevated Drinkery & Kitchen. Enter by way of the semi-secret side entrance, take the exclusive elevator eight floors up, and step into a modern-chic bar with a gorgeous rooftop patio. Enjoy a signature 8UP Bourbon & Coke or a tasty house margarita—there's also local craft beer, if that's more your thing—as you prepare for another great dinner in the River City, a short Uber ride away.
7 p.m. Dinner at Jack Fry's
Jack Fry's is one of the oldest operating restaurants in town, and that's for a good reason. Originally a gathering spot for sportsmen, the restaurant and bar opened in 1933 and is now a bar, lounge and jazz club steeped in Louisville history, from Muhammad Ali to Secretariat. Start with the spicy fried oysters, then let the Southern-inspired menu lead you and your men-about-town into an entrée of pan-seared snapper, grilled lamb chops, or the house classic: The Jack's Burger. Steve Crews or one of the other house mainstays will top off your fine meal with some live jazz.
9 p.m. Drinks and Jazz at a Speakeasy
In the basement of a sandwich shop downtown lies a jazz club that feels like you've stepped into a speakeasy in 1930s New York (well, except for the neon sign that reads, "We're all animals"). The good news is, Jimmy Can't Dance is perfectly legal, and the drinks won't make you go blind. Hang out and enjoy live jazz while chilling in a leather booth enjoying a craft brew or a Sazerac. Let the music flow through you as you while the night away in one of the coolest environments around. Remember, you don't have to rage every second of the bachelor party. Take a break!
12 a.m. White Castle Hamburgers
Just tell your Uber driver to go through the drive-through at White Castle on Market Street. They will take care of the rest. Many swear that W.C. burgers are a go-to hangover cure, or at least a helpful preventative measure. But don't eat more than four of these little, square, onion-covered "sliders" or you'll regret it in the morning as will the olfactory senses of the entire bachelor party group.
Day 3
10 a.m. Breakfast at SuperChefs
You made it home relatively early last night, no doubt still feeling the effects of that Day One bourbon tour. Take it easy on your aching livers with breakfast at SuperChefs, a superhero-themed restaurant in the Highlands (not far from your friend Jack Fry). Try the Hulk, a meat-filled, green waffle sandwich, or maybe just play it straight with the house breakfast platter. After all, bacon soothes the savage beast.
12 p.m. and Mint Juleps at the Kentucky Derby Museum
When in Louisville, you must check out Churchill Downs. Even when there isn't a meet in progress at the track, the Kentucky Derby Museum is open for business. Take the tour, watch classic races, take goofy selfies in the Winner's Circle, and test your Derby IQ. And when you're done, duck into the Derby Café for, you guessed it, an authentic Mint Julep—in a stainless steel cup, no less. It's a Churchill Downs tradition.
3 p.m. Axe Throwing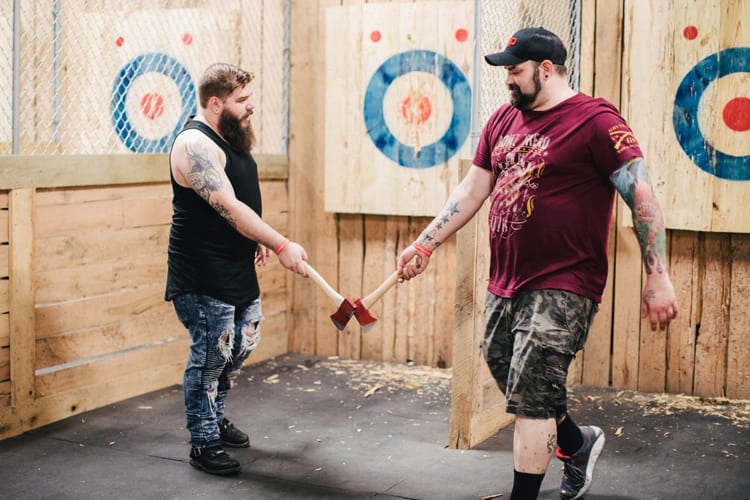 Grab another Uber and motor down to Flying Axes, which is exactly what you think it is. Each player gets five axe throws at a target, and only axes that stick rack up points. Make like a modern day Paul Bunyans (only much shorter) and throw to your heart's content while trying to beat your fellow bachelor party comrades. Loser buys next round. Which will be at …
5 p.m. Beers at The Holy Grale
The Holy Grale is a Louisville favorite in the Highlands, and the perfect stop for drinks and apps. Set in a former Unitarian Church built in 1905, it specializes in hard-to-find imported beers and small plates perfect for bridging your day. Enjoy a Dulle Teve Belgian tripel—or whatever tasty beer is on draft at the time—while noshing on pretzels and beer cheese, and shitake sliders.
7 p.m. Highlands Crawl
Walk north along Bardstown Road for three blocks, and you'll reach the Highlands' Irish corner, with not one but three Irish-style pubs within a stone's throw of each other. Here, you'll start your pub crawl with O'Shea's Public House, followed by Flanagan's Ale House, and finally Molly Malone's, a pub in which the interior was literally shipped from a former pub in Ireland. Let the Guinness flow like wine as you prepare for some of the best pizza in the city.
10 p.m. Pizza Dinner
Louisville-style pizza is actually a thing, and it's just two blocks away. An offshoot of Chicago-style, it's a thick pie with double layers of toppings, and the cheese on top instead of the toppings. Head to Wick's Pizza Parlor & Pub, and get yourself a Big Wick, an 18-inch behemoth topped with tomatoes, onions, Italian sausage, beef, pepperoni, green olives, black olives, mushrooms, and green peppers. Check out the Louisville-themed murals and funky décor while drinking cheap beer in 22-ounce pints.
12 p.m. Strip Clubbing at PT's Show Club
Louisville is known for its bourbon, its horse racing heritage, and its eclectic cuisine. It is not known for its gentlemen's clubs—but guys, it's a bachelor party. Grab an Uber to PT's Show Club, just a mile or so away on Market Street, and slide into the final experience of your journey. With three stages, plenty of lovely ladies, cheesy music, and a full bar, could there be a better way to wrap up the last 72? Go all out and order the bottle service couch lounge or book a private VIP Suite. And definitely ask the manager about getting the guest of honor on stage for a very special performance. Hey, it's the last hurrah. Why would you wimp out now?
Zero Hour
Your flight beckons and Louisville International Airport is a scant 10 minute or five mile drive (pending traffic) from your hotel room. It might be a hot minute before you binge on bourbon again, but you've made the most of these 72 hours in Derby City.