Welcome to Tampa, where, yes, it's hotter than home and, yes, you forget to pack talcum powder. The sooner you embrace those truths and lean into Florida's less glitzy Gulf underside, the sooner that sweat will signal the sweet release from all that party-planning pressure. And therein lies the true beauty of a Tampa bachelor party: whatever promise this seemingly unfinished paradise makes—be it laid-back or action-packed—it will always fulfill.
What you experience around the Bay Area pretty much came out of the inspired minds of salty-dog scientists formulating debaucherous perfection in a humidor hidden deep in the boozy bowels of a pirate ship. A select few establishments might require a formal attitude (and attire to go with it), but everywhere else, your goalposts are basically "not a jerk" and "tipsy gentleman."
The spirit of the Bay Area covers Tampa, St. Petersburg, and Clearwater, and it will admittedly feel sprawling at times. Be prepared to lay into Lyft and Uber pretty liberally unless you're wandering around Ybor City (Saturday!) or downtown St. Pete (Sunday!). 
—Rico Bronte
Day 1
12 p.m. Check-In at the Marriott Waterside
Hop into your shared ride of choice and head to the Marriott Waterside Hotel & Marina, downtown Tampa's most party-compliant epicenter. Time spent here will likely be limited to absolute necessary shuteye, but open eyes can hypothetically find gorgeous views of the city and the bay from modern suites and rooftop pools. If anything, quickly observe the poolside loungers and calm bay paddle-boarders for a second before you embark upon being one of the more wake-making revelers in town. Now's also great time to call your fiance, don't say we didn't warn you!
1 p.m Lunch at Caddy's
Now that you've dropped off the bags and are ready to conquer Tampa, get out of Tampa! Fuel up at classic beachside restaurant Caddy's On The Beach. Whatever beverages go best with live music, sandy sports, and a never-ending coastline of cuties, Caddy's pours plenty. A scene from Magic Mike was filmed at the tables, but whether you're inspired to sprinkle your own dance magic here or just bust out your impression of Alien from Spring Breakers (also filmed in St. Pete!), give yourself time to see where the breeze, tides, and tan lines take you. But take it easy, you'll need to keep that BAC low for what's coming next.
3 p.m Jet Ski at St. Pete Beach
The shoreline shine that you'll want to soak in immediately is along St. Pete Beach. Also, getting thrills on the water while you're still dry (or at least before you've been ID'd and marked by every Bay Area bartender and boat renter) will be the smartest decision you make in a series of sure-to-come dumber ones. Rental spots like Blind Pass Boat and Jet Ski Rental are aplenty so make sure you ask not only which waterways you're allowed to get your Kenny Powers on, but also which sandbars get particularly lively.
7 p.m Dinner at Bern's Steak House
With calories now burnt in the raddest of fashion, start the recovery process with some necessary clean-up back at the hotel. It's time to class things up massively. Bern's Steak House has rightfully earned every accolade it has ever been given, from local "Best Ofs" to national spotlights for its wide array of incredible steaks and even larger array of wines. At one point, the wine list showcasing Bern's massive (and tour-able upon request) wine collection was 2,500 pages long; ask to see its slimmed-down modern version even if you're choosing some of Bern's noteworthy whiskeys instead. As tempting as it may be, do not order more steak-ounces than you can eat. Besides it being the advice of Bern's staff, it's sage advice for your wallet and your lap-line comfort, both of which will need to be at the top of their game come the next stop.
10 p.m Strip Clubbing (Round 1)
Based on the city's entirely earned reputation as a strip club mecca, you may think gentleman have all the fun here. But any city that gives the world the song, "My Neck, My Back" clearly knows its two-way roads. To wit, Tampa's women—and particularly those in Mons Venus—are a special breed of fun-loving dreamweavers, empowered by none other than Mons founder Joe Redner. His vision and law-skirting dedication is said to have given rise to the full-contact lap dance as we know it. One Tampa rule Mons doesn't mess with, however, is in regards to alcohol. Simply put, to be fully nude—as Mons is—means no alcohol can be served. (If liquor is essential to your experience, be prepared to face pasties at "topless clubs" like Penthouse.) 2001 Odyssey across the street from Mons is also fully nude, but what it lacks in potables, it makes up for in one amazing accoutrement. In the 1960s, Finnish architect Matt Suuronen designed a portable, prefabricated "ski chalet" called the Futuro House. It looked like a flying saucer with a hatch door, and while nearly 100 were ultimately made, only one is currently being used for VIPs to get private dances!
Day 2
11 a.m. Drinks at Cigar City Brewing
Right around the corner from whatever unidentified craft you left your cell phone in last night is the Cigar City Brewing, which boasts a tasting room stocked with rich flavorful samples to help you slowly feel human again (and an adventurous human at that). Past drafts on tap have included a Florida Weisse with prickly pear fruit, a Devil's Food Cake Imperial Stout, a GWAR-themed pale ale, and something called "Florida Man Loses Bet." Be sure to cheers one for Cigar City founder and an ace Florida Man whose last name is synonymous on this block for never losing: Redner's son Joey!
2 p.m Lunch at Columbia Restaurant
Once here, untuck the guayabera, put the Uber machine away, and get ready to embrace all that a carefree Saturday in infamous Ybor City can throw your way. Columbia Restaurant began as a Cuban cafe when Theodore Roosevelt was kickstarting his second presidential term, and it is currently the state's oldest restaurant. A pitcher of table-made mojito and the original Cuban sandwich are recommended because, well, when those fastballs come right over the plate, you gotta swing hard!
4 p.m Exploring Ybor City
Walking west along 7th Avenue will present seemingly endless bars, cigar shops, and signature Ybor auras. Reservoir Bar feels like the dive bar that embodies and exudes all that is gritty-great about Tampa. The weekend tasting room at Florida Cane Distillery showcases their own vodka, gin, whiskey, and even moonshine. And Cigar City even pops up again with a Cider & Mead tasting room that has in-house brews, guest beers, and a historical claim to fame: During the Spanish American War, the building was a police stable where that very same Teddy Roosevelt boarded his Rough Ridin' horse. Nearby Jose Marti Park provides Ybor its other unique point of historical interest. While the park will be closed the entire weekend, its intrigue is in its mere existence; it is 0.14 acres of land owned entirely by the Cuban government. When you're no longer able to see into the park because the sun is down or your BAC is up, it's time to eat.
9 p.m Dinner at The Bricks
Though The Bricks was created as the spiritual evolution of a local skate shop, this casual restaurant keeps that street influence relatively subtle in its outward appearance and awesomely apparent through creative concoctions on both its dining and drink menus. Make sure everyone shoots at least one specialty El Pastor shot (pineapple, jalapeno, sauza tequila), toasting either yourselves for properly shepherding this sheep out of bachelorhood or the Ybor Gods for getting you all this far relatively unharmed.
11 p.m Strip Clubbing (Round 2)
There's a distinct fork in the clubbin' road this late on a Saturday, and which way you head is dependent entirely on your collective crew's 'tudes. Specifically, does the crew prefer a) VIP bottle service or b) UFO booty circus? If a), then hightail back to the hotel to clean up, replace shorts with actual pants, then bring your big bills to a club like Ybor's Club Prana, which boasts five floors of dancing, lounging, people-watching, elegance-appreciating, and open-air reggae-on-the-roof partying. If b), load up the Lyft machine and bring a bunch of small bills. (Honorable mention, Convenience Category: Scarlett's at Ybor Strip, which is nude, no liquor.)
Day 3
11 a.m. Drinks and a Shave at Bourbon Barber
Showers can wash off a previous night's grime and hotel breakfasts can fill some gut gaps, but when you need a bit more to freshen your feel, look no further than the Bourbon Barber. Craft beers, whiskeys, and cigars always go down smoothest in a Sunday morning speakeasy, and with hot towel shaves and haircuts also on the menu, those most in need of a refresher can experience the finest rejuvenation this side of a cortisone shot.
1 p.m Boarding Pirate Ships
The Buccaneers host eight NFL games a year in Tampa. And unless they're playing in their sherbet-colored throwbacks, the greatest thrill at a Bucs game is when they score, as marked dutifully by a pirate ship in the north end zone that fires off a cannon. Getting onto the ship itself is as easy as trespassing illegally and pretending to be a Bucs employee. Should that not be in the cards—or should your Tampa Sunday fall on one of the other 44 non-regular-season-Sundays on the calendar–settle for the Captain Memo's Pirate Cruise out of Clearwater Beach at 2 p.m. While Captain Memo can't guarantee you'll see a dolphin, he does offer complimentary beer! (And if your ride to Memo's ship takes Gulf to Bay Boulevard, be sure to look out for and pay your respects to what your 11-year-old selves thought was the height of bachelor fun. Yes, you'll be driving by the original, first-ever Hooters.)
5 p.m Early Dinner at Bodega on Central
You haven't had a legit Cuban sandwich in over 24 hours! Even if you can't make room for that or some other lovingly made Latin delight, don't miss the chance to sip an authentic Cuban coffee or one of the freshly made nourishing juices at Bodega on Central. They're perfect for fueling the feet now that you're in the heart of a bumpin' downtown St. Pete.
6 p.m Walking (or Stumbling) around Downtown St. Pete
Local papers have hailed downtown St. Petersburg's singles scene, so run that gamut over a one-mile walking stretch that includes dive bars (The Bends), a cocktail-crazy Portuguese restaurant and "speakeasy" (Iberian Rooster), and a fancy rooftop bar (The Canopy). At this point, you'll know what's best to both survive and thrive during this last essential stretch.
11 p.m Late Night Snacking at Taco Bus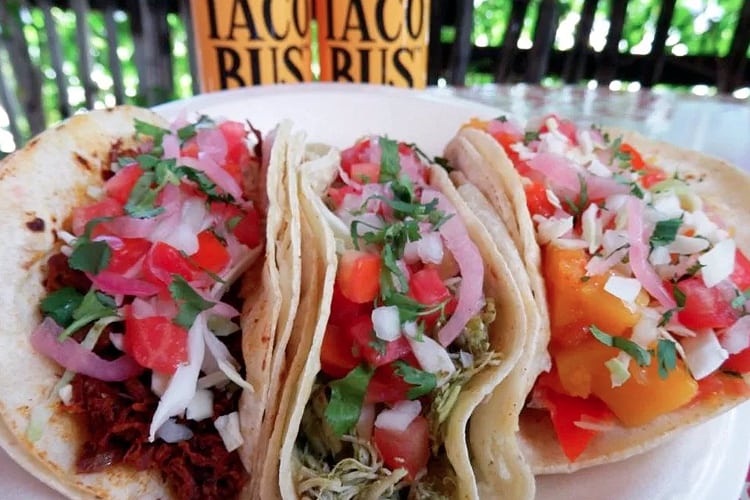 Before ice cream trucks around the world began removing the ice cream so they could truck around all other sorts of pun-nerific food fusions, Tampa was blessed with The Taco Bus, a late-night Bay Area staple that's been rolling back drunken eyeballs since the mid-90s. Today, there are numerous converted school buses spreading Mexican comfort all around Tampa … making it all the easier to fill up en route to or from tonight's option b) late-night clubs.
Zero Hour:
Tampa International Airport is only a 15-minute drive from the hotel so get every second of sack-time you can before getting out of town. Or sleep on the plane and get one last shot of TB in you during those waning wee hours of the morning. So there's your 72 Hour Guide and if you need a little more help plot and planning this bachelor party, we've got you covered.