You only get one chance to have a truly memorable (or pleasantly fuzzy) bachelor party so this party planning needs to be appropriately epic. And let's be honest, there's probably no better city than Dallas to have such a debauched blowout. Sure, Dallas has fine dining and the Arts District and cultural events galore. But there is also a side of Dallas which has all the subtlety of Macho Man Randy Savage snapping into some Slim Jims while driving a monster truck in a demolition derby.
It's finding the right balance between the two which can create the perfect bachelor weekend in Dallas. It's enjoying a steak and a cigar at Chamberlain's and following that up with a swing through Uptown where frat boys and college football fans frolic freely. It's enjoying a spa day at the Anatole then eating an entire pig's head like you're some modern incarnation of Henry VIII. The warm climate in Dallas leads to skimpy clothing which, as you can imagine, leads to a lot of quality people watching from patios and balconies. If that somehow doesn't sound good to you and your crew (why?) maybe you should take a look here before packing your bags for the Lone Star State.   
We've put together the itinerary for the perfect bachelor party for you and your crew. And remember, there's always a 60% chance that you will run into a tipsy Jerry Jones at some point during this weekend, so just mentally prepare for that. You've been warned.
—Amanda Cobra
Day 1
1 p.m. Check Into The Statler Hotel
Yes, flying into either of the two main airports in Dallas will get you here. But only one will get you here in style and will also save your groomsmen a very long and quite pricey cab/Uber/Lyft ride into Downtown Dallas. And that airport is Love Field. Always choose Love Field. And anyone in Dallas know that there is no cooler hotel option in town than the newly restored mid-century modern gem that is Statler Hotel. Beyond its primo location, it provides plenty of entertainment and dining options in the hotel itself. Weather permitting, you can grab a drink at the poolside bar after checking in to unwind and take in the views.
3 p.m. Skydiving in Hillsboro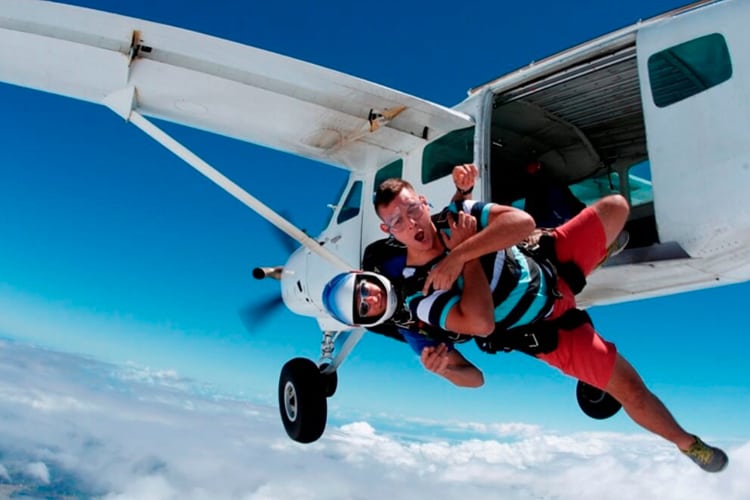 Your bachelor weekend is not the time for subtlety. If you're going to take the plunge, first take an actual plunge. Out of a plane. With all your buddies.That's right. You're going to start your final week of freedom by challenging your best friends to join you in the ultimate adrenaline rush. Head to Hillsboro for Some Skydiving and if ever there was a test of friend loyalty, this might be it. Also, you'll have some pretty awesome and potentially blackmail-worthy pictures of you and your squad.
7 p.m. Steak Dinner and Cigars at Chamberlain's
You're back on terra firma and you're likely hungry, especially if you tossed a few cookies somewhere up in the sky. So it's time to head up the Tollway to enjoy the manliest of manly meals. Chamberlain's offers diners the ability to enjoy a pre-dinner stogie in their iconic Cigar Lounge. Decked out as what could describe as a rustic hunting lodge, the Lounge offer a perfect spot to unwind before the true gorging begins. Once you're done with your cigar, your crew can make their way to the dining room where you can have your choice of some the highest quality steaks and chops in Dallas.
9 p.m. Deep Ellum Bar Crawl
Time to head back into Deep Ellum to experience all of what the most historic and iconic entertainment district in Downtown Dallas has to offer. The best place to kick off your Deep Ellum experience is with a frozen Irish coffee at the New Orleans-themed Twilite Lounge. Best described as a darkly ornate dive bar, Twilite also features live music and a back patio that is the place to see and be seen on a weekend in Deep Ellum.
11 p.m. Get in the Pit at Three Links
Now that you've dipped your toes into Deep Ellum, it's time to dive in headfirst. And we do literally mean (stage) dive. A short walk down Elm Street will lead you to punk rock venue Three Links. The venue has a roll-up garage door that allows passersby to check out shows from the comfort of the sidewalk. But this is not the weekend to be a looky lou. Pay the cover and check out one of the loud and raucous shows that happen at Three Links each weekend. Your crew may even find yourselves pulled up onto the stage to become part of the show.
12 a.m. Line Up for Donuts at Glazed
At this point in your Deep Ellum bar crawl, you may notice a line forming underneath a neon sign on Elm Street. It's not people lining up to get into a sold-out show or to get past the rope into an exclusive dance club. They are lining up to buy epic donuts from Glazed Donuts. Open from 9pm to 2am on weekends, a line of donut devotees will stand in any weather just to get an opportunity to enjoy treats such as an Elvis-inspired donut featuring bacon, peanut butter, bananas and honey or a grilled cheese and bacon sandwich with a glazed donut as the bread.
1:00 a.m. Drink Beer and Shop for Records
Lick those sticky fingers clean and head over to Off the Record, a craft beer bar and record store. The bar regularly features DJs and podcast tapings as well as a well-curated collection of classic and new release vinyl offerings. With an exposed brick interior that looks like a hipster's fixed gear filled loft, this is the best place to take a break and try to come to terms with the donuts you just scarfed down.
Day 2
12 p.m. Brunch at Ten Bells  
Day 2 will likely begin with a need for a giant breakfast and perhaps some hair of the dog that bit you the night before. That means that it is time to head south of the Trinity River to Oak Cliff. The Bishop Arts District in Oak Cliff has quickly become the hottest area in town for food, drinks and fun. Ten Bells Tavern features a large outdoor dining area complete with resident bar cats who roam the patio. If soaking up the remnants of the previous night's festivities is in order, there's nothing better than the Country Breakfast. A fried chicken breast topped with an over easy egg and peppered country gravy paired with fries will be the cure for what ails you.
1 p.m. Shave and a Haircut at Brass Tacks
Within walking distance from Ten Bells Tavern is Brass Tacks, a classic old-school style barber shop. Barbers offer haircuts and fades as well as a straight razor shave or beard trim complete with hot towels and beard oil. While your insides might feel a little beat up, your hair and face can look squared away after the barbers at Brass Tacks take care of your ragtag crew. Now's a great time to call your significant other and text a photo of your fresh, clean look. You'll score big points for that one.
2 p.m. Shop at Harkensback
Now that you've got your hair cleaned up, it's time to consider a timeless hat or classy leather accessories for men to complete your look. Harkensback in Bishop Arts District is a curated collection of leather goods, hats and accessories from almost exclusively local makers. Handmade leather boots, wallets and belts are especially popular at Harkensback and can ensure that your groomsmen look as sharp and coordinated as possible on the big day.
6 p.m.  Dinner at CBD Provisions
Crossing back over the river into Downtown Dallas, it's time for what is sure to be one of the most epic meal of your lifetime. Now the key here is that you have to call ahead 48 hours in advance and make reservations specifically requesting the Berkshire Pig Head Carnitas from CBD Provisions, located inside the Joule Hotel.That's right. It's a whole roasted pig's head brought to your table. It is a one-of-a-kind feast that includes all the side and fixings that you will need to make the best tacos you've ever eaten. Not recommended for the squeamish but definitely recommended for those who love delicious things.
8 p.m. Cocktails at a Speakeasy
Once you are sufficiently stuffed with pig face meat and you are ready to get the night going, the first destination should be taking the stairs inside the lobby of the Joule Hotel into Midnight Rambler, the speakeasy-themed bar inside the hotel's basement. DJs spin '60s and '70s vinyl and the room is appropriately dark. Drinks range from high end craft cocktails to a pony of Miller High Life and a shot. The place starts to get crowded around 10pm so enjoy it early so you can get a table for your party.
9 p.m. Mezcal at Los Almas Rotas
Located on the outskirts of downtown and just outside the art-deco gates of Fair Park, you will find Los Almas Rotas. It's a mezcaleria which specializes in serving the finest and most carefully curated tequilas and mezcals that Mexico has to offer. You can even hop onto the light rail from downtown and within a few stops, you will be at the front door of this ode to Mexican spirits. Décor is authentically Mexican and owner Shad Kvetko can dive into his personal experience of the distilleries in Mexico, where the spirits are made, to help you find your perfect match.
11 p.m. Eat Giant Slices of Pizza in Front of a Giant Eyeball
Heading back into the heart of downtown and with the gluttonous pig's head coma finally wearing off, it's mandatory that your group drop in at Serious Pizza on the way back to the Statler Hotel. Serving pizza by the slice that is approximately the size of a Fiat, grab a few slices to go and head back over to the Joule Hotel to get the best photo opportunity of a lifetime. You and your buddies eating giant slices of pizza in front of a 30-foot-tall eyeball sculpture located directly across from the hotel in a small park.
12 a.m. Stripclubbing at The Clubhouse
With establishments catering to every type of gentleman's club connoisseur, Dallas could genuinely consider itself the United Nations of clear heels and champagne rooms. And while there are many high-end gentlemen's clubs catering to businessmen clientele, there is only one we need mention: The Clubhouse. For starters, it's all nude and it's BYOB. Founded by Pantera members Vinnie Paul and the late Dimebag Darrell, the former is often spotted at the establishment so a trip to the Clubhouse is not only an all-nude BYOB romp but also has some celebrity spotting potential. Oh yeah, and because it's BYOB, it stays open far past the usual 2 a.m. last call of many other clubs and bars. Use this information as you see fit.
Day 3
12 a.m. Brunch at Anvil Pub
Rise and shine and let's pack the most you possibly can into the final day of your final weekend of freedom. And to do that, you're going to need to take your traveling party to Anvil Pub in Deep Ellum. There you will find the appropriately named "Fuck Brunch" including a gargantuan Bloody Mary or mimosa garnished with everything from sliders on a stick to pancakes all on a stick. Now you're probably feeling a little delicate this morning so once you polish off your Fu*k Brunch, it's time for a little self-care (the kind it's acceptable to do in public).
2 p.m. Treat Yourself at V Spa
V Spa at the Anatole is one of the most luxurious spas in town and, let's face it, you have more than a few toxins to sauna out of your system by this point. The spa's men's pampering package includes massages and access to whirlpools and steam and sauna rooms. Most importantly, your patronage at V Spa gives you access to JadeWaters at the Anatole. And that fact is very important because the next step is a crucial step in maximizing the awesomeness of your bachelor weekend.
4 p.m. Relax at JadeWaters
With your patronage of V Spa, you will also have access to JadeWaters, which features cabanas, poolside loungers, and a lazy river. With the hangover that you are likely still nursing, this provides a great place to get a little vitamin D and maybe even just get a few minutes shut eye in a shaded cabana lounger. If you find the strength to hoist yourself upon an inner tube, you will be rewarded with a chill journey around the Anatole via the laziest of lazy rivers. There is also a swim up bar serving fresh juices or even a hair of the dog, depending on your recovery style.  
7 p.m. Bowling and Burgers at Scout
Make sure to stop into Scout on the ground floor of the Statler Hotel. Part entertainment space and part restaurant, Scout feature four bowling lanes, foosball, pool tables, and ping-pong tables. The décor is mid-century masculine chic and the menu includes beers and cocktails as well as sandwiches, burgers and appetizers. And really, how else would you rather conclude a whirlwind bachelor weekend than with a Big Lebowski-style bowling challenge?
10 p.m. Slip Your Nightcap on at Black Swan Saloon
Chances are that your crew is a little ragged around the edges at this point and might not have any left in the tank. For those running on empty, the best place to wrap up your last night is at Black Swan Saloon. For a place renowned nationwide for its craft cocktails, it lacks any pretentiousness whatsoever. Owner and cocktail expert Gabe Sanchez has created a unique cocktail experience which uses fresh ingredients from the nearby Farmer's Market. Retro tabletop video games can provide the perfect challenge to wrap up your night. Be sure to buy a t-shirt to join the Black Swan World Traveler's Club.
Zero Hour
Remember what we told you: Love Field, always Love Field. If you're leaving a little early or a little late, the Statler Hotel does feature a luggage hold service available for guests in case you need to grab your gear and go. So now you've done Dallas but if you still need a little help in planning the bachelor party, we're here to lend a hand.